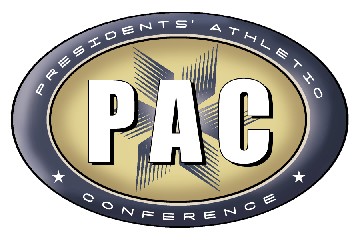 2011 PAC Football Preview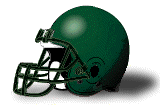 Bethany Bison (5-5 Overall, 4-3 PAC in 2010)

Although he is entering his sixth year as the head football coach at Bethany College, Tim Weaver, who led the Bison to a 5-5 record last year for its first .500 season since 2001, is getting to experience a lot of firsts as his team begins preparations for its 2011 season opener at Allegheny Sept. 3.

Bethany, who finished third in the PAC last season with a 4-3 conference mark, tied for fourth in this year's preseason poll with Grove City and behind only three-time defending champion Thomas More, Washington & Jefferson and Waynesburg. It was the highest BC has been picked to finish in Weaver's tenure, but it's not the only milestone he is enjoying after taking over a program that posted three straight 1-9 records prior to his arrival.

"There are a whole bunch of benchmarks you need to hit when you rebuild a program like we've done here," said Weaver, who is 19-31 in his five seasons. "One is to have more returning veterans than newcomers, which we have for the first time this year. That takes time to do, but it changes the whole demeanor of the program because we have so many guys who know what we're doing at the start of camp.

"In addition, we were also able to put together a special teams' two-deep with no freshmen," said Weaver. "We also have proven game experience at every spot on the field. And not just people who have played, but they have played well when they've had an opportunity, so we finally have pretty good depth nearly everywhere on the field."

Last year's finish, which came on the heels of two straight 3-7 campaigns, has built up a lot of momentum for the Bison entering 2011 and after a bit of a philosophy change prior to 2010, the success of last fall has changed the way the Bethany program is looking ahead to this year's slate of games.

"Prior to last year, we always talked about winning championships, but we changed our goals because we were not good enough to win it," said Weaver. "It takes time to rebuild the way we've been doing it here with mostly freshmen instead of transfers and while we could see a light at the end of the tunnel, we still had to change the mindset. So coming off back-to-back three-win years, we set the goal of getting to four wins as quickly as possible and building from there.

"Now that we accomplished that, we are changing the way we are approaching the season again," said Weaver. "Now we openly talk about being one of those teams in contention every week and having a chance to win every game. We talk about playing in the postseason and getting to play that 11th game. And whether it's somehow winning the league or going 9-1 and getting a bid to the NCAA playoffs, or winning seven or eight games and having a chance to play in an ECAC Bowl, we would be ecstatic either way. We don't have to win a championship to have a very good season. If we can get to six, seven, eight wins, it will be another step in this process for us."

A total of 19 starters will be back on the field this spring for Bethany, highlighted on offense by the entire backfield and 80 percent of the offensive line. In the backfield, sophomore QB Matt Grimard is back after throwing for 1,490 yards and 10 scores as a freshman, while also rushing for 882 yards and 11 TDs, both Bethany records for a quarterback, on his way to Honorable Mention All-PAC. Fighting for the back-up position are a pair of freshmen in Jarrett Mitchell and Tony Moran.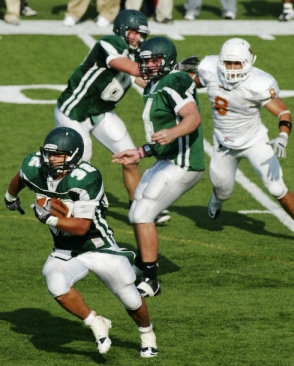 "Matt has a year of growth under his belt and he needs to throw the ball better this year, which he knows," said Weaver. "He stayed here over the summer to lift and is in better shape. Now we just need to continue his work on the fundamentals of throwing the ball."

Bethany expects to have a dynamic 1-2 punch behind Grimard. Senior captain Eric Walker (right) continued his record-setting career last season, as he rushed for 898 yards and 12 touchdowns. In addition to earning Second Team All-PAC, he set new BC standards for career rushing TDs (33) and total touchdowns (39) and with 456 more yards, Walker (2,491) will surpass Will Anderson's Bison record of 2,946 rushing yards. As a freshman, Nico Irizarry totaled 184 yards and a score and his work in the spring has the Bison staff trying to devise ways to get both backs touches, not only to keep Walker fresher but to take advantage of Irizarry's skills.

"We feel really good about having both Eric and Nico back," said Weaver. "We spent part of the off-season talking about ways to get Nico more touches because we think he has a lot of ability. We thought we wore Eric down two years ago but he was better prepared last year. He's a horse who doesn't get hurt and is always in great shape. And while trying to get Nico more touches will help down the stretch of the season, it's more because of the work Nico has done that we want to give him more chances."

The Bison bring back a lot of wide receivers and a junior tight end in Fletcher Coffman who have seen a good deal of action. Injuries cut the season short for junior captain Johnathan Foster, who caught four passes in just two games, and junior Marcus D'Aguiar-Alexander, who made 11 grabs in five games. But this unit, which includes returners in senior Alex Evans and junior Ed Holmes, needs to step up in productivity according to Weaver.

"The last couple years, our receivers and tight ends have shown flashes of being good, but no one has developed into our go-to or #1 guy we turn to when we need a play," said Weaver. "We are going to see a lot more one-safety looks because of our running game and we have to be able to throw and catch to take advantage of those situations. We have an abundance of talent there, but haven't shown the consistency needed yet and as a group and as a coaching staff, we have to figure out a way to get more production."

Perhaps the most complete unit on the offense is the line, which led the way for Bethany to rank second in the PAC in rushing offense (202.4). Senior center and captain Cory Potter is a two-time All-PAC selection and is flanked at one guard by junior Doug Murray. Both tackles return as well, with junior Bryan Benzinger, an Honorable Mention All-PAC pick last year, on the left side and junior Nick Gore on the right end.

"We are really excited to have four starters back on the line and they are all juniors and seniors, which we've never had at that position," said Weaver. "Last year, we played well up front and were able to run the ball well, we still had trouble with bigger, physical front lines. But all of our guys made a commitment and came back significantly stronger, which will only make them better."

The Bison already proved last season their running game is enough to carry the team to wins, but for the unit to reach its full potential, the passing game will have to take major strides this season to keep defenses from loading up at the line of scrimmage.

"A lot of our game planning this year will depend on Matt's progress as a passer and the level of trust we have in the receivers to make plays," said Weaver. "We really liked some of the things we did in the running game last year in reading different people on defense, but we have to take advantage when teams gear up to stop the run. We can win 5-6-7 games running like we did, but to win championships, you have to be balanced."

On the defensive side of the ball, Bethany made drastic improvements against the run, lowering the yards per game by more than 91. The spotlight this year will be on the BC passing defense, which ranked eighth in the league a season ago. The action will start up front in the Bison's 4-3 look, where three starters return. Senior DE Kasib Taalib-Din was third in the PAC with 8.5 sacks, including one to secure the Waynesburg victory, and sophomore Prince Aguzie had 1.5 sacks, including one to force a fumble and clinch the Saint Vincent win in the finale.

Inside, Bethany brings back junior Blake DeBord, who started all 10 games and made 29 tackles, with sophomores Zach Burton and Seth Cawoski ready to man the other tackle spot.

"We are excited about our two starters back at defensive end in Kasib and Prince," said Weaver. "They are explosive, fast, athletic players who made game-clinching plays for us last year. We hope they continue to develop and it will be fun to see the competition between them to see who our sack producer will be.

"At the tackle spots, we bring back Blake, who is the anchor of our front," said Weaver. "We'd like to see him make a couple more plays this year but he is rock solid, knows his job and executes his job. Zach played a lot for us last year and gained a lot from that experience and we expect a big step forward from Seth, who played well in JV games last year and had a good off-season. Depth on the ends and inside on the line is a concern and is a place where freshmen may have a chance to contribute this year."

The linebackers feature a pair of juniors who started all 10 games in Kyle Arrington and Gage Lotozo. Arrington ranked third in the PAC with 97 tackles to bring home Honorable Mention All-PAC honors and Lotozo was sixth on the team with 51 tackles. Weaver is looking for big things from sophomore Tyrell Scott on the strong side, with depth coming from sophomores Duante Mayes, Josh Moody and Michael Wall.

"We have some familiar faces back at linebacker in Kyle, who has started all 20 games in his career, and Gage, who bounced back from an injury as a freshman to start all 10 last year," said Weaver. "Kyle overcompensated from his freshman year by coming in a little heavy last year, but he is in great shape this year and is stronger, leaner and running well. Gage played really well last year. He's a naturally instinctive guy and will play in the middle.

"Our strong side linebacker will be Tyrell, who had a fantastic JV season and is one of our better athletes," said Weaver. "He is football smart, fast and physical. Behind them we have a group of guys in Michael, Josh and Duante, who missed last year with an injury but had a really good spring, that developed while playing JV and will move into solid back-up roles."

If Bethany is to make a step up against the pass this year, the secondary will play a big part in that with three starters returning. Junior CB Jeff Joyce was second on the team with 63 tackles while sophomore younger brother Jordan Joyce was right behind him with 62 hits. Sophomore Jamaan Webb scored Honorable Mention All-PAC laurels with 49 tackles and also back is junior Tremayne Ford and sophomores Raphael McGee and Michael Howcott, who both missed last year.

"We should be way better in the secondary than we've been in my time here," said Weaver. "With both Joyces and Jamaan back after starting all of last year, they have a year of experience under their belts, which will make them more comfortable this year. Tremayne has played a lot for us and Raphael and Michael, who both missed last year but played well in '09, return as well. We believe we can make a similar jump in the passing game this year as we made last year in the running game. If we eliminate the blown coverages that happen with freshmen and first-year players in the secondary, we win two more games."

The strength of the Bethany special teams will be a lengthy list of potential game-breakers in the return game, including Jeff Joyce, who was Honorable Mention All-PAC as a returner last year, Evans, who was third in the PAC in kick return yardage (23.9), Jordan Joyce, D'Aguiar-Alexander and Holmes. Senior Matt Landowski returns as the long snapper and is one of the better players on the coverage units, while both kicking jobs are open heading into camp, although freshman Stephen Amic could have the inside track on both jobs.

"We feel great about our return game with Alex, both Joyces, Marcus and Ed back," said Weaver. "They have all hit for 40-50 yard plays in their careers, so we are deep and talented in those areas. Matt is back for another year as our long snapper and has done a great job. The kicker and punter jobs are both open coming into camp. It's still very early but Stephen looked good and hit it consistently and Matt (Grimard) has shown some ability as a punter, so it looks like we are in good shape."

Since Weaver has taken over the Bison program, there are normally tons of questions heading into camp as his staff has worked to rebuild. But with so many starters back and a good amount of experienced depth returning as well, many of the personnel questions have been answered. Weaver feels another question was answered last year, but it brings up another heading into this season.

"Our main goal is to continue to improve and build on last year," said Weaver. "The question we've had to try to answer the past couple years is can we become a good team. I think we finally answered that last year. We weren't great, but we were good. Now that we've reached that step, now the question becomes can we consistently compete to finish in the top three or four in the league and give ourselves a chance to win a championship."

The Bison begin the quest for an answer Sept. 3 at Allegheny in a 7 p.m. kickoff. Bethany's home schedule opens up Sept. 10 against King's (Pa.) College in the PAC-MAC Challenge and the conference slate starts up Sept. 17 in a 7 p.m. kickoff against Washington & Jefferson at Bison Stadium.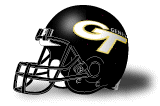 Geneva Golden Tornadoes (5-5 Overall in 2010)

It simply doesn't get any better than defeating your arch rival on the final play of the season for a thrilling overtime victory that put an exclamation point on the 2010 campaign. When Gerard Muschette crossed the goal line on the final play of 2010 and on the final carry of his career, the Geneva fan base went into a frenzy as the Golden Tornadoes secured a 30-24 triple overtime victory against Westminster that completed a 5-5 season. While the fans could not have been more excited, head coach Geno DeMarco had to be feeling some mixed emotions at that very moment. His team had just won the season finale against Westminster but it would prove to be the final time DeMarco could call Muschette's number.

As the 2011 football season kicks off, DeMarco and the Golden Tornadoes will have some sizeable shoes to fill as they will need to replace a substantial list of contributors that have carried Geneva's program through a four-year provisional phase that has led it directly into 2011 and the first year of full membership in the Presidents' Athletic Conference. Gone are all-time leading rusher Gerard Muschette, three-year starting quarterback David Girardi and two-time NCCAA All-American defensive end Adam Rose along with several other key components. The good news for DeMarco and the Golden Tornadoes is that the cupboard is far from bare in year one of full NCAA Division III membership.

Offense
The Geneva offensive averaged nearly 28 points per game in 2010 while racking up just under 400 yards per contest. Admittedly, the majority of those points and yards came from one source in senior tailback Gerard Muschette. With the all-time leading rusher graduated, the Golden Tornadoes will look to a collection of backs to try to fill the void. "A back like Gerard doesn't come along very often," says head coach Geno DeMarco. "To expect one guy to come in and fill those shoes would be unrealistic, but we feel like we have some guys that can certainly be very productive." Geneva will also be in the market for a new starting signal caller after David Girardi has filled that role for the past three years. The front runner to take over the starting position will be red shirt sophomore Zach Hayward. Hayward completed just two passes in very limited action last season. "Zach has been in the program for a couple years and he has a great grasp of the offense," says DeMarco. "David was a great student of the game and he has passed those traits on to Zach and we are confident that we won't miss a beat at the quarterback position."

Perhaps the most experienced offensive group will be the offensive line in 2011.

The Golden Tornadoes did lose a pair of senior linemen last season, but also have as many as seven that have seen significant time in the last few years. Coming off a stellar season leading the way for a record breaking back while keeping their starting quarterback upright and healthy throughout the campaign, Geneva's offensive line seems to be in good shape. "We have some nice pieces in place along the offensive line," says DeMarco. "We always want to make strides to improve in every area and the offensive line is no exception. These guys will work extremely hard and I believe will be one of the strengths of our football team."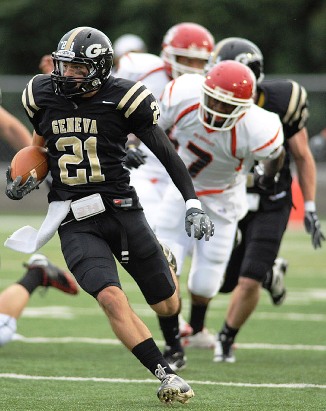 The only offensive position on the field that didn't lose anyone to graduation is at the wide receiver spot. Each of the top five receivers from 2010 will return including senior AJ Delmonico (left) (48 rec, 482 yds) and Corey O'Patchen (35 rec., 754 yds). Delmonico led the receiving core last year in receptions while O'Patchen pulled in an impressive ten touchdowns in his first year as a full time starter. "Having a veteran group of receivers will certainly help us to make a smoother quarterback transition," explains DeMarco. "Many of these guys had break-out seasons a year ago and will hope to build upon that success."
"We will be relying on some new faces to produce for us on the offensive side of the ball," says DeMarco. "There is no reason to believe that we can't put points on the board. We don't have time to look back and worry about who isn't here. All we can do is push forward and get better every single day." The Golden Tornadoes will look to light up the Reeves Stadium scoreboard in 2011 with some fresh faces leading the way.

Defense
The defensive story in 2010 can be broken up into two chapters. In the first six games of the season, the Golden Tornadoes yielded 38 points per game. In the final four games of 2010, Geneva's defense allowed opponents just 19 points per game. Why did Geneva's defense make such a drastic improvement in the second half of the season? The easy answer is experience and confidence. "I believe it took a while to get the right personnel into the right positions last year," says DeMarco. "I was very proud of the way our defense picked things up in the second half of the year and it will hopefully serve as a springboard heading into 2011." Much like the offense, the defense did lose some key components to graduation, but many of the major pieces will be back.

Senior defensive back Marcus Costanza posted 66 tackles a year ago which is the most by any returning player. He also turned in two tackles for loss and an interception. Costanza and fellow-senior defensive back Jon Baldwin possess the most experience in the Geneva secondary. The linebacking core should include the likes of Solomon Hejirika, Scott Erb and Ryan Fronius. The defensive line should be in good shape with a healthy Dan Dillman and Tyler French holding down the trenches. "We have a lot of moving parts to our defense," said DeMarco. "We have a lot of guys that saw significant time last year and that will only help our cause this season. Much like the offense, many guys are going to have to step up to fill some spots but we expect them to do just that."

"If we protect the football on offense and make teams have to drive the length of the field, this defense can be very good," says DeMarco. "We have some playmakers out there and it's our job to put them in positions to make those plays." If those playmakers come up big in 2011 it would certainly go a long way in helping the Golden Tornadoes compete for their first ever PAC title.

Special Teams
Consistency in the kicking game is something that Geneva has been fortunate to have in the past few years when it comes to field goals and extra points. The 2011 season will open a new era of placekicking as Nick DiPietro has since graduated. One of the all-time leaders in extra points, DiPietro posted 52 points a year ago including eight field goals. The Golden Tornadoes will be in the market for a new place kicker while they will also be hoping for a consistent punter.

Bryan Visingardi will return to the fold in 2011 after having punted just four times a year ago. As far as placekicking, the job will be up for grabs during pre-season camp. "We really made the kicking game a focus in our recruiting efforts this past year," says DeMarco. "We hope we have some good options that will help us move forward this year and in the future. We certainly don't take special teams for granted. We had some very solid areas of special teams last year but had some significant problems to fix in other areas."

Geneva was among the bottom of the PAC standings in both kickoff and punt returns last year. The hidden return yardage effected both offensive field position while at times putting the defense in tough spots. "Special teams play such a huge part of any game and we understand that we have to do a better job with field position both in coverage and in the return game."

The Coach
It has been four long years for the Geneva College football program and head coach Geno DeMarco as the wait to become conference eligible drug on. It is the 2011 football season that Geneva fans have been waiting for to finally watch the Golden Tornadoes compete for a conference title. "We have not been very patient," says DeMarco. "It has been a long process to get to this point but I know our guys are ready for the challenge and this coaching staff has worked extremely hard to prepare our football team for conference play. It's going to be an exciting time on College Hill this year as the stakes have been raised and we are going all in."

Geno DeMarco is now officially the longest tenured coach in school history. He becomes the first coach in Geneva's 121 year football history to begin his 19th season at the helm. "It almost feels like a new start for our football program in 2011," says DeMarco. "We had such great success in the Mid-States Football Association but it seems like forever since we had a chance to win a conference title. This is a quality conference and we certainly understand it will take a titanic effort to reach our goals but everyone in this locker room will work extremely hard to give ourselves a chance to succeed."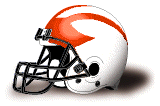 Grove City Wolverines (5-5, Overall, 3-4 PAC in 2010)
The Grove City College football team enters the 2011 season with high expectations as the Wolverines pursue the Presidents' Athletic Conference championship and a return to the postseason.

Grove City returns 16 total starters, along with numerous other experienced veterans. Overall, the Wolverines welcome back 36 lettermen for the 2011 season.

Defense
The Wolverines return nine full-time starters from the conference's top-ranked defense in 2010. Grove City will also be bolstered by several other veterans with starting experience at all three levels of the defense.

Up front, senior nose tackle Jarred Frawley is back for his fourth year as a starter. A First Team All-PAC selection in 2010, Frawley anchored the defensive line and led the team with 10.5 tackles for loss.

Frawley is flanked by a pair of returning starters in senior end Zack Patterson and senior tackle Marcus Chakot. Patterson moved into the starting lineup last year and finished second on the team with 3.5 sacks. He recorded 35 total stops.

Chakot also took over as a full-time starter in 2010 and joined Frawley and Patterson in forging one of the region's top defensive fronts. Chakot recorded three sacks while helping Grove City limit opponents to just 3.5 yards per carry.

Senior end George Matthews also returns after missing the 2010 season due to injury. As a sophomore, Matthews started all 10 games. He will look to reclaim a starting spot this season.

Like the defensive line, Grove City's linebacking corps features a bounty of talented veterans. Seniors Tim Irwin and Marc Shamley are both returning starters at the outside positions while seniors Vince Angelo and Jason Ferguson return at the inside positions.

Irwin, a CoSIDA Academic All-America candidate, finished fourth on the squad with 52 tackles in 2010 while starting all 10 games. Irwin is a two-year starter on the strong side.

Shamley has been one of Grove City's top pass rushers in each of his first three seasons. He led the Wolverines with 4.5 sacks last year and has started 19 games over the past two seasons. He owns three letters.

Angelo moved into the starting lineup at inside linebacker in 2010 after playing 2009 on the outside. He recorded 55 tackles last year and started all 10 games.

Ferguson has been a fixture at the other inside spot since his freshman season. After leading the team in tackles in 2009, Ferguson finished second with 68 total stops in 2010. He also intercepted two passes and earned First Team All-PAC honors.

Three other lettermen also return at the linebacker position. Junior Mitch White will challenge for a spot on the inside after serving as a part-time starter in 2009. He is a two-year letterman.

Junior Mario Posteraro and sophomore Ryan Althausen will both battle for time at outside linebacker. Posteraro emerged as one of Grove City's top special teams performers in 2010 while Althausen made one start as a rookie.

While the front seven returns totally intact, the Wolverines will have new faces in the starting lineup in the secondary in 2011.

However, a number of veterans do return and will all be battling for starting positions.

At cornerback, senior Aaron Palmieri enters his third season as a starter. Injuries limited Palmieri to just five games in 2010 after he made nine starts in 2009. He will likely hold down one corner spot.

Junior Mike Brown, junior Kurt Devlin and sophomore Chris Gibbs are all in the mix at the other cornerback spot. Both Brown and Devlin are two-year letterwinners in the secondary.

Gibbs moved into the starting lineup at midseason and finished his rookie season with 31 tackles.

Junior Shawn Mercer made one start in 2010 and has an inside track to earn the starting strong safety position. He is a two-year letterman.

Sophomore Joe Diani lettered as a nickelback in 2010 and will contend for a starting spot. Devlin and Gibbs have also played safety and could challenge for time there.

Offense
Grove City returns seven starters on offense, including a stable of running backs and three starting offensive linemen.

The Wolverines also welcome back two starting quarterbacks in senior Clayton Hall and sophomore Brian Pell. Hall started the first three games under center before suffering a season-ending injury.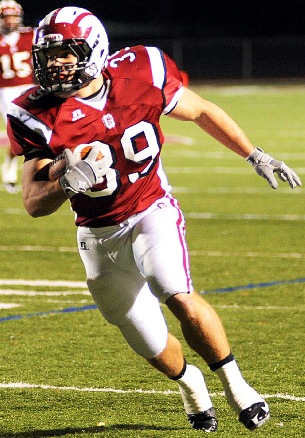 In those two-plus games, Hall accounted for five touchdowns and over 700 yards of total offense.

Pell started the final five games of the season and guided the Wolverines to a 3-0 mark at home. He threw for 889 yards and completed over 56 percent of his passes.

Also in the mix is junior quarterback Mike McDonald. A returning letterwinner, McDonald appeared in five games and threw one touchdown.

Whoever earns the starting quarterback spot will be joined in the backfield by a pair of senior running backs in Blaine Miller (right) and Ed Reith.

Miller enters his third season as Grove City's starting tailback. In 2010, he became the first Wolverine back to lead the team in rushing, receiving and scoring since 1968. He accounted for 1,090 yards from scrimmage and 11 touchdowns.

Like Miller, Reith is a three-year letterwinner for the Wolverines. He averaged 7.2 yards per carry as a junior and finished with 317 rushing yards. Reith also caught 17 passes from his wingback position.

Junior Shane Kaclik appeared in all 10 games last year and will likely be a key component in the Wolverine backfield this fall. He is a two-year letterman.

Versatile sophomore Jimmy Bailey could battle for time at wingback after playing a variety of roles last year.

While the Wolverines have plenty of experience in the backfield, graduation thinned Grove City's receiving corps.

Junior Dustin Anewalt (6-foot-3) and sophomore Anthony Ritchie (6-4) are a pair of rangy targets who will look to earn starting spots after lettering as reserves in 2010.

Senior Joe Gulaskey will move to wide receiver from tight end this year after lettering in 2010. Classmate Tim Jorgensen and junior Zac Page will also battle for time at receiver this season.

Senior Anthony Reda returns for his third season at tight end. A proficient blocker, Reda emerged as a weapon in the passing game last year by catching 10 passes.

Three starters and several other key contributors return on the offensive line this fall. Senior Nick Nosker is a returning starter at center, as is senior right guard Lucas Chakot.

At right tackle, three-year starter Zach Start returns for his senior season. His 28 starts are the most by any active Grove City offensive player.

Senior guard Tyler Kwasnicka, junior guard Josh Bermann and junior tackle Andy Pisorn all have extensive experience and will compete for starting spots this year. All three men are expected to see significant action.

Junior Scott Linkowski moves from defensive end to offensive tackle this year and will also challenge for a spot.

Special Teams
While Grove City features veterans through its offensive and defensive units, the Wolverine kicking game will rely on several new faces this year.

Reith returns as the punter after averaging 38 yards per kick last year. He is a three-year performer in that position.

Reith and Kaclik will likely return kickoffs and Bailey saw action as a punt returner in 2010.

Grove City will have to fill vacancies at kicker, long snapper and short snapper. Mercer returns as the holder.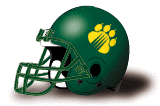 Saint Vincent Bearcats (3-7 Overall, 3-4 PAC in 2010)

After putting together its most successful season since the return of football in 2007, Saint Vincent looks to take the next step as it embarks on the 2011 campaign.
The Bearcats, who went a combined 1-29 between 2007 and '09, finished 3-7 in 2010, and 3-4 in the Presidents' Athletic Conference, good for a share of fifth place. Five of the seven losses were by seven or fewer points, while Saint Vincent out-scored its conference foes a combined 162-157 in seven league games.
"This is our fifth year of competition," said head coach Bob Colbert, "and we're optimistic. We have 28 seniors coming back, a real veteran-laden team, with starters in every position."

Offense
Last season, the Bearcat offense made significant strides, averaging 363.3 yards per game and posting five 400-plus yard outings.
One of the keys to the Bearcats' turnaround in 2010 was the arrival of quarterback Aaron Smetanka (left) (6-4, 210 lbs). Now entering his senior season, Smetanka came to Saint Vincent after spending his first two seasons at Division-I FCS member Robert Morris University, and the North Catholic High School product paid immediate dividends.
After starting the season in a platoon role, Smetanka seized the starting job midway through the season and thrived, placing first or second in the PAC in passing yards/gm (218.4), total offense/gm (230.6), passing touchdowns (17), and completion percentage (.618). A First Team All-PAC selection, he threw for over 300 yards four times, highlighted by a 339-yard, four-touchdown performance for Saint Vincent in its 42-17 win over Grove City in week seven.
"He was a part time starter to begin the season, and that shows how smart I am," quipped Colbert. "But Aaron came on and did a very nice job for us, placing among the leaders in the PAC in several categories."
While the two most prolific receivers in school history – Sheldon Loughner and Tom Quirin – have graduated, after combining for 76 receptions, 1,206 yards, and 13 touchdowns in 2010, the Bearcats still return a deep stable of receivers who have seen significant playing time.
Juniors Ricky Douglas (6-1, 180) and Christian Sutton (5-11, 170), and sophomore Chace Ginyard (5-11, 185), are slated to lead the receiving corps in the 2011 campaign. Douglas hauled in 18 receptions for 258 yards and one touchdown a season ago, while Ginyard and Sutton each had 17 receptions and three touchdowns, with the former posting 268 yards and the latter 257.
Sophomore tight end Cody Strelick (6-3, 225) also returns after posting nine catches for 93 yards and two touchdowns a season ago, and will be joined at the position by senior Jake Smith (6-3, 225). A converted quarterback who appeared in 26 games under center over the past three seasons, Smith moved to tight end during the team's spring workouts, and will provide another big, athletic target for Smetanka.
The team's running game also flourished in 2010, averaging 126.7 rushing yards per game, easily a modern-day school record. Returning senior Mike Kale (5-9, 205) led the way in his first season of extended duty, placing sixth in the PAC in yards (818), while taking second in the PAC in yards per carry (5.2), en-route to earning Honorable Mention All-PAC laurels.
"Mike did a good job for us," said Colbert, "and he allows us to be able to present some balance."
Speedy senior Jairus Marlow (5-7, 170), who spent the 2010 campaign in the defensive backfield, returns to the offensive side of the ball after gaining 598 yards with six touchdowns between 2008 and '09. The Florida product earned all-conference honors as a freshman in 2008 after averaging a PAC-leading 7.8 yards per carry, while he's also shown good pass-catching ability, averaging 14.8 yards on 23 receptions with three touchdowns, including three catches of 50-yards or more.
The Bearcat running back corps will also welcome a newcomer that is expected to see significant playing time in sophomore Huey Ehredt (5-11, 215). Ehredt comes to Latrobe after spending his freshman campaign at Division-I FCS member St. Francis (PA). An Altoona native, he possesses excellent size and above-average speed, and was a two-time All-District selection at Bishop Guilfoyle High School, rushing for over 1,700 yards.

The fullback position will again be manned by senior Joe Yezovich (6-0, 240). A bruising blocker and strong runner, Yezovich looks to be fully recovered from a season-ending arm injury suffered in week five against Geneva, a game in which he gained 83 yards on 12 carries through just a quarter-and-a-half of action. In 22 carries a season ago, on which he gained 120 yards, Yezovich failed to record one rush for negative yardage, while he also caught three passes for 30 yards and a score.
Another veteran-laden unit for the Bearcats in 2011 looks to be its offensive line, as three full-time starters return, as well as two other returnees who saw significant action a season ago. A pair of 2010 second-team All-PAC selections - senior tackle Taofik Amokomowo (6-2, 295) and senior center Shane Smith (6-0, 305) - look to lead the big boys up front, while senior Sean Sieg (6-0, 240) is back at left tackle after making 17 starts over the past two years.
Senior Jeff Achezinski (6-0, 260) has made 26 appearances, with six starts, between both tackle spots over the past three seasons, while hulking sophomore Darius McGhee (6-5, 315) appeared in eight games in 2010, primarily at left tackle, and is pushing hard for an increased role. Sophomore James Haggerty (6-1, 285) was battling for the starting center spot a season ago before suffering a preseason injury, but the Johnstown native is fully recovered and looks again to make an impact on the Bearcat front line. Sophomores Mitch Depellegrini (6-4, 290) and Ben Horwat (6-1, 305) have also put together strong preseasons, and look to battle for significant time at tackle and guard on the varsity level.
Defense
While it has suffered more personnel loss than its offensive brethren, the Bearcat defense does return a number of solid contributors from a 2010 campaign that saw the team establish modern day school records for total defense (356 yds/gm), scoring defense (23.2 pts/gm), and forced turnovers (19).
Coaching veteran John Thompson enters his first year as defensive coordinator at Saint Vincent, after spending the past four years in the same position at Mercyhurst College. He led the Lakers to the 2010 Pennsylvania State Athletic Conference title, and a spot in the NCAA Division-II playoffs, with a defense that surrendered just 286 yards per game and allowed fewer than 13 points in seven different games.
Leading the Bearcat returnees is the senior inside linebacker duo of Armando Fortunato (5-8, 205) and Anthony Johnson (5-9, 190). Johnson, the school's modern-day record holder in career tackles (207), finished second in the PAC last season with a school-record 102 tackles, including a team-high 12.5 for loss, while adding an interception and a sack. He had 10 or more tackles in seven different games, including a pair of 17-stop performances.
Fortunato, a second team All-PAC selection, finished fourth in the league with 95 tackles, including 11.5 for loss and a team-leading 4.5 sacks. He had six double-digit tackle performances, including a 15-tackle, 3.0 TFL, 2.5 sack performance in the Bearcats' 17-3 Homecoming win over Thiel, and brings 171 career tackles and 7.0 sacks into the new year.
A familiar face also returns to the Bearcats for 2011 in sophomore linebacker David Ribero (6-0, 205). The Florida native did not play in 2010, but starred as a freshman in 2009, earning all-conference accolades after tallying 86 tackles, including a school-record 13.5 TFLs.

The Bearcats' top defensive linemen from a year ago – ends Jeff Graham and John Jackson – have graduated, after combining for 75 tackles, 18 TFLs, and 8.5 sacks and earning honorable mention All-PAC laurels. The battle to replace the two departed remains wide open, with the foursome of senior Zach Doebler (6-0, 220), sophomores Sam Walters (6-1, 215) and Rob O'Hearn (6-3, 215), and freshman Pat Ponko (6-1, 240) fighting to fill the spots.
Two starters return to the defensive interior, in senior tackles Jim Muraco (5-8, 260) and Evan Lucas (5-11, 250), and the duo combined for 45 tackles and 6.5 TFL's, while sophomores Alex Zupanovich (5-9, 250) and Domenic Morell (5-10, 265) are back after each seeing time in eight contests as freshmen.
The safety position also has a pair of starters returning, in seniors Terry Kernan (5-9, 180) and Marvin Daney (6-1, 185). Kernan seized the starting job at free safety, posting 23 tackles - including 20 solo – while breaking up four passes, including a 24-yard interception touchdown return in the week seven win over Grove City. Daney, who made 25 receptions with three touchdowns at the receiver spot during his first two years in Latrobe, made a seamless transition to the defensive side of the ball, breaking up five passes and leading the defensive secondary with 36 tackles.
The cornerback spot is the hardest hit to graduation, after losing a pair of four-year starters in Quillian Reid and Rob James, as well as 2010 honorable mention All-PAC selection Bryan Santos. However, Colbert isn't worried.
"There's a heck of a battle going on right now at corner," he said. "We have a number of fine athletes who are battling for the two spots."
Senior Chaz Coleman (6-1, 180) is the most seasoned returnee to the secondary, as he's appeared in 27 games over the past three seasons, totaling 25 tackles and five passes defended, including his first career interception in last season's opener vs. Bridgewater. Another senior, Matt Lomire (5-11, 175), saw his time increase last season, and ended with eight tackles and two defended passes.
A pair of converted running backs, senior Zach Mihalko (5-8, 165) and sophomore Brandon Hamilton (5-11, 190), made the move to defense during the team's spring practices, and are right in the mix to see significant time right away, while Colbert said that two freshmen, Myleek Rayzer (5-8, 165) and Darius Brown (5-8, 150) are also in line to make an immediate impact.
Special Teams
The biggest void for the Bearcat special teams unit to fill is at the placekicker spot, after the graduation of three-year starter Aaron Jones. Through the first week of camp, Colbert said that freshman Morgan Porter is the frontrunner for the spot, after putting together an All-WPIAL career at North Catholic.
All-PAC running back Mike Kale is the most experienced punter on the roster entering the new year, averaging 32.5 yards on 28 punts over the past two seasons, while Colbert is also happy with the performance of Fletcher Sullivan at the position through the early portions of camp.
Mihalko, who earned all-conference recognition in 2009 at kick returner, looks to again be the frontrunner for the spot in 2011, as he's averaging 21.6 yards on 93 returns, with one touchdown, for his career. Marlow has served as the team's second kick returner since 2008, averaging 21.3 yards on 17 returns, including five run backs of 30 yards or longer.
Kernan is the lone returnee with experience at returning punts, with six for his career, and a number of players have also be auditioning for the spot throughout camp.
The Schedule
For the second straight year, the Bearcats will open the season against Bridgewater College, traveling to take on the Eagles on Sept. 3rd. It will be a homecoming of sorts for a pair of Bearcat coaches, as head coach Bob Colbert spent eight seasons (1998-2005) on the Bridgewater sideline, serving as offensive coordinator and associate head coach, while SVC offensive coordinator Bret Colbert was a three-year letterman at wideout for the Eagles.
Saint Vincent's week two opponent will also be the same as last season, as the Bearcats will host New Jersey's Fairleigh Dickinson-Florham on Sept. 10th as part of the yearly Presidents' Athletic Conference – Middle Atlantic Conference (PAC-MAC) Challenge.
The Bearcats will then end the season with eight straight PAC contests, beginning with a Sept. 24th matchup at Thiel. Saint Vincent's Homecoming Day contest will take place on Oct. 8th, against Washington & Jefferson, while for the fourth straight year, the Bearcats will end the season against Bethany College, hosting the Bison on Nov. 12th in "The Green Game," as part of PAC Rivalry Week.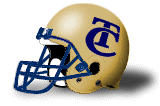 Thiel Tomcats (0-10 Overall, 0-7 PAC in 2010)
Looking to put last season in their rearview mirror, Thiel coach Kurt Reiser and the Tomcat players have plenty of reasons to be optimistic as the 2011 season approaches.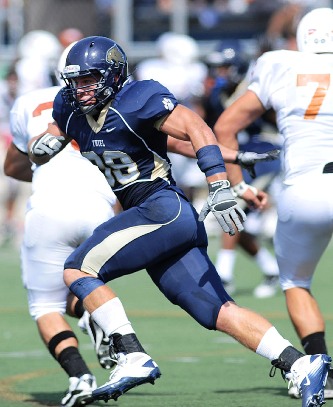 To start, Thiel returns a strong contingent of upperclassmen starters on defense, including two all-Presidents' Athletic Conference selections in defensive end Tim Taylor (right) and linebacker Ethan Ludwig, an outstanding senior linebacker in Ryan Dawes, and Marshaun Hainesworth, a junior that Reiser says has the potential to be one of the best defensive backs in the conference this season.

The offense may be a little younger than the defense for the Tomcats, but no less experienced. They are loaded with talented sophomores who received ample playing time last year after coming in as part of a huge freshmen football class. The group includes seven players that received starts in their first season at Thiel.

Additionally, the team will be in its second year of its transition to a spread offense, a change that didn't come easy early on in the season but showed signs of improvement as the year progressed.

"Not only from a player standpoint but from a coaches' standpoint, it took time for us to adjust to that transition. You throw on top of that we started a bunch of freshmen on offense, including our two quarterbacks, those are all things that added to our frustrations last year," Reiser said. "Having a year under our belts, having those guys back and with them going through the spring and learning and executing the offense, I think they have a better understanding of what we're trying to accomplish."

When the team enters camp on August 13, it will have two solid options at quarterback. It is unclear which will start the season under center for the Tomcats, but Reiser says both Jared Soell and Andrew Smith could be involved in the offense in one way or another.

"They're both too good of athletes to be standing on the sidelines," Reiser said. "It will depend on how our incoming freshmen quarterbacks come along. If we have a guy that we feel very comfortable with at the backup position, that will allow us to be more flexible with Jared and Andrew."

The two sophomores split time at quarterback last season and offer different strengths for offensive coordinator Brad Paulson to utilize. Soell is a multi-threat player who led the team in passing yards, rushing yards and rushing touchdowns last year while Reiser says Smith has the stronger arm.

Whoever gets the starting nod at quarterback, he will have two promising wideouts to throw the ball to as Nate Houpt and Ronnie Howard return for their sophomore seasons. They were one-two on the team in yards per reception last season, and Houpt had the team's longest play from scrimmage with a 73-yard touchdown reception.

Howard lined up as an inside receiver last year but will join Houpt on the outside this season.

"Ronnie is an explosive athlete. We love to get him involved with the running game as well as the passing game," Reiser said.

Reiser was encouraged by the development of a number of other wide receivers in spring practices, including Zane Garza, Devin Wasylink, Dom Perella, Bill Frizzi, Matt Fedzen and Nate Blazevich.

In addition to the receiving corps, the Tomcats have a great passing option in tight end Kyle Turkalj. In his freshman season he quickly established himself as one of the top pass-catching tight ends in the conference, finishing tenth in the PAC in receptions per game. He earned an honorable mention all-PAC selection at the end of the season.

"Kyle has to get better from a run blocking standpoint but he offers us so much with what he can do in our passing game that he is going to be valuable for us," Reiser said. " With him and senior E.J. Kruse, I feel very good about the tight ends we have returning."

Up front, senior offensive lineman David Mossa, an honorable selection on the all-PAC squad last season, leads the Tomcats. He is already a three-year letterwinner and is lauded by Reiser as the team's best lineman.

Junior Mike Rasor and sophomore Andrew Enterline are also returning letterwinners on the offensive line while junior Aaron Parker received a lot of playing time and is expected to compete for one of the tackle positions.

Also competing for spots on the offensive line are Jonathon Welsh, Rex Smith, Jordan Fortuna, John Beal, Adam Mott, Todd Harvey and Sam Naas.

"That's our goal. We want to be a team that's able to run the football, we're just doing it in a different way than in the past," Reiser said. "We are expecting an attitude from our linemen that they want to be physical and we are trying to cultivate that now."

All coming off exceptional seasons statistically, Taylor, Dawes and Ludwig will be called upon to lead the defense. Taylor's numbers last year are evidence of his ability to create havoc in the backfield. His 17.5 tackles for loss were second all-time in the Thiel record books while his seven sacks were tenth best all-time.

"He is a relentless competitor who works extremely hard," Reiser said. "I know come Aug. 13 he is going to be ready to roll."

Junior Kris Tursky and senior Joe Grech give the Tomcats three returning letterwinners on the defensive line. Other players looking to start or add depth up front are Bryce Whittingham, Jamaal Dorsey, David Palus, Berend Grube, Brian Davis and Dan Landowski. Grube made the move from tight end to defensive end midway through last season while Davis is returning from an injury.

The strength of the defense for the Tomcats may be the linebackers. Ludwig, a junior, led the team in tackles last season with 75 while Dawes was third on the squad with 56. The two combined for 18.5 tackles for loss and 3.5 sacks.

Nick Gargaro, one of just five seniors on defense, will get the chance to compete for a starting spot at linebacker. Others in the mix include Terry Gensel, Jason Miller and Scott Hawkins.

Hainesworth will be a leader in the secondary this season after taking over a starting role at the beginning of his sophomore year. He had 37 tackles and two interceptions. Reiser cites his athletic ability for his potential as being one of the PAC's top defensive backs.

The secondary was rarely the same from game-to-game last season because of injuries, but three other players return with at least some starting experience. Bobby Hritz, a conference champion in the high jump during the track season, started some games at corner. Junior Hunter Liptrap and sophomore Julian McLean also had opportunities to start.

Derek Mellors had a good spring and could challenge at corner, as could John Amorose, Ryan Exler and Josh Stewart. Senior David Urey will look to get back on the field after an injury plagued two seasons.

"You have to give that kid credit. He has done a good job of persevering through two knee injuries and has stuck it out," Reiser said of Urey.

At the specialty positions, Grube returns as the team's starting kicker and will be backed up by Ken Burns. Reiser says if Grube can improve his accuracy he will be a valuable weapon for the team.

It's still up in the air on who will take over the punting duties. As of now it is Soell, but obviously Reiser is hesitant to have one of his quarterbacks in that role.

"He has progressed significantly at that position," Reiser said. "Hopefully we have some young guys step up in that position so we can find a punter that isn't one of our possible starting quarterbacks."

Thiel will once again open the season against Marietta. That game will be on the road and is scheduled for a 7 p.m. kickoff. Widener will be the other non-conference game in week two. The only real difference in the schedule this year is that the Tomcats will have eight conference games now that Geneva is officially a member of the PAC.

"Last year, our record didn't indicate the type of team that we were," Reiser said. "I think the attitude amongst our team is that they can't wait to get back on the field for the fall of 2011 because they know that we are going to be much better."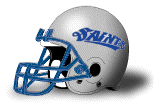 Thomas More Saints (11-1 Overall, 8-0 PAC in 2010)

The 2011 edition of the Thomas More College football team will look to win its fourth straight Presidents' Athletic Conference (PAC) Championship and make a deep run into the National Collegiate Athletic Association (NCAA) Division III Football Playoffs.
A season ago, Thomas More finished with an 11-1 overall record, a 7-0 record in the PAC, and made its fifth overall and third straight appearance in the NCAA Division III Football Playoffs. The Saints' undefeated 10-0 regular season record was their fifth overall and second straight undefeated regular season.
This season, head coach Jim Hilvert, 34-11 in four seasons at Thomas More, welcomes back 42 letterwinners and 19 starters, including 10 on defense and seven on offense.
"We have a good core of guys coming back from last year," said Hilvert. But last year was last year. We need guys to keep stepping up and being great leaders for us to be successful. The guys worked hard this past off-season and were humbled in the second round of the playoffs. I believe that game gave us more motivation to be one of the elite programs in the country. We must have an edge about us this year and not be complacent. We have to take one game at a time and compete every day. We must come together as a team during camp. Guys have to understand their roles. I believe our guys are up to the challenge."
Offensively, junior quarterback Rob Kues will be back to lead the offense after leading the Saints to a school record 33.2 points per game last season. In 2010, Kues completed 149-of-255 passes (58.4 percent) for 1,893 yards with 16 touchdowns. A solid all-around athlete, he was third on the team in rushing with 539 yards and eight touchdowns.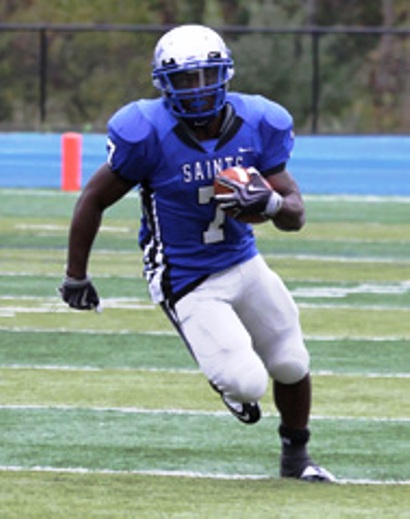 Kues will have two key receivers back from last season in senior Honorable Mention All-PAC Mercier Doucette and junior Austin Studer. Doucette caught 17 passes for 334 yards and six touchdowns and Studer had 17 catches for 224 yards and four touchdowns.
In the backfield, sophomore first team All-PAC Domonique Hayden and senior first team All-PAC Kendall Owens (left) will see most of the action at the running back position. Hayden had seven 100-yard performances last season, including a Thomas More single-game-tying five touchdown performance against Hanover College. He finished the season with 1,195 yards on 212 carries and 16 touchdowns. Owens was second on the team in rushing with 115 carries for 626 yards and five touchdowns, while leading the team in receiving with 40 catches for 529 yards and two touchdowns. Owens is also one of the Saints' main return men as he led the team with 24 punt returns for 440 yards and two touchdowns and was also first in kick returns with 22 returns for 393 yards.
The offensive line will be very experienced for the Saints as they return four of their front five. The returners include junior first team All-PAC left tackle Jeremy Hoop, and sophomore second team All-PAC center Kevin Nalter. The offensive line allowed only 20 sacks, while blocking the way for the Saints' ground attack to rush for 2,685 yards.
"I am very excited about the guys who are coming back on offense," stated Hilvert. "We have a lot of play makers back to go along with experience in the trenches. Rob Kues had a good off-season and improved in spring ball. His experiences last year will help him be a better quarterback this year. The running backs, who are headed by Kendall Owens, are a very exciting group of players. Dominique Hayden and Adam Rauch are both back and had great off-seasons. The offensive line has a lot of experience coming back headed by Jeremy Hoop and Kevin Naltner. We also have a lot of difference makers at the wide receiver position. The position is headed by Austin Studer, Corie Cartmell, Mercier Doucette and Tony Bell. We must take care of the ball and not kill ourselves with penalties. We also must play physical and never be satisfied at any time. If we do these things we can be a very explosive offense."
Defensively on the front four, the Saints return experience in three spots as senior first team All-PAC selection Jay Volker, senior Honorable Mention All-PAC selection John French and sophomore Jake Smith all return. Volker had 40 tackles (23 solo, 17 assisted), including 14 for a loss of 69 yards and a team-high-tying nine sacks for a loss of 48 yards last season. French had 30 tackles (18 solo, 12 assisted), including four and a half for a loss of 17 yards and two and a half sacks for a loss of 13 yards. Smith finished the season with 21 tackles (12 solo, nine assisted), including four tackles for a loss of 13 yards and three sacks for a loss of 10 yards.
Hilvert will also have two linebackers returning from last season's team as junior first team All-PAC selection Nick Gramke and senior Zach Mink both return. Gramke led the Saints' in tackles last season with 79 (39 solo, 40 assisted) and had six and a half tackles for a loss of 20 yards and two sacks for a loss of 13 yards. Mink had 49 tackles (33 solo, 16 assisted), including six and a half tackles for a loss of 41 yards and two and a half sacks for a loss of 23 yards.
In the secondary, junior first team All-PAC selection Zach Autenrieb and sophomore Jake Fishburn both return. Autenrieb led the team in interceptions last season for the second straight season as he had eight interceptions and returned them 41 yards. He also had 45 tackles (29 solo, 16 assisted), including one tackle for a loss of two yards and had two fumble recoveries. Fishburn had 43 tackles (28 solo, 15 assisted), including two and a half tackles for a loss of 11 yards and one sack for a loss of five yards to go with three interceptions returned 13 yards.
"Defensively we have good core of guys coming back," said Hilvert. "We need for some players to step up and play a bigger role on our defense this year. We must stop the run and create turnovers this year. We have to play physical all the time and must compete on every snap. The defensive unit will be led by Nick Gramke, Anotonio Booker, Zach Autenrieb, John French and Jay Volker."
On special teams, Thomas More senior second team All-PAC punter Aaron Walter returns. He had 2,669 yards punting on 67 punts last season for an average of 39.8, including a long of 66 yards and 20 punts inside the 20 yard line. Walter also handled the kickoff duties last season and had 74 kickoffs for 4,309 yards and an average of 58.2 yards per kick.
"I believe our special teams will be better due to the athletic recruiting class we brought in this year," commented Hilvert. "There will be some great competition on special teams with the new guys. We also have Aaron Walter back who does a great job changing field position."
Thomas More opens the season ranked in two preseason publications as it is ranked No. 11 in Lindy's and No. 14 in The Sporting News. The Saints open the 2011 season on Saturday, September 10 when they host Hanover College at 1:30 p.m. at The Bank of Kentucky Field in Crestview Hills, Kentucky.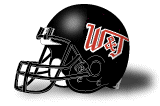 Washington & Jefferson Presidents (9-2 Overall, 6-1 PAC in 2010)

Washington & Jefferson College produced its 27th consecutive winning season in 2010. The Presidents also made their eighth postseason appearance in a row under Head Coach Mike Sirianni, defeating Franklin & Marshall in the ECAC Division III Southwest Bowl by a 54-41 margin.
However, when reflecting on the season, Sirianni most remembers the resiliency of his team. Seven opening day starters missed significant parts of the season due to injuries. Eight other starters were held out of at least one game by the athletic training staff at various points.
"The injuries were definitely tough to deal with, but that's no excuse," said Sirianni emphatically. "We still had a great season. Because of the injuries, we may have more depth now than we've ever had. Plus, the underclassmen who missed time last season have worked hard to try and get their starting jobs back."
The Presidents' defense suffered a majority of the setbacks and many of those players are back for 2011. Senior defensive lineman Darrick Dominick missed the entire season, but is primed for a breakout year. Senior All-PAC defensive backs Josh Buckley and Matthew Gal also missed significant time and will be counted on to solidify an athletics secondary. Buckley is also a dangerous punt returner.
In addition, Shawn Rohrer takes over as defensive coordinator after Matt Caponi left for an assistant coaching position on Todd Graham's first staff at Pitt. Rohrer, who spent the last three seasons as the defensive coordinator at Saint Vincent, looks to put his own touch on the unit which allowed 20.5 points per game (2nd in PAC) a year ago.
"Coach Caponi's defense played a huge part of our 2008 run to the national quarterfinals," added Sirianni. "However, we feel we landed a great coach in Coach Rohrer. We really patched things together last year on defense and because of the experience gained, we feel we have great athletes who will come together as a unit."
Senior linebacker Neil Sorice has been a mainstay in the center of the Presidents' 4-2-5 defense the past two seasons. He is the leading returning tackler (70), while adding 2.5 sacks. Seniors Mitch Rose and Dante Amatangelo and junior Brendan Lucchino will all vie for time at the other linebacker spot during the preseason.
Dominick, senior Frank Gigler, juniors Andy McGill, Gavin Donathan and Andrew Booth and sophomore Chris Heim will all be part of a rotation on the defensive line. Gigler, a CoSIDA Academic All-District performer, had a team-high 15 tackles for a loss and 7.5 sacks during a standout junior year. McGill led the team with eight sacks, while Donathan supplied 25 tackles and two stops. Heim came one strong at the end of the season. Senior Phil Dern will also be counted on to pressure the quarterback and John Watts, a transfer from Elon, could also have an impact.
The Presidents will once again utilize five players in the secondary. Buckley, Gal, junior Nathan Melhorn and sophomore B.J. Monacelli will handle the two cornerback slots, while senior Pat Fening was one of the beneficiaries of increased playing time last year and he responded well with 34 tackles (4.5 for a loss).
Sophomore Ian Hennessy is a talented athlete who will find his way into the starting lineup. Where that may be; however, depends on how Rohrer decides to use his unique versatility. Hennessy, who last year played defensive end, linebacker and safety, finished his rookie season with 53 tackles, including an impressive 13-stop performance in his first collegiate game at Delaware Valley. Seniors Phillip Soeder and Troy Mueller will provide depth in the same hybrid role that Hennessy will play.
Sophomore Erik Espe averaged three tackles a game after being inserted into the lineup in week four and looks to lock down the starting weak safety position. Senior Jimmy Thompson, who also excels on special teams, will battle Espe for the position in the preseason after making 19 tackles a year ago. At free safety, sophomore Mickey Bednar appears to be the early favorite to take over the position held the last four years by All-American Craig Sedunov.
"These guys are all very athletic and will benefit the style of defense Coach Rohrer likes to play," said Sirianni. "Fening played very well after we lost Nathan Harmotto and Espe stepped in and played great during some big games for us. Buckley could really make an impact with his athleticism."
Sirianni's teams have known for possessing a high-powered offensive attack; however, the last two years the Presidents have averaged 366.0 total yards per game. From 2004-2008, W&J averaged 459.1 yards per game. Last year, Washington & Jefferson ranked 87th (367.3 ypg) among 236 NCAA Division III teams in total offense and was third among PAC schools; however, Sirianni has much higher expectations for the 2011 offense.
"We've always been a better football team when we put a lot of points on the scoreboard," noted Sirianni. "We feel comfortable when we score quickly and often. That's the type of football program we are and we aren't going to shy away from it. The quicker the pace, the better we play."
Sophomore running back Tim McNerney will be the catalyst for the offensive production after rushing for 1,009 yards and scoring 18 touchdowns a year ago. He gained 100 or more yards five times in the last seven weeks of the season, including 147 yards and three touchdowns in the ECAC bowl game.
"I think Tim is the best back in the conference and I believe he proved that last year," said Sirianni. "We need to find unique ways to get him the football. He's deceptively fast and runs extremely hard. I know he is going to improve in certain areas as well, like his blocking."
Sirianni is also excited about the return of junior Deandre Simmons and sophomore transfer Dion Weigand (Robert Morris). "Deandre has shown flashes of greatness, but he just needs to harness that ability. We are fortunate to land a talented player like Dion from Robert Morris.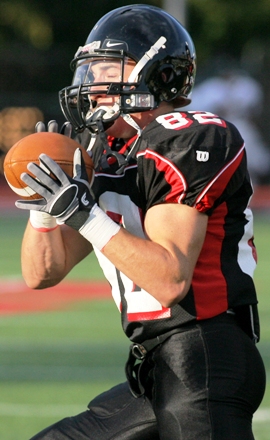 He has a ton of ability and I expect all three of these guys to push each other."
Junior Andrew Cappucci appears to be the frontrunner to start at quarterback. He threw for 229 yards and three touchdowns last year as the backup to Gino Rometo. Sophomores Zack Sopak and Matt Bliss had outstanding seasons on the junior varsity squad and will be given opportunities to impress the coaching staff early on.
The wide receiving corps is deep and talented led by senior Adam Dominick. A 6-foot-3 target, Dominick caught 32 passes for 401 yards and two touchdowns in 2009. Sophomores Alex Baroffio (right) (30-372-4) and Max Creighan (12-87-1) excelled during their first collegiate seasons and are expected to compliment Dominick on the outside.
Junior All-PAC performer Ben Hoffer (18-326-3) is a diminutive, yet reliable threat, while senior Brett Axner (14-201) proved to be a force over the middle as a tight end. Senior Dreadless Stubbs, junior Hunter Creel and sophomore Dan Lucas add to what has become one of the Presidents' most consistently deep positions.
"Each team is built differently, but we always seem to have great talent at wide receiver and this year is no different," said Sirianni. "If we get the football into their hands, this group has a chance to be really good."
Senior left tackle Gary Flavion anchors an offensive line from which Sirianni expects better production. A two-time All-PAC honoree, Flavion has been part of 29 victories during his first three seasons. Senior Justin Cole and junior Mike Mastellino both saw action at left guard last year, while senior Anthony Natale and junior John Tokarski return at center after splitting starts. Senior Jared Peretic and sophomores Tyler Watson, Zach Wildey and Matt Yanda are expected to battle for the right tackle starting position, while classmate Andrew Pingitore will most likely start at right guard. Pingitore played defensive line and had nine tackles in five games.
"Offensively, we can't turn the football over," Sirianni proclaimed. "The games we have lost recently, we've been on the losing end of the turnover battle. I also expect Coach Rohrer to stress creating turnovers to our defense. As well as our defense has played, we only forced 19 turnovers last year. We need to do better in this area on both sides of the ball."
Sirianni is hoping to receive a boost from last year's ECAC bowl game win. During his first year as head coach in 2003, W&J defeated Wilkes in an ECAC bowl game and used that momentum to post a 12-win season the following year, while advancing to the NCAA Division III quarterfinals.
"(The ECAC win) is a step in the right direction," concluded Sirianni. "We beat a F&M team that had two victories against NCAA playoff teams. I feel the depth that we have developed is helping the program regain confidence."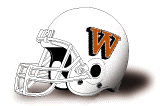 Waynesburg Yellow Jackets (6-4 Overall, 4-3 PAC in 2010)

As the 2011 season nears the Yellow Jacket football program looks to build upon its 6-4 overall finish a season ago. The Jackets remained competitive week in and week out in 2010 as they just missed a chance at postseason play for the first time since 2007.
Led by head coach Rick Shepas, the Jackets held a 3-1 record in Presidents' Athletic Conference (PAC) play heading into the final two weeks of the season with a chance to lay claim to its first conference title since 2003. However, the Jackets dropped their final two contests of the season, first a 14-10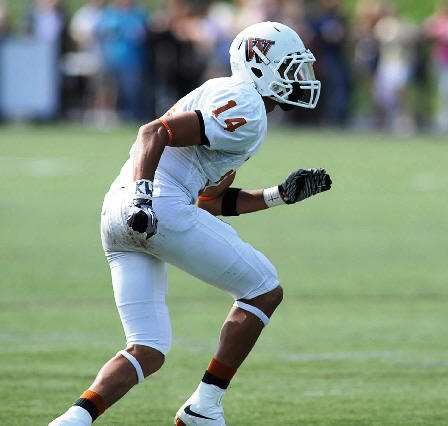 decision to three-time defending champion Thomas More and a heartbreaking 31-30 overtime loss to rival Washington and Jefferson to close out the season. With those two losses the Jackets finished 6-4 overall and 4-3 in Presidents' Athletic Conference play. The final two games were a microcosm of the Jackets' 2010 campaign, which featured four losses coming by a combined 15 points.
Optimism is running high for the 2011 season as Waynesburg returns nine starters from a defense that forced opponents into 18 interceptions and eight forced fumbles a year ago. A pair of seniors, defensive tackle Darryl Moore, Jr. and defensive back Sean Hunt (left), are back to lead the defense.
On offense, junior tight end Adam Moses returns after being selected to the first team of the D3football.com 2010 All-South Region Team. The 2011 season opens Sept. 3 as the Jackets travel to Newport News, Va. to take on Christopher Newport in a non-conference matchup. This marks the seventh season that head coach Rick Shepas has been at the helm for the Jackets.

The Offense
Waynesburg's well-balanced offensive attack was once again highlighted during the 2010 season. Running primarily out of the spread formation, the Yellow Jackets ranked third in the PAC in scoring offense (32.2 ppg). That average was right behind nationally ranked opponents Thomas More (33.2) and Washington and Jefferson (32.4). The offense ranked right in the middle of the conference in rushing and passing yardage to give the Jackets a solid attack. One of the big challenges for the team is replacing three-year starting quarterback Brad Dawson. Dawson, an honorable mention selection All-PAC signal-caller, finished last season with 14 passing touchdowns and threw for 2,111 yards. During his junior season, Dawson set a new school record for passing yards in a season (2,718).
Quarterbacks
It will be a year of transition at the quarterback position this fall as Shepas and his coaching staff will have to replace one of the most prolific passers in school history in Dawson. The Pittsburgh native threw for 6,568 yards over three seasons under center, which ranks him second in the program's history. He also logged 47 touchdown passes in 28 career starts in the orange and black and twice threw for over 400 yards in a game.
With the graduation of Dawson, Waynesburg will look to find its new leading man in 2011. The early frontrunner looks to be last year's primary backup, senior Josh Graham.
Graham has seen time sparingly during his time at Waynesburg, but had a breakthrough performance last season against Grove City when Dawson was held out due to an injury. During that contest against the Wolverines, Graham completed 16-of-23 passes through the air for 200 yards. The Sewickley native tossed three touchdowns and just one interception in the Jackets 42-16 pounding of Grove City in the Jackets' home opener at John F. Wiley Stadium.
Also in competition for playing time at the quarterback position are juniors Doogie Sanner and Tyler Fatigante. Senior Ryan Williams, a former QB turned safety, was also used extensively last year to run the team's option attack. Looking ahead to the future, the Waynesburg coaching staff has worked hard to bring in several talented freshman signal-callers, who are not only the future of the team, but could push for field time from day one.
Running Backs
Over the past few seasons, Waynesburg's running game has feature a strength-in-numbers approach. Heading into the season, the Jackets return three experienced backs from a year ago, led by senior Justin Falcon, who has seen nearly 350 carries since arriving on campus. Falcon has been a consistent workhouse for Shepas' offense and has led the team in carries each of the past two seasons.
Sophomores Bertrand Ngampa and Dominic Moore also played key roles for the Jacket ground game in 2010. Ngampa was the Jackets leading rusher with 491 yards and tallied seven touchdowns while Moore was used primarily as the Jackets short yardage back, scoring 10 touchdowns during his freshman season. Senior speedster Jamelle Bowers will look to make a splash on the ground for Waynesburg as well.
When Waynesburg goes to a more traditional running formation with a fullback, look for junior Travis Kuhn to see plenty of field time. Bruising junior Al Okinski, Jr. (5-8, 240), could also see some field time as well.
Receivers
Whoever is calling the signals as the Jackets quarterback in the fall will have several experienced receivers to throw to as the returns its top two pass catchers from last season.
Junior tight end Adam Moses broke out during his sophomore season and provides a good option downfield. Moses appeared in all 10 games last season and led the Jackets in both receptions (37) and touchdown catches (7). Moses earned numerous postseason accolades, including first team All-PAC and D3football.com laurels. The lauding for his work on the field continued into the 2011 preseason when the Fairview Park, Ohio native was honored as a first-team All-American by Lindy's magazine.

Two-sport athlete Jeff Young returns for his final go-around on the football field. Young had 34 receptions and a team-high 583 yards last year before heading indoors to star with the Waynesburg basketball team. Young caught a season-high three touchdowns against Grove City when Graham filled in for Dawson at quarterback. The senior from Washington D.C. went over the 100 yard receiving mark once last season, as he tallied 125 receiving yards in a 55-42 triumph at Geneva.
Junior receiver Christian Jackson will also be counted on to have an expanded role this season. Jackson had 24 receptions and three touchdowns last season. Waynesburg could also utilize junior Jesse Robinson and sophomores Mike Ferraro and Cody McGee in multi-tight end sets.

Offensive Line
The offensive line was perhaps the Jackets' biggest offensive strength during the 2010 season but four of the five starters are gone from a year ago. Obviously, there will be plenty of rebuilding to do up front for the offense to maintain its potency.
Starting tackles Melvin Warrick and Mike Broda, along with starting guards, Corey Dieterle and Nebojsa Nedic, all need to be replaced. Warrick was a second-team All-PAC selection in 2010 and Dieterle was an All-PAC pick in 2009. Those losses mean there is plenty of experience that needs to be replaced if the Jackets want to create holes for the running game and time for receivers to get open downfield.
One big plus for Waynesburg up front is the return senior center Nick Hanley. Hanley has been a two-year starter at the position for Waynesburg and has been selected All-PAC both of those seasons. Following a terrific 2010 showing, Hanley was named first-team all-conference.
Juniors Julian Pintola and Conor Brinkoff have both seen action previously and will have a chance to earn more time when training camp starts in August. The same goes for sophomores Sam Congemi and Zac Gobbel. Congemi appeared in five games and started two contests last season (Saint Vincent and Thomas More).
The Defense
The defense had to be looked at as a concern heading into the 2010 season but should be viewed as a strength heading into the 2011 campaign. The Jackets did a fine job replacing three starters in the secondary and saw several players flourish in 2010.
Defensive coordinator Scott Venick's defense returns nine starters from a season ago in which they forced their opponents into 26 turnovers and allowed a modest 22.9 points per game, which was good for third fewest in the conference.
Some key returners include first-team all-conference performers safety Bryan Gary, Moore and Hunt. Both the Jackets defensive losses occurred on the defensive line as Anthony Calcagni graduated and defensive lineman Josh Malenke tragically passed away in a motorcycle accident. The linebacking corps and secondary look to be fully intact and should be loaded with depth.
Defensive Line
The Jackets defense looks to be strong in the trenches in 2011 as Moore and junior defensive tackle Matt Krause both return and look to build off of strong seasons from a year ago.

Moore practically lived in opponents' backfield from the outset of the season and continued until its conclusion. He had 17 tackles for loss, a total which was good enough for fourth in the conference. Moore also led the team and ended up in a tie for fifth place in the PAC with 7.0 sacks. That amount was more than Moore had his first two seasons with the Jackets combined and led to him being named first-team All-PAC and third-team D3football.com 2010 All-South Region Team.
Krause got his first consistent chance to start and performed well. The Youngstown native recorded 42 tackles and tallied 3.0 sacks. He also intercepted a pass and recorded four tackles for loss on the season.
Also competing for time on the defensive line will be sophomore Brandon Fedorka. Fedorka, who also qualified for the NCAA Division III Wrestling Championships as a heavyweight, showed a high motor and energy level in time off the bench as a freshman. He was second on the team behind Moore with 7.5 tackles for loss and collected 3.0 sacks as a pass rusher. The Hopewell native also recovered two fumbles last season.
While Fedorka has the inside track on a starting job in the trenches, the Waynesburg coaching staff will also look for contributions from sophomore Dan Aevermann, junior Alex Smith and sophomore TJ Dovie.

Linebackers
With seniors Nate Harr and Scott Bogdan, and juniors Alex Menton and Jordan Helmick all returning, linebacker looks to be one of the most experienced positions for Waynesburg.
Harr had a respectable 53 tackles, 3.0 of which were for loss and added a sack last year in his first full season starting, that was hampered by injuries. Harr had a season-high 10 tackles in a 24-17 loss at Bethany. Bogdan was slowed by injuries a year but managed 22 tackles and two fumble recoveries. Bogdan should provide solid depth at the position and has starting experience.
Menton started the final four games of the season while appearing in nine games. The junior from Youngstown, Ohio, tallied a season-high nine tackles twice last season and had a key interception against PAC champion Thomas More. Helmick broke through by starting seven games a year ago. The Cumberland, Md. native registered 30 tackles and collected 3.5 tackles for loss in 2010.
Seniors Andrew Baker and Chuck Thomas, juniors Adam Horning and Roscoe Bright, and sophomores Adam Rossi and Ronnie Skinner are all expected to compete for playing time.
Defensive Backs
Despite having to replace three starters in the secondary heading into last season the secondary showed consistency throughout the season behind its lone returning starter Hunt and a few new faces.
Hunt led the PAC and finished tied for eighth in all of Division III with eight interceptions. His 14 passes defended was also the second-highest total in the PAC. Hunt collected 30 tackles and one sack to go along with the lofty pass defense numbers. The native of Coraopolis was named first team All-PAC and a third-team selection on the D3Football.com 2010 All-South Region Team.
Returning alongside Hunt in the secondary is Gary, senior safety Ryan Williams and junior cornerback Matt Czulewicz.
Gary was recognized as a first-team All-PAC selection after his first full year as a starter a year ago. The Pittsburgh native was not only the Jackets' leading tackler (69) but also had 5.0 tackles for loss and intercepted three passes, two of which he ran back for touchdowns. Gary became known for his big plays throughout the season as he blocked a Trevor Young extra point with just 38 seconds remaining to preserve a 24-23 homecoming win over Westminster. Just two weeks later Gary struck again. In the midst of a tie game and with Saint Vincent driving for a go-ahead fourth quarter score, Gary took a pick back 80 yards to give Waynesburg a lead it never relinquished.
Williams played a key role in the second after changing over from quarterback to the defensive side of the ball. Williams starred at safety and made 57 tackles, which was good enough for second most on the team, right behind Gary.
Czulewicz did an array of things for Coach Venick's defense. He collected 35 tackles, had 1.5 tackles for loss, tallied 1.0 sack and intercepted two passes as he played the cornerback position opposite of Hunt.
With all four starters back playing time might be hard to come by but there is plenty of experience to fill in for the secondary. Seniors Spencer McKim and Sam Byrne both saw playing time last season and will be counted upon again on special teams and should bring experience in the defensive secondary, especially in the nickel defense. Further depth in the defensive backfield is added by sophomore Bernard Wise, Ryan Harr and Kyle Oland.
THE SPECIAL TEAMS
In recent the seasons special teams have been one of the more consistent facets of the Waynesburg football team under assistant coach Jason Falvo's tutelage. The Jackets will have to replace a few key members of the special teams units heading into the 2011 season.
Gone are return man Troy Garove and place kicker Jon Storck, both of whom saw success last season. Garove averaged a modest 21.8 yards per kick return and also returned a punt 72 yards for a touchdown against Frostburg State. Storck was honored as an All-PAC selection after each of his two seasons at Waynesburg.
Kicker
For the third time in four seasons the Jackets will be looking for a new kicker as it readies itself for the start of the season. Storck. An All-PAC second team performer will not be returning this season so the competition looks to be wide open. The replacement for Storck will have big shoes to fill. He made 8-of-11 field goal attempts and connected on 40-of-42 extra points last season. Senior Chris Marini, along with several newcomers, will duke it out in camp for the job.

Punter
One of the few areas on special teams where the coaching staff won't have to look for a new starter is punter. Junior Zack Rogers returns for his second season as the starter and will look to build upon a sophomore campaign in which he averaged 35.5 yards per punt and had a long kick of 50 yards.

Returner
As mentioned above, the Jackets will need to find a reliable replacement for Garove in the return game. Garove led Waynesburg in all-purpose yards at 79.2 per game, but Jackson looks like a good candidate to fill that role. He had the second most kick returns last season (9) and actually had a better return average (24.2) than Garove. The team averaged 21.1 yards per kick return in 2010.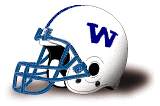 Westminster Titans (2-8 Overall, 1-6 PAC in 2010)

There will be a fresh start for the Westminster College football team in 2011. That's not because the Titans lost a lot of starters, but instead because of a void left by the 18 seniors who graduated from the 2010 team, the largest senior class since 2000.

New leadership will be called upon from the 13 returning starters (6 offense, 6 defense, 1 specialist). The Titans lost 11 starters, nine senior starters, from the 2010 team that posted a 2-8 record and a seventh-place record of 1-6 in the Presidents' Athletic Conference (PAC). Half of the Titans' losses were in one-possession games, including a road loss by one point and another road loss decided in triple overtime.

"While we are eager to put last year behind us, the players returning this year learned valuable lessons," said seventh-year head coach Jeff Hand. "They got to play in some close games and they played alongside a large group of seniors."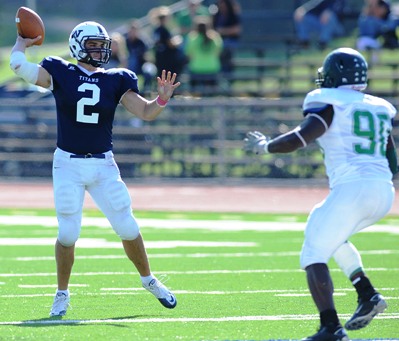 Offense
Most notably on offense is the loss of four linemen with senior Adam Fueller as the only returner. However, the Titans return the top four rushers, top three receivers and senior quarterback Shawn Lehocky (right).

"Most of our offensive line graduated but it's much easier to transition when you have all of your running backs, wide receivers and quarterbacks returning," Hand said.

A one-year starter, Lehocky is ranked 10th in team history with 2,766 passing yards including 155-of-293 for 1,726 yards and 14 touchdowns last year. He also rushed for 310 yards and four scores last year after running up 446 yards and seven scores as a reserve in 2009.

His favorite target will likely be junior receiver Geno Pasquinelli, a second-team all-PAC selection, who caught 48 passes for 514 yards and six touchdowns despite having an injury that reduced him to six starts and limited action in three other games.

Junior Connor Kobis and sophomore Collin Wallace are also back after catching 31 passes for 383 yards and 22 balls for 290 yards, respectively, in their first years as starters.

Junior running back John Proano led the Titans in rushing last year with 121 totes for 530 yards and two touchdowns in eight starts. Sophomore Tyler Banks is also back after rushing 73 times for 318 yards and a team-high five rushing touchdowns in 2010.

At tight end, senior Nate Horgan is back after he sustained an injury after starting the first two games of the 2010 season.

Defense
Like the offense's large void on the line, the Titan defense will have a position group that will have a new look in 2011 and that is the linebacking corps.

Three of the top six tacklers in the PAC last year were Westminster senior linebackers. Junior linebacker Aaron Nauer is the lone returning linebacker, but he is more of a lineman as an edge-rusher from his outside linebacker position. Nauer, a second-team all-PAC selection in 2010, ranked fourth on the team with 61 tackles, which included a team-high 17 tackles for a loss of 71 yards and a team-high seven sacks for a loss of 42 yards. He also broke up a team-high six passes.

"Our defensive line and secondary will have to make up for the losses at linebacker," Hand said. "This group is up to the task and the players returning showed last year that they are capable of great things."

Sophomore Sean Christofferson and senior Ryan Budziszewski both return on the defensive line after posting 36 and 26 tackles, respectively, last year as first-year starters. Christofferson ranked second on the team with 6.5 sacks.

Three of the four defensive backs are returning but a fourth player started five games in 2010. Junior Kyle Allen and senior Jordon Rooney, both two-year starters, started all 10 games last year at cornerback. Junior safeties J.J. Nalesnik and Derrick Orloski split the season with five starts apiece.

Rooney led the Titans with three interceptions while Nalesnik picked off two passes and broke up five.

Special Teams
Senior punter Andrew Clark is back for his fourth year as a starter after averaging 37.1 yards last year. Allen was voted to the all-PAC second team as a kick returner last year after averaging 24.7 yards per kick return including a touchdown. Rooney has three years of experience returning punts. The kicker position is vacant but sophomore Zac Henry kicked in the final game of the 2010 season.



###