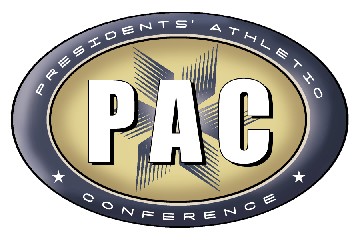 2011 PAC Golf Preview


BETHANY BISON

GROVE CITY WOLVERINES

SAINT VINCENT BEARCATS

THIEL TOMCATS


THOMAS MORE SAINTS
WASHINGTON & JEFFERSON PRESIDENTS



WAYNESBURG YELLOW JACKETS
WESTMINSTER TITANS
After a winning season in 2010-11, the Westminster College men's golf team will continue to focus on becoming a contender for the Presidents' Athletic Conference (PAC) championship as it enters the 2011-12 season.

The Titans posted a 36-33 record in 11 events (16 rounds) last year including one event win, two second-place finishes, and a third place finish while placing in the upper half of five invitationals. The Titans placed fifth out of eight teams at the PAC championships with a four-round total of 1289 played during the fall and spring semesters.

"We are excited about the upcoming season," said head coach Gene Nicholson, who enters his 12th year as head coach. "We have five new freshmen that will be added to an experienced corps of seven upperclassmen."

Five of the seven returners lettered last year as the Titans lost just two lettermen to graduation.

Westminster's top two golfers, according to season averages, did not finish in the top 20 of the PAC leaderboard last year, but the Titans placed two players on the all-PAC second team with top-eight finishes.

Both of those players are returning in junior Andrew Edwards and sophomore David Paladino. They tied for eighth in two spring rounds of the PAC championships as they both shot 75 in the first round and 81 in the second for totals of 156. Edwards averaged 81.9 for the season while Paladino logged an 82.8 average.

Though the Titans lost Ryan Spear and his 79.8 average to graduation, the team's second-best golfer from last year is back. Senior David Mlinarich is a three-year letterman who averaged 81.2 for 16 rebounds in 2010-11 including team lows in seven events. He was the medalist at Grove City on May 2 with a 72.

Senior Nate Silvis and sophomore Ryan Avril are also returning lettermen. Silvis, a three-year letterman, averaged 84 last year including a team-low 78 at the Edward Jones Shootout.

Still, Westminster will need firepower if it will make a run at winning its first PAC title since winning the league for three straight years from 2003-05 and finishing no higher than third since 2007.

"For us to challenge for the conference title we will need more consistency in the breadth of the lineup," Nicholson said.
In the last three seasons the Westminster College women's golf team has had at least one player finish in the top three and another in the top 10 at the Presidents' Athletic Conference (PAC) Championships. That will likely continue in 2011-12 as 11th-year head coach Debi Roud welcomes back her best two golfers from last year.

Senior Pam Bonneau and junior Becca Schuster return after placing third and 10th, respectively, at the PAC Championships. Bonneau, the first player in school history to lead the team in scoring average for three straight years, logged a 93.75 stroke average in 2010-11 and she became just the second player in team history to earn first-team all-PAC honors three times.

"We are looking forward to having experienced golfers like Pam and Becca returning," Roud said. "We have a promising team that should be competitive in the PAC."

The Titans placed third in the PAC last year by shooting 1,378 in three-and-a-half rounds played in the fall and spring to determine the championship. The Titans posted a 7-38 record in eight tournaments (12 ½ rounds) during the year.

For a third straight season, Bonneau finished third on the PAC leaderboard with a 175 (87-88) during the two spring rounds of the PAC Championships.

"Pam is very focused," Roud said. "I know I can rely on her scores. She's the glue that holds this team together."

Schuster earned second-team all-PAC laurels after placing 10th with a 192 (96-97).

Bonneau and Schuster make up five of the six returning letter-winners from last year. The other letter-winners are sophomores Jenna Huston, Jessika Otto and Rachel Sherman. Sherman shot a 90 at Grove City in the fall last year.


###