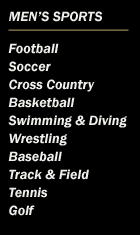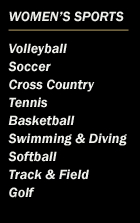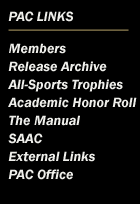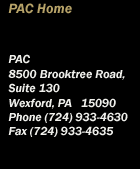 FRIDAY, AUGUST 31
Area Colleges
Scouting report: Thiel returns 16 starters and 29 letterwinners from last year's team, which includes DEs Robert Hughes (Rayen) and Chris Lorber, who helped the Tomcats' defense last year rank No. 2 in the PAC. Thiel went 5-5 and 4-3 in the PAC last year. Geneva will try to bounce back from a 4-5 record. This will be the Golden Tornadoes' first season as a member of NCAA Div. III and the PAC.
The (Youngstown) Vindicator
Gallaudet-St. Vincent Preview
It promises to be a game of firsts for both teams. St. Vincent will be playing for the first time in 45 years, while coach Bob Colbert will be facing Galluadet for the first time since coaching the Bison in the 1970s. Gallaudet will be playing at the NCAA level for the first time in 12 years.
Pittsburgh Tribune-Review

Geneva To Make NCAA Debut Vs. Thiel
What's new is really old for the Geneva College football team.
Beaver County Times


THURSDAY, AUGUST 30
Geneva College Has Funds Ready To Fix Wall At Stadium
The concrete-block wall at Reeves Field in Beaver Falls one day could have featured flowing trails of ivy like Wrigley Field or maybe a rendition of the Geneva College Golden Tornadoes logo.
Pittsburgh Post-Gazette

TJ Grad Attracts Admirers As Wide Receiver At W&J
Tom McCafferty has a new fan ... and some big expectations to fulfill.
Pittsburgh Post-Gazette


WEDNESDAY, AUGUST 29
Around The Great Lakes
Game No. 9: Thiel Tomcats at Washington and Jefferson Presidents, Oct. 6
D3football.com

District Small College Capsules
The skinny: With 19 starters back from a team that produced the school's most wins since 6-3 in 2001, The Bison have reason to feel good heading into Weaver's second season. 'Have we turned the corner yet? I don't know, but we have the blinker on,' he said. 'We're headed in the right direction.' What the Bison doesn't have is a tested quarterback to lead them. Junior Matt Blumer, who passed for 436 yards and 4 TDs in limited action last season, gets the early nod over three incoming freshmen. Joyner (20 catches, 246 yards, 2 TDs) is expected to see spot duty at quarterback. A taste of winning in 2006 has rekindled some excitement in Bison football.
Pittsburgh Post-Gazette

Saint Vincent Set For First Kickoff In 45 Years
When Bob Colbert was hired in 2006 to put together a football program at Saint Vincent College, he sought out his friends and colleagues for some helpful hints on how to do the job.
Pittsburgh Post Gazette
Indians Fan Norris Had Dream Job Working At The Jake

Chris Norris has been a life-long Cleveland Indians' fan, so this past summer has been like a dream come true for the Westminster College senior. He had a chance to work at Jacobs Field.
The (Sharon) Herald
Collegiate Notebook: Thiel Games On Radio; GCC Plans Night Football

Thiel College football once again will be broadcast on NewsTalk 790, WPIC AM.
The (Sharon) Herald

MONDAY, AUGUST 27
Bethany Volleyball Team Aiming To Improve
New head coach Courtney Kline will have six returnees and eight newcomers to work with in her first year at the helm, as the Bethany College volleyball program will be trying to improve upon last year's finish and move towards the top of the PAC.
The (Steubenville) Herald Star/The Weirton Daily Times

Bison Women Are Striving For The PAC Playoffs
With 12 returning players and a new head coach in Barry Christmas, the Bethany College women's soccer program is striving toward improving from last year's 4-12-1 record and possibly earning a berth in the PAC Tournament in 2007.
The (Steubenville) Herald Star/The Weirton Daily Times


SUNDAY, AUGUST 26
Bowers' NCAA Rushing Record Is In Jeopardy
The NCAA All-Division career rushing mark of R.J. Bowers could be broken this season by Danny Woodhead of Chadron State in Omaha, Neb.
The (Sharon) Herald

District Conference Previews
Washington & Jefferson again earned the favorites' position in the expanded Presidents' Athletic Conference. W&J, ranked No. 19 in the preseason, is coming off a season in which it split a pair of NCAA Division III playoff games.
Pittsburgh Tribune-Review

District Players To Watch
Milton Joyner, QB/WR, 5-11, 200
The Skinny: A WR for his first three years, this Westinghouse High School product could move to QB for his final campaign. As a WR, he is ranked fourth all-time at Bethany in receptions (112) and ninth in career receiving yards (1,262). However, he stepped in at QB for the final three quarters of the 2006 season finale against Washington & Jefferson and completed 18 of 26 passes for 111 yards.
Pittsburgh Tribune-Review
PAC Football
BETHANY BISON
2006 record: 4-6 overall, 2-3 in PAC
Head coach: Tim Weaver, 2nd year, (4-6)
Returning lettermen: 35
Starters returning: Offense 8, Defense 9, Special teams 2.
Players to watch: WR Militon Joyner, LB Bill Wineberg, OL Brian Liptock, WR Matt Cruse.
The (Youngstown) Vindicator

PAC Is Expanding From 7 To 10 Teams
It began with four, then there were seven and soon there will be 10.
That is the growth pattern the Presidents' Athletic Conference has taken since its inception in 1955.
The (Youngstown) Vindicator

Saint Vincent Opens With Reunion
St. Vincent football coach Bob Colbert has a word or two for those who think the team has guaranteed a successful return to varsity football in its season opener Saturday by scheduling Gallaudet, a Washington school for deaf and hearing-impaired students.
Pittsburgh Tribune-Review


FRIDAY, AUGUST 24
Titans List Four Area Starters
Four of the returning starters and the head coach of the highly-experienced Westminster College volleyball team this coming season hail from the Youngstown area.
The (Youngstown) Vindicator


THURSDAY, AUGUST 23
Gators Held Scoreless In Scrimmage With Thiel
It was a preseason scrimmage, but three numbers still stood out: zero, two and 10.
Meadville Tribune


TUESDAY, AUGUST 21
Saint Vincent Ready To Kickoff Season For First Time In 45 Years
Saint Vincent College, summer home of the Pittsburgh Steelers for 41 years, will field a varsity football team of its own this fall for the first time in 45 years.
USA Today

MONDAY, AUGUST 20
New Look, New Coach For Saints
New head coach Jim Hilvert is preparing the Thomas More College football team for its third season of competition in the Presidents' Athletic Conference.
The Cincinnati Post

THURSDAY, AUGUST 16
North Hills Grad Overachieves
Mike Czerwien enters the season as the only football player in the Presidents' Athletic Conference who has made three appearances on the all-conference first team.
Pittsburgh Post-Gazette

Kicker From West Mifflin Can Talk A Good Game
"The Matt & Mac Radio Show" will return to the airwaves next month on WSAJ, the Grove City College radio station. But the show's hosts -- Matt Gregg and Duquesne's Brandon McCall -- will have to find another time slot for their one-hour show.
Pittsburgh Post-Gazette

Hopewell Grad Helps Grove City On Offense ... Plus He Talks A Pretty Darned Good Game, Too
"The Matt & Mac Radio Show" will return to the airwaves next month on WSAJ, the Grove City College radio station. But the show's hosts -- Matt Gregg and Brandon McCall -- will have to find another time slot for their one-hour show.
Pittsburgh Post-Gazette

Former New Brighton Coach Assisting Westminster Football Team
When Joe Greco resigned as the New Brighton High School football coach following last season, he figured his days on the sidelines were not over.
Pittsburgh Post-Gazette

MONDAY, AUGUST 13
Starting Anew
Bob Colbert is more than ready for the beginning of the football season. The head coach of the new program at St. Vincent's College arrived on the campus in Latrobe, Pa., in January 2006, and now all his planning and preparation to field a Division III football team will come to fruition in just a little more than three weeks.
NCAAsports.com
Courage Has Sights On Olympics
Caleb Courage has taken another step in his career as a swimmer.
The (Carlisle) Sentinel


SUNDAY, AUGUST 12
Smallish Lineman Packing a Big Wallop for Jackets
Mike Czerwien enters the season as the only football player in the Presidents' Athletic Conference who has made three appearances on the all-conference first team. Czerwien, a 2004 graduate of North Hills High School, is a senior defensive end at Waynesburg College.
Pittsburgh Post-Gazette
PAC Earns Automatic Playoff Berth
For the first time in history, the Presidents' Athletic Conference champion in football will receive an automatic NCAA Championship playoff berth. What an incentive! League officials have placed an AQ (automatic qualifier) status also on the circuit's men's and women's soccer teams and volleyball team this season. Fans can now look for even more exciting seasons this coming fall.
The (Youngstown) Vindicator

FRIDAY, AUGUST 10
Collegiate Notebook: Thiel Hall to Induct 5
THIEL COLLEGE'S Athletic Hall of Fame Class of 2008 will include Warren Roth ('24), Charles Manes ('58), William Antil ('70), Gerald Massaro ('65) and John Lischner ('97). The induction ceremony for the school's 28th class is scheduled Feb. 10, 2008.
The (Sharon) Herald

THURSDAY, AUGUST 9
Architect Of TMC Softball Gone
The work ethic of Thomas More softball coach Everett Roper helped take the program from a club team in 1996 to a Presidents' Athletic Conference championship and two Division III NCAA Tournament berths in the last three seasons.
NKY.com


WEDNESDAY, AUGUST 8
Saints Softball Coach Resigns
Thomas More College head softball coach Everett Roper has resigned effective Aug. 15. Roper was named head coach at Div. II Saginaw Valley State University.
The Kentucky Post

District College Notebook
Latrobe graduate Brian Newmeyer announced that he will sign a letter of intent to play baseball at Thiel.
Pittsburgh Tribune-Review


TUESDAY, AUGUST 7
Blood Clot Can't Stop Riverside's Jurinko
Jon Jurinko lost the summer season to a blood clot in his arm, but a recent examination left him encouraged about beginning his collegiate career at Geneva College in the fall.
Beaver County Times


MONDAY, AUGUST 6
Saint Vincent Set To Bring Football Back
Bob Colbert has been waiting since 2005 to coach another college football game. St. Vincent College has been waiting since 1962 to field a varsity football team.
Pittsburgh Tribune-Review

Liptak Roots Bring Florida Hooper To Thiel
Former Sharpsville High standout John Liptak relocated to Florida almost a quarter-century ago, but has extended his reach back to his roots.
The (Sharon, Pa.) Herald


SUNDAY, AUGUST 5
At O-R, We Are Doing It By The Book
For the first time in the program's history, the Washington & Jefferson College men's soccer team will embark on a European tour.
(Wash.) Observer-Reporter


THURSDAY, AUGUST 2
Leslie Lopez Has Accepted Shepherd Coaching Job
Former Buckeye Local and Bethany College standout Leslie Lopez spent much of the last couple of weeks using her old college softball coach Jan Forsty as a sounding board, as she tried to figure out where the next step of a remarkable career inside the sport would take her. After a two-year assistant coaching stint at Slippery Rock while she was working on a graduate degree in sports management, Lopez had set out to run her own program. Where she was not sure.
The (Steubenville) Herald-Star/Weirton Daily Times/The (Wheeling) Intelligencer/News-Register
Saints Picked 4th by PAC Coaches
Thomas More College was picked to finish fourth in the Presidents' Athletic Conference football race.
The Saints, who were 6-4 last season, were picked to finish behind Washington & Jefferson, Waynesburg and Thiel and ahead of Grove City, Bethany and Westminster in a poll of conference head coaches, sports information directors and members of the media.
The Kentucky Post

WEDNESDAY, AUGUST 1
All Can Agree that W&J is Team to Beat
The consensus of the football coaches, sports writers and sports information directors at Tuesday afternoon's PAC media day was that Washington & Jefferson College should win the conference title.
(Washington) Observer-Reporter

W&J Earns Pre-Season Nod for Championship
The team that wins the Presidents' Athletic Conference football championship this season will be rewarded with much more than just another bauble to put in its trophy case.
Pittsburgh Post-Gazette
W&J Selected to Finish 1st in Football at PAC Media Day
The world of football is full of jinxes. There's the Sports Illustrated jinx; there's the Madden Football curse; and the least famous one of all - but just as bad - the Presidents' Athletic Conference Media Day jinx.
The (Sharon) Herald

W&J Picked to Repeat in PAC
Seated at a table adjacent to the podium, Bob Colbert, his arms folded and his legs crossed, witnessed a clear view of his younger brother, Kevin, the personable director of football operations for the Steelers.
Pittsburgh Tribune-Review

###
NEWSSTAND Archive - July 2007
NEWSSTAND Archive - June 2007
NEWSSTAND Archive - May 2007
NEWSSTAND Archive - April 2007
NEWSSTAND Archive - March 2007
NEWSSTAND Archive - February 2007
NEWSSTAND Archive - January 2007
NEWSSTAND Archive - December 2006
NEWSSTAND Archive - November 2006
NEWSSTAND Archive - October 2006
NEWSSTAND Archive - September 2006
NEWSSTAND Archive - August 2006
###