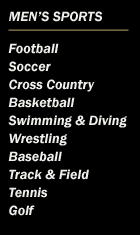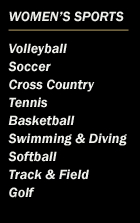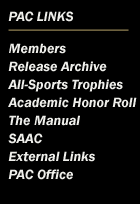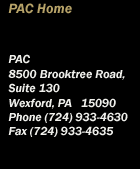 FRIDAY, OCTOBER 31
Stiffest Test Awaits Presidents
Eight weeks into the season, Washington & Jefferson College's football team has a 7-0 record and is perfect in three Presidents' Athletic Conference games. The Presidents lead the conference in scoring offense, passing offense, total offense, rushing defense, total defense, and a handful of other categories.
Observer-Reporter

Area College Roundup
...GENEVA (2-5) vs. BETHANY (2-5)...When: 1 p.m. Where: Bison Stadium, Bethany, W.Va. Series record: Geneva leads 26-7-1. Radio-TV-Internet: WBVP-AM 120 (Beaver Falls), WMBA-AM 1460 (Ambridge), WVBC-FM 88.1 (Bethany), www.msasportsnetwork.com, www.teamline.cc (code 3724). Scouting report: Geneva is coming off a 42-19 win over St. Vincent, while Bethany spilled Waynesburg, 31-24.
The (Youngstown) Vindicator

THURSDAY, OCTOBER 30
TMC Notebook
The men's and women's soccer teams won shutouts over Waynesburg University Wednesday in Presidents' Athletic Conference matches.
Cincinnati Enquirer

Around the Nation
...No. 9 Washington & Jefferson (7-0, 3-0 PAC) at Thomas More (6-1, 5-0): The Saints can punch a ticket to the postseason with an upset of the teams so dominant they named the conference after them. Okay, that's not true, but it's more or less been the Presidents' Athletic Conference in football most years, and since Thomas More joined, they haven't given W&J trouble.
D3Football.com

WEDNESDAY, OCTOBER 29
League Honors TMC's Zink
Thomas More College sophomore place-kicker Dustin Zink (Newport Central Catholic) has been named the Presidents' Athletic Conference Football Special Teams Player of the Week.
Cincinnati Enquirer

Around the Great Lakes
Bethany (2-5, 1-4 Presidents' Athletic Conference) needed a total team effort in the last two minutes of the game to beat Waynesburg (4-3, 1-2 PAC) 31-24 at home. Quarterback Chad Smith broke the 24-24 tie when he found Marcus Santini for a 26-yard touchdown pass with 1:29 to play.
D3Football.com

TUESDAY, OCTOBER 28
Thomas More Athletes of the Week
Brandon Dulle...Sport: Men's golf...Class: Sophomore...Hometown: Cincinnati...High school: St. Xavier...What Brandon did last week: Dulle shot a career-low, 5-under-par 67 in the second round of the Lincoln Memorial University Invitational at the Woodlake Golf Club in Tazewell, Tenn.
Cincinnati Enquirer

MONDAY, OCTOBER 27
TMC Notebook
...Volleyball: The Saints (24-6, 9-3 Presidents' Athletic Conference) are ranked seventh is this week's National Collegiate Athletic Association Division III Great Lakes Regional rankings...
Cincinnati Enquirer


SUNDAY, OCTOBER 26
Western Pa. Roundup
...Bethany 31, Waynesburg 24 Eric Walker (New Brighton) rushed for 113 yards on 14 carries and caught two passes for 33 yards to help Bethany win. Chad Smith threw for 315 yards and 3 TDs for the Bison.
Beaver County Times

Geneva Makes Early Lead Hold Up vs. St. Vincent
St. Vincent is a still-struggling second-year program, but Geneva coach Geno DeMarco knew the Bearcats had been tough at home all season. The Golden Tornadoes jumped to a 28-0 lead, then used two fourth-quarter touchdowns to hang on for a 42-19 victory. The win ended a three-game skid for Geneva.
Beaver County Times

Thomas More Pads Win Streak to Six, 45-14
Thomas More College erupted for 35 first-half points and cruised past visiting Thiel 45-14 yesterday for its sixth straight victory.
The (Louisville) Courier-Journal

Smith Passes Bethany to Win Over Waynesburg
Freshman quarterback Chad Smith passed for 315 yards and three touchdowns, the last with 1:29 remaining, to give Bethany a 31-24 victory over turnover-prone Waynesburg in a Presidents' Athletic Conference game at Bison Stadium Saturday afternoon.
The Observer-Reporter

Presidents Strike Fast, Set Up PAC Showdown
There are statistics for everything in sports these days, from a batter's average when facing a left-handed pitcher in afternoon games on the road to a kicker's accuracy in a dome from the left hash mark.
The Observer-Reporter

District Roundup
Bethany 31, Waynesburg 24: Chad Smith completed 21 of 38 passes for 315 yards and three touchdowns and Eric Walker rushed for 113 yards to lead the host Bison (2-5, 1-4) past the Yellow Jackets (4-3, 1-2) in the Presidents' Athletic Conference.
Pittsburgh Post-Gazette

Waynesburg Coach Shows Kids How to Lead
Ron Headlee is a coach who wants his athletes to be good role models on and off the mat. "I wanted to do something to build team unity," said Mr. Headlee, who is beginning his first season as Waynesburg University's wrestling coach. "I also wanted to show the kids how important it is to be a good citizen."
Pittsburgh Post-Gazette

Waynesburg Loses at Bethany
It may not get as much coverage as its Division III counterparts, but Bethany's 31-24 upset of Waynesburg University Saturday afternoon sent shockwaves throughout the PAC as the Yellow Jackets' hopes of a PAC title playoffs are virtually over.
The Herald Standard

Bethany Finally Hangs on, 31-24
The hard-luck Bethany College football team finally found a way to close the deal Saturday afternoon at Bison Stadium.
The Intelligencer

Area College Roundup
Bethany 31, Waynesburg 24...Freshman QB Chad Smith threw a 26-yard touchdown pass to sophomore RB Marcus Santini with 1:29 to play and the Bethany defense made it stand by forcing two turnovers in the final 68 seconds at Bison Stadium. The Bison (2-5, 1-4) passing game had another big day, with Smith completing 21-of-38 for 315 yards, his second 300-plus effort in the last three weeks, and three touchdowns.
The (Youngstown) Vindicator

District College News: Roundup NCAA III
Things are getting heated in the Presidents' Athletic Conference. Curt Jones rushed for a career-high 188 yards as No. 8 Washington & Jefferson stayed undefeated with a victory over Westminster (Pa.).
Pittsburgh Tribune-Review


FRIDAY, OCTOBER 24
Presidents the Pick in Men's PAC Poll
The Washington & Jefferson College men's basketball team has reached the championship game of the Presidents' Athletic Conference tournament each of the last two seasons, only to watch the opponent celebrate a victory and cut down the nets.
The Observer-Reporter

W&J Edges Bethany as the Team to Beat
The voters have spoken. The Washington & Jefferson men's basketball team was elected as the team to beat in the Presidents' Athletic Conference in a preseason poll of the league coaches, sports information directors and media yesterday.
Pittsburgh Post-Gazette

Area College Preview
The (Youngstown) Vindicator

W&J Success Provides Study in Contracts
It didn't take Mitch Erdley long to figure out just how different things were as a member of the NCAA Division III football program at Washington & Jefferson, as opposed to the WPIAL Class A program at Geibel High School in Connellsville.
Pittsburgh Tribune-Review

Presidents Edge Bison in Preseason Poll
The Bethany College men's and women's basketball teams were ranked among the top contenders in the Presidents Athletic Conference's annual preseason poll. The combined poll of conference coaches, sports information directors and media members was conducted during Thursday's sixth annual PAC Basketball Media Day at the Heinz History Center in Pittsburgh.
The Intelligencer

Titan's Scudere Sets Record
How do you become a good women's intercollegiate tennis player as a freshman, and then improve every year to become even better? According to April Scudere, a junior on the Westminster College team from Brookfield High and Fowler, a player has to know or learn her opponents' strengths and weaknesses, and be able to adjust strategy and tactics during the course of a match.
The (Youngstown) Vindicator

THURSDAY, OCTOBER 23
Thomas More Notebook
Three student-athletes earned player of the week honors from the Presidents' Athletic Conference on Monday. Junior goalkeeper Jenna Kramer (Cincinnati/Seton) was women's soccer defense/goalkeeper of the week; freshman setter Michelle Clifford (Cincinnati/McAuley) was volleyball player of the week; and freshman running back Kendall Owens (Cincinnati/LaSalle) was football offensive player of the week.
Cincinnati Enquirer

District Notebook
Colossal Comeback- Westminster staged the largest comeback in school history when the Titans rallied from a 28-0 deficit in the second quarter for a 46-43 victory against Bethany
Pittsburgh Post-Gazette

Men's Soccer
Geneva 4, Waynesburg 2 - Visiting Geneva (11-4) put a damper on Waynesburg University's Senior Night by building an early 3-0 lead, and holding off the Yellow Jackets for the Presidents' Athletic Conference victory.
The Herald Standard


WEDNESDAY, OCTOBER 22
Around the Great Lakes
The Washington and Jefferson defense played an impressive game against St. Vincent College Saturday. In a 72-20 victory, the Presidents held St. Vincent to minus-90 yards rushing
D3Football.com


TUESDAY, OCTOBER 21
Thomas More Stars
MALE ATHLETE OF THE WEEK...Joe Tensing...Sport: Soccer...Class/Position: Junior/Forward...Hometown: Cincinnati...High school: Mt. Healthy...What Joe did last week: Tensing scored two goals last week for the Saints, including the game-winner in Thomas More's 1-0 Presidents' Athletic Conference victory Saturday at Grove City.
Cincinnati Enquirer

Statistical Spotlight
Westminster (Pa.) made its homecoming game a memorable one, rallying once, from a 28-0 deficit to take a 29-28 lead, then scoring its final 17 points in the last 3:55 of the ballgame to beat Bethany 46-43.
D3Football.com

MONDAY, OCTOBER 20
TMC Notebook
The football team defeated Grove City (Pa.) College 35-14 Saturday for its fifth straight win this season. The five-game winning streak is the longest since the 2001 season when the Saints won their first 11 games and advanced to the second round of the NCAA Division III playoffs.
Cincinnati Enquirer


Saints Win Fifth Straight Game
The Thomas More Saints extended their winning streak to five games on Saturday with a 35-14 win over Grove City College. The five-game winning streak is the longest for the Saints since the 2001 season.
Kypost.com

College Football Locals
...Matt Cruse (Barron Collier), Bethany (W. Va.), junior, wide receiver, No. 1 -- Cruse tied the Bethany single-game record with 13 receptions for 84 yards, and also had a 35-yard punt return in last week's 50-44 loss in four overtimes to Thiel College.
Naples Daily News

Adams is Getting Her Kicks
A desire to learn, practice and improve over four seasons has made Christina Adams, a senior forward on the Westminster College women's soccer team from Hubbard High, the top scorer in the Presidents' Athletic Conference.
The (Youngstown) Vindicator


SUNDAY, OCTOBER 19
Western Pa. Roundup: Young's Kick Lifts Westminster
Westminster 46, Bethany 43 Trevor Young (Riverside) kicked a 44-yard field goal with no time left to complete the Titans' rally from a two-touchdown deficit with 10:49 to play. Gary Hutsler (Cornell) caught eight passes for 87 yards and two TDs for the Titans, and Chad Rosatelli (Hopewell) caught seven passes for 87 yards. Bethany's Eric Walker (New Brighton) had two touchdowns rushing.
Beaver County Times

Waynesburg Gives Geneva The Boot
A tradition may be starting in the series between the Geneva and Waynesburg college football teams. For the second year in a row, the winning team has turned a naked bootleg into the key play in a victory.
Beaver County Times

W&J Has Swagger; Opponents Staggered
Most teams circle the week of Homecoming as a must-win game, not only for the all-important won-lost record but for the sake of the fans, who might not otherwise attend a game.
The Observer-Reporter

No. 8 Washington & Jefferson Cruise in Blowout
Washington & Jefferson continued its season on cruise control with an entertaining 72-20 victory against Saint Vincent yesterday that wasn't very educational for coach Mike Sirianni, whose Presidents are 6-0 and ranked eighth in NCAA Division III.
Pittsburgh Post-Gazette

District Roundup
Thomas More 35, Grove City 14: The host Wolverines (4-3, 1-2) dropped a Presidents' Athletic Association contest to Thomas More (5-1, 4-0) which remained unbeaten in conference play. Grove City lost despite Andrew DiDonato completing 28 of 39 attempts for 174 passing yards and a touchdown.
Pittsburgh Post-Gazette

Area College Roundup
Trevor Young kicked a 44-yard field goal as time expired to snap a 43-all deadlock and give the Titans the win. It was the first career field goal attempt for Young, a freshman.
The (Youngstown) Vindicator

NCAA Division III
...W&J 72, St. Vincent 20...No. 8 Washington & Jefferson (6-0) held St. Vincent (1-6) to minus-90 yards rushing, and Luke Espe caught three touchdown passes as the host Presidents overwhelmed the Bearcats.
Pittsburgh Tribune-Review

Washington & Jefferson 72, Saint Vincent 20
The Washington & Jefferson College defense held Saint Vincent College to negative 90 yards rushing on 21 attempts and senior wideout Luke Espe (Johnstown, Pa./Central Cambria) caught three touchdown passes as the Presidents rolled past the Bearcats, 72-20, in Presidents' Athletic Conference football action on Saturday at Cameron Stadium.
D3Football.com


SATURDAY, OCTOBER 18
Names in the Games
Women's Golf - Westminster's Lisa Giardina shot a 115 at the Allegheny Invitational. Giardina, a sophomore from Neshannock, finished 53rd as the Lady Titans placed 10th as a team.
New Castle News

Moder is Named
WEXFORD, Pa. — Bill Moder, a freshman on the Waynesburg College cross country team from Hickory High and Hermitage, was named Presidents' Athletic Conference Men's Cross Country Runner of the Week.
The (Youngstown) Vindicator


FRIDAY, OCTOBER 17
August Has His Pick With Yellow Jackets
Dylan August is having a great October. The junior free safety for Waynesburg University's football team intercepted two passes in last week's 63-26 blowout of Westminster.
The Observer-Reporter

W&J Comeback Fells Waynesburg
Washington and Jefferson rallied from a 2-1 deficit to defeat visiting Waynesburg University, 3-2, in Presidents Athletic Conference women's volleyball Thursday by scores of 25-23, 21-25, 23-25, 25-23, 15-10.
The Herald Standard

Saint Vincent No Pushover Anymore
You wouldn't know it by looking at St. Vincent's 1-5 record, but its football team has made a major improvement this season, its second since the school resurrected the program after a 45-year absence.
Pittsburgh Tribune-Review

Bethany To Battle Westminster Saturday For PAC Win
The Bethany College football team will open the second half of their 2008 schedule Saturday when they travel to Westminster for a PAC contest. Kickoff with the Titans is scheduled for 1:30 p.m. The Bison (1-4, 0-3) are anxious to get back on the field after a crushing 50-44 loss in four overtimes last week at Thiel.
D3Football.com

TJ Grad Finds His 'Niche' As Waynesburg Quarterback
Brad Dawson has found a home ... finally. The 2005 Thomas Jefferson High School graduate is excelling as the starting quarterback on the Waynesburg University football team.
Pittsburgh Tribune-Review

River Hill's Hostetler: Football & Life With Cystic Fibrosis
...Hostetler is considering Division III football at Grove City College, where his brother, Josh, plays, or collegiate lacrosse at Washington and Jefferson, Gettysburg, Messiah or Virginia Wesleyan.
DigitalSports.com


THURSDAY, OCTOBER 16
Campus Notes
...Westminster's Shawn Lehocky (Freedom) threw two touchdown passes in the Titans' loss to Waynesburg over the weekend. Chad Rosatelli (Hopewell) had two touchdown receptions and a career-high 116 yards receiving.
Beaver County Times

Kentucky College Notes
The Thomas More College volleyball team will host a quad match Saturday as Westminster (Pa.) College, Waynesburg (Pa.) College and Rose-Hulman (Ind.) Institute of Technology all travel to Crestview Hills. Matches will be played at 10 a.m., noon, 2 p.m. and 4 p.m. at the Connor Convocation Center.
Cincinnati Enquirer

District Notebook
...Thiel junior quarterback Willie Bova, who passed for 374 yards, four touchdowns and ran for a score, is the Presidents' Athletic Conference offensive player of the week. Waynesburg junior free safety Dylan August (Bethel Park) is defensive player of the week.
Pittsburgh Post-Gazette

Ward Singled Out
BETHANY, W.Va. - Bethany College freshman Cameron Ward has been recognized as the Presidents' Athletic Conference Men's Soccer Offensive Player of the Week for the week of October 13th.
The (Youngstown) Vindicator


WEDNESDAY, OCTOBER 15
Thomas More Plays in Pa. on Saturday
The Thomas More College football team travels to Grove City College for a key Presidents' Athletic Conference football game Saturday at 2 p.m. at Robert E. Thorn Field in Grove City, Pa.
Cincinnati Enquirer

Northern Kentucky's Finest
Matt Clark...Sport: Football...Class/Position: Soph./Linebacker...Hometown: Cincinnati...High School: McNicholas...What he did last week: Led the Saints' defense with 12 tackles, including a tackle for a loss of two yards in the teams' 34-7 win visiting Saint Vincent (Pa.) College...
Cincinnati Enquirer

Saints Have Their Leader Back
The early-season struggles for Washington and Jefferson and Waynesburg's disappointing play have given Thomas More the opportunity at a Presidents' Athletic Conference championship. With the Nov. 1 meeting against Washington and Jefferson on the horizon, the Saints are playing well.
D3Football.com


MONDAY, OCTOBER 13
TMC Women's Basketball Team Ranked No. 10
The Thomas More College women's basketball is ranked No. 10 in the D-III News Preseason Top 25. The Saints return nine letter winners, including four starters from last season's team that went 29-1.
Cincinnati Enquirer


SUNDAY, OCTOBER 12
Geneva Loses to Grove City
Geno DeMarco is in his 16th season as head coach of the Geneva College football team. Saturday he found himself in a place he's never been before. "I've never had a 1-4 record before," said DeMarco, whose team lost at Grove City 38-13 Saturday afternoon.
Beaver County Times
College Football: BC Grad Cruse is Bethany College's New TD reception King
Bethany College (W.Va.) coach Tim Weaver saw the potential when Matt Cruse was a freshman. Midway through Cruse's first season, Weaver said he expected the Barron Collier High graduate to break the school's touchdown reception record.
Naples Daily News
Waynesburg Rolls Over Westminster
All three phases of the game played big parts in Waynesburg University's victory Saturday over Westminster. Quarterback Brad Dawson threw for four touchdowns, the Jackets defense intercepted five passes, running two back for touchdowns and Waynesburg also ran the opening kickoff back for a touchdown in a 63-26 win over Westminster at Wiley Stadium in a Presidents' Athletic Conference contest.
(Washington) Observer-Reporter
District College Football Roundup
Thiel 50, Bethany 44, 4 OT - Willie Bova's 10-yard run in the fourth overtime helped Thiel (1-5, 1-2) outlast Bethany (1-4, 0-3) in a Presidents' Athletic Conference game for its first victory of the season.
Pittsburgh Tribune-Review
Cree Kickoff Return Starts Yellow Jackets
WAYNESBURG - The Waynesburg football team has had its share of issues on and off the field, but on Saturday afternoon the Yellow Jackets put the past to rest as they dealt Westminster a 63-26 loss on homecoming at John F. Wiley Stadium.
The (Uniontown) Herald-Standard
Local Roundup
Bethany (W.Va.) 2, Thiel 0 - Belle Vernon graduate Jessica Biddle scored her first collegiate goal to spot the Bison a 1-0 lead in the 54th minute, and the Bethany defense made it stand for a Presidents' Athletic Conference home victory.
The (Uniontown) Herald-Standard
Grove City Wins Second Straight, Dominates Visiting Geneva, 38-13
GROVE CITY, Pa. — Complete domination describes how Grove City overwhelmed Geneva in Saturday's 38-13 victory at Robert E. Thorn Field. Playing one of their best overall games in recent years, the Wolverines got the job done by playing to near perfection.
The (Youngstown) Vindicator
Local Colleges - Saturday's Games
GREENVILLE, Pa. — Thiel QB Willie Bova scored on a 10-yard run and an interception inside the 10 ended the Bethany College football team's (1-5, 0-3) final chance, as the Tomcats (1-5, 1-2) came away with a four-overtime victory.
The (Youngstown) Vindicator
Grove City Deflates Golden Tornadoes, 38-13

GROVE CITY — Anyway you look at it, it was a case of complete domination. That is the best way to describe what took place Saturday afternoon at Robert E. Thorn Field as the Grove City College Wolverines (4-2) overwhelmed the Geneva Golden Tornadoes for a convincing 38-13 win.
WesternPAFootball.Net

SATURDAY, OCTOBER 11
Names in the Games
Westminster's Lisa Giardina fired a round of 203 to lead the team to a third-place finish at the PAC Golf Fall Invitational at the Oak Tree Country Club in West Middlesex.
New Castle News
Morgan Blocks Leader
With four solo blocks and one assist, Waynesburg University senior Amanda Jo Morgan is the all-time blocks leader in school history.
The (Uniontown) Herald-Standard

FRIDAY, OCTOBER 10
Yellow Jackets Happy to Have Becker at RB
When the football season started, Billy Becker thought he would be a situational running back for Waynesburg University. Because of his power and balance, Becker believed he would be used in short yardage situations and at the goal line.
Observer-Reporter

Bethany, Thiel Seek PAC Victory
The Bethany College football team will travel to Thiel (0-5 overall, 0-2 Presidents' Athletic Conference) for a 1:30 p.m. Saturday kickoff at Alumni Stadium, with the winner to come away with its first conference victory
The Intelligencer

Campus Clippings
St. Vincent has named Jamal Palmer as a men's assistant basketball coach. Palmer, a former men's head coach at Slippery Rock, is a native of Philadelphia, and played collegiately at Millersville and professionally in England, Luxembourg and Finland.
Pittsburgh Tribune-Review

District College Capsules
NCAA Division III...Saint Vincent (1-4, 0-3) at Thomas More (3-1, 3-0)...1:30 p.m. Saturday * Bank of Kentucky Field, Crestview Hills, Ky...Radio: WCNS-AM (1480)...Series: Thomas More leads, 1-0...Last meeting: Thomas More, 44-17
Pittsburgh Tribune-Review


THURSDAY, OCTOBER 9
Campus Notes: Besong Selected Top Offensive Player
Washington & Jefferson junior receiver Craig Besong (Ambridge) was named the Presidents' Athletic Conference Offensive Player of the Week.
Beaver County Times

District Notebook
...Washington & Jefferson (5-0) is 9th in the AFCA Division III poll....Washington & Jefferson receiver Craig Besong (Ambridge) is the Presidents' Athletic Conference offensive player of the week and Westminster linebacker Cory Meeker the defensive player of the week. ...
Pittsburgh Post-Gazette

Ex-Oiler John Hogue Inducted Into Westminster Hall of Fame
Former Oil City High School wrestling standout, John Hogue, was inducted Saturday into the Westminster College Hall of Fame. Hogue, a 1967 graduate of Oil City High School, never lost a dual match in his four years of wrestling at Westminster.
The Derrick Franklin

Ex-Military Man Finds Home on Saint Vincent Soccer Team
Prior to August 2007, people would have referred to him as U.S. Air Force Staff Sgt. Ben Skvarca. Since then, he's become St. Vincent College student Ben Skvarca, a sophomore defenseman for the men's soccer team.
Pittsburgh Tribune-Review

Wednesday's Results
Pittsburgh Tribune-Review

Bethany and Thiel Face Off For First PAC Win
The Bethany College football team will travel to Thiel (0-5, 0-2) Saturday for a 1:30 p.m. kickoff at Alumni Stadium, with the winner to come away with their first PAC triumph of the season.
D3Football.com

WEDNESDAY, OCTOBER 8
Thomas More Athletes Honored
Joe Ruzick Carded a 144 (74-70) to finish tied for second at the 2008 Presidents' Athletic Conference Fall Invitational at Oak Tree Country Club in West Middlesex, Pa.
Cincinnati Enquirer

Tuesday's District College Scores
Pittsburgh Tribune-Review

Around the Great Lakes
...Thomas More has been strong on the kick return game all season, which is a large reason why the Saints find themselves at 3-1 overall and 3-0 in the Presidents' Athletic Conference. As a team, they have returned 19 kicks for 530 yards, an average of 27.9 yards per return.
D3Football.com

Local Roundup
Waynesburg University 5, Chatham 0 - Waynesburg held a slim one-goal lead at halftime, but scored four in the second half to defeat Chatham at Pittsburgh.
The Herald Standard
Growing Into A New Position
Many talented prep players quickly find out that the difference between high school ball and college football is like night and day. This is exactly what happened to former Nature Coast Technical linebacker Jason Joens, who went from Brooksville to playing Division III football with Thiel College in Greensburg, Pa.
Tampa Tribune

MONDAY, OCTOBER 6
TMC Notebook
The women's soccer team scored six goals in the first half and went on to defeat Spalding University 6-0 Sunday in a non-conference match at The Bank of Kentucky Field in Crestview Hills. With the win, the Saints improve to 6-5.
Cincinnati Enquirer

SUNDAY, OCTOBER 5
Besong Helps W&J Dominate Geneva
BEAVER FALLS — Washington & Jefferson College is ranked No. 9 in the AFCA Top 25 for a reason. The Presidents used a high-flying offense to beat Geneva 43-14 in a Presidents' Athletic Conference game at Reeves Field.
Beaver County Times
Swallow's 4 TD Passes Make For Happy Homecoming
BEAVER FALLS - He would be the last person to tell you, but Washington & Jefferson College's Bobby Swallow had this game marked on the calendar. He wanted it to be special.
(Washington) Observer-Reporter
Monessen's David Lauteri Winds Down St. Vincent Collegiate Career

David Lauteri's collegiate soccer-playing days are rapidly winding down but the Monessen native's career and life's work are just beginning
.
Pittsburgh Tribune-Review
District College Recaps
Grove City 27, St. Vincent 12 - Brian Mercer rushed for 118 yards and a touchdown and caught a pass for a touchdown to lead Grove City (3-2) past St. Vincent (1-4) in a Presidents' Athletic Conference game.
Pittsburgh Tribune-Review
Westminster's 16-0 Run Too Much For Thiel

NEW WILMINGTON, Pa. — Westminster tallied 16 unanswered points between a Thiel field goal and touchdown in Saturday's 16-10 victory at Harold Burry Stadium
.
The (Youngstown) Vindicator
Area College Roundup
Grove City 27, Saint Vincent 12 - LATROBE, Pa. — The Grove City defense forced three turnovers, scored a touchdown and held host Saint Vincent to just 56 rushing yards in a clash of Presidents' Athletic Conference members.
The (Youngstown) Vindicator
Thomas More Mauls Bethany

BETHANY - Junior receiver Matt Cruse caught his 19th career touchdown reception to set a Bethany College record, but the Bison were upended by visiting Thomas More 42-12 on Saturday in front of a homecoming crowd at Bison Stadium
.
The Intelligencer/Wheeling News-Register

Washington Sunday: Sprinter Jones Ignites W&J Attack

Washington & Jefferson College football coach Mike Sirianni doesn't normally recruit in New York state, but he listened when his younger brother, Jay, recommended a running back from Falconer High School.

Pittsburgh Tribune-Review


SATURDAY, OCTOBER 4
Sporting Chances

As the fall athletic
season begins, one team to watch out for is the Thomas More men's golf squad. The golfin' Saints are coming off their highest finish ever in the Presidents Athletic Conference, placing a solid second.
Cincinnati City Beat
Central Ohio Watch
Just the thought of riding in the back seat of a police car is enough to unnerve a law-abiding citizen. Only being locked in a prison cell could be worse, right? David Gitlitz, though, can't think of a better place than riding in a cruiser.
The Columbus Dispatch
Names in the Games
Westminster's Shanay Phillian played in a 2-1 win over Baldwin-Wallace (Ohio) on Saturday. Phillian, a freshman forward from Wilmington, didn't record any statistics.
New Castle News
Ex-Knight Frawley Honored
GROVE CITY — Freshman nose tackle Jarred Frawley of Franklin earned Grove City College's Co-Defensive Player of the Week award for his effort in the Wolverines' 49-21 setback at Washington & Jefferson last Saturday.
Oil City Derrick
Campus Clippings
An exhibition against Duquesne and a trip to Las Vegas highlight the St. Vincent men's basketball schedule, which was recently released.
Pittsburgh Tribune-Review
District College Preview
Washington & Jefferson (4-0) at Geneva (1-2) -- Don't be fooled by the varying records, though No. 9 Washington & Jefferson has defeated Geneva three consecutive times and owns a 34-19-2 lead in the series.
Pittsburgh Tribune-Review
Heller, Shepas Ready to Move On
Robert Heller believes he will play college football again. If that indeed happens, it most certainly won't be for Waynesburg University.
The (Uniontown) Herald-Standard
Allen's Next Stop: Turkey
... Saturday night will be an emotional one for Bill Ellis. Ellis, Ringgold's football public address announcer, has been named an honorary captain for Geneva College's homecoming game with unbeaten Wahingon & Jefferson College.
The (Monessen, Pa.) Valley Independent
Cross Country
Lehigh Univ. White Invitational - Men - Grove City — placed ninth out of 41 teams with 307 points.
The (Youngstown) Vindicator

FRIDAY, OCTOBER 3
Presidents Unwelcome Guests At Geneva
The Geneva College football team has a difficult homecoming matchup Saturday night but coach Geno DeMarco feels that is fitting. "Who better to play on homecoming in an election year than the Presidents?" DeMarco said.
Beaver County Times

Geneva Will Pack Punch Against W&J
A win won't improve Washington & Jefferson's hold on first place in the Presidents' Athletic Conference and a loss won't diminish it.
Observer-Reporter

Regional College Preview: Saturday's Games
Grove City at Saint Vincent: Kickoff: 1:30 p.m. Records: Grove City 2-2, Saint Vincent 1-3 Notebook: Grove City makes its first trip to Saint Vincent since 1960. WR Stephen Mercer set a school record with 15 catches in a 49-21 loss to Washington & Jefferson. QB Andrew DiDonato threw for a career-high 273 yards.
The (Youngstown) Vindicator

Saint Vincent Going Young with QBs
St. Vincent coach Bob Colbert admits he's not a patient man. But because of his team's quarterback situation, where he's had to go with two freshmen after junior starter Jordan Cleary (Serra) went down with an injury in the first game of the season, Colbert's patience has been tested.
Pittsburgh Tribune-Review

Ex-Knight Frawley Honored
Freshman nose tackle Jarred Frawley of Franklin earned Grove City College's Co-Defensive Player of the Week award for his effort in the Wolverines' 49-21 setback at Washington & Jefferson last Saturday.
The Derrick.com

Campus Clippings
An exhibition against Duquesne and a trip to Las Vegas highlight the St. Vincent men's basketball schedule, which was recently released.
Pittsburgh Tribune-Review

David Gitlitz
Just the thought of riding in the back seat of a police car is enough to unnerve a law-abiding citizen. Only being locked in a prison cell could be worse, right?
Central Ohio Watch

THURSDAY, OCTOBER 2
Thomas More Notebook
Three Thomas More College student-athletes were named Presidents' Athletic Conference players of the week on Monday.
Cincinnati Enquirer

Pittsburgh Tribune-Review
Wednesday District College Scores

Bethany Tackles Thomas More for Homecoming Saturday
Bethany team be aiming to even their PAC record at 1-1 when they host Thomas More (2-1, 2-0) for Homecoming this Saturday. Kickoff at Bison Stadium is scheduled for 2 p.m.
D3Football.com


WEDNESDAY, OCTOBER 1
Grove City Soccer
...The Grove City College men's and women's soccer teams will open their PAC seasons against Thiel in conjunction with the US Soccer Federation Passback program.
The (Youngstown) Vindicator

Tuesday District College Scores
Pittsburgh Tribune-Review

Around the Great Lakes
...Ryan Krull had never played linebacker, not even in high school. However, the junior moved to the second level of the defense from the secondary. Krull has not only been a leader for Waynesburg (2-2, 0-1), but is No. 2 in tackles in the Presidents' Athletic Conference.
D3Football.com

Sporting Changes
As the fall athletic season begins, one team to watch out for is the Thomas More men's golf squad. The golfin' Saints are coming off their highest finish ever in the Presidents Athletic Conference, placing a solid second.
Citybeat.com

###
NEWSSTAND Archive - September 2008
NEWSSTAND Archive - August 2008
NEWSSTAND Archive - July 2008
NEWSSTAND Archive - June 2008
NEWSSTAND Archive - May 2008
NEWSSTAND Archive - April 2008
NEWSSTAND Archive - March 2008
NEWSSTAND Archive - February 2008
NEWSSTAND Archive - January 2008
NEWSSTAND Archive - December 2007
NEWSSTAND Archive - November 2007
NEWSSTAND Archive - October 2007
NEWSSTAND Archive - September 2007
NEWSSTAND Archive - August 2007
NEWSSTAND Archive - July 2007
NEWSSTAND Archive - June 2007
NEWSSTAND Archive - May 2007
NEWSSTAND Archive - April 2007
NEWSSTAND Archive - March 2007
NEWSSTAND Archive - February 2007
NEWSSTAND Archive - January 2007
NEWSSTAND Archive - December 2006
NEWSSTAND Archive - November 2006
NEWSSTAND Archive - October 2006
NEWSSTAND Archive - September 2006
NEWSSTAND Archive - August 2006
###