JOE ONDERKO, Commissioner
Joe Onderko was named the first full-time executive in the history of the Presidents' Athletic Conference (PAC) on July 1, 2006 and begins his seventh year as the league's chief administrator in the 2012-13 academic year. Onderko had his title changed from executive director to commissioner in the summer of 2012.

Onderko reports directly to the PAC Presidents' Council, comprised of the presidents of the conference member institutions. He served on the NCAA Division III Financial Aid Committee from 2007-11 and began a four-year term on the NCAA Division III Championships Committee at the January 2012 NCAA Convention, where he serves as national liaison for the NCAA Division III football, wrestling and baseball sport committees. Also at the 2012 Convention, Onderko was voted to serve a two-year term on the executive board of the Division III Commissioners Association (DIIICA). He also served as the co-chair of the local organizing committee planning the 2012 ECAC-SIDA Workshop in Pittsburgh.

Onderko, 42, previously worked full-time for 11 years (1995-2006) as sports information director at PAC member Westminster College in New Wilmington, Pa., while serving as PAC Information Director on a part-time basis for five years (2001-06). During that span with the PAC, he was responsible for all public relations and information duties in the conference, including press releases, conference statistics, and website management.

During his tenure at Westminster, Onderko was responsible for all public relations and sports information efforts at a 20-sport NCAA Division III athletic program, which previously was a member of both the NAIA and NCAA Division II. He earned 12 national publication awards, including three "Best in the Nation" honors from the College Sports Information Directors of America (CoSIDA). Onderko also served as a member of CoSIDA's Academic All-America committee from 1995-2006, concluding his tenure as national coordinator of the Academic All-American of the Year and Hall of Fame programs.

Prior to coming to Westminster, Onderko served as assistant sports information director at NCAA Division I Virginia Commonwealth University (1992-95) in Richmond and was a public relations intern for the NBA's Cleveland Cavaliers (1992). While at VCU, he served as Assistant Media Coordinator of the 1994 Women's Final Four in Richmond.

A native of Jamestown, Pa., Onderko is a 1992 graduate of Robert Morris University with a bachelor's degree in communication management, while earning his master's degree in education from Westminster in 2000. He and his wife, Pam, have three daughters: Erin (11), Lauren (8) and Alison (4).

KEVIN FENSTERMACHER, Assistant Commissioner/Director of Communications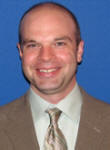 The Presidents' Athletic Conference (PAC) hired Kevin Fenstermacher to the newly created full-time position of Assistant Commissioner/ Director of Communications, effective July 1, 2012.
Fenstermacher reports to PAC Commissioner Joe Onderko and will be responsible for all conference communications efforts, including sports information and public/media relations, press releases, statistics and website management and social media development. He also serves as advisor for the PAC Student-Athlete Advisory Committee (SAAC) and has additional duties in the areas of championships, rules compliance and conference governance.
Fentermacher comes to the PAC office from conference member Thiel College, where he has served as associate director of athletics since 2010. His duties included serving as NCAA compliance coordinator and overseeing the day-to-day operations of the athletics media office and its two assistant directors, while also taking a lead role in promoting and managing the College's new air-supported dome structure. He also assisted in the planning and promotion of athletic-related summer camps, and collaborated with departmental personnel and other campus constituencies to help in the areas of academic monitoring and student-athlete support.
He began his Thiel career as sports information director from 2001-2005 and added the title of assistant athletic director in 2005, before spending two years (2008-10) as a member of the information technology department at the College.
The Erie, Pa. native is a 2000 graduate of PAC member Bethany College, where he was a member of the varsity football and track & field teams. Fenstermacher also earned a master's of science degree in leadership with a concentration in sports leadership from Duquesne University in the spring of 2011.

Presidents' Athletic Conference
P.O. Box 183
New Wilmington, PA 16142
Phone – (724) 901-0090 (Onderko) - (724) 456-7897 (Fenstermacher)
Fax – (800) 708-0191
PAC Officiating Supervisors/Assignors
Football - Tri-State Intercollegiate Athletic Corporation
Supervisor - Gene Steratore Jr. - ejsref@yahoo.com
Assistant Supervisor - Charlie Watts

Men's & Women's Soccer
Supervisor - Don Brown - donalddbrown@yahoo.com

Men's Basketball
Supervisor - Bill Ek - ekbballref@yahoo.com
Women's Basketball
Supervisor - Diane Plas - jplas@prodigy.net

Baseball
Assignor - Chuck Adya - adjref@gmail.com
Softball
Assignor - Kathie Graf - umpiregraf@roadrunner.com

Volleyball
Assignor - Gerry Durishan