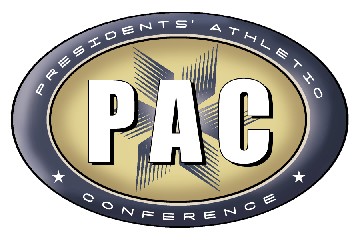 2011-12 PAC Men's Basketball Preview


BETHANY BISON (21-8 Overall, 10-4 PAC in 2010-11)

With four starters returning from last year's team that captured the program's 13th PAC championship, the Bethany College men's basketball team brings high hopes of repeating as conference champions and making a return trip to the NCAA Tournament.

In their second season under head coach Andrew Sachs last winter, the Bison finished the regular season in third place in the PAC. However, BC swept through the conference tournament, which included road wins at #2 Saint Vincent and #1 Thiel, to capture the program's PAC-record 13th league title and advance to the NCAA Tournament, where the Green and White dropped a first round decision 70-58 to Manchester.

With seven overall lettermen back, including four starters, from that 21-8 team, Sachs says the team will have to be ready to take every opponent's best shot and not be satisfied with last year's accomplishments to make a return to the national tournament.

"Our returners have embraced the tradition that has been set here since before me," said Sachs. "The new guys have some catching up to do, but they have worked hard to get ready for the season. Our biggest challenge is to fight through complacency. Winning the conference and making the NCAA Tournament was a great experience for everyone in the program.

"The journey is hard, but we want to get to the point where we not only make the Tournament, but we start winning some games," said Sachs. "Everyone in the league is going to give you their A game and we'll see if we're ready for it."

The Bison bring back both starters in the backcourt, including point guard Reece Mabery. The 6-0 junior averaged 9.7 points during the year, but pumped in 17.7 during the three PAC Tournament wins. He was also a playmaker on defense, leading the PAC in steals with 2.96 and setting a new BC single-game record with 12 thefts in a conference win at Waynesburg.

Behind Mabery will be freshman Taz Larry, who as an All-County player in high school, and junior James Barton, could slide over from his starting spot at the two-guard to provide help as well.

"Reece is back this year and once he got used to the way we played, he excelled," said Sachs. "He is an outstanding defender and is great at getting in the passing lanes. He missed one game or he would have set the school record for steals.

"Taz will be the primary back-up and he was All-Howard County in Maryland last year," said Sachs. "He is small, but has a good burst to him, plays with a chip on his shoulder and is a good on-the-ball defender. He will see more time as gets comfortable with what we do. And Barton has proven he play the point in the past, so he could slide over in a pinch."

Barton will be handling the majority of the duties at the shooting guard position this year after a solid sophomore campaign. He averaged 10.4 points per game, highlighted by a 14-point outburst in the PAC Title game win at Thiel, and also ranked third in the PAC in three-point percentage (43.6). Bethany should enjoy solid depth behind him, with senior Ryan Summers being the lone veteran and freshmen Delonte'Joyce and Taylor Vazquez also looking for minutes.

"The player who has looked the best in the preseason in Barton," said Sachs. "We may have to manage him through the year because of his injuries, but I couldn't be happier with how he came into the season. He is shooting well and came in great shape.

"There are a plethora of players behind him," said Sachs. "Delonte' is as advanced as any freshman we have and plays bigger than he is. He was First Team All-Anne Arundel County last year and comes from a program in Annapolis High School that always produces good players. Also providing depth on the wing is Ryan Summers, a senior who came in great shape and is fighting for playing time, and Vazquez, who is a good shooter."

Also on the wing at the small forward position is junior Nick Wilcox. A Second Team All-PAC selection last season, he ranked 10th in the conference in scoring (13.5), sixth in rebounding (6.8) and fourth in steals (2.10). The 6-3 junior enters the season within striking distance of 1,000 points this year (699) and is already up to eighth on the school's all-time steals list (131).

Injuries could be a factor at this spot, as Wilcox is recovering from an injury suffered over the summer and freshman Aaron Ashley is trying to get healthy after injuries and illness limited him his senior year of high school. Another freshman, Dylan Gravatt, has impressed Sachs with his work ethic so far.

"Wilcox does a little bit of everything for us and is heart beat of the team," said Sachs. "He is the catalyst and we are a different team when he's on the floor. He played in Italy over the summer with Division III All-Star team and suffered an injury that we may have to manage through the season, but he will be able to play through it.

"If he can play, Ashley can really shoot it and help us this year," said Sachs. "Due to a leg injury and then an illness while trying to recover from that, he was limited last year, but averaged 14 points a game in 15 minutes. He still isn't 100 percent and has been limited so far, but he's been through so much, I have a lot of respect for him. Dylan is a hard worker. He was the best player by far on his high school team. He has a chance to be pretty good for us and is already competing for time."

Bethany has a pair of veterans back to handle the four-spot in junior Brady Pacific and sophomore Leslie Addy. Pacific averaged 7.0 points last year, but stepped up when he was pressed into the starting line-up following an injury to graduated Ryan McFadden. In the six games leading up to the NCAA Tournament, Pacific scored 9.2 points, including 11 in the title game win at Thiel. Addy played in 25 games off the bench last year and that experience, plus a summer in the weight room, should make him a big contributor to the Green and White this year.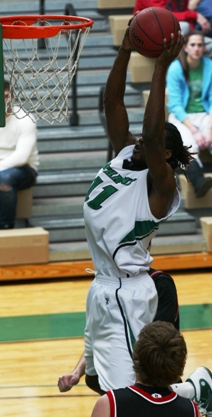 "Brady did an admirable job at the end of last year when the injury to McFadden put him in the starting line-up," said Sachs. "He is more of a face-up four-man, but has looked good so far. The most improved player is Addy. He will see some time at small forward too, but came in great shape, did a great job in the weight room and is playing with more confidence because he understands more."

The Bison post will be held down by 6-6 senior British Alexander (right). He was named First Team All-PAC and Second Team All-ECAC South Region after leading the PAC and setting a new BC single-season record with 67 blocked shots. In addition, Alexander was 11th in the league in scoring (13.4), second in rebounding (8.8) and seventh in field goal percentage (50.3). Perhaps his biggest game came at the biggest time, as Alexander propelled Bethany to the upset win at Thiel in the PAC title game with 19 points, 12 rebounds, five steals and five rejections.

A pair of newcomers will back up Alexander in 6-6 freshman Ray Neal and 6-8 Dylan Berger.

"British had a great summer and is more vocal in practice and looking to take on more of leadership role this year," said Sachs. "His shot blocking ability is the best in the league and he is one of the best to set foot in Hummel Field House. His offensive game has expanded and he can face up a little more.

"Behind him will be Ray Neal, who is more of a back-to-the-basket player," said Sachs. "He got in great shape over the summer, but then a sickness set him back when school first started. He is getting better and will bring physicality to the floor and the more he plays, the more comfortable he will get with what we do. Dylan Berger is 6-8 and is very skilled, but the weight room will be very important to him and he just needs to get used to the college game."

The solid depth Bethany has amassed will come in very important as the team progresses through the rigors of the PAC schedule. Sachs says talking to other coaches nationally, the reputation of PAC basketball is improving dramatically and the depth of the league will make every night a challenge.

"In talking to coaches at the NCAA Tournament last year who had a chance to watch film on a lot of our games and other league schools, they recognize the PAC is getting better," said Sachs. "We can't be as good as last year. We have to better because the league is better."

For the Bison to repeat as league champions, Sachs believes limiting turnovers, winning the battle on the boards and taking advantage of trips to the foul line will be critical, but also learning how to deal with handling the best every team has to offer each outing.

"We can win the league again if we are up to the challenge of taking every team's best shot every night," said Sachs. "We also can't be satisfied and complacent with last year, so we have to focus on improving every day and every game. I tell my guys all the time if you aren't getting better, you're getting worse.

"Other keys for our success will be leading the league in rebounding, making free throws and having the lowest turnover ratio," said Sachs. "Those are our most important stats. We have to do a better job of rebounding at both ends of the floor and taking care of the basketball. Like any team, we aren't very good right now, but we have to keep improving and focus on playing our best basketball the last three weeks of the season."
GENEVA GOLDEN TORNADOES (18-9 Overall in 2010-11)
It was actually very impressive that Geneva College head men's basketball coach Jeff Santarsiero honored his senior class at the final home game a year ago. With over 3000 points walking out the door at the end of the season, one would think Santarsiero would not be in a celebratory mood. The trio of Richard Colick, Bryan Hill and Brandon Sopko combined for 3166 points over the past four years including a combined average of close to 40 points per game a year ago. With all of that offense lost for the upcoming campaign, the question arises as to how the Golden Tornadoes will fill those voids heading into the first season as a full member of NCAA Division III and the Presidents' Athletic Conference. "We have been looking forward to this season for a while," says head coach Jeff Santarsiero. "It has been a long process for our program and for the entire athletic department to get past our provisional period. Now that we are eligible within the conference, we are looking to make an immediate impact on the PAC."
In order for Geneva to make that intended early impact, there will be a few guys that need to step up and fill the void left by graduation. The Golden Tornadoes are left with only two starters from a year ago in seniors Lambros Svingos and David Phillips. Svingos has held down a starting post position for each of the last three years while Phillips has also been a three-year starter at the guard position. A year ago, Svingos averaged 10.5 points and 6.5 rebounds per game while Phillips checked in with nearly nine points and four rebounds per game. Each will be looked upon to increase their offensive productivity in the upcoming campaign. "We have some experience returning in that both Lambros and Dave have started for us the past three years," says Santarsiero. "They have done a great job as complimentary players but now the spotlight is shining on both of them to take their games to the next level."
Santarsiero won't have to look hard for his third starter with game experience. In fact, he won't have to look past his own house. Drew Santarsiero will open the season as a starter for the first time in his Geneva career. Coming off the bench last year, he showed great promise as a shooter and as a solid defender. Geneva will need that three-point shooting threat to continue in the absence of probably the most prolific long range shooter in school history. "Nobody is going to step in right away and replace a shooter like Bryan Hill," says Santarsiero. "That talent doesn't come around every year. We are looking for several guys to fill that loss and Drew has worked extremely hard to get the opportunity to do just that in his senior season." While Santarsiero will be looking to fill some big shoes on the perimeter, the post position will have a new starting face in the name of Matt Lorello. Lorello played in all 27 games a year ago and averaged close to ten minutes per game. He was money in the bank around the basket with a team best shooting percentage of nearly 60%. Lorello will also be asked to step up his offensive production to match his already impressive work on the defensive end of the floor. "Matt is solid defender and plays very long," says Santarsiero. "We have to get him more confident on the offensive side of the floor and he could develop into a very solid player."
Colick and Hill were the featured scorer's for the Golden Tornadoes last year. But the glue that kept the whole thing together was Brandon Sopko at the point guard position. That is one of the most important question marks coming into the new season. DJ Damazo will be out for at least the first semester and may not be back until sometime in January. In his absence, it may be point guard by committee with two or three new faces vying for additional playing time. A couple early possibilities include sophomore Zach Kiger and freshman Brady Beech. "Our point guard is essential to our offensive success," says Santarsiero. "We are not looking for a guy to put up 20 points a night, but we do need someone that understands the offense and can run things smoothly. We are lacking in experience right now at that spot but hopefully someone jumps up and takes command for us."
The Geneva College sophomore class features a few guys that will also most likely play significant roles in the new season. Trevor York (6'7, Forward), Cameron Richardson (6'5, Forward) and Pat Johnson (6'2, Guard/Forward) will all see significant playing time off the bench and will need to produce on both ends of the floor.
"We clearly don't have the offensive fire power that we have possessed in the last couple of years," says Santarsiero. "We do have some very gritty, hard-nosed kids that will get after it on offense and defense. We are going to work hard every night and I am very excited to see how things play out." Geneva will be faced with a challenging PAC schedule this year to go along with a non-conference slate that leaves nothing to be desired. "After four years in this conference we have a true understanding of exactly how challenging things can be," says Santarsiero. "There are no cupcakes in this league and if we don't work hard every night, we will lose and it's really that simple."
Jeff Santarsiero should certainly know what it takes to be successful after spending the last 23 years on the Geneva College sidelines. He is set to begin his 16th year as Geneva's head coach and is just two victories shy of reaching the 250 mark for victories at Geneva. "We have enjoyed some nice success in the last four years but really we have been working toward this season for a while," says Santarsiero. "Having the opportunity to compete in the PAC and in the post-season tournament is great incentive for our guys to work as hard as they possibly can. We know that the rest of the league will be gunning for us in this first year so we better be ready to match that intensity each and every night."
When Richard Colick, Bryan Hill and Brandon Sopko picked up their diplomas last spring a golden era of Geneva basketball came to an end. With the start of the 2011-12 season upon us, a new era of Geneva basketball is set to begin as a full member of the Presidents' Athletic Conference. Coach Santarsiero and the Golden Tornadoes have risen to challenges in the past and the new season should create much of the same excitement and success as year's past.

GROVE CITY WOLVERINES (5-21 Overall, 2-12 PAC in 2010-11)

The Grove City College men's basketball team enters the 2011-12 season with cautious optimism after a tough 2010-11 campaign. The Wolverines' traditionally strong defense allowed just 63 points per game last year while holding opponents to under 40 percent shooting from the field.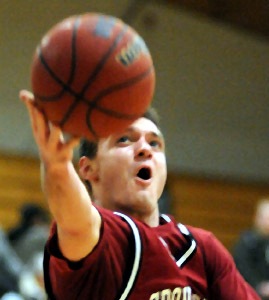 This year, the Wolverines will look for improved offensive efficiency as a means of moving back into the conference's elite.
The Wolverines return four seniors this year, all of whom own three collegiate letters. Senior guard Brett Matson (right) returns in the backcourt after leading the Wolverines in scoring at 11.4 points per game in 2010-11. He also led Grove City with 72 assists, 46 steals and 33 three-point goals.
Matson is a two-year starter and past All-Conference honoree.
Senior Cody Fleeger will join Matson in the backcourt. A 6-foot-1 defensive stopper, Fleeger started 15 games last year. He finished second on the team in rebounding at 4.6 per game and ranked among the conference's best backcourt rebounders.
In the pivot, senior Kris Verderber and Mike Grist also return for their final season at Grove City. The 6-6 Verderber averaged 8.2 points and four rebounds per game in 24 starts last year. He shot 48 percent from the field.
Injuries limited the 6-4 Grist to just 13 appearances last year. He will look to earn a starting spot in the frontcourt this year.
A pair of juniors return in lanky 6-4 forward Nate Rambacher and 6-3 Steve Battaglia. Rambacher played in all 26 games last year and started 12. He led Grove City with 18 blocked shots. Battaglia, meanwhile, shot a team-best 58 percent from the field in 19 appearances.
Also back for the Wolverines are second-year performers Matt Mathias, Matt Roush and Evan Schell. A 6-7 center, Mathias played in 20 games as a rookie and will compete for time up front.
Roush (6-3 forward) played in 18 games while Schell, a 6-1 shooting guard, played 22 games.
Head coach Steve Lamie, now in his 14th season, will also look for contributions from a number of newcomers this year.

SAINT VINCENT BEARCATS (19-8 Overall, 10-4 PAC in 2010-11)

Last year, the Saint Vincent men's basketball team came within one point of making the Presidents' Athletic Conference Tournament Championship game, falling to Bethany in the semi-finals. This year, the competition appears to be just as tight in the PAC, and a very similar-looking Bearcat team hopes to once again have an opportunity to challenge for a conference title.

Saint Vincent has lost just one starter from last year's 19-8 squad due to graduation. BJ McGill, who averaged just over 14 points per game and was named First Team All-PAC, completed his four-year career with over 1000 points. However, the team must now also replace starting center Grant Latus, who is unlikely to play this season due to injury.

Still, the team will bring back plenty of veteran players, led by senior captain Tauvon Pettiford. "Tauvon separates himself from all the guys we have because of his experience," said Head Coach DP Harris. "He is a little older than the other guys and comes to practice with the exact mindset every day that we are looking for."

Pettiford, a 6-4 guard, joined the Bearcats midway through last year, quickly moved into the starting lineup and contributed 11 points per game along with solid defense.

Also returning for his senior season is Dennis Bassich, the team's second leading scorer from last year at over 16 points per game, and a Second Team All-Conference selection. "Denny may be the best shooter in the league, " said Harris. "He can shoot the lights out. He needs to step up and play more defense this year, and we're challenging him each day to get better in that respect."

Another key returnee is Armani Fountain, a junior forward. "Armani is going to be one of our captains this year," according to Harris. "He has worked his tail off to become the player he is, and is the type of player and person we want at Saint Vincent." Fountain will join Pettiford, Bassich and senior Ryan Nelson as captains this season.

Isaac Turner, who averaged a team-high 18+ points per game early last season, is also back for his sophomore campaign after an abbreviated freshman year. "We're looking forward to Isaac competing for a full season," said Harris. "He has done a great job in the preseason. We've challenged him to move from the shooting guard to the point guard position, and we're very excited for his future with us."

Harris knows, however, that the team will miss having Latus in the middle. "Without Grant, we don't have a true center."

Ralph Nin, a 6-8 freshman from Miami, will help fill that role. "He's making steps, moving forward, but there's a big difference between an experienced player like Grant and a true freshman. We're hoping Ralph improves enough to crack the starting lineup before too long. He has made amazing strides in the last two weeks of preseason practice."

Sean Kett, another Miami native, is another freshman that Harris expects to garner a lot of playing time in the front court. "Sean is a 6-5 wing who is athletic and can shoot the ball. We see him being an impact player over the years."

The team has also added several newcomers at the guard position, including Justin Robinson, a Canon McMillan alum. "Justin is the big surprise of the freshman class," noted Harris. "He's a local kid that has made his mark and has an opportunity to get valuable minutes. He's a rangy, athletic player who is learning our system quickly."

Harris knows that knocking off last year's top two teams will be a challenge. "I think everybody is chasing Bethany and Thiel. They were the two teams in the championship last year, and both have almost all of their players back. I think at this point it's a process for us to see how much better we'll get throughout the season.

"It's important that we have a good November. The LaRoche game will be a real test for us, plus playing Juniata on the road. Obviously the competition in Miami (the team's Christmas Tournament) is top-notch. Plus we're playing Thiel early in the year. We'll know where we are by January. In this league, it comes down to the PAC Tournament. You're just trying to get yourself in the spot that you can have a home game or two. We'll get our young guys going. We're still a very young team."


THIEL TOMCATS (20-7 Overall, 13-1 PAC in 2010-11)
The Tomcat men's basketball team looks for redemption after falling short in their bid for last season's Presidents' Athletic Conference (PAC) Championship.

After guiding the Tomcats to a school-record 20-7 campaign a year ago, sixth-year head coach Tim Loomis, selected as the 2011 PAC Coach of the Year by his conference peers, expects to have his Tomcats focused on winning the program's first conference title since 2000 and earning its first-ever NCAA tournament appearance. With the addition of a couple new faces and the healthy return of a few others, Loomis feels that this year's team has the depth and abundant athleticism he's been looking for since arriving in 2006. According to Loomis, the 2011-12 season should be one of the most productive and exciting years the Tomcat faithful have seen.

Leading the way will be a dominant backcourt duo in Blair Rozenblad and Devon Adams, who both look to improve on last season's successes and conclude their tremendous careers with a bang.

With a resume that includes being named the Division III Great Lakes Region Rookie of the Year by D3hoops.com (2010), being selected by the conference coaches as the PAC Player of the Year (2011), and earning a spot on the National Association of Basketball Coaches (NABC) Division III All-District team first team (2011), Loomis knows that Rozenblad still has plenty to prove prior to wrapping up a brilliant career under his former Kennedy Catholic High School coach.

"Blair is one of the hardest working players in the PAC and his contributions to our team never go unnoticed. We're all looking forward to having him back in our program this year," said Loomis.

Rozenblad led the PAC in rebounding, pulling down 9.6 per game from his guard position. He finished third in the conference in scoring (15.4), fifth in steals (1.85) and finished the season with 12 double-double performances.

Adams returns after being selected to the all-PAC first team for the first time in his collegiate career following a dazzling 2010-11 season in which he finished first in the conference and 18th among his Division III counterparts in assists per game (5.85), eighth in free throw percentage (.727) and ninth in steals (1.56). He scored a season-high 29 points in an 84-73 win at Washington & Jefferson College and dished out a season-high 12 assists in an 86-85 win at Thomas More College.

"I've spent the last four years watching Devon mature both as a person as well as a player. He has helped lead this team from last in the league to one of the better programs in Division III basketball," said Loomis.

Last season, Adams became just the eighth Tomcat player to eclipse 1,000 career points, scoring 10 points in Thiel's regular season finale at Thomas More.

Rozenblad and Adams lead a seasoned and talented group of returners, highlighted by junior guard Anthony Harvey (New Castle, Pa./New Castle) and junior forward Ladell Trotty (Cleveland, Ohio/Lutheran East). Each player spent time in starting positions last year and look to continue upon their successes.

Harvey collected 15 starts in 25 appearances and averaged 7.4 points per game. Trotty earned 12 starts in 27 games and finished fourth on the team in scoring (9.7ppg).

Also back for the Tomcats are junior forward Austin Forbes, junior forward Chace McKinney, junior guard Kendall DeLashment and junior guard R.J. Brownlee.

"Having a few veteran players will definitely help with depth and leadership. Our older guys will help some of the new guys develop quicker as well as provide the team with valuable minutes on the floor," said Loomis.

With such a considerable number of experienced players on this season's roster, depth and floor experience should prove to be a huge asset for the Loomis and the Tomcats. As players involved with Loomis-coached teams learn early on in their careers, one's willingness to commit to the fundamental belief in quality defense will determine their roles within the program.

"With the hard workers we have in this bunch, wearing opponents down defensively is going to be our number one priority," said Loomis.

Thiel has also added some new faces to the program. Junior guards Dotun Akinwale and Keon Bennett, along with freshmen forward Eric Mallinger and freshman guard Doran Phillips, are going to do all they can to push their veteran teammates to get better while securing their own roles in the program.

"The new guys we have are going to bring some competition for playing time and increase the depth of our bench. They really are a great group of players and we're glad to have them," said Loomis.

Despite entering last season's PAC Championship Tournament as the top seed and defeating their two opening-round opponents by an average of 11.5 points, Thiel came up short in its bid for the conference title and the PAC's automatic bid to the Division III Championship Tournament, suffering a 74-67 loss at the hands of third-seeded Bethany College. The stinging loss still stirs the emotions of the Tomcat faithful on campus, and the returning members of last season's squad understand that there is plenty of work to be done to secure the school's first men's basketball conference championship since 2000.

"For us every practice is a step towards the NCAA tournament. It is up to our guys to remain focused and to work as hard as they can to get better each day. I know our guys are disappointed about how last year ended, but that's what continues to drive them to become better players. That loss against Bethany has brought us together and, in a sense, made us a better team. These guys are willing to do whatever it takes to bring a PAC title to Thiel," said Loomis.


THOMAS MORE SAINTS (13-14 Overall, 8-6 PAC in 2010-11)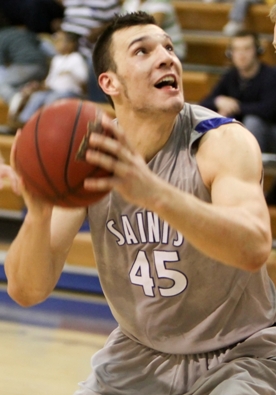 The Thomas More College men's basketball team looks to challenge for its second Presidents' Athletic Conference Championship during the 2011-2012 campaign.
Third-year head coach Jeff Rogers returns 11 student-athletes from last season's team, including four starters. Returning from the Saints' 2010-2011 starting lineup is senior center Colt Stafford (left), senior point guard Daniel Whelan , sophomore guard Spencer Berlekamp and junior guard Ryan Hamm.
Stafford was a second team All-PAC selection last season after averaging 11.2 points per game and 5.3 rebounds per game to go with 24 blocks and 32 steals. Whelan averaged 8.3 ppg., and had 64 assists and 36 steals. Berlekamp had 90 assists and 41 steals to go with his 7.1 ppg. Hamm came on late in the season last year and averaged 2.4 ppg., and had 28 assists and 17 steals.
Three key returners join the four returning starters as senior shooting guard Todd Krohman, sophomore point guard D'Carlo Hayes and junior shooting guard Ethan King return for the Saints. Krohman averaged 6.7 ppg., and 2.1 rpg., Hayes averaged 4.5 ppg., and had 20 assists and 28 steals, while King averaged 2.0 ppg.
Along with the 11 returners, Rogers has added 13 newcomers who will battle for playing time and build depth to compete for the team's second PAC Championship in four years.
Thomas More opens its 2011-2012 campaign on Tuesday, November 15 when it travels to Richmond, Indiana to play Earlham College at 7 p.m. The Saints home-opener will be on Monday, November 28 when they host in-state rival Transylvania University at 7 p.m.

WASHINGTON & JEFFERSON PRESIDENTS (11-15 Overall, 8-6 PAC in 2010-11)

The sixth preseason men's basketball camp under Head Coach Glenn Gutierrez is underway at the Henry Memorial Center, one Gutierrez feels may be the most important during his tenure due to the youthful 2011-12 roster. The Presidents graduated five players from last year's squad, who combined to provide 55 percent of the team's scoring and rebounding, including the program's eighth all-time leading scorer Brian Felker (1,324 points).
Gutierrez will rely on senior guards Uchenna Okocha and Zach Zelinsky to bridge the gap from last year's senior-laden squad to one of the youngest teams in school history this winter. Okocha and Zelinsky have a combined 41 games of varsity experience, but Gutierrez is pleased with how the duo has handled preseason camp thus far. Okocha and Zelinsky were freshmen on the Presidents' 2008-09 team that won the ECAC Division III South Championship.
"Uchenna and Zach have program experience and that is an important part of their leadership," said Gutierrez, who owns a 71-68 career record. "They have been vocal and they understand how important their leadership means to our team."
The Presidents' 15-man roster includes 10 freshmen and one sophomore. Although Gutierrez has never coached a group as young as this year's Presidents, he is enjoying the challenge.
"I've never been part of a group this young in 27 years of coaching," he added. "I've had to develop a new level of patience in our early practices, but I am really having a lot of fun with these players. They have a great approach to practice every day and their work ethic has been terrific."
The two juniors on the squad, guard Zach Bellhy and forward R.J. Pilato, are the most experienced returners and the coaching staff believes both players can take their games to new levels.
Bellhy, who enters the season with 501 career points, is a 37 percent career shooter from three-point range. He has shown flashes of brilliance in the first 51 games of his career, but Gutierrez is looking for consistency from the athletic guard.
"Zach has all the skills and tools to be a standout player," said Gutierrez. "He can shoot it and can take the ball to the basket. He needs to bring that same level of intensity every day and use his teammates to get open looks. Zach has been doing a good job thus far and we have high expectations for him."
Pilato is a 6-foot-5 forward who has played on the frontcourt his first two seasons despite being primarily a perimeter player in high school. He averaged 3.8 points and 2.3 rebounds per game last year, numbers he expects to improve upon.
"I have been very pleased with R.J. during practice," added the head coach. "He has improved each season and I believe he can turn into a solid post player in the PAC. He is doing all the things necessary to become the player we know he can be."
Bellhy and Pilato aim to help the Presidents' offense, a facet of the game that has plagued the team the last two years. Under Gutierrez, W&J has prided itself on its defensive effort (3rd in PAC last year in scoring defense in 2010-11); however, the Presidents were eighth of nine in the league in scoring offense (63.9 ppg).
Sophomore Brett Rubin-Goldstein will also provide depth in the Presidents' backcourt along with the freshman class. With the loss of last year's senior class and the youthful roster, it was no surprise that the Presidents were selected sixth in the PAC Preseason poll.
"We've talked a lot about the potential that exists for this team," concluded Gutierrez. "We are working on getting on the same page and that may take some time. I believe we have a very high ceiling. This freshman class has size, athleticism and an ability to score. Most of all, right now, I am impressed with the tremendous effort they are giving every day."


WAYNESBURG YELLOW JACKETS (6-20 Overall, 2-12 PAC in 2010-11)
With a full year of recruiting and a second offseason of working with his veterans under his belt, second-year head coach Mark Christner is looking to move the 2011-12 Waynesburg University men's basketball team up the Presidents' Athletic Conference (PAC) standings.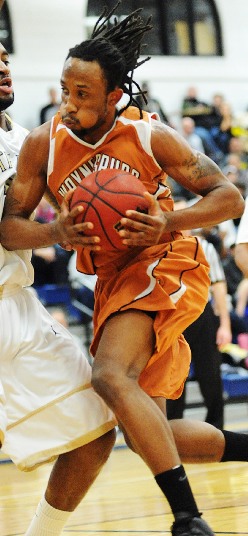 The Yellow Jackets, who went 6-20 overall and 2-12 in PAC play, placed seventh at the end of the 2011-12 regular season and exited in the first round of the conference tournament. However, the Jackets did enjoy a major highlight to the year at the end of the regular season when they knocked off then-17-7 Geneva 80-70.

Waynesburg returns two starters from last year's squad in senior two-time All-PAC forward Jeff Young (left) and fellow senior front-courter James Allenby. Young led Waynesburg in scoring (10.3 ppg), rebounding (6.2 ppg) and blocks (.77 bpg) last winter and also became known for his electrifying slam dunks that entertained the crowds at the Rudy Marisa Fieldhouse. Allenby brings 6.7 ppg and 3.9 rpg averages with him to his fourth year with the team and his second as a starter.

While there are just two returning starters from last year on the 2011-12 roster, Waynesburg also welcomes back 2009-10 All-PAC point guard Ben Altmeyer. Before missing all of last year to an injury, Altmeyer proved to be very productive at the point. During his first year with the team, Altmeyer averaged 8.4 points, 4.0 rebounds and 2.4 assists per game. The junior will battle senior Patrick Crawford and freshman Casey Hope to regain the starting job.

A slew of experienced Jacket contributors will be amongst the leaders for the other starting jobs on the floor. Senior forward Lou Galante was arguably Waynesburg's top reserve last year. The 6-4 Pittsburgh native averaged 7.5 point and 3.7 rebounds per game while playing an average of 14.7 minutes per contest.

Two more seniors, Luke Baker and Aaron Cromwell, also look to be in good position to make a run at starting minutes. Baker averaged 4.2 points and 2.0 rebounds per contest, while the 6-6 Cromwell, who can play guard and forward, averaged 5.4 points and 3.5 rebounds while posting 17.3 minutes per game.

Junior center Kurt Bonnet is one of Waynesburg's most efficient shooter, hitting on 50 percent of his tries from the field in 10-11, while averaging 6.7 points and 3.9 rebounds per contest. Senior guard Jeff Nairne, senior guard Larry Alexander and sophomore forward Josh Schinkovec are also back and will be looking to play bigger roles on this year's team.

Joining this year's 11 veterans, which includes an eight-man senior class, is an eight-man freshman class that looks to increase Waynesburg's scoring pop and depth. First-year Jackets Jacob Fleegle and Jason Propst not only bring height, 6-5 and 6-6 respectively, to the team, but were proven high school scorers. Fellow rookies Kenny Klase (6-2) and Thomas Ellis (6-2) have looked very strong in the preseason and are more than capable of pushing their veteran teammates for time on the court.

The Jackets tip the season off on Nov. 16 with a road trip to Steubenville, Ohio to face Franciscan. Game time is scheduled for 6 p.m.
WESTMINSTER TITANS (7-19 Overall, 3-11 PAC in 2010-11)
The wave of juniors making its way through the Westminster College men's basketball team for the 2011-12 season represents progress and excitement. There are also some unknowns because the group has not tasted success.

Ninth-year head coach Larry Ondako understands how difficult it can be prepare for a season with mostly freshmen and sophomores.

"We ended the season last year with no seniors and one junior," Ondako said. "Two years ago we basically started from scratch. Now you see the progress. It's a lot easier to have a good preseason when you have juniors and seniors."

Westminster's record was 7-19 for a second straight year in 2010-11 including a 3-11 mark for sixth place in the Presidents' Athletic Conference (PAC). The Titans return three starters, not including forward Rob Briggs who finished his career at Westminster in three years to pursue an engineering degree at Pitt. However, the team's lone senior in 2011-12 will be guard Max Spinner, a graduate student who first came to Westminster in 2006, started during the 2009-10 season, but sat out last season with an injury.

Spinner, who earned an honorable mention for the all-PAC team in 2010 with an 11.0 scoring average, can attest to the lull in the program but he returned to the team an extra year to see the progress come to fruition.

"We have guys with a lot of experience but not winning experience and you wonder how that will affect them," Ondako said. "We have a lot of juniors and we are expecting more from them but you wonder if they are ready to go. That'll be the big thing."

Of the three returning starters two are juniors in guard Doug Smith and forward Adam Carswell. Smith earned an honorable mention for the all-PAC team last year after he led the team with 14.0 points per game including five 20-point games. Carswell, at 6-feet-5, will be relied on to bolster the front court after averaging 4.0 rebounds and 5.4 points per game the last two years as a starter.

There are three other juniors on the roster who combined for 99 games and 37 starts including guard Ron Martino, a starter from 2010, with 31 career games and 16 starts; guard Reuben King, 46 games and 17 starts; and guard Matt Shiner, 22 games, 4 starts.

Despite the influx of juniors, the most important player on the floor will be sophomore Anthony Thomas, the team's returning starting point guard. Thomas earned an honorable mention for the all-PAC team last year after starting every game and averaging 11.0 points and ranking fourth in the PAC with 4.6 assists per game. He scored in double figures 12 times including three with 20 or more points.

"It all starts with the point guard," Ondako said. "Anytime we've been good here we've had a good point guard. For Anthony to get an honorable mention for the all-PAC team as a freshman speaks of how good he can be."

Ondako credits having one of the best point guards in the PAC in Thomas and one of the best shooters in the PAC in Smith as defining characteristics for his team in 2011-12.

"We'll need to play fast," Ondako said. "We don't have a lot of height and presence to win games, 60-58."


###