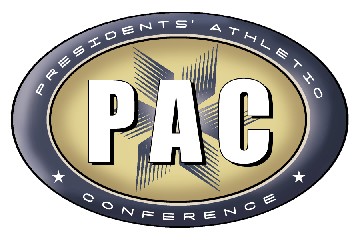 2010 PAC Men's Soccer Preview


BETHANY BISON (2-16 Overall, 1-5 PAC in 2009)

After suffering through a difficult first year at the helm, Bethany College head men's soccer coach Sean Regan will welcome 16 new players this season in hopes of taking the Bison back towards the top of the PAC.
Regan's first season saw the Green and White finish 2-16 overall and 1-5 in the PAC, but the team did play better down the stretch, going 1-3 in the final three matches with two losses coming by a single goal. Bethany is hoping the momentum built up by the solid finish and the newcomers to the program will make a significant change in their fortunes.

"We are starting with a clean sheet this year," said Regan. "This is my first recruiting year and my first chance to assess those players in high school and at the club level. We have a good solid group of 16 new players coming in and many of those will be contributing right away, whether it be starting or making an impact off the bench."

A bright spot coming into the year for Regan is in the back, as he returns his starting keeper from last season in junior Patrick Coleman. He played in 12 matches, including 10 starts, but he is expected to be pushed for the starting nod by sophomore transfer Matthew Burt.

"Coleman returns this year after being the starter last season," said Regan. "He had his work cut out for him last year, but we expect he'll make a significant contribution this year, as he comes in as the number one man and it's his job to lose. He does have strong competition in Burt, who is looking to take the #1 shirt after playing at the highest level in England and transferring from the University of Leeds. However, we know that either will do a fantastic job."

A big reason the Bison are optimistic about this season is the expected improvement from the defense. This unit will feature four returners, including seniors Mike Hasson and Justin Wilkinson, junior Mickael Remondeau and sophomore Zach Zozula, who was a Second Team All-PAC choice last year. Teaming those four with a trio of newcomers with impressive credentials should make the BC defense much tougher to find open space against.

"We are looking to significantly improve this year defensively," said Regan. "We have four veterans back, including two seniors in Hasson and Wilkinson, Zozula coming off an all-conference season and Remondeau, who only played in one game last season because of injury and he will look to stamp his seniority among the back four this year.

"We also have three freshmen looking to break into the line-up," said Regan. "Included in that is Dylan Fay, who is a polished center back, Scott Kearly, who is a no-nonsense player, and Alejandro Vargas, a right back with a big reputation after playing for the Florida state runner-up in club soccer."

Bethany's midfield already boasted of the most experience of any spot on the field, but they are bolstered even more by the return of senior Jason Straw. A two-time All-PAC selection, including First Team honors as a sophomore in 2007, Straw missed all but one game last year because of injury and was granted a medical redshirt to come back in 2010. Other seniors back for their final year include Chatham Gongola, Cory Winters and Aaron DeMundo and they are joined by juniors Alex Stubbs and Jeff Krek and three more new faces who figure to earn time this year.

"The midfield looks to be one of our strongest positions," said Regan. "Straw returns as captain for his senior year after missing last season because of injury. Other returning players looking to hold down spots include last year's vice-captain Gongola, whose leadership helped a young Bison team get through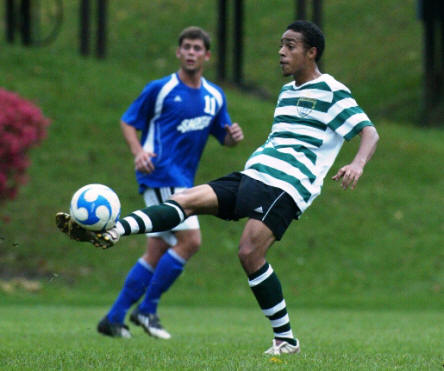 a tough year. Also, Winters, Stubbs and Krek all come off impressive spring seasons and we look for that momentum to carry over to this fall, and DeMundo returns for his senior year.

"New additions to the program are Sebastian Martinez, who comes from a very prestigious youth academy in Florida, Brendan Derry, who will contribute on the wing, and Tomas Gonzalez, who played on the same club team as Vargas and should provide good chemistry with Straw and Winters in the middle," said Regan.

The Bison attack up front has two productive strikers back in senior Ari Dewhurst (left) and junior Cameron Ward. Dewhurst is a two-time All-PAC performer and was last year's leading scorer with seven goals and 14 points, while Ward, a Second Team All-PAC pick in '08, has 10 career goals in his first two years. In addition to senior Josh Whitt returning, three freshmen in Arkangelo James, Evan Yarnall and Dustin Maiolo, whose high school coach played a large role in Bethany's 1994 National Championship, will provide more threats in Bethany's arsenal.

"Returning at striker for us is a pair of all-conference players in Dewhurst and Ward," said Regan. "Going into their senior and junior seasons, it's their time to shine and we need them to have big scoring years from them. We also have an all-state player in James, who had very impressive high school and club seasons. In addition, we've added Maiolo, who comes to us from Canada but knows of Bethany's winning tradition, as his high school coach was Pat Ricci, who scored the winning goal in the 1994 National Championship game. Also looking to contribute will be Whitt and Yarnell."

Bethany is obviously targeting more wins than the 2009 season brought, but according to Regan, if the freshmen come around rapidly and the veterans provide a steady influence through the season, the team could rise from the bottom of the league standings to contending for spot in the PAC Tournament.

"The keys to our season are for the freshmen to get acclimated right away because a large number of them will be starting or playing heavy minutes and we need them to step up big," said Regan. "Our returners also need to show a lot of experience and composure. They've had a rough four years and now they need to stand up and show they want to have a winning season. If both of those happen, we should at least finish mid-table in the conference and target a spot in the PAC Tournament."


GENEVA GOLDEN TORNADOES (15-5 Overall in 2009)
When Gary Dunda accepted the position as Geneva College's new head men's soccer coach he was accepting the role of leading a team that won 15 games in 2009 and had ten starters returning for 2010. "It's a pretty good place to start," says Dunda. "I have been given a great opportunity at Geneva but what was accomplished in the past needs to be built upon to secure a brighter future."

The Golden Tornadoes ended their season with a loss in the NCCAA east regional tournament for the third consecutive year. But with a 15-5 overall record a year ago, Geneva and Dunda are optimistic about the prospects for the new campaign. "There will certainly be a transition period for our guys to get used to the way we do things and for me to get to know our personnel. It is a tribute to the work that Todd (Beall) did during his time here. The program is in a very good place."

Dunda will be teaming with his former teammate at Messiah College in Tim Edris on the sidelines. "It is exciting for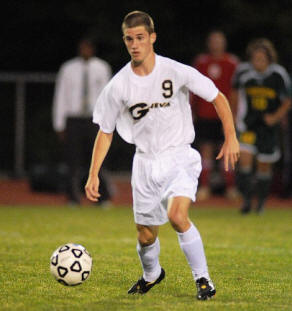 both Tim and I to have the chance to coach together after playing together in college. Tim has been with the program for a few years and has a solid idea about where this program was and where it is headed." Dunda has already relayed his theme for 2010 with the acronym "STAND" referring to "staying together and never doubt". "I believe strongly in the team concept and with such a solid foundation in place, I am looking forward to this group coming together very quickly and taking the next step in the process of going from a really good team to a great team."

The 2010 roster is littered with veteran players that include every field player from a year ago with the exception of just one. Six seniors comprised of Kenton Burckhart (right), Bruce Fox, Gabe Kleinert, Chris Morshl, Jeremy Peachey and Matt Weaver will lead the 2010 Golden Tornadoes on and off the field. "As a new coach, it is a comforting feeling to know we have so many guys that have been in the program for a few years and understand what it takes to be successful."

The one question mark coming into the new season will be in between the posts. The Golden Tornadoes will need to fill that void in goal with sophomore Evan Biedenbach having an opportunity to do just that heading into the season. "Evan had a solid spring season and if he continues to progress will do a nice job this fall."

While the core of the 2009 team returns this year, the Golden Tornadoes will look for added depth from a solid class of eight incoming freshmen. "I feel like a freshman myself," says Dunda. "We are all in this together so I can sympathize with the new guys but I am very excited to see them in action and find out who will step up and contribute immediately. The idea that our program does not need to rely on much immediate help from first year players is also a tribute to where Geneva soccer has gone in recent years."

"I am a builder not a demolisher," says Dunda. "We can work to build on past successes and if we can get all the guys on board, it can be a great ride in 2010."


GROVE CITY WOLVERINES (8-10-1 Overall, 3-3 PAC in 2009)
With a 10-man senior class and eight other returning lettermen, the Grove City College men's soccer team features depth, experience and versatility in anticipation of the 2010 season.

That combination will be pivotal this fall as the Wolverines aim for the Presidents' Athletic Conference title and a return to the postseason.

Grove City returns 94 percent of its offensive production from the 2009 season, along with the squad's leading scorer in 2008.

Of that group, 13 returning letterwinners started at least five matches during the 2009 campaign.

For decades, defense has been the keystone of Wolverine success. Under the guidance of fifth-year head coach Mike Dreves, that commitment to defense will continue to be a point of emphasis.

The Wolverines return a veteran corps of defenders as four starters are back after helping Grove City post seven shutouts in 2009.

Senior defender Dave Larkin is a three-year starter on the backline while classmate Zach Barzanty returns for his third year at center back.

Junior defender Adam Brewer earned Second Team All-PAC recognition for his defensive work in 2009 while sophomore Jesse Ingram made an immediate impact by making 18 starts as a freshman.

Sophomore Alex Moore lettered at defender and will compete for a starting assignment this fall.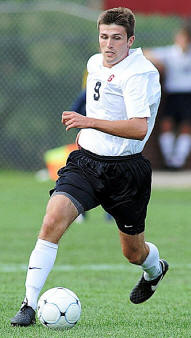 Grove City's midfield platoon features a variety of veterans who will give the Wolverines flexibility and depth.

Senior Evan Moore (left) captained the 2009 squad and is a returning All-PAC selection. He will be counted on at both ends of the field once again this fall.

Moore is joined by four other seniors who will battle for time in the lineup at midfielder. Erich Beyer is a three-year letterman and part-time starter for Grove City while two-year letterwinner Alex Ford returns for his fourth season after starting eight matches in 2009.

Brothers Austin and Daniel Bernal both lettered in 2009 and will also be in the midfield mix this season, along with senior letterman Ben Wagner.

The Wolverines are also bolstered by sophomore midfielder Alex Ayer, who moved into the starting lineup as a freshman and made a dozen starts. Ayer will compete for a full-time starting assignment this fall.

Grove City also features plenty of depth and experience at forward.

Sophomore Andrew Quinn moved up front early in his rookie season and ultimately earned First Team All-PAC after scoring a team-high five goals.

Senior Chuck Witt finished second on the squad with three goals in 2009 and provides additional scoring punch.

Senior Jake Kern, the team's leading scorer in 2008, also returns after missing last season due to injury. Also back at forward are junior lettermen Brian Eckenhoff, Ben Kuniholm and Mack Lloyd.

Grove City will have to find a replacement for graduated goalkeeper Sean Osborne. Several newcomers are expected to battle for that assignment.

The Wolverines open the 2010 season September 3-4 with a pair of matches at Oswego State (N.Y.). Grove City will then host Heidelberg September 8 in the home opener.

The non-conference schedule features bouts with several powers, including Baldwin-Wallace, Carnegie Mellon and Penn State Behrend.

Conference play begins October 2 at Washington & Jefferson.


SAINT VINCENT BEARCATS (7-11-2 Overall in 2009)
After graduating a pair of the top scorers in program history, as well as a four-year starting defender, Saint Vincent head coach Keith Harmon knows that outside expectations for his team may not be very high as it enters the 2010 season.
"Everyone knows we've lost two of the conference's top scorers over the past four years," Harmon said. "But as my grandfather used to say, 'don't roast the pig until you're sure it's dead.'"
Gone from the team are four-year starters Luis Rodriguez, Ben Fecik, and Matt Fecik. Rodriguez graduated as the school's fourth all-time leading scorer, with 47 goals and 107 points, while Ben Fecik scored 71 career points, coming via 25 goals and 21 assists. Both were perennial PAC Coaches Honors recipients, while Fecik earned All-ECAC South Region and ESPN Academic All-District laurels in 2009.
Not to be outdone, Ben's twin brother Matt started 76 games for his career, anchoring the Bearcat defense with a heady, physical brand of play that earned him a pair of PAC Coaches Honors.
Another key offensive component lost for the season is Anthony Balistreri, as the midfielder was felled by a significant knee injury in the team's spring season. Balistreri burst onto the scene as a freshman in 2009, scoring seven goals with four assists, starting 19 games.
The 2009 Bearcats finished 7-11-2 overall, and were doomed by a slow start, as they went just 3-8-1 in the first half of the year. The team turned it on against PAC foes, however, going 4-2-1. This season will be the first in which SVC will be fully eligible to compete for the PAC postseason after the school successfully completed its four-year run as a provisional member of NCAA Division-III, and Harmon is thrilled to be able to finally have a chance to compete in the postseason.
"It's been a long four years," the coach said. "We had a whole class go through that wasn't eligible. It's been a long wait, and it's great for us to finally be able to compete for the conference."
With the loss of so many key offensive components, the coach knows the key to his team's success in 2010 will be the performance of its defense.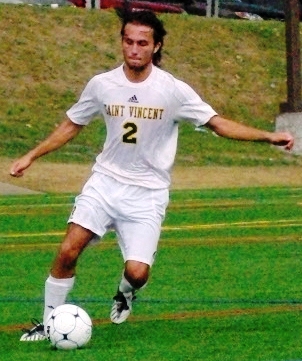 "We have to become more defensive oriented," he said. "We won't know much about our offense until we finish camp, but we're going to stress defense from the start."
Despite losing Matt Fecik, the Bearcats return a trio of backline starters in senior Ben Skvarca and juniors Dean Jordan (right) and Christian Ricci. Also back is junior goalie Jake Gilbertson, who earned the starting job early on last season and went on to post a .778 save percentage and 1.74 goals against average, while tallying a pair of shutouts.
"Dean, Skvarca, and Christian have all been strong for us over the past few seasons," Harmon said, "and I feel comfortable with them in the back. Plus we have Jake back in goal, and he could be one of the better keepers in the PAC."
Three other starters return for the Bearcats, in senior forward Alex Lardin and sophomore midfielders Gage Arnold and Drake Pastor. Lardin appeared in all 20 games last season, making 15 starts, while Pastor made 19 starts at a defensive midfield spot and Arnold 18 as more of an offensive midfielder.
Up front, Harmon knows his main challenge will be replacing Rodriguez and Ben Fecik, and he feels he has a number of players who could be capable of doing so.
"We have a bunch of guys we're going to try at forward," said Harmon. "We're looking for someone to win those jobs up front. As you can see, we don't have any proven scorers coming back."
In addition to Lardin, another frontrunner to play a key role in the team's offense is sophomore Clemente Mejia. Last season, Mejia was used as a goalkeeper, making six starts and eight appearances, but Harmon said that Mejia's speed and shot should allow him to make the transition to forward.
Junior Nick Pollino scored a pair of goals last season, and has made 35 appearances over the past two seasons, while Harmon also mentioned first-year player Elom Pedanou as a candidate to start up front, thanks to his overall athleticism.
Harmon also expects a pair of freshmen to make an impact, in midfielder Trevor Cutlip and Aaron Wilkinson, saying "they're solid players, and we're looking for those two to help us right away."
In keeping with his defensive focus for the upcoming season, Harmon added a longtime veteran of the local coaching ranks in Carl DeCas. Renowned for his defensive philosophy and recruiting ability, Harmon knows that the newcomer to his staff will be a tremendous help.
As has been the case in recent years, the Bearcats' non-conference schedule is a tough one, facing teams including Heidelberg, Carnegie Mellon, Rochester Institute of Technology, Allegheny, and Penn State-Altoona.
"The schedule is hard, as usual, but the idea is to prepare us for the PAC schedule," Harmon said. "Those are the games that count. We're playing the harder competition in order to get us ready."
The Bearcats open up the 2010 season on September 1st, traveling to Heidelberg University. The team will then play in a two-day weekend tournament hosted by 2009 NCAA semifinalist Carnegie Mellon, before opening up the home portion of the schedule on September 8th with Juniata. SVC's first ever PAC game is slated for October 1st, when the Bethany Bison come to Latrobe.
While his team may not have the firepower as in years past, Harmon hopes to make its first season in the PAC a notable one.
"Our goal," he said, "is to be one of the top four teams, make the playoffs, and go to the NCAA's."


THIEL TOMCATS (5-14-1 Overall, 0-6 PAC in 2009)
The men's soccer program will once again look to improve upon the previous season's record as they have for the past three seasons under head coach Andy Hoggarth, who is entering his fourth season at the helm of the Tomcat program.

"We need to get off to a fast start this season and not take our foot off the gas pedal until the season is over. We have a huge freshman class and the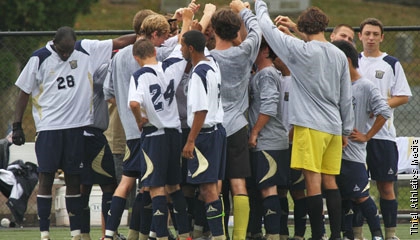 success that they have this year is going to lay the groundwork for success in the next couple of years."

Due to the large freshman class, upperclassman leadership is more critical than ever. Senior Andrew Dyson and junior Darwin Porras headline a group of nine returning players that will lead the team this coming season.

"The role that the upperclassmen play this year will be a vital one," says Hoggarth. "They are responsible not only for making sure that the players gel but they also need to lead by example."

Hoggarth had great success during the offseason, bringing in a group of 24 talented newcomers for the upcoming season.

"All of the freshmen that were recruited for this season have been great leaders in their club teams or high school programs and leadership is something that you cannot teach," says Hoggarth. "We are looking forward to getting the season started and watching what these freshmen are able to do."

With good upperclassmen leadership and some great young talent, the men's soccer program will look to become a force in the Presidents' Athletic Conference this year and in years to come.

THOMAS MORE SAINTS (17-3-1 Overall, 5-0-1 PAC in 2009)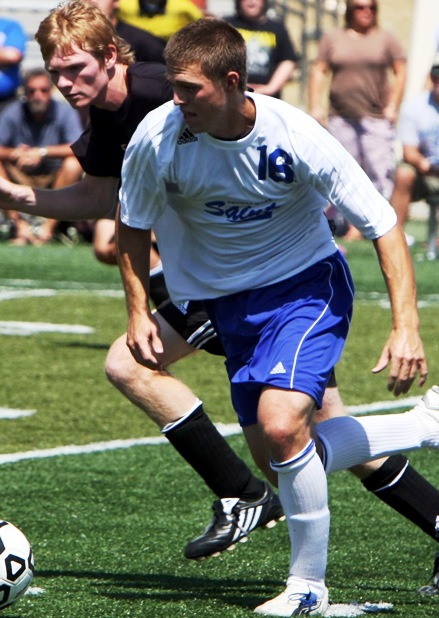 The Thomas More College looks to defend its Presidents' Athletic Conference (PAC) Championship and advance to its second-ever National Collegiate Athletic Association (NCAA) Tournament this season. Fourth-year head coach Jeff Cummings will have an experience group to make the push to defend the team's conference title from last season. The Saints will return five of their top seven scorers from 2009, which accounted for 90.8 percent of the team's goals last season and 87.9 percent of the team's points last season.
Leading the list of returners is 2009 PAC Player of the Year senior forward Aaron Osborne (right), who set the single season record for goals (22) and points (49 and the career record for goals (48) and points (108) last season. The other top scorers returning is first team All-PAC senior midfielder Dan Miller, first team All-PAC junior midfielder Ricky Barria, senior midfielder Mark Uhl and second team All-PAC junior defender Keith Kreidenweis. Miller was second on the team in scoring with 38 points on 13 goals and a single season record tying 12 assists. Barria was third on the team in scoring with 25 points on 11 goals and three assists, Uhl and Kreidenweis were tied for sixth in scoring last season with seven points each as Uhl had three goals and an assist and Kreidenweis had two goals and three assists.
In goal the Saints return both goalkeepers that combined to only allow 18 goals and post 10 shutouts. Junior Zack Lawson played in 21 matches and had 67 saves and only allowed 17 goals and had nine shutouts in 1804:03 in goal. Senior Evan Toebbe played in four matches and had five saves and only allowed one goal in 105:57 of action.
The Saints open the 2010 season on September 1 when they travel to Richmond, Indiana for a 6 p.m. non-conference match with Earlham College.

WASHINGTON & JEFFERSON PRESIDENTS (12-7-1 Overall, 4-2 PAC in 2009)
The Washington and Jefferson men's soccer team has knocked on the door of the conference championship in recent seasons and this could be the year the Presidents are most poised to kick it down.

In Head Coach Ian McDonald's 20th season at the helm, the Presidents boast a team featuring a wealth of experience. When the Presidents take the field in their opener at Carnegie Mellon University on September 1, they'll front a squad returning 11 seniors and 10 starters overall.

"Expectations are high on the seniors, as well as our great freshmen class," McDonald said.

Those players return after the 2009 team fell just short of the conference title. The Presidents dropped the conference championship game 1-0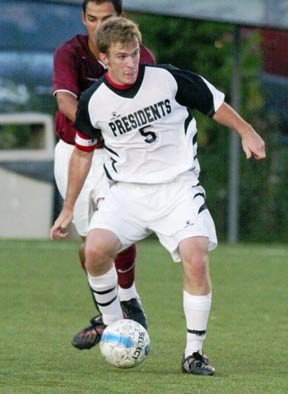 at Thomas More in Kentucky; however, the Presidents' 12-7-1 finish left much to be desired.

The seniors' experience playing in two of the past three conference championship games, winning one, will be invaluable. Along with experience, the 2010 Presidents' squad features defensive grit and a touch of international flair.

Mike Pappas is the squad's returning leading scorer. Pappas enters his senior season on the heels of a 10-goal, 21-point junior year. Also starring on offense will be senior midfielder Chris Skovira (left), who finished third last year in points with 14 (five goals, four assists).

On defense, Washington & Jefferson will be led by senior midfielder Stephen Bosak, whose scoring touch last season (6 goals) was third on the team. W&J enters the year with a solid back seven. Pacing the Presidents in net is senior goalkeeper Brandon Kern. Kern made 11 starts last season and compiled a 0.95 goals-against average.

For the first time, the Presidents feature two international players on their roster. Both players hail from France on a semester-long study abroad program. Oliver Courade and Homayoun Falakshahi will add depth to the team. Last year, goalkeeper Simen Myrum became the first international player to play soccer for Washington & Jefferson.

The biggest question mark for McDonald's team is how to replace last season's leading point scorer Dan Hart.

Hart's 22 points led all players, and his graduation left a void in the offense that needs key players to fill. If there's any year McDonald can rely on experience, it's this one. It'll be on that experience McDonald will draw as the Presidents pursue another shot at a conference championship this season.


WAYNESBURG YELLOW JACKETS (3-15-1 Overall, 2-3-1 PAC in 2009)
A new chapter in Waynesburg men's soccer history kicks off in 2010 as Sean McCarthy takes over the head coaching duties with the Yellow Jackets. He brings a wealth of collegiate and professional coaching experience with him. His most recent assistant position was at SUNY Old Westbury, where he helped lead the Panthers to a Skyline Conference title and a berth in the NCAA Division III National Championship Tournament.
Though he inherits a team that went 3-15-1 in 2009, the Waynesburg men put together a 2-3-1 mark in President's Athletic Conference (PAC) play and just missed out on the postseason. Waynesburg was also hampered by injury problems to several key players. If the Jackets can avoid the injury bug this season, a move up the conference standings is not out of the question.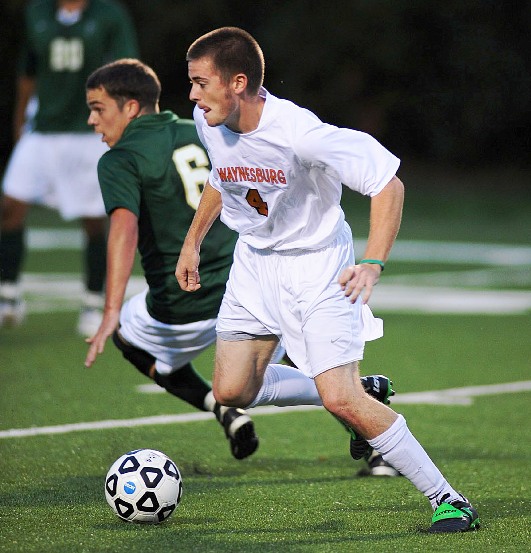 The 2010 Jackets will be led by a pair of 2009 All-PAC selections. Senior forward/midfielder Ryan Hartz (right) tied for the team lead in points with six coming by way of three goals. He also started all 19 games for the 2009 squad on his way to earning second-team All-PAC laurels. Junior defender David Floyd also returns and was named an honorable mention All-PAC pick, despite only playing in 10 games last year due to injury.
Along with Hartz, the Jackets feature junior Erick Burke, who was a 2008 honorable mention All-PAC selection. He racked up six points on three goals in 2009.
Junior Matthew Snyder could be ready for a breakout season this fall after playing in all 19 of the Jackets' contests last season and making 17 starts. Junior Joshua Brewer (17 starts), sophomore Ben Jonard (18 appearances) and junior Evan Kaufman (eight starts, 14 appearances) all gained valuable experience in 2009. Senior Andy Glenn is coming off of a 17-start campaign in 2009.
In goal, Ryan Hunsberger, a senior, could push for field time after missing his entire junior season with an injury. During his sophomore season of 2008, Hunsberger was solid, posting a 1.94 goals against average and two shutouts. Senior Tyler Hellwig is also back after starting a team-best 10 games in net last year.
Along with a big, experienced group of returners, McCarthy has also done an exceptional job of
recruiting in his first season at Waynesburg. Those young players are expected to give the veterans (photo by Dave Miller, ADM Photography)
a big push for starting time and provide excellent practice opponents.
The Jacket men kick their 2010 schedule off on Sept. 1, when they travel to Muskingum. Waynesburg begins its home schedule at John F. Wiley Stadium on Sept. 11, when it hosts Frostburg State.
WESTMINSTER TITANS (10-10 Overall, 5-1 PAC in 2009)
NEW WILMINGTON, Pa. -- After enjoying three straight winning seasons including the most successful season in team history in 2008, the Westminster College men's soccer team posted a 10-10 record in 2009. Still, head coach Girish Thakar isn't worried about a further regression as the team enters the 2010 season. In fact, he doesn't even see last year as a regression at all.

"You can't look at records," said Thakar, who enters his 13th season at Westminster. "You will find teams out there that are good with a 10-10 record. We were 5-1 in the conference, we played a tougher non-conference schedule and we lost a lot of close games."

The Titans endured a grueling non-conference schedule and at one stretch during the year they lost seven out of eight games. Eight of the team's 10 losses were by one goal including three in overtime and three others determined in the final four minutes of regulation.

Still, Westminster remained a contender in the Presidents' Athletic Conference (PAC) by posting a 5-1 league record including four straight PAC wins by identical scores of 3-0 to end the regular season.

The Titans entered the PAC Tournament as the No. 2 seed before being upset at home in the semifinals vs. Washington & Jefferson and finishing third in the league standings.

"For us to be .500 we were still becoming a better team," Thakar said. "Our goal is to make the top four in the conference. Anything can happen in the conference tournament because there is so much parity now. A team can end up going .500 and still be a good team."

Having lost so many close, one-goal games, therein lies a challenge for the 2010 team.

"What is going to be a turnaround is how we finish games," Thakar said. "Finding a goal-scorer is going to be key. We've never been a team that has 15 goals from one player, but we do rely on three or four guys to score eight or nine goals apiece."

The Titans top two goal-scorers from last year graduated in first-team all-conference forward Ian Hill (10 goals) and second-team all-PAC forward Brice Lott (7 goals). However, the Titans have senior forward Jarred Smeltzer back in the fold.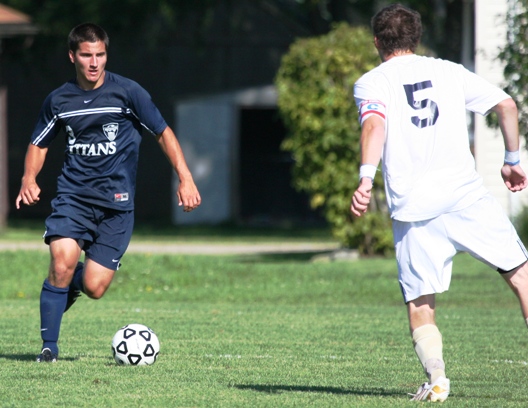 Smeltzer transferred to Westminster in the middle of his career and was listed as a senior in 2009, but he received an additional year of eligibility. Smeltzer netted six goals in 20 games (19 starts) and earned first-team all-PAC honors.

In addition to Smeltzer there are eight returning starters. Senior Aaron Zavora is a two-year starter with 11 career goals. Junior forward Coty Hainsey (left) is a one-year starter who scored just two goals last year after posting eight goals as a reserve during his freshman year. Junior midfielder James Gross is also back after scoring two goals and earning an honorable mention for the all-PAC team last year.

The strength of the Titans will likely come from the back line. The Titans return three out of four defenders including senior Shawn Flowers and juniors Jake Huey and Jason Mezyk, all of which are two-year starters with a combined 113 starts.

The team also has two goalkeepers with starting experience returning. Senior Mike Codita started 13 games last year with two shutouts and a 1.5 goals against average. Senior Lance Leathers made five starts with a shutout and a 1.47 goals against average. Codita is a three-year starter and a two-time all-conference selection.

Since Westminster's strength is its defense, does that mean the team will deploy a more defensive-oriented style of play?

"We are not so much defensive-minded," Thakar said. "We've never been. We've always wanted to play an attacking style. Sometimes you concede goals when you do that, but we always play teams straight up."

In addition to eight returning starters, the Titans are also welcoming back 14 lettermen who will make up a large 36-player roster that includes nine freshmen.

"We have some very experienced players returning," Thakar added. "The potential is really high. I'm confident that we are going to do well."


###