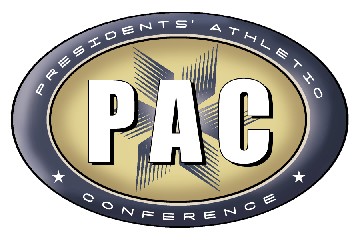 2011 PAC Men's Soccer Preview


BETHANY BISON (11-11-1 Overall, 5-2 PAC in 2010)
Since coming off the most successful season since 2007, head coach Sean Regan and the Bethany College Men's Soccer team aspires to go farther than the ECAC Quarterfinals this upcoming season.
After winning just two matches in 2009, the Bison improved to 10 victories in the regular season last fall. Bethany continued the comeback story by advancing to the PAC Championship match and then earning a bid to the ECAC Tournament, where it knocked off top-seeded Penn State Behrend and reached the semifinal round.
Although Bethany will have some holes to fill after losing seven seniors, the team does bring back its starting goalkeeper and top five scorers, so the foundation is in place for another strong year.
"I feel really good about the season," said Regan. "We lost a few key players like Jason Straw and Mike Hasson, leaving us tough voids to fill, especially in the backfield. Luckily we have solid incoming freshmen to carry on the success from last year."
Returning junior starter Zach Zozula who started 22 matches last year, will be one of the consistent players in the back four. "Other than Zozula, I am looking for big things from freshmen Daryl Fenton and Anes Bekric ," said Regan.
Besides Bekric and Fenton, other newcomers that are looking for quality time in the backfield are Jay Flowers, Alfred Amanor, Casey Clements, Tyler Davis, and Thomas Everton.
The backrow will be playing in front of an experienced keeper in senior Patrick Coleman. He has played in 39 career matches, including 15 a year ago, and posted five clean sheets on his way to a 9-5-1 record in goal. One weakness facing BC this season is the lack of another keeper on with the program.
"Coming off an absolutely stellar year, Pat Coleman needs to stay healthy and be a leader since he is the only keeper we have on the roster," said Regan.
Two veterans return to spark the Bison midfield. Sophomore Tomas Gonzalez played in 22 games last year and collected three goals and two assists, while senior Alexander Stubbs notched nine points in 22 matches, including two scores in the ECAC Quarterfinal win at Penn State Behrend.
"In the midfield, we have former All-Conference athlete Tomas," said Regan. "With his vision of the field, we will need him to step up as a leader even as a sophomore. And Stubbs had a very impressive season last year with scoring twice in the win in the ECAC Quarterfinals and notching four goals in the season. If Stubbs stays consistent in the game, he has the potential to be elite."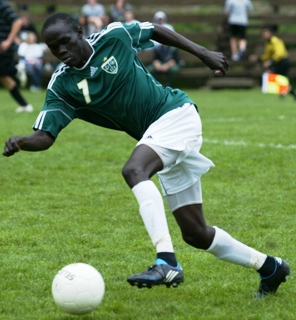 Key freshmen looking for time in the midfield are CJ Okoko-Lohamba and Tyler Pannebaker. "Each of the men have a good distribute on the ball and I am looking for both of them to step up big as freshmen," said Regan.
Others in the mix for playing time are Hayder Al-Ghazi, Brandon Martell, Nicholas Turner, Dustin Simkins and Dylan Blashak .
The forward position will be the most experienced for the Green and White this fall. Sophomore Arkangelo James (right) erupted on the scene last year with 18 goals, tied for third-most in all of Division III, and 43 points, tops in the PAC. He was rewarded with First Team All-PAC and Second Team All-Region accolades for his season.
He will not have to carry the scoring burden alone, as senior Cameron Ward, a two-time All-PAC choice with eight of his 18 career goals coming last year, is back, as is sophomore Lamine Balde, who recorded five goals in 15 matches last year.
"In the striker position is where we have our most experienced players," said Regan. "Arkangelo was an All-Region player as well as being tied for third in goal scoring in the country. I am hoping for another big year from Ark but he just needs to adjust. Other teams overlooked Arkangelo but now he cannot go unnoticed.
"Returner Cameron Ward is a leader on the field and a consistent scorer. We aim to have a double digit season in goals for Cam" said Regan. "Lamine had a slow start coming off injury but quickly became a threat as he scored big goals throughout the season. Lamine had an extremely fit preseason, so we're looking for a degree of athleticism out of him."
Freshman Cody McElhaney is a newcomer also battling for playing time up front this season.
"The key to success this year is to be able to stay healthy. We are currently not a team of depth but we are relying on the freshmen to be able to adapt quickly to the change" said Regan. "Going from second to last place in the conference to second place is a tremendous achievement. We not only are going to try to get back to conference tournament, but also try to get the opportunity to show ourselves in an NCAA tournament match."

GENEVA GOLDEN TORNADOES (14-3-2 Overall in 2010)
With consistent success comes high expectation. When it comes to the 2011 Geneva College men's soccer team, the expectations for success have never been higher. As the Golden Tornadoes and head coach Gary Dunda become active members of the Presidents' Athletic Conference for the first time in 2011, they will be looking to build off of a solid campaign in 2010. Dunda took over the reins of the Geneva program in 2010 and helped lead the Golden Tornadoes to a 14-3-2 mark. Only a disappointing NCCAA regional loss to Roberts Wesleyan dampened the spirits of an otherwise successful first season under Dunda. As Geneva puts 2010 in the rear view mirror and looks forward to the 2011 season, many of the main contributors will be back in the fold at the Merriman Athletic Complex.
"Each student-athlete in our program has a clear vision of what success looks like on the field and in the classroom," says head coach Gary Dunda. "It begins with individual and team accountability and takes the responsibility for your role on the team. A vital piece of the puzzle is that each person embraces their role and performs it to their highest ability." The Golden Tornadoes certainly achieved many of their goals in 2010, but the 2011 season poses a new challenge as Geneva will be playing its first year as a full and active member of NCAA Division III and the Presidents' Athletic Conference.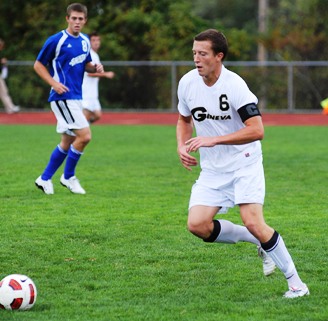 "We have several challenges ahead of us," says Dunda. "We will be looked at completely different this season and we understand that our conference foes will make it difficult for us to reach our goals."
Dunda will have several veterans to look toward to help navigate through the PAC. A quintet of seniors will most likely provide the type of leadership and accountability that Coach Dunda will demand. With the likes of Jake McCracken (left), Austin Petrie, Caleb Musselman, Josh Mann and David Harwood in the mix, the underclassmen should get a very good feel of how things are to be done within the Geneva men's soccer program. On the field, McCracken led the Golden Tornadoes with nine goals and 22 total points a year ago. Musselman accounted for seven goals with the other three seniors combining for 12 tallies. "It is certainly a good feeling to have a group of seniors that all work extremely hard and can set the bar very high for everyone else," says Dunda. "We demand a great deal from our seniors and this class has the chance to be very special." An extension of that senior class and adding an influx to the upperclassmen will be David Gerlach. Along with McCracken and Musselman, Gerlach is one of Geneva's tri-captains and in Dunda's mind will play a key role in the 2011 success. "He is our rock on the field," says Dunda. "You won't see a lot of him on the stat sheet, but for our team he is a most important component each and every day."
Other key returning contributors include junior goalkeeper Evan Biedenbach, who posted 5 saves, three shut-outs and 12 victories while posting a 1.05 goals against average a year ago. "Evan continues to improve each day as a goalkeeper," says Dunda. "We love the fact that he now has experience as a starting goalkeeper and should provide some more stability on the back line of our defense."
Musselman should be joined in the back by returning starter Jon Mathoslah along with a collection of players that have seen significant action over the past two years. "We feel good about our defense but we will need some folks to step forward and play a larger role for us this year. It is a great opportunity for some guys to increase their role with some diligence and hard work."
Dunda and his staff worked hard to bring some fresh faces into the fold for 2011. A total of eight freshmen and one transfer will be dawning the Geneva uniform for the first time this fall and will hopefully provide some depth at several positions while also gaining significant playing time. "We are relying heavily on some of these newcomers to make an immediate impact," says Dunda. "We really strive for equity in each of the four classes," says Dunda. "This provides us with stability as player's transition into college soccer." The transition needs to be a smooth one as the 2011 Geneva men's soccer team left nothing to the imagination when it came to their opponents. In addition to a rigorous PAC schedule, the Golden Tornadoes have scheduled a very challenging non-conference group. Not the least of which is defending NCAA Division III national champion and Gary Dunda alma mater Messiah College. "Playing Messiah gives us a great opportunity to measure ourselves against the best," says Dunda. "If we have aspirations of being the best then we need to play the best."
As a new era of men's soccer begins for Geneva as an active member of the PAC, the excitement level has never been higher. "We have a great combination with guys of experience in all four classes," says Dunda. "We have several very good players which bring much excitement and anticipation, but nothing will be given to us. We will have to work extremely hard each day in training to reach our goals and I know our guys will be up for those challenges."


GROVE CITY WOLVERINES (15-6-2 Overall, 6-1 PAC in 2010)
Entering the 2011 season, the Grove City College men's soccer program must replace 10 graduated seniors from its 2010 championship-caliber squad.

In most instances, a program facing those circumstances would be in store for a rebuilding season. However, that is far from the case for the Wolverines this fall.

Grove City returns seven starters and 15 total letterwinners from a squad that recorded 15 victories, the second-highest total in program history.

The Wolverines hope that core, combined with several other talented players who have bided their time, will be the key to lifting Grove City back to the top of the Presidents' Athletic Conference and once again into postseason play.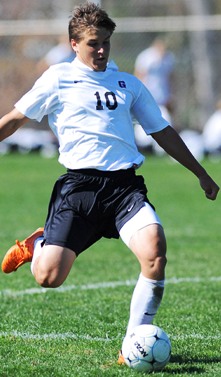 Sixth-year head coach Mike Dreves will rely upon a five-man senior class in 2011. All five seniors have started during the course of their career at Grove City and all five are contenders to secure full-time starting spots this season.

Three of the five seniors will bolster Grove City at midfield, including two-time All-PAC honoree Adam Brewer (right) and CoSIDA Academic All-America candidate Brian Eckenhoff.

Brewer moved into the starting lineup as a freshman and recorded five goals in 18 starts last fall. He is Grove City's active leader in matches played.

Eckenhoff moved into the starting lineup on a permanent basis midway through the 2010 season and added four goals in his 23 total appearances.

Senior letterman Tim Boswell made two starts at midfielder in 2010 and has an inside track for a starting spot this fall.

At forward, senior Ben Kuniholm will look to reclaim a starting spot this fall after making 12 starts in 2009. Injuries limited Kuniholm to just eight appearances in his junior season.

Senior Mark Leach is the lone senior among Grove City's returning group of defenders. Leach has played as a reserve over the past two seasons and is one of the leading candidates to start at center back this fall.

Three junior letterwinners return for the 2011 campaign and all three players have extensive starting experience.

Junior Alex Ayer has started at both midfielder and forward throughout his career and will likely be a key contributor to the Grove City attack. Ayer played in all 23 matches last year, including 21 starts.

Junior forward Andrew Quinn ranked second on the squad with six goals in 2010 after leading the team in scoring as a rookie two years ago. Quinn will also likely be a key source of offense for the Wolverines again this fall.

At center back, junior Jesse Wilson moved into the starting lineup at midseason and helped the Wolverines record seven shutouts in his 12 starts. Wilson will likely help anchor the Wolverine defense again this fall.

Junior midfielder Evan Bjorndal will challenge for a spot in the lineup after seeing reserve duty in each of his first two seasons at Grove City.

Seven sophomore letterwinners return, all of whom saw extensive action as rookies in 2010.

In goal, First Team All-PAC selection Chris Burgan returns after leading the conference in save percentage and shutouts.

Burgan started all 23 matches as a freshman.

Sophomore defender Daniel Adams will join Burgan in helping solidify the Wolverine defense. Adams made 22 starts at outside back in 2010 and also contributed three assists.

Five second-year players who all played extensively as reserves last year will look to earn full-time starting jobs this season.

Sophomore Nick Finelli made two starts at defender and will look to move into the lineup permanently in 2011. Meanwhile, sophomore Zach Juergens will battle for a starting midfielder spot after lettering as a freshman.

Up front, sophomores Josh Kern, Richie Kocur and Kyle Matherne are all in the mix after seeing extensive time last fall.

A handful of newcomers could also work their way into the Wolverine lineup this fall.

Grove City opens its season September 1 against visiting Adrian. Conference play will begin October 1 at Bethany. The top four teams in the PAC will qualify for the season-ending conference tournament.

SAINT VINCENT BEARCATS (3-15-2 Overall, 1-6 PAC in 2010)
Saint Vincent head soccer coach Keith Harmon is eager to put last season behind him.
"Let's just say, we didn't quite reach our expectations," Harmon said of the 2010 Bearcats, which finished 3-15-2 overall, and 1-6 in the Presidents'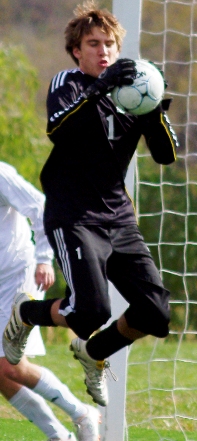 Athletic Conference. "We didn't do the job, and that has to change, and that's going to change."
Harmon is eager to welcome back a trio of seniors in defenders Dean Jordan and Christian Ricci, and goalie Jake Gilbertson (left). The 14-year coaching veteran coined the three the "cornerstone of the team."
"We have three really solid seniors," he said. "They've done the job for us all throughout their career, and they should be able to lead us."
Jordan has started 57 games over the course of his career, and the speedy senior has evolved into one of the top two-way defenders in the PAC. He was a second team All-PAC pick in 2010, and a PAC Coaches Honors selection the year before, and in his 57 career starts, the Bearcats surrendered two or fewer goals 44 times, including nine shutouts.
Last season, Gilbertson was another All-PAC selection, starting all 20 games and posting a conference-leading 152 saves, the third highest single-season total in team history. He made at least 10 saves in seven different games, including a pair of 20-stop showing, finishing with a 1.74 goals against average and .813 save percentage.
Ricci has started 53 games for his career, including 48 straight, as a hybrid outside back/defensive midfielder. Though not the biggest player on the field, the Pittsburgh native has displayed a hard-nosed style of play, affectionately earning the moniker "The Bull" from Harmon.
In addition to the senior threesome, nine other players return to the Bearcats for 2011, including six juniors and three sophomores. The most significant underclass returnee to the bunch figures to be junior Anthony Balistreri.
An offensive-minded midfielder, Balistreri started 19 games for the Bearcats as a freshman in 2009, tallying 15 points on six goals and three assists. He missed last season due to injury, which, according to Harmon, was a major reason for the team's lack of offense, as the Bearcats scored just 11 goals and suffered 12 shutout losses.
Junior forward Gage Arnold returns after starting all 18 games in 2010 and leading the Bearcats with 10 points, on four goals and two assists. Harmon said the Virginia native has been impressive throughout the early preseason.
"Gage has had a really good camp so far," Harmon said, "and it's huge getting Bali back. He will help the midfield considerably. I'm excited to see what those two can do together for our offense."
A third junior, Elom Pedanou, should also help bolster the offense, as he showcased excellent size and speed in 2010 to score three goals with two assists.
Three other returnees, junior midfielder Clemente Mejia, sophomore midfielder Trevor Cutlip, and sophomore defender Aaron Wilkinson, each started all 20 games a season ago, and should again see a big role in 2011, while junior defender Drake Pastor, who started all 19 games as a freshman before missing the bulk of his sophomore campaign, also returns, and should help solidify the SVC back line.
In addition to the ample number of returnees, the Bearcats will also welcome 13 first-year players, as the 25-man roster is the largest in Harmon's 14-year tenure, and the coach is pleased with his newcomers.
"It's still early to tell," he said, "but it looks like we really have some players in our freshman group. It looks like five or six can step in and help right away."
Before commencing with the PAC schedule in early October, the Bearcats will compete in 10 non-conference contests, with all but two on the road, including tournaments hosted by Carnegie Mellon and Wilmington (OH). The squad will also take part in a pair of preseason scrimmages, and playing such a wide variety of colleges can only help his team, Harmon said.
"We try to keep our non-conference schedule as competitive as possible," he said. "We want to play teams who will make us better going into the PAC schedule. We have two scrimmages early, and that should really help us sort out some things in regards to playing time and seeing how many of our younger guys can step in and play."
"We're just working hard to get better," Harmon concluded. "Our goal is simple- qualify for the PAC playoffs. Anything can happen from there."
The Bearcats kick off the regular season on September 2nd, facing Otterbein University in the opening game of a two-day tournament hosted by Carnegie Mellon.

THIEL TOMCATS (8-10-1 Overall, 3-4 PAC in 2010)
The bar has been set a little higher for the Thiel College men's soccer team following the most successful season in the program's history last year.

The Tomcats set a school record for wins in a season with eight, but came up just one win short of qualifying for the Presidents' Athletic Conference tournament with their 3-4 conference record.
"Obviously with last year being the most successful season we've had and returning a large group of players from that squad, we definitely have to look to build off that and get into the playoffs," said fifth-year head coach Andy Hoggarth.
Included in the large group of returning players Hoggarth referred to are six returning starters, including two all-conference selections in Rory Duncan and Darwin Porras.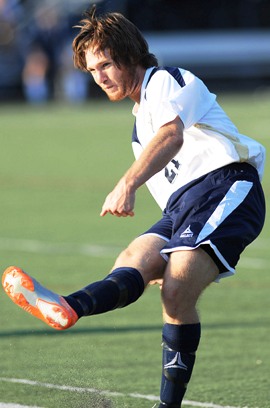 Duncan earned second team honors after putting together an outstanding freshman season that was good enough to put him in the Thiel record books. His 10 goals, five assists and 25 points were all top-five single-season performances for the Tomcats. In the first eight games of his college career, Duncan had seven goals and three assists for 17 points.
Porras enters his senior season on a high note, having earned his all-PAC honorable mention award for his play on the defensive end. He helped lead the Tomcats defensive effort in three shutout wins, as well as holding the opposition to one goal in another three matches.
Other returning starters for Thiel are Francis Ahia, Tanner Mesing (right), Luke Mesing and Erik Gabrich. Like Duncan, Ahia and Tanner Mesing both moved into the College's record books. Ahia tied for the school record for single-season assists with five. Mesing's record came with one of the best game's ever by a Thiel player. Trailing Hilbert 4-1 with just 12 minutes to play, he scored four goals in a 10-minute span, tying the College's record for goals in a game and points in a game.
Nearly every position is up for grabs, but the main battle for a starting spot will be for the goalkeeper position. The team's starter last season, Tom Lange, has graduated, leaving three players, Ethan Bayne, Josh Hideg and Andrew Hindman, with experience in net.
With the returning players and a large incoming freshman class, the Tomcats won't be satisfied with anything less than a spot in the conference tournament. The expectations aren't unreasonable as Hoggarth has taken the team from just two win in his first year to eight last season. What he has seen in the short time the players have been on campus has only improved his outlook for the upcoming season.
"So far in camp we're real happy with what we've been doing," Hoggarth said. "I think the players we have brought in will add strength and depth to our team and challenge the returning players from last year."
THOMAS MORE SAINTS (12-6-2 Overall, 4-3 PAC in 2010)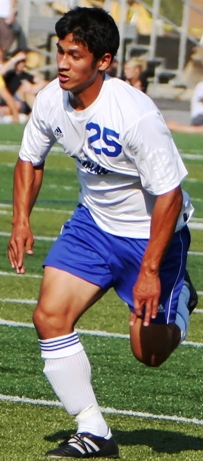 The Thomas More College looks to a fountain of youth as it looks to defend its Presidents' Athletic Conference (PAC) Championship and advance to its third straight National Collegiate Athletic Association (NCAA) Tournament this season. Fifth-year head coach Jeff Cummings returns only two of his top nine scorers from the 2010 season.
The top two leading scorers returning are senior forward Ricky Barria (left) and senior midfielder Alex Oeswein. Barria was fourth on the team last season with 13 points on five goals and three assists. He played in all 20 matches for the Saints and had a .537 shot-on-goal percentage. Oeswein played in 18 matches, including 16 starts and had six points on two goals and two assists as he took 44 shots, including 15 on-goal.
In goal, the Saints return three goalkeepers that saw action in 2010, including senior Zack Lawson. Lawson played in 12 games and had 971:31 in goal and allowed only eight goals and had 28 saves, while recording five shutouts.
Cummings welcomes 11 newcomers to the Saints' squad that returns 17 student-athletes from last season's squad.
The Saints open the 2011 season on September 1 when they host Earlham College at 4 p.m. in a non-conference match at The Bank of Kentucky Field in Crestview Hills, Kentucky.

WASHINGTON & JEFFERSON PRESIDENTS (12-4-3 Overall, 7-0 PAC in 2010)
The defending regular-season Presidents' Athletic Conference champion W&J men's soccer team hopes to make its eighth consecutive appearance in the PAC Tournament Final Four in 2011. Coming off its fifth ECAC Division III Tournament appearance in the past 15 years, the Presidents will rely on young talent in order to hoist its first conference tournament title since 2007.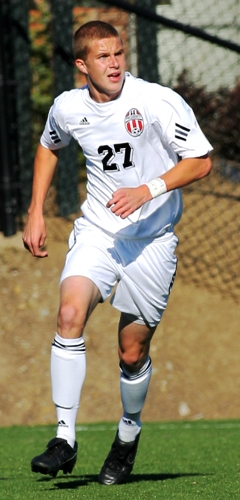 The 2010 squad won 12 games, including each of their seven regular season PAC games for the first time in program history (12-4-3, 7-0 PAC), before falling on penalty kicks in the PAC semifinals.
The Presidents return just one player that started more than three-quarters of last season ago, junior midfielder Jimmy Gante (right). Gante played in all 19 matches, scored three goals and added three assists. The top returning scorer, sophomore Thad Piscatelli, will look increase his scoring production. A year ago, Piscatelli saw action in 18 games and tallied six goals and one assist for 13 points.
The Presidents may only have one returning full-time starter, and just eight upperclassmen, but Head Coach Ian McDonald, in his 21st year at the helm, still believes this squad can make it back to postseason play.
"We expect to make the conference tournament each year. We have a youth laden team and a tough schedule early in the season, but if this team can mature quickly, the future is very bright," said McDonald.
McDonald also believes sophomore midfielder Sam Sestito will play a big role. Sestito came on to start during the second half of the year and added three goals and one assist. He played in 17 games and provided a spark as a rookie.
Goalkeeper Pete Tomlinson, who split time with graduated senior Brandon Kern in net last year, will have quality, youthful competition for the starting spot. Tomlinson had a record of 4-2-2 in 2010, while notching 22 saves. McDonald is also excited about the prospects of three freshmen goalies in the program.
In front of the goalkeeper will be a defensive unit led by senior Nick Bradnam. Bradnam appeared in 15 games, including 10 starts, and had two goals and one assist. Seniors Ryan Suess, Adam Ivusich, and David Steuber will add veteran leadership to a roster that features 16 freshmen.
With another season just around the corner, the Presidents are hopeful that their young talent will be ready and able to compete for the program's fourth PAC Championship. The season opens at Alexandre Stadium against Case Western Reserve on September 1 at 7:00 pm.


WAYNESBURG YELLOW JACKETS (5-13-1 Overall, 0-7 PAC in 2010)
Second-year head coach Sean McCarthy sees this year's Waynesburg men's soccer team, which features an almost 50/50 mix of newcomers and veterans, as the foundation of something big.
"We want to become a program," McCarthy said. "We don't want this to just be some guys' team; we want to really begin Waynesburg University men's soccer as a program."
With a solid core group of returners from last year's 5-13-1 team and a big, talented group of newcomers put together by McCarthy and his staff, the Yellow Jackets look to take a big step up in the Presidents' Athletic Conference (PAC). While as many as 20 new players from this year's recruiting class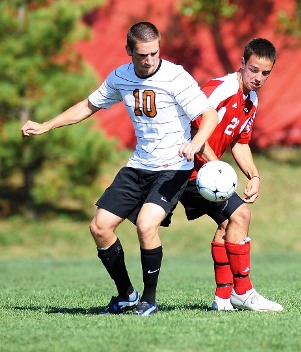 could see playing time, the young Jackets will look to a pair of senior All-PAC honorees for guidance.
David Floyd and Erick Burke (left), both three-year starters, will work to leave a lasting impression on the Yellow Jacket program in their final year with the team. Floyd, a two-time all-conference honoree, has been vital as both a defender and midfielder during his three previous seasons and could see playing time almost anywhere on the pitch. Burke, who was a second-team all-conference pick in 2010, starred as the team's top scoring threat last fall. His 24 total points and 11 goals ranked him third and second, respectively, in the PAC for those statistics.
With so much young talent on this year's team (20-plus freshmen, 10-plus sophomores) competition for playing time will be fierce. Other than Floyd and Burke, few preseason starting jobs are secured. However, McCarthy is confident that second-year players Tim Fields and Danny Griebert can resume the starting roles they earned during their rookie campaigns with the team.
The second-year headman is also very impressed with the offseason work put in by several of his players, including sophomore Stephen Zimmerman (five goals, two assists, 12 points). Senior Evan Kaufmann opened McCarthy's eyes with his hard work and dedication at practice and earned starting roles in each of the final three games of the 2010 schedule. Other veterans that will be expected to lead this year's squad include sophomores Alex Henry, Adam Roberge and Ryan Griffin and junior Phil Henry.
While this small group of returning players have the inside track on opening-day starting roles, McCarthy emphasized that this year's team, in terms of depth and competition, is a complete 180-degree turn from last year, meaning nothing is going to be handed to anyone.
"I am really excited about the 20 new players we were able to recruit. We expect all of them to impact our team and as many as half should see the field right away," McCarthy said. "I feel like we are in a better place all-around. I'm hoping that our depth will turn this from three or four guys carrying us, to 20 or 25 guys making an impact."
To make the sort of move that McCarthy foresees his team making, Waynesburg must improve its defense and goaltending. While the team scored more than twice the goals that they did in 2009, they allowed 44 markers in 2010, which was the third highest total in the conference.
"We have got to fix the back," McCarthy said. "We'll start with our goalie and move forward from there."
The battle for the starting job in net should be one of the fiercest of the offseason with sophomore Dan Buzzard and senior Ryan Hunsberger both back. Buzzard led the team in wins (three) and saves (82), while Hunsberger topped the squad in save percentage (.786) and goals against average (2.01).
Speaking of goalkeepers, one the new additions to McCarthy's staff is veteran goalkeeping coach Buffy Biernesser. Rounding out the men's staff are another first-year coach in Michael Abbondondolo and second-year staffers J.C. Danhires and Nathan Lyle.
The Jacket men's kickers open the 2011 season on Sept. 1 with a home match against Muskingum. The contest is scheduled to get started at 8:15 p.m. under the lights of John F. Wiley Stadium.
WESTMINSTER TITANS (3-12-3 Overall, 2-5 PAC in 2010)
Just two years after posting the best record in team history, the Westminster College men's soccer team absorbed one of its worst seasons in 2010. So why is 14th-year head coach Girish Thakar so intrigued by the prospects of the 2011 season?

"When we talked at the end of the season the players agreed that the results didn't show how well we played," Thakar said. "You want to win as many games as you can, but you can't dwell on it too much. The only thing they can do is improve and play better."

Westminster is hoping the 2010 season was an aberration. The Titans posted a 3-12-3 record and a 3-5 mark for sixth place in the Presidents' Athletic Conference (PAC). The three wins were the team's fewest since 1988 after Westminster averaged 12.7 wins per season in the previous 10 years including five seasons with at least 14 wins.

The Titans also missed the PAC playoffs for the first time since they joined the league in 2002, this just two years after they won their second conference title in 2008 with a team-record 17 wins.

Thakar is encouraged by the players returning in 2011. Eight of the 12 returning lettermen were starters last year.

"We do have a good nucleus of players returning," Thakar said. "We have juniors who were in positions of leadership last year who will be seniors this year. They are going to carry the team. We also have a nice mix of experience. The upperclassmen will support the four to five young players that will be playing."

The team is centered on five seniors who started last year, three of whom played on the back line. Senior defenders Jake Huey, Pete Cline and Jason Mezyk started 11, 18 and 17 games, respectively, last year. Huey was a first-team all-PAC selection two years ago and Cline led the team with five assists.

Sophomore defender Shane Noteboom is also back after starting as a freshman.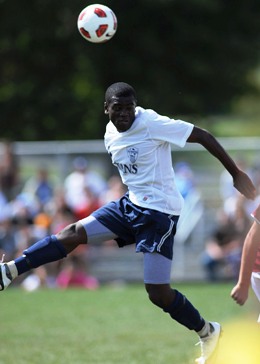 "We will build from the back so that will help us win close games," Thakar said. "But if we don't score we aren't going to win any games. We might have to move people to score goals."

Sophomore forward David Osae (right) ranked second on the team in scoring last year. A second-team all-PAC selection in 2010, Osae buried five goals and assisted on two.

"David is our one true striker," Thakar said. "It's going to be interesting to see if we find someone who can support him. We will be experimenting with who plays alongside him. That's going to be the key. The question will be can we build with what we have or do we move people into different positions."

Senior midfielder James Gross, a returning starter who earned an honorable mention for the all-PAC team last year, played forward during spring practices. Huey is also an option to move up. Last year, Gross (3) and Huey (2) combined for five goals.

Thakar is counting on new players to score to keep the back line intact, but that's not to say there are no midfielders and forwards returning.

Senior forward Coty Hainsey is a two-year starter who made 16 starts in 2010; however, he scored just one goal. Thakar acknowledged that, while Hainsey is a "good, technical player," he excels better at creating opportunities for teammates.

Junior midfielder Josh Cantella started all 18 games last year with no goals and one assist.

The Titans will need to break in a new goalkeeper for the 2011 season. The team used two seniors last year, including four-year starter Mike Codita.
###