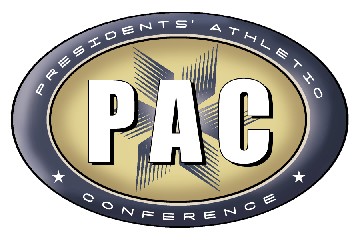 2011-12 PAC Swimming and Diving Preview


BETHANY BISON

Starting this season, Bethany College's newly appointed Swimming & Diving head coach David Dow is looking onward to begin the year with some fresh faces.
Since Dow was selected as head coach of the Bison, he has had a lot on his plate. With only five returners from last season, Dow isn't the only new face with the Bethany programs this winter.
When asked how the preseason was and how the student-athletes handled the transition, Dow stated, "There is a definite change from what the returners are used to. The workouts during preseason have been different and we've been spending a lot more time with dry land workouts.
"As a new coach, there is a change of pace the athletes may not be used to. A fresh coach after being led by a long-tenured coach may lead to a mental shift," said Dow. "Everyone on the team is now moving forward in the same direction. It takes some time to get everyone on board, but now that we have, we can move onto more specific event training."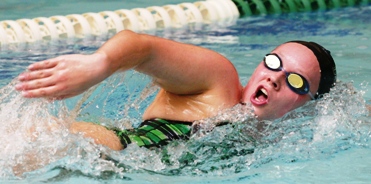 When asked who has emerged as a leader, Dow stated that senior Sara Reass (left) has earned the lone captain position this season.
"I am comfortable with having only one captain and that will be Sara. Our team this year is filled with a lot of young swimmers who have potential to grow into leaders," said Dow. "The men's team is only comprised of six swimmers, including four freshmen and no seniors, so there isn't an experienced enough person to choose as captain. Led by Sara, the women's team has a little more experience to go along with a lot of younger athletes to contribute.
"Sara will be a big factor in distance," said Dow. "She is currently within seconds of the 500 Freestyle school record. She will be able to help us the most in these events and also has the ability to be a strong relay member."
Senior Sara Atkins will be with the team only through the first semester while she finishes her studies. "She is a dual-meet contender along with participating in the backstroke and as an IM swimmer," said Dow.
Sophomore Brittny Duell is another returning swimmer from last season. "Although mainly a backstroker, Brittny will be able to contribute in a multitude of events," said Dow. "She has the potential to help in other areas like mid-distance and the butterfly."
Junior Melissa Davis is currently participating with the cross country team, limiting her time in pre-season with the new coach. "Melissa's abilities allow her to become an impact swimmer, contributing to relay and sprint events as well as trying to get her into IM and butterfly events. She did well in her 100-yard Fly at the (Presidents' Athletic) Conference Championship meet last year."
The newcomers this season for the women include Marina Baker, Kathryn Foulke and Becky Martin. Despite their lack of experience, the newcomers' energy is a boost to the program.
"Marina will compete in the freestyle sprints and 100- and 200-yard breaststroke as well," said Dow. "Katie was not a member of her high school swim team but did swim with club level teams in the summer. We are still trying to determine what Katie can do best, but (assistant coach) Heather (Fairchild) and I are leaning towards sprint freestyle events."
"Becky has done a bit of everything. We would like to lean her more towards distance swimming and IM work. Her ability to hop in and help and be enthusiastic about it is a welcome addition," said Dow.
Moving onto the men's side, the team only brings back two returners out of the six men on the roster. Junior diver Vinny Giangiulio is the most experienced on the boards. "Vinny will be able to contribute on both boards, as well as possibly help the team in relay events," said Dow.
Sophomore Jake Shivetts is the other returner this season. "Jake was able to stretch out a little more in pre-season training. He will be participating in mid-distance events as well as working on the 1650," said Dow. "He may also help with the backstroke."
Four new swimmers join the Green and White this season, including junior Dalton Lacy, and freshmen Austin Williams, Vincent Miller, and Bobby Striker.
"Dalton and Bobby are first time swimmers. Bobby is currently involved with cross country here at Bethany, so we haven't had too much time to spend with him," said Dow. "Dalton will be involved in the sprint freestyle. Both athletes have progressed already and we are looking to them to progress even more. Austin will be participating in the sprint freestyles, as well as being an impact athlete on the relay team. Vincent will also be apart of the sprint freestyle as well as having potential to add the 100-yard Fly to his repertoire."
With overall low numbers on the rosters, the team goals are limited this year, but Dow sees some potential for the program to show improvement throughout the year. Some school records may fall, and the hope for more individuals placing at the PAC Championship meet will remain.
"With our numbers being down this year, goals for this season are more towards obtaining individual goals, such as breaking school records and learning new events. It is going to be hard to be able to compete with other teams considering our team is so small. Being a new coach in the area and not being familiar with the other teams, it is hard for me to say how we will do throughout the season," said Dow.
"In addition to potential school records, we would also like to have more individuals score at PACs," said Dow. "Last year, Sara Reass and Vinny Giangiulio were the only two to place in the top 16 and score as individuals. This year, we would like to see a couple more place at the conference meet to make us more competitive at championships."
The Bison will begin their regular season Sat., Oct. 22, when they travel to Pitt-Bradford for a relay meet, which is scheduled to begin at 1 p.m.
CHATHAM COUGARS
The Cougars return to the 2011-12 season with five newcomers, Melissa Grizzi in the freestyle, Jade Lawson in the freestyle, Rebecca Pell in the freestyle and the breast, and Liz Sawyer in the breast and freestyle. As the lone diver, first-year Kianna Hedjazi expects to assist the Cougars in points. The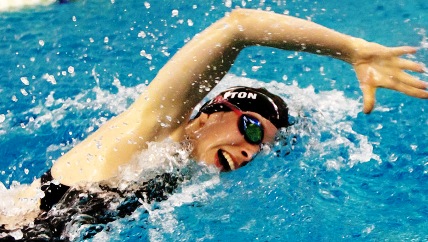 Cougars are optimistic that the new talent will help the team excel this season, replacing the loss of a strong senior class that graduated last year.

In her first season with the Cougars interim head coach Gina Mattucci with the help of assistant diving coach Charlie Hauser look to improve last year's 5th place finish at the PACs. The Cougars will look to the leadership of this year's senior class, Selina Breiner, Annelies Layton (right), Lyndsay Minnich and Claire Thomas.
Breiner placed at the PAC championships last year in the 100 breast, 200 breast, and 200 IM. Minnich also placed at PACs in the 100 fly and 200 fly.
The Cougars look to the rest of the returners, junior Briana Britos-Swain in the back and freestyle, sophomore Caitlin Fratangelo in the freestyle, junior Angela Klaczak in the breast and back, and sophomore Claire Swauger in the back and freestyle to form a solid foundation for the season.

GROVE CITY WOLVERINES
With eight returning seniors and a bevy of talented underclassmen, the Grove City College women's swimming and diving team is in prime position maintain its place atop the Presidents' Athletic Conference and further cement its spot among the nation's elite programs.
Grove City returns nearly two dozen letterwinners from a squad that won its third straight league title last winter and finished 11th at the NCAA Division III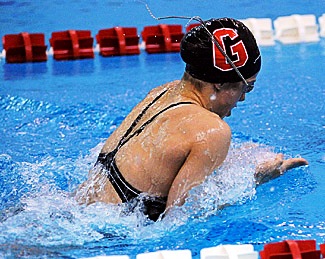 Championships. Among that group are four NCAA All-Americans who all rank among the most-decorated athletes in school history.
Senior Jenna Richert, junior Angela Palumbo (left), junior Kait Riesmeyer and junior Jenny Ryan all return after earning multiple All-America honors at the 2011 national championships.
Richert is part of a eight-woman senior class that will provide leadership and versatility for the Wolverines this winter. She has contributed to school records in all three free relays and will again be one of Grove City's top entries in the sprint events.
Senior Kate Wilt owns the College record in the 200 breaststroke and will lead the Wolverines in the breaststroke once again. She has provisionally qualified for the NCAA Championships during her career.
Senior Larissa Cassano returns after lettering in each of her first three seasons in the backstroke and butterfly while classmate Amy Fleming is a three-year letterwinner in the distance and breaststroke events. Both Cassano and Fleming rank among Grove City's all-time top 10 in a variety of categories.
Senior freestyle performer Jessica Peterson and senior butterflier Caroline Simmons also return and are looking to break into the lineup on a full-time basis this season.
Grove City's diving corps will be led by seniors Rachel Weeber and Lydia Wiedeman, a pair of returning multi-year letterwinners. Weeber finished third in 3-meter diving at the conference championships last season and also earned fourth on the low board.
Palumbo, Riesmeyer and Ryan are part of a 10-athlete junior class that, like the senior class, provides plenty of versatility in the pool. A sprinter, Palumbo holds Grove City records in both the 50 and 100 free. She has also contributed legs to school-record efforts in all five relay events and is a nine-time All-American.
Riesmeyer set a new program record in the 100 butterfly last year and is one of the nation's top butterfliers. She will likely also compete in a variety of freestyle events again this season. Riesmeyer owns seven All-America honors.
The versatile Ryan owns program records in both individual medley events and also bolsters Grove City in the backstroke and freestyle races. Ryan has joined Palumbo on each of the five record-setting relay efforts and is an eight-time All-American.
Backstroker Olivia Forish returns for her third season after emerging as one of the Wolverines' top performers in that event. She ranks in the Grove City top 10 all-time in both the 100 and 200 backstroke and owns two letters.
Sprinter Natalie Keibler and distance standout Mary McLachlan will again boost the Wolverines in the freestyle events. Both juniors have been key contributors in each of their first two seasons.
Junior butterflier Michelle Shimrock also returns after earning two varsity letters. Shimrock will also be one of the Wolverines' top entries in the individual medley again this season.
Freestyle swimmers Emily Franz and Kate Whiting will also look for spots in the lineup after competing in each of the last two seasons. Diver Moriah Ujano scored in both diving events at the 2011 conference meet and will join the two senior divers to give Grove City an experienced nucleus.
Returning veterans in the sophomore class include sprinter Janele Baglia, distance performer Kristi Baur, breaststroker Kaley Hess and freestyle swimmer Sarah Nosal. A number of newcomers are also expected to contribute this season.
An experienced and versatile nucleus will help lead the Grove City College men's swimming and diving team into the 2011-12 season.
The Wolverines are in pursuit of their fifth consecutive Presidents' Athletic Conference title while also looking to return to the NCAA Division III Championships under 10th-year head coach Dave Fritz.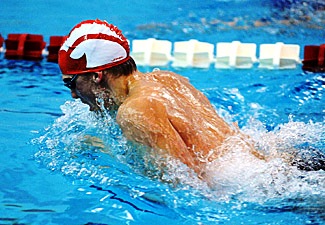 Grove City features eight seniors on its roster, including four who have earned NCAA All-America honors during their career. The Wolverines will rely on fourth-year performers Clay Beckner, Ben Bowser (right), Collin Foster, Kirk Gagliardo, Nick Hamilton, Josh Kim, Matt Mahan and Seth Shaheen for leadership and production this winter.
Beckner returns as one of Grove City's top breaststrokers. An All-American in 2009, Beckner ranks second all-time at the College in both the 100 and 200 breaststroke. He'll also likely compete in the backstroke events.
The versatile Bowser holds five school records and is one of the nation's top returners in the butterfly and individual medley. Bowser also holds the school record in the 200 breaststroke and will be counted on in a variety of events. He is the reigning PAC Most Valuable Performer.
Foster emerged in the sprints and backstroke last year as a junior and will be looked upon to fill voids created by graduation in both events.
Gagliardo will lead Grove City in the sprint events after capturing conference titles in the 50 and 200 free last season. A senior, Gagliardo owns three career All-America citations.
Hamilton will provide flexibility in the freestyle events for the Wolverines as he can be effectively used in both the sprints and distance events. An All-American in the 800 free relay as a freshman, Hamilton owns the second-fastest 500 time in program history.
Kim will help lead the Wolverines' distance corps again this year. He owns the school record in the 1650 and has provisionally qualified for the NCAA Championships throughout his career.
Mahan and Shaheen are both fourth-year veterans who will compete for full-time spots in the lineup this season. Mahan is one of Grove City's most-experienced breaststrokers and Shaheen bolsters the Wolverines in the butterfly and freestyle.
Grove City's junior class features several veterans, including two-year lettermen Eric Fairchild and Adam Walker. Fairchild will help lead Grove City in the freestyle events while Walker returns in the breaststroke and individual medley.
A number of other third-year performers are also looking to earn full-time lineup spots after strong sophomore seasons, including breaststroker Drew Archibald, sprinter Seth Brooks, butterflier Josiah Douglas, freestyle competitors Dan Henley and Matt Hess, and individual medley performer Ian Smyth.
Several sophomores also return after lettering as rookies in 2010-11. Dave Bossert will bolster Grove City in the distance events while Christian Dehli lettered in the backstroke and butterfly last year.
Breaststrokers Louis Gabrielle and Noah Walker also return after lettering as freshmen, as does freestyle performer E.J. Leuschner. Also back are second-year competitors Ben Jones and David Marr.
Several freshmen are also expected to challenge for spots in the lineup this winter.
Grove City went 10-4 last year in dual meets, recording the program's 60th straight winning season. The Wolverines are 59-12 over the past five seasons.


SAINT VINCENT BEARCATS
Not available at time of release.

WASHINGTON & JEFFERSON PRESIDENTS

Few athletic programs in Washington & Jefferson College history have matched the consistent success that the Presidents' swimming and diving teams have achieved the past two decades.

This winter, the W&J women are searching for their 20th consecutive winning dual-meet season, while the men's squad appears primed for its 13th-straight winning year. Since 1992, the women's program has posted a 197-35 dual-meet record (.849) and has captured eight Presidents' Athletic Conference championships. During that same period, the Presidents' men produced 149 dual-meet victories and won the 2000 PAC title.

Head Coach Mike Orstein enters his 25th season on the pool deck this year and is 14 wins shy of 400 for his career at the college. He will be once again joined by PAC Men's and Women's Diving Coach of the Year Vic Galati. Both coaches are focused on winning conference team titles, a feat not accomplished by both programs during the same season since 1999-2000.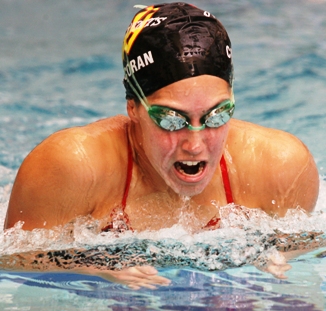 The swimming and diving programs were boosted in 2010-11 by the success of senior Bethany Haver, who became the first PAC women's diver to compete at the NCAA Division III Championships. The five-time conference champion competed in Knoxville, Tennessee, and finished as a two-time All-American, placing fifth at three meters and seventh on the 1-meter board. Haver returns with hopes of winning two final PAC championships and earning a return trip to nationals. Senior teammates Abbey Woodward and Sarah White also return to form a solid diving contingent.

Seniors C.J. Corcoran (left), a track & field national javelin qualifier, and Brittany Vogel provide Orstein veteran leadership in the pool. Corcoran was the PAC runner-up a year ago in the 50 freestyle, 100 breaststroke and 400 freestyle relay, while Vogel joined Corcoran on that relay and claimed the conference 200 backstroke title as a sophomore. Senior Ellie Tecza, a two-time Second Team All-PAC honoree, is another versatile swimmer that will be relied upon to provide key points throughout the season.

Junior Katlin Dagg is the defending conference champion in the 500 freestyle, while also placing second in both butterfly events. Junior Jami Andrews has been a steady factor in each of her first two seasons and looks to make even more of an impact in 2011-12. Orstein is also excited about the return of a solid sophomore nucleus of Zoe Levenson, Isabella Diaz and Rosemarie O'Connor.

The men's team features a six-member senior class which includes the defending 1- and 3-meter diving champion Justin Weifenbach. Andy Rish, a standout on the Presidents' water polo team in the fall, has placed among the top three finishers at the conference championships eight times during his career. He owns the school 100 backstroke record and has been a part of four team-record relays.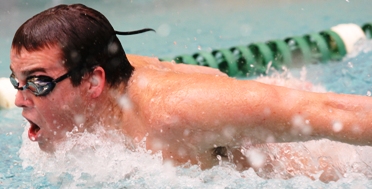 Another senior, Michael Boutwell (right), is primed for his final collegiate season as the Presidents' top competitor in the distance freestyle events. Boutwell owns the school record in the 500 and 1,000 freestyles. Keyton Kalakewich missed half of the season last year, but will once again be a factor in the sprint events, while Jonathan Weeks has been a solid performer and a member of the school-record 400 and 800 freestyle events. Andrew Putt rounds out the senior class as a versatile swimmer who provides depth in a number of events.

Junior John Szott, a 2011 First Team All-PAC selection, returns with Weifenbach to constitute the conference's top diving duo. Classmate Patrick O'Toole is a two-time Second Team All-PAC choice, while junior Joey Weiland comes back off an injury-plagued 2010-11 season and hopes to return to form after a solid season with the water polo team. Junior Mike Johnson is another quality swimmer who earned Honorable Mention All-PAC laurels last year.

Orstein is also excited about the 14 freshmen (eight women) on the roster. He believes the new faces to the program will infuse energy to programs striving to increase those season win streaks.

WESTMINSTER TITANS
You've heard of safety in numbers, but the Westminster College men's and women's swimming and diving teams are hoping for success in numbers. The Titans have a combined 57 team members entering the 2011-12 season which are 20 more than what they finished with last year.

The Titan men's team starts the season with 24 swimmers and divers compared to the 17 it finished with last year, while the Titans women are 33 strong after ending last season with 20.

"A team is much stronger when you have more swimmers and divers to choose from to score points at the conference championship meet," said head coach Rob Klamut, who enters his 27th year at Westminster. "It's a very positive thing because of depth. We are also using more creative training methods to incorporate the entire team in the pool at one practice as well as splitting them in two practices."

Westminster will use depth this year as each team is vying for its first Presidents' Athletic Conference (PAC) Championship since 2007, but that certainly doesn't mean the teams are short on talent. The Titan men are returning all six first-team all-PAC swimmers from last year including three who posted a total of four PAC first-place finishes. The Titan women return three of four first-team all-PAC swimmers from last year including a six-time All-American, three-quarters of a champion relay team, and two swimmers with a combined four first-place individual finishes.

Overall, the Titan men return 15 of 17 letter winners and the women welcome back 17 of 19 letter winners from teams that posted 8-4 and 8-5 dual meet records, respectively, and teams that placed second and third at the PAC meet, respectively.

The Titan women sent swimmers to the NCAA Division III Championships for a fifth straight year last year where they placed 13th overall for their highest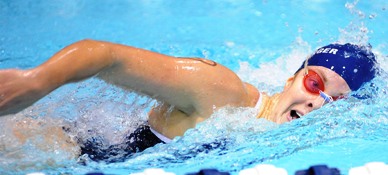 finish ever. Senior Caitlin Lehberger (left) scored 42 points at the NCAA meet, the 10th-most at the meet, as she placed fourth in the 200 IM (2:04.10), sixth in the 100 breaststroke (1:03.65), and fifth in the 200 breaststroke (2:18.52). She eclipsed her own school record in the 200 IM.

Lehberger, a holder of nine school records including all five relay marks, is a three-time national qualifier and a 12-time PAC champion after winning the 200 IM for a third straight year in 2011.

"She's a tremendous success story for this program," Klamut said. "Her consistency is unprecedented at Westminster and very rare for someone at nationals year after year. She's determined to continue her success but it'll mean more to her and to the program if we can achieve our team goals. We want to win the conference championship and send more people to nationals."

Joining Lehberger as returning first-team all-PAC competitors are senior Sierra Beecher and sophomore Erin Erdley. Beecher is a three-time first-teamer who holds three school relay records while also winning three PAC relay titles. Erdley won three PAC titles as a rookie last year including the 200 backstroke (2:08.44) and the 1650 freestyle (18:01.07) which were held on the same night.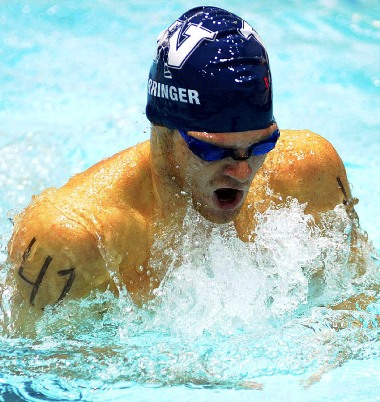 On the men's side, three of the returning swimmers who won PAC titles last year include sophomore Jake Scherer, who won the 500 (4:40.96) and the 1650 (16:17.00) freestyles, the latter a school record. Seniors Mike Barringer (right) and Mark Brooks are also back after each successfully defended their titles in the 100 butterfly (50.74) and the 100 backstroke (52.76), respectively.

Junior Alan Nedley, a 2010 PAC champion on the 200 butterfly, returns after placing second in the 200 last year and third in the 100 butterfly.
Klamut acknowledges that the regular season will be important for both the men's and women's teams' success in 2011-12.

"Our goal is to beat the teams we know we can beat but also give more competition to the teams that beat us in recent years," Klamut said. "Once we cut the gap we will use that success and confidence to make headway at the conference meet and potentially qualify more people for nationals."

Among the teams that Westminster will be gunning for are last year's PAC champions, the Grove City men and the Washington & Jefferson women, and the second-place Grove City women.


###