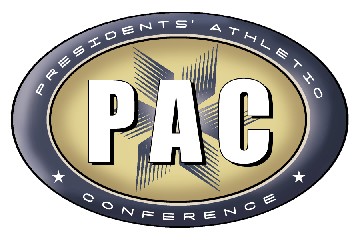 2010 PAC Volleyball Preview

BETHANY BISON (16-15 Overall, 5-9 PAC in 2009)
After recording their highest victory total in 17 years last season, the Bethany College volleyball team returns 14 players and brings very high hopes into the 2010 season, which begins Sept. 3-4 at the Marietta Tournament.

The Bison rebounded from a five-win season in 2008 to finish 16-15 last year, their first winning record since 2001 and the most wins since going 22-15 in 1992. Bethany also qualified for the PAC Tournament for the first time since 2004. With so many players returning following a big turnaround year, there is plenty of reason for high hopes at BC.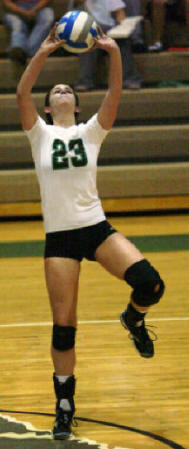 "We are very excited and very motivated for this season to begin," said third-year head Courtney Kline, who was named last year's PAC Coach of the Year. "I was pleased with our progress last season and there are no more remnants of the old mentality that was here. We worked hard in the spring and I think the players have their goals and sights set high right now."

Headlining the Bison returners is sophomore setter Jessica Zavatchen (left), who was the PAC Freshman of the Year and Second Team All-PAC selection after she set a new BC single-season record with 989 assists while finishing second on the team with 284 digs and 22 blocks. Backing up Zavatchen will be junior Megan Hoffman and freshman Alyssa Thewes. "Jessica is coming off a tremendous freshman year and has continued to grow and become more confident," said Kline. "She has worked at becoming more of an offensive threat as well. I am looking forward to her coming in and being a leader and taking control of the offense. Our other setters include Megan, who was transitioned into a defensive role last year and did an excellent job, so we'll keep her there, and Alyssa, an experienced high school and club player who can also play defense."

Continuing to improve their play in the back is a focal point for Bethany this year and they return a lot of experience on defense. Junior libero Tiffany Hoffman, Megan's twin sister, was Honorable Mention All-PAC after leading BC with 552 digs and ranking second in the PAC in digs per set. Megan, who led the team with 50 service aces, will continue to play in the back and is joined by sophomore Katie Kurtz, who had 158 digs and 24 aces last year, senior Sarah Olson, sophomore Shannan Orum, sophomore transfer Susan Pollins and freshman Chelsea Sroka.

"The Hoffmans have an amazing work ethic and are very devoted to the success of the team," said Kline. "Tiffany had a great year and also became more confident throughout last season. Her heading up the defense is good because of her experience and she is stepping up as a leader. Megan moved very well into the defensive role last year and we look for her to play right back. Plus with her setting experience, it's good to have a second set of hands out there.

"Katie battled through injuries last year, but she's worked hard to come back and we look for her to contribute, as she has a great serve and back row attack," said Kline. "Sarah is our only senior and she is a good leader and makes everyone work together. Shannan works hard every day and along with Susan, who played a lot at Pitt-Greensburg last year, and Chelsea, a freshman who was a setter in high school but whose main role here will be defense, are also in the mix for time."

Up front on the right side, the Bison will look to a pair of sophomores in Lauren Goodwill, who was second on the team with 194 kills last year, and Janae McGinnis, who sat out part of last year.

"Our right side attack will be paced by Lauren and Janae," said Kline. "Lauren started to get more aggressive towards the end of last year and we are looking for her to be a big offensive threat this season. Janae battled illnesses throughout last year but she is back in good health. I am excited to see her at 100 percent because she could give us more offensive options and add strength to our blocking."

In the middle blocker position are a trio of veterans and one newcomer vying for time. Junior Carrie Talkington recorded the top hitting percentage (.277) on the team, as well as a team-best 70 blocks. Sophomores Meredith Holl, who registered 159 kills as a freshman, and Amanda Rodabaugh), who turned in 43 kills and 14 blocks last season, return as well while freshman Lenae Walters joins the Bison program.

"Carrie is coming off a good season, as she hit well last year," said Kline. "She could see time on the outside too because she is a fierce hitter with a very strong swing. Meredith did well too and has become stronger but needs improvements in blocking and shot selection. Amanda saw some time last year and needs to bring more offense, but she is a strong blocker and increased her vertical. And I am looking forward to seeing how Lenae grows because she is a hard worker and she should be in the mix for time."

The Bison outside hitters boast two returning players in junior Alyssa Schrecengost, the team leader in kills (238) and second in aces (41) and sophomore Taylor Cassidy, who missed most of her freshman season because of injury. The position will be bolstered by a pair of newcomers in 5-10 junior Jessica Cole, who transferred from Division II Seton Hill, and freshman Arielle Elsass.

"We have a lot of options on the outside this year," said Kline. "Our most experienced is Alyssa, who had another good season and is a very consistent, solid player. Taylor missed half of her freshman year because of injuries, but worked hard in the spring to make up for it. She just needs to be more consistent and if she does that, she'll have a good season.

"Jessica transferred from Seton Hill, where she primarily played defense," said Kline. "In addition to being an excellent defensive player, we look for her to be one of our primary passers this year and she also brings a definite blocking ability on the outside. Arielle is an excellent jumper who blocks well and can run a lot of quick offensive plays. She is versatile, and we are looking at her in the middle as well and she could see time at either position."

After getting a taste of the PAC Tournament last year, Kline says her team sees bigger things on the horizon if they can improve in a couple areas during the 2010 season.

"Our keys for this year are to become a better blocking and defensive team," said Kline. "And I say this every year, but we want to develop good leaders. We are still young, but we should start to have good leaders develop this season.

"As far as our goals, I know the players have their sights set high and I have set mine pretty high too," said Kline. "We want to make the PAC Tournament again and possibly go even farther and try to earn an ECAC Tournament bid. Last year was a good stepping stone, but we don't want to be complacent with just having a winning record. We want to build on last year's success and take it to the next level.


CHATHAM COUGARS (1-25 Overall, 0-14 PAC in 2009)

Under the guidance of new Chatham Head Coach, Kristin Consuegra, who joins the Cougars after completing a two year stint at Indiana University of Pennsylvania, the Chatham University Cougar Volleyball team is eagerly anticipating the start to the 2010 season. The Cougars finished 1-25, 0-14 in the PAC, last year; but are looking forward to improving their record this upcoming season.

"We are putting the past behind us, and turning a new page to rebuild Chatham Volleyball. I am very pleased with our preseason workouts so far. We have a group of young women that are very dedicated to our sport," comments Consuegra.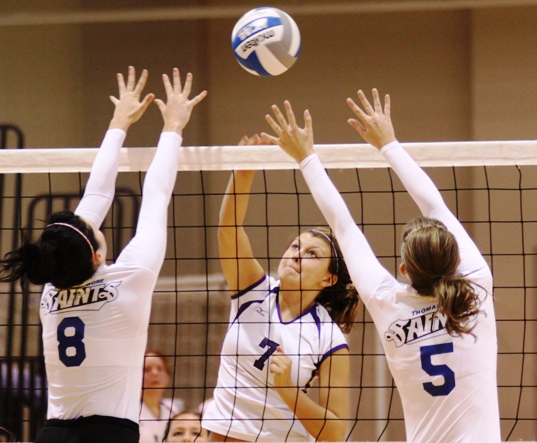 The Cougars will be looking for returning starters Angelina Liberi (right), who lead the team in kills in the middle hitter position during the 2009 season and sophomore right-side hitter, Alexandra Ratliff to lead the team offensively.

Junior setter Olivia Hess returns to the court after a season ending knee injury last year.

"Though we only have three returning upperclassmen, I couldn't ask for a better three. They have really embraced this new journey toward successful Cougar Volleyball."

The Cougars will be looking to junior-transfer, Tammy Veneski and sophomore newcomer, Julianne Speeney to make an impact on both sides of the ball this season.

"Tammy will be a great asset to our defense. I am really looking forward to seeing Julianne on the court. She is a natural born leader."

The remainder of the 10 player roster is rounded out by five talented freshman, which includes: outside hitter Morgan Becer, middle-hitter Mareija Bibbs, middle hitter Lauren Plummer, outside hitter Donna Turner, and setter/defensive specialist Marie Voitus.

"I am very excited about our personnel. We are a young team, but we are in a good place right now," says Consuegra.

The Cougars open their season on the road with non-conference opponent Mt. Aloysius on September 1 at 7pm.
Chatham's first conference match will be September 8 at 7pm, as the Cougars travel to Geneva.


GENEVA GOLDEN TORNADOES (19-12 Overall in 2009)
What's next for the Geneva College volleyball team? Co-head coaches Wendy Smith and Curt Conser have built a solid foundation on College Hill with a program that now demands high expectations year after year. Coming off a 19-12 season in 2009, the Golden Tornadoes will look for bigger and better results in 2010.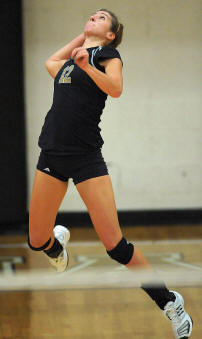 Improving upon the results from a year ago will be no easy task based on the departure of seniors Brandi Snavely and Michelle Zimmovan. Both played a significant role in the success of Geneva volleyball in recent years and will leave some holes to fill in the very near future. "They don't make them much better than Brandi and Michelle," says Smith. "Those two were the heart and soul of our program, both on and off the court and we will have to find some new leaders to take us to where we want to go."
The most obvious choice to grab the torch will be two-time NCCAA All-American Adriane Blake (left). Blake once again led the President's Athletic Conference last year in kills per game (3.51) and was among the team leaders in digs (3.34) and blocks (0.38). Alongside Blake and looking to improve upon a very impressive freshman campaign will be Maggie Bowersox. In her first collegiate season, Bowersox led the team with her 0.68 blocks per game, which included a team best 54 solo blocks. She also posted 107 kills in her first go-round on the college level. "We are very excited about what we have at the net," says Conser. "Adriane has continued to improve every year and Maggie has a full year of experience under her belt. We have some other very solid pieces and should be very solid."
Of course many in the volleyball circles would say your hitters are only as good as their setter. With that being the case, the Golden Tornadoes will have to wait and see how the lofty shoes of Brandi Snavely will be filled. Getting the first opportunity to fill that role will be incoming freshman Deanna Briody from Oakdale, NY. "It is always a little nerve wracking to rely heavily on a freshman for immediate contributions," says Smith. "But we are pretty sure about what we have in Deanna and are confident that she will be able to handle the spotlight."
Along with Briody, Ashley Davis will also be making her first appearance as an incoming freshman for the Golden Tornadoes. A two-sport student-athlete from Springfield Local, Davis shows great promise for a bright career on College Hill.
While Davis and Briody are just beginning their college experience, Blake and fellow senior standout Laura Zerbe will be looking to end their careers on a positive note. The only two seniors on the 2010 roster, each player will provide continued leadership to a young group in the upcoming season. "Leadership is an important element for this team," says Conser. "We know that Adriane and Laura, along with some other experienced veterans will grab that responsibility."
An impressive core of returning players will also help the cause with the likes of Kristland McCracken, Rachel Kuegler, Brianna Mixter and Erin Smith suiting up for the Golden Tornadoes in 2010. "We believe that this is a special group of young ladies and that we can do some special things this year," says Smith. "We always want to keep pushing the envelope and improving each year and we have the group that can get that done."

GROVE CITY WOLVERINES (8-24 Overall, 4-10 PAC in 2009)
The 2010 season will represent a new beginning for the Grove City College volleyball program as the Wolverine roster will look vastly different this fall.

Grove City features just three returning letterwinners and one senior on the 2010 roster.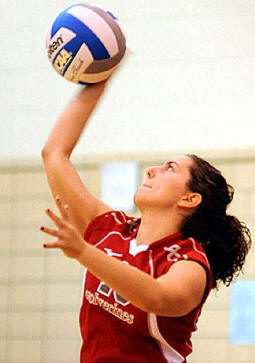 However, the Wolverines are optimistic that the combination of that returning trio and a talented group of newcomers will be the right combination to vault Grove City back to the top of the Presidents' Athletic Conference.

The Wolverines will rely on veterans Kim Budd (right), Elizabeth Mewha and Elisabeth Willits to help anchor the revamped lineup this year. Budd and Mewha will fortify the Wolverine defense while Willits is expected to be a force up front.

A three-year starter at libero, Budd currently ranks eighth all-time at Grove City with 1,307 career digs.

She led Grove City in digs in 2009 and will be a key cog in Grove City's defense.

Mewha saw limited action as a rookie in 2009 and will look to join Budd as a pillar of the Wolverine defense.

Willits overcame an early injury to finish third on the team in kills as a freshman. She will be counted on up front both offensively and defensively.

Grove City will again face a strong slate of opponents in 2010, both in conference play and in non-conference action.

The Wolverines open the 2010 season September 3-4 by competing in the Ohio Wesleyan University Bishop Invitational in Delaware, Ohio.

Grove City begins conference play September 8 at Waynesburg. The home opener is September 21 against Penn State Behrend.

The Wolverines conclude the regular season October 30 at home against conference foe Chatham. The Presidents' Athletic Conference Championship Tournament begins November 2.


SAINT VINCENT BEARCATS (23-11 Overall in 2009)
With seven players returning from a 2009 team that went 23-11, the Saint Vincent volleyball team looks to continue its most successful run in program history.
After successfully completing a four-year provisional period, the Lady Bearcats are now fully eligible for the PAC and NCAA post-season, and while it's still early in the preseason, head coach Sue Hozak believes her team has what it takes to make a successful post-season run.
"We're glad that we're finally eligible for the PAC playoffs," Hozak said. "With the success we've had in recent years, with the talented returnees coming back, and with a deep freshman class, I'd like to think we have a legitimate shot at going deep into the postseason."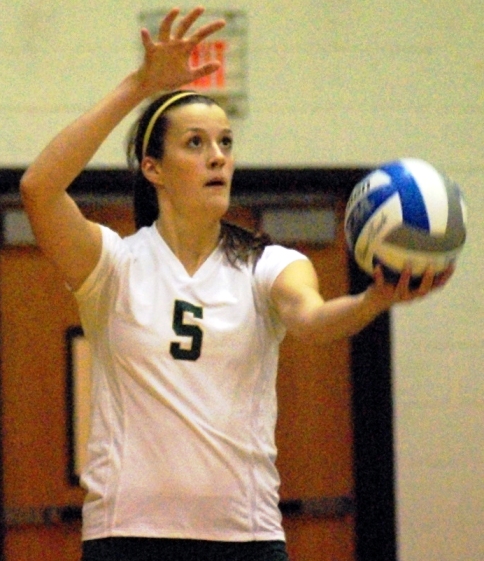 Since joining the PAC as a provisional member for the 2006 season, the Lady Bearcats have amassed an overall record of 106-26, winning the ECAC Division-II championship in both 2006 and 2007, while going 57-12 against PAC foes in that span. With 100 percent of its offensive output returning from a season ago, and 67 percent of its defense, the team looks to continue to pile up the wins in the new campaign.
Leading the returnees is the senior duo of frontline players Diana Petrovich (left) and Natalie Hozak. In 2009, the 6-1 Petrovich led Saint Vincent, and placed in the top five in the PAC, in both kills/set (2.9) and hitting percentage (.303), posting at least 10 kills in 23 of SVC's 32 matches, including four 20-plus kill performances.
Natalie Hozak has blossomed into one of the premier two-way players in the conference, as she bounced back from missing the entire 2008 campaign due to injury by averaging a team-high 4.52 digs (fifth in the PAC) and 2.45 kills. Her total of 571 digs is the second most in a single-season in team history, while she also led Saint Vincent with 44 service aces.
Petrovich and Natalie Hozak will be sharing captain duties with a third senior, middle hitter Rachel Pace. An explosive leaper, Pace has been a full-time starter in each of the past two seasons. Last year, she led the Lady Bearcats, and placed third in the conference, with 114 blocks, while also totaling 150 kills.
"I couldn't be more pleased with the senior leadership," said Coach Hozak. Diana, Rachel, and Natalie have all been with us for three years, and they've been really significant contributors. Diana could be one of the top outside hitters in the conference, and I was extremely pleased with how Natalie came back from her injury. Rachel is an intense competitor, and her leaping ability has helped put her among the top blockers in the PAC.
"I couldn't ask for any more from them. With those three being the team leaders, our girls are in good hands."
A pair of juniors, outside hitter Taylor Guido and middle hitter Dawn Timko, should also continue to be mainstays for the Lady Bearcats. Both Guido and Timko joined Petrovich and Hozak as PAC Coaches Honors recipients a season ago. Guido has started every match of her career, and last season, she averaged 2.52 kills and 2.98 digs. She had at least 10 kills in 16 matches, while posting double digits in digs 20 times.
After seeing her role continually increase throughout her freshman campaign of 2008, Timko burst onto the scene as a sophomore a season ago. She started 29 matches, and averaged 1.59 kills to go with a total of 111 blocks, fourth most in the PAC.
"It's been fun seeing the strides that Taylor and Dawn have made over the past two years," said Coach Hozak. "They're both excellent athletes. Taylor may be a bit undersized, but her leaping ability keeps opponents on their toes. Dawn has been a model of consistency for us in the middle. We're expecting big things from both of them."
A sixth returnee up front is junior middle hitter Ashlee Cowles. After seeing limited playing time throughout the 2009 regular season, the 6-0 Cowles was thrust into a starting spot in the ECAC playoffs after injuries to Timko and Natalie Hozak. Cowles responded by tallying 10 blocks and nine kills in the two ECAC matches, and looks to continue to see her role increase in her third year on the team.
Sophomore Devin McGrath is slated to be the team's setter for a second straight season. An all-state middle hitter throughout her high school career, McGrath moved to the setter spot a season ago, and made a seamless transition to the new position.
"We asked a lot from Devin last season," said Coach Hozak, "and she really responded. For a player to perform the way she did after never setting in her career really says a lot about her athletic ability. I'm totally confident in her running our offense."
After splitting time at the position in the first half of the season, McGrath seized the starting job and finished the season by finishing fifth in the PAC with an average of 8.68 assists, dishing out at least 40 helpers 13 different times. Another excellent all-around player, McGrath also averaged 3.11 digs per set and 1.28 kills, while finishing third on the team with 28 service aces.
The lone position in which the Lady Bearcats lack a returning starter is at defensive specialist, with the graduation of three-year starter Christa Calgaro, who averaged over four digs per set for her career. Hozak's deep recruiting class, however, has produced a number of candidates vying for the libero spot, as four newcomers have extensive experience at the position, including Savannah Arbuckle, Kaley Burkardt, Adrianna Zoscak, and Megan Lucas.
"After losing our defensive specialists from last year," Hozak said, "I'm really pleased we were able to bring in so many quality players at that position in this class. There's been a battle in camp between these freshman for a starting spot."
While this year's recruiting class has produced a number of quality defensive players, there are also some talented newcomers who could see time up front, including Brittany Hauser, Emily Rosati, Kayla Stadleman, Allison Cramer, and Genna DeVivo. Burkardt, who was an All-WPIAL selection at outside hitter in her high school days at Greater Latrobe, may also see some time up front in addition to on the back line.
"It's a really deep class," Coach Hozak said of her newcomers. "There is a lot of high-caliber experience and a lot of championship experience
with this group."
Now fully eligible for the PAC and NCAA postseason, Coach Hozak said, "we're hoping to continue the success we have enjoyed the past few years, now that we're entering our first year being eligible for the PAC and NCAA championships."
The Lady Bearcats will begin the 2010 season on Friday, Sept. 3rd, hosting eight other teams at the annual two-day Saint Vincent Bearcat Challenge tournament. SVC will face Carlow and Pitt-Bradford on the opening day of the tourney, before wrapping up the two-day event with matches against Pitt-Greensburg and Ursuline.

THIEL TOMCATS (23-11 Overall, 11-3 PAC in 2009)
After a 2009 season that saw the women's volleyball team improve by nine wins from the previous year and finish second in the Presidents' Athletic Conference (PAC), the Tomcats have high expectations for the 2010 season.

"Even though we have a tougher schedule than we had last year, we believe that we can finish with the same record as last season if not better," said head coach Steve Brewer, who enters his fifth year as the coach of the team.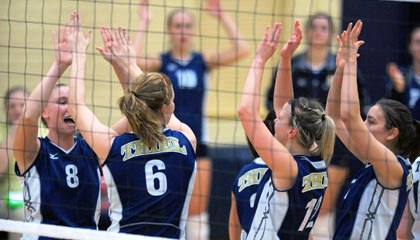 Experience will be one of the greatest strengths for the team in the upcoming season. The Tomcats return ten players, including six starters, to a team that finished with a 23-11 overall record, it's best dating back to the 1986 season.

"Of the four seniors that we have on the roster, each started or played a substantial amount as freshmen," said Brewer. "Overall, this is the most experienced team that I have coached in my five years at Thiel."

Leading the team in 2010 will be senior setter and captain Madison Chylik. Chylik, a first team All-PAC selection in 2009, led the team and finished sixth in the PAC in assists with 957.

"Madison understands everything about the game," remarked Brewer. "She epitomizes what it means to be a leader and with four years of experience under her belt and her great talent she will be a great leader and captain for this team."

Teaming up with Chylik again this season is sophomore middle hitter Kelly Barzak. Barzak, a second team All-PAC selection as a freshman, will look to have another great offensive season.

"Kelly was the best offensive player on the team and one of the best in the conference," Brewer said when asked about Barzak. "She had a hitting percentage of .389 last season which is an impressive number. We also expect great things from her this season and she knows that. We believe that she will step up to the challenge."

Sophomore and junior outside hitters Megan Kay and Alyssa Chine, both all conference selections last season, join Chylik and Barzak as returning starters.

"Megan was thrown into a starting role her freshman year and as a sophomore she played in all but two matches," said coach Brewer. "The same thing happened to Alyssa last season as she was asked to take over a starting role as a freshman. They both have a lot of experience and we expect them to step up as leaders this season."

Also returning are seniors Danielle Dwyer and Stephanie Shipley, who will compete for the libero position. Dwyer was ranked seventh in the PAC in both service aces (34) and digs (404) last season. Shipley finished tenth in the PAC in digs with 380 and is a returning three-time All-PAC selection.

When asked about having two different players for the libero position, coach Brewer said, "It is a great thing to have two very talented players be able to play multiple positions. Having competition at the libero position is a great asset to the team."

The only hole that needs to be filled in the upcoming season is one that has been left by Abby Kiger, a 2010 Thiel graduate. However, Brewer is confident that the team will be able to fill that hole without missing a beat. "Senior Joy Metzler and junior Chelsi Clark each have great talent and will be able to fill the hole that was left by Kiger."

Joining the upperclassmen will be a group of 11 freshmen that Brewer believes are up to the challenge of making a run at a PAC title.

When asked about his freshmen class, Brewer replied; "Every year we attempt to recruit a better freshmen class and we believe that this year we have succeeded. We are very excited for this freshman class and believe that we are building a strong base for this year and the following years as well."

With the benefit of a lot of experience and a great freshman class, it is no wonder that Brewer has a lot of confidence for the upcoming season.

"We have championship experience after coming off a trip to the PAC title game last season, and we expect great things from our girls in 2010."

THOMAS MORE SAINTS (28-11 Overall, 13-1 PAC in 2009)
Thomas More College third-year head volleyball coach John Spinney looks to guide the Saints to their second straight Presidents' Athletic Conference (PAC) regular season and tournament title to the program's ninth NCAA Division III Tournament appearance. He will have 10 returners (one senior, seven juniors and two sophomores) to help him bring alone the seven newcomers to the team.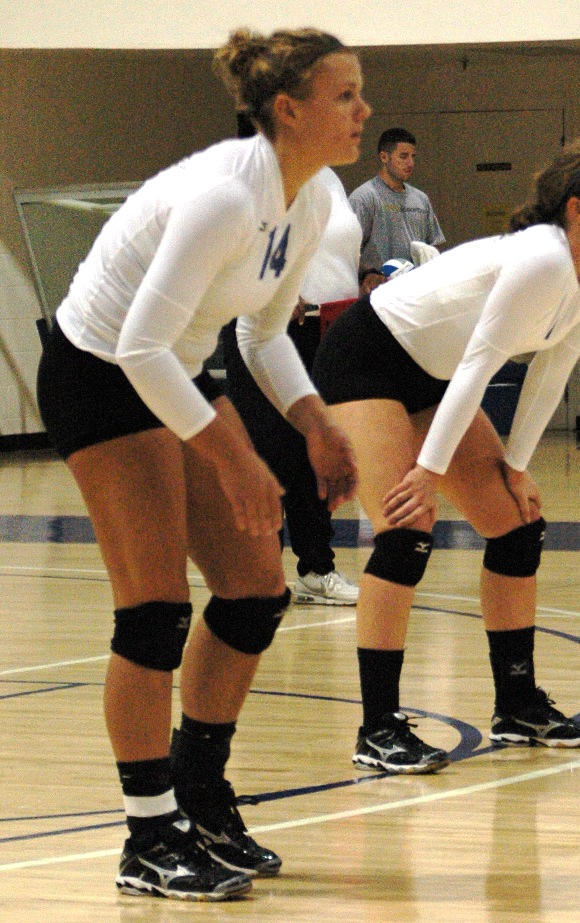 Out of the 10 returners, three were named All-PAC last season. Junior outside hitter Emily Bohman (left) was named the conference Player of the Year and named first team all-conference.. She appeared in 131 games last season and led the team in set assists (695) service aces (75) and digs (507). Another top returner is last season's honorable mention All-American, All-Great Lakes Region and first team All-PAC selection junior outside hitter Brandi Corbello. She led the team in kills with 414 and was second on the team in service aces with 48, while adding 323 digs and 48 blocks. Junior middle hitter Katie Sullivan is another first team All-PAC selection returning from last season. Sullivan led the team in hitting with a .298 percentage as she had 296 kills and also had a team-high 127 total blocks to go with 57 digs and 29 service aces.

Also returning for the Saints are senior outside hitter Kristine Rust, juniors outside hitter Allison Stark, defensive specialist/outside hitter Tara Enzweiler, outside hitter Aimee Ryan and setter Michelle Clifford and sophomores middle hitter Colleen Meyers and outside hitter Hanna Lietz. Rust missed last season, but in 2008 she appeared in 106 games and had 256 kills and had 37 blocks. Stark had 98 digs and 22 kills in 43 games last season, Enzweiler played in 81 games and had 16 service aces and 153 digs and Ryan was second on the team with a .252 hitting percentage and was third in total blocks with 82. Clifford missed most of last season with an injury, but had played in 67 games and had 635 set assists, 22 service aces and 86 digs. Two seasons ago she was named first team All-PAC and was the PAC Freshman of the Year. Meyers had 147 kills, 115 blocks in 136 games played last season and Lietz was third on the team in digs with 354 and service aces with 36.

The Saints open the 2010 season on September 3-4 when they play in the Ohio Northern University Invitational in Ada, Ohio. At Ohio Northern, the Saints will play four traditional powers; Heidelberg (Ohio) University, Ohio Northern, Defiance (Ohio) College and the College of Wooster (Ohio). The Saints' open homer will be on September 7 when they host Bluffton University at the Connor Convocation Center in Crestview Hills,


WASHINGTON & JEFFERSON PRESIDENTS (16-16 Overall, 10-4 PAC in 2009)
The Washington & Jefferson volleyball team faces a distinctive challenge heading into the 2010 season becoming a cohesive unit, in a sport that hinges on teamwork, with 12 new faces added to the team.

Eighth-year head coach Fred Wallace knows his team will rely on youth, but believes there is just enough experience to balance it.

"On paper, we look very young but in reality we're quite an experienced group," Wallace said, "We have two players who have been on the floor since they arrived here three years ago and others who have received a lot of playing time."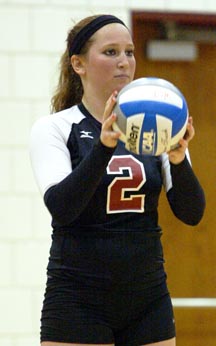 Senior Courtney Sherwin returns at middle hitter after a season in which she led the Presidents and ranked second in NCAA Division III in blocks (1.48 blocks/set) and added 250 kills. Sherwin, a 2009 All-Presidents' Athletic Conference first-team honoree, brings experience as well, playing in at least 26 matches in each of her three seasons. She enters her final year with 652 kills and 416 blocks.

Also returning is senior Courtney Holdrieth at outside hitter and junior Tessa Slifka at setter. Holdrieth finished second on the team with 319 digs while Slifka finished third on the team in assists (1.32/set). Holdrieth was third on the squad with 232 kills and Slifka contributed 128 digs and 59 kills.

Those three, along with seniors Kayla Spridik (right) (1.48 dig/set) and Ashlee Miller (4.66 assists/set) and junior Alyssa Vukson (140 digs) make up the core of experience Wallace will draw from this fall.

"Our challenge is to quickly become a cohesive unit," Wallace said.

Urgency might be a necessity for the Presidents, as their first conference tilt falls in just their third match of the season. Plus, there's a winning streak to hold up. The Presidents have finished .500 or better in five straight seasons.

"We are playing a very difficult schedule in 2010, so making sure we are working together and reaching that point quickly will be of utmost importance," Wallace said, "If we can, this team has the potential to do some great things."


WAYNESBURG YELLOW JACKETS (6-20 Overall, 3-11 PAC in 2009)
The 2009 season was one of change for the Waynesburg volleyball team, as it was forced to replace five graduated starters. The result was a 6-20 season that included a 3-11 mark in Presidents' Athletic Conference (PAC) play. However, there were definite positives to the campaign. With so many starting jobs up for grabs, a slew of freshmen and sophomores gained valuable on-court experience and were forced to battle hard in practice for playing time. After a year of seasoning, Benkowski will look to combine a small, but experienced group of returners with a large, talented recruiting class in 2010.
MIDDLE HITTER
Sophomore Shannon Langworthy returns after a very active freshman season, during which she played in every match for the Yellow Jackets. During her collegiate debut season, Langworthy led the team in solo blocks (30), assisted blocks (32) and total blocks (62). She also chipped in on the offense with 91 total kills, which ranked third on the team.
After Langworthy, depth at the position will be filled out with newcomers, including 6-0 freshman Mabel Culp, a local product from nearby Jefferson-Morgan, who was an all-state honoree and the record holder for career kills at J-M. Fellow freshman Heather Marshall, along with sophomore transfer Lauren Wagner, who saw time at Division II Mercyhurst, will also be battling for court time.
OUTSIDE HITTER
Junior Jordan Barton (left) is expected to lead the attack for a second-straight season at outside hitter after a breakout junior campaign. The Burgettstown native led the team in kills (242), while also leading the team and ranking seventh in the PAC in kills per set (2.78). She put together nine double-digit kill efforts on the season. However, Barton's season was far from one-dimensional. She also finished second on the team and leads all returning players in digs (307) and digs per set (3.75).
Junior Carly Schubert is also back and coming off of a solid 2009, in which she finished second on the team with 175 kills and 2.01 kills per set. She also led the team in attack percentage (.183) and, like Barton, also chipped in defensively. Schubert finished third on the team in solo blocks (14), assisted blocks (21) and total blocks (35).
Like the middle hitter position, the outside's depth will feature some impressive looking newcomers. Included in the group are Katelyn Blaich, Amanda Silay, Shayla Mitrik and Sarah Drysdale, who all bring lengthy high school resumes with them to Waynesburg.
RIGHT SIDEHITTER
The starting right side hitter spot will likely be determined in preseason practice. If a veteran doesn't step up to claim the spot, the job could go to Drysdale or Sam Styche.
SETTER
After taking over as the starter midway through the season, sophomore Carly Smithyman put together some impressive numbers during her first season with the Yellow Jackets. She led the team in assists (398) and assists per set (6.22); the latter mark ranked her ninth in the PAC. Smithyman was also a consistent contributor to the Jackets during her debut season, as she reached double digits in assists during every match but one and cracked 30 assists three times.
The depth behind Smithyman could be filled out by freshmen Natalie Ranallo or Rachel Larimore.
LIBERO/DEFENSIVE SPECIALISTS
Sophomore Presley Cupp returns to the 2010 Yellow Jackets and leads the race for the starting job at defensive specialist. Freshman Brittany Brown and Dana Della Loggia both have high school experience at the position.
SCHEDULE
The 2010 schedule features 29 scheduled matches, including the season-opener against Pitt-Greensburg at the Rudy Marisa Fieldhouse on Sept. 1. Following that contest, the Yellow Jackets will take part in the two-day Saint Vincent Bearcat Challenge, which runs on Sept. 4 and 5.
The PAC looks to be an incredibly competitive conference this year with Saint Vincent, a team that went 23-11 last year, becoming a full member.
WESTMINSTER TITANS (13-23 Overall, 10-4 PAC in 2009)

Look up and down the Westminster College volleyball team's 2010 roster and you won't find any seniors. That doesn't mean that this team will get a free pass from its head coach. Despite having a team made up of players with multiple years left to develop, the Titans are experienced enough that 18th-year head coach Tammy Swearingen expects more than a typical senior-less team.

"Yeah, I do," Swearingen said matter-of-factly. "I expect that we will be better prepared. It's going to be a young team but my expectations for them are that of a somewhat veteran team."

With a team comprised of mostly freshmen and sophomores last year, the Titans remained a contender in the Presidents' Athletic Conference (PAC). For an eighth consecutive year, every year since they joined the league, the Titans were a semifinalist in the PAC tournament.

That seemed unlikely after the Titans started the season with a 2-12 record because of a formidable non-conference schedule. But the Titans posted a 10-4 mark in league matches and placed third in the league standings.

The Titans' record of 13-23 marked just the fourth losing season in the last 21 years, although they continued a now 26-year stretch of seasons with at least 11 wins.

"We ended the season strong and we made the PAC semifinals; that was positive," Swearingen said. "But our goal is still to make the final match, win the PAC, and compete in the national tournament."

Westminster did surrender its two-year hold on the PAC title when the Titans lost to second-seeded Thiel, 3-1, in the semifinals after beating Grove City, 3-0, in the quarterfinals.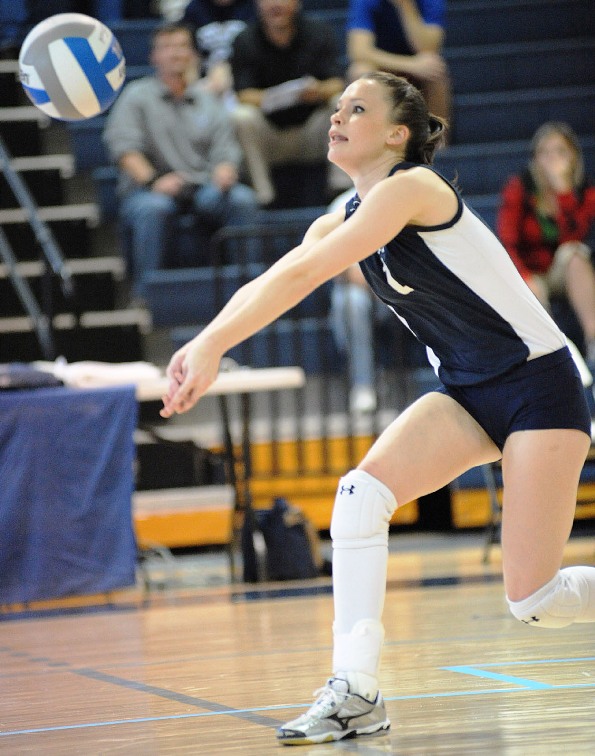 The Titans lost just one player to graduation in second-team all-PAC outside hitter Sam Botzum, the only player with multiple years of experience on the squad entering last season.

There are six returning starters on the team in 2011, led by junior setter Jessie Szakacs (right). Szakacs, a two-year starter who has played in 69 matches in her career, ranked third in the PAC last year with 9.37 assists per set and was named first team all-PAC.

"Jessie brings a wealth of physical attributes," Swearingen said. "She can swing, set, block and she plays great defense. She is a high-caliber player and I expect her to be the quarterback on the court."

The other five returning starters are sophomore defensive specialist Tara Incerpi, junior defensive specialist Tamber Schaef, junior middle blocker Kaci Batzel, junior middle blocker Lindsay Speidel and junior outside hitter Tara Ott.

However, because of injuries last year, other players had to step in and start matches and starters had to play multiple positions.

The most notable injury was to Speidel, who played in only 18 matches (66 sets) while averaging 2.91 kills and 0.92 blocks per set. A second-team all-PAC selection in 2008 when Westminster won the PAC title, Speidel has a 2.52 kill average and her .342 hitting percentage in 2008 ranked second in the PAC.

"We are hoping Lindsay stays healthy," Swearingen said. "Losing her for most of the season last year was a detriment. When she's healthy she steps forward and becomes a force at the net."

Ott is a one-year starter who earned an honorable mention for the all-PAC team last year. She's averaged 1.99 kills per set in her career and 2.3 in 2009. She was also a player that was asked to hold down the most positions.

"Tara is a versatile player for us," Swearingen said. "She's played outside, right side, and she's even set for us when we needed her."

Schaef is a one-year starter who stepped up defensively and helped fill the void left by graduation last year.

Also a first-year starter last year, Batzel averaged 1.19 kills and 0.55 blocks per set while playing in 32 matches.

Incerpi posted a team-high 124 service aces and 560 digs while starting as a freshman last year. Her 0.38 aces per set ranked fifth in the PAC.

There were also three other freshmen who saw significant playing time last year in sophomore middle blocker Kelly Cholewa, sophomore defensive specialist Brittany Gamble, and sophomore outside hitter Alex Cochran.

Cholewa stepped in when Speidel was injured and averaged 1.09 kills per set and led the team with 89 blocks (0.94 per set) in 32 matches. Gamble played in 19 matches and posted 56 digs including one match with 10 digs. Cochran played in 18 matches and averaged 2.2 kills per set.

Eight freshmen will join the four sophomores and five juniors to give the Titans a 17-player roster.


###