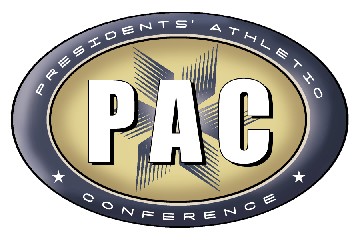 2011 PAC Volleyball Preview

BETHANY BISON (24-13 Overall, 9-7 PAC in 2010)
While the Bethany College volleyball team enjoyed its most successful season last fall, which included a 24-13 record and its first-ever postseason appearance resulting in the ECAC South Region Tournament championship, the aspirations for the 2011 season, which starts Sept. 2 at the Haverford (Pa.) College Tournament, are even higher.
That's because fifth-year head coach Courtney Kline not only brings back 12 returners from last year's ECAC championship squad, she also welcomes a deep and talented freshmen class to campus. The excitement of last season's success is serving as a springboard for this year's team according to Kline.
"Winning the last game to win ECAC's was a real turning point for the program and only motivated the team to work harder in the offseason," said Kline. "It gave them confidence and now they understand they have the ability to win any game they put their minds to. We've had the talent but now we have the confidence and we used it to have the best spring we've ever had by far."
Leading the returning players is senior middle blocker Carrie Talkington. In addition to earning Second Team All-PAC, she was named the MVP of the ECAC Tournament and finished the year with 419 kills, second-most in Bethany single-season history. In addition, she was strong at the net defensively with 165 total blocks. Also seeing time at middle blocker is junior Meredith Holl, who amassed 226 kills and 74 total blocks a season ago.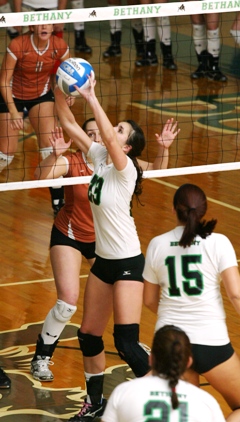 "Carrie is coming off her best season and her progress between her sophomore and junior seasons was absolutely amazing," said Kline. "She has always had the talent but her confidence really emerged and that was a big reason her play improved so much. We really look for her to lead us offensively and defensively, where her blocking at the net also improved. Meredith came alive at the end of last year and had a great match in the ECAC final against Saint Vincent. She really stepped up when we needed her and are looking for her to continue improving and have another good year."
The Bethany attack will be triggered by junior Jessica Zavatchen (right), who is in her third season as the starting setter. The Honorable Mention All-PAC choice obliterated her single-season school record for assists with 1,392 and needs just 255 more to break the career assists mark. An extremely versatile player, Zavatchen also brought up 297 digs and ranked second on the team with 81 blocks. Backing up Zavatchen will be senior Megan Hoffman and sophomore Chelsea Sroka.
"Jessica has had two very strong seasons and is a real natural athlete and leader," said Kline. "Defensively, she is a really strong force at the net and we look for her to continue to take control and even improve the speed of our offense this year."
In addition to Talkington in the front row, the Bison boast a solid contingent of outside hitters and right-side attackers. The top threat from the right side is junior Lauren Goodwill, who pounded down 270 kills, added 65 blocks up front and picked up Honorable Mention All-PAC status.
A pair of heavy contributors from last year highlights the outside hitters, with a sophomore emerging quickly to provide quality time. Senior Jessica Cole plays all over the floor, as evidenced by 252 kills and 406 digs, while junior Taylor Cassidy developed as a consistent threat at the net with 322 kills. Sophomore Arielle Elsass has worked hard in the offseason and is a candidate for the outside hitter position as well.
"Lauren worked really hard in the offseason, is in great shape and improved her vertical," said Kline. "She brings a strong block on the right side and being a lefty, brings a good attack as well.
"Jessica played both front and back row last year and in addition to playing very strong defense, also brought a lot of ball control to the court," said Kline. "Last year was Taylor's first time seeing a lot of action and she grew more comfortable by the end of the year. She had a really good spring and is gaining more ball control to go along with her height and athleticism. Arielle is an extremely athletic player who improved a lot in the spring. She jumps very well and should be contending for time."
The Bison back row should be very deep with a lot of experienced players. Seniors Tiffany and Megan Hoffman are back to lead the defensive charges. Tiffany is a two-time All-PAC selection who is ranked fourth in Bethany history in career digs (1,618). Megan's skills as a setter are very useful when she's playing in the back and she totaled 356 digs last season.
Also returning is junior Katie Kurtz, who led the team with 37 aces last season, while junior Susan Pollins and Sroka will also be in the mix for time.
"Tiffany has steadily improved every year and is an extremely hard worker and focused player," said Kline. "We are very confident in her ability as a libero. Megan played a lot at right back last year and has become much more consistent on serve receive. Also a setter, Megan helps a lot on ball control when Jess (Zavatchen) has to pass.
"Katie played mostly middle back last year and we expect her to stay with that position," said Kline. "She brings strong passing skills and has a very tough serve which can generate points for us. Chelsea has been a back-up setter but started working on defense as well and is making great strides. We look for her to contend for time at right or middle back. Susan has played at left and middle back and we look for her to stay at those positions as well."
The freshmen class that Bethany has coming to campus is a well-rounded group with players for nearly every position and the amount of players coming in will allow the Bison to run a Reserve team schedule for the first time in the program's history. The defensive specialists coming in include Kelly Becquet, Carly Lucas and Kristen Sroka, who can also play outside hitter.
Those who can play right side including Megan Beebe, who can also play middle blocker, and Gena Keebler, while the outside hitters are Jordan Fenner, Lynsie Mandt, Amanda Peters, who may also play middle blocker, and Shawna Whitehead.
Rounding out the newcomers are the middle blockers, including Breana Harris, Ashley Kimble and Allison Snyder.
"We are fortunate to have a very talented class coming in and they will be a big part of the future of the program," said Kline. "Bringing in so many will allow us to have a Reserve or a White team schedule as we'll call it and allow the newcomers to develop and prepare for their future roles with the program. We are very balanced in all the positions we recruited. They will create competition to earn court time and not only be pushing each other, but also the veterans."
The team goals for the year include going farther in the PAC Tournament then Bethany ever has, but also includes milestones on coming together as a group and helping everyone with the program reach their potential, which will ultimately help the team achieve its goals.
"We have the same goal every year to just keep improving from the year before," said Kline. "We also want to come together as a team, play well on the court, be close off of it and represent the College well on and off the floor.
"But we have other very high goals of making it to the Final Four of the PAC Tournament after losing in the first round the last two years and ultimately competing for the PAC championship," said Kline. "We feel we have the talent and if we can reach our potential, achieving our goals is definitely possible."


CHATHAM COUGARS (4-27 Overall, 0-16 PAC in 2010)

After a bit of a change in direction last year, the Chatham University Volleyball Team is anxiously waiting to kick off the 2011 season. While the Cougars finished 4-27, 0-16 in the PAC, last year; the team is focused and ready to break through this season.

Though the Cougars are only returning 5 players from last season, second year head coach Kristin Consuegra couldn't be happier with the core of solid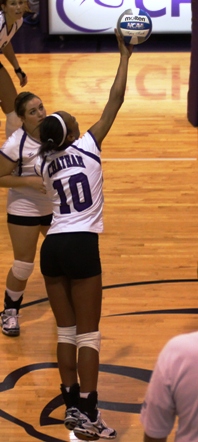 players leading the program.
"The players are returning are a solid group of five. They worked incredibly hard in the spring in anticipation of this season," says Consuegra of her team. "We have made some adjustments on the court and ready to put them into action."

The core five that Consuegra speaks of includes kill leaders, Mareija Bibbs (left) and Angelina Liberi. Last season as a first year, Bibbs averaged 2.29 kills per game as well as 0.59 blocks per game. While Liberi followed right behind averaging 1.63 kills per game.
"Mareija has really adjusted well to the college game. We are expecting big things from her as she moves into her second season," says Consuegra of her starting middle blocker.
Starters Alexandra Ratliff and Julianne Speeney are also expected to have a huge impact in this year's success. Speeney, who saw time in both the setting and defensive positions last season and will be likely to do the same during the 2011 campaign.
Rounding out that core five is Lauren Plummer. Plummer returns to the Cougars this year eager to see significant court time as cut her first year short with a season ending injury last fall.
'We expect to get some quality play out of Lauren this year. We really missed her on the court last season," says Consuegra.
Rounding out the Cougars' roster are six incoming first-years: Martha Giesler, Marielle Sargent, Erin Smith, Lucie Stanton, Mame Tall, and Ashley Traynor.
"We expect our first years to come in and contribute right away. We will be depending on each one of them to step up and make significant contributions this season," says Consuegra. "We have some key roles to fill and I am confident that the first-years will be able to handle it."
The Cougars open their season at the Saint Vincent College Bearcat Challenge on Friday, September 2 against Carlow at 1pm.

GENEVA GOLDEN TORNADOES (26-5 Overall in 2010)
The 2010 Geneva College women's volleyball season will undoubtedly be a very tough act to follow. A year ago, the Golden Tornadoes posted a 26-5 overall record, which broke the single season record for victories in a season. Additionally, Geneva cruised through the Presidents' Athletic Conference schedule with a record of 16-2. The bad news for Geneva was that those victories didn't count for much as it was still entrenched in its final year of NCAA Division III provisional status. The good news for Geneva is the provisional status has been lifted and the 2011 season will be first in which the Golden Tornadoes can compete for a conference title. What is good news for Geneva may not be such good news for the rest of the PAC. I

n Geneva's 16 victories against conference foes a year ago, over half of them were three game sweeps. So where does that leave the 2011 edition of Geneva College volleyball? That question will soon be answered by a solid returning core group of players along with some talented newcomers.
"Losing a three-time All-American player is a hard pill to swallow," says co-head coach Wendy Smith. "Adriane (Blake) was perhaps the best player in school history and replacing her will be no easy task but we have a bunch of hungry young ladies that enjoyed that taste of winning a year ago." Blake has led Geneva in kills in each of the past three years. Last year, she became the school's first ever first-team NCCAA All-American after posting a conference best 408 kills. Geneva will also have to replace one of its fiery leaders in Laura Zerbe. "We lost a ton of leadership in those two players," says Curt Conser. "There is still a lot of experience returning but they will have some big shoes to fill."
Briana Mixter and Rachel Kuegler will need to pick up some of the slack left from graduation when it comes to senior leadership. The duo of Mixter and Kuegler has been on board with the Geneva volleyball program throughout the last three years of great success. Mixter combined her time between the starting libero and a fill-in setter. She led the team with 559 digs (5.48/gm) while also posting 301 assists. Kuegler was second on the team a year ago with 318 kills (2.97/gm) while also posting 29 service aces and 337 digs. "We have a pair of very special seniors," says Smith. "They have been around this program for four years and understand exactly what it takes to be successful. Briana and Rachel set a wonderful example for the rest of our team."
A productive class of juniors will prove to be an important group in 2011. With the likes of Kristland McCracken, Paige Banyas, Emily Bestor, Kirsten Ley and Magie Bowersox (right), the Golden Tornadoes have a very solid group of experienced players to turn to. "We have some very good players and solid depth at almost every position," says Conser. "We will look for some of these ladies to take the next step in their progression of playing collegiately. Everyone will have to do a little bit more this year if we are going to reach our goals."
Maybe the most important component returning to the fold in 2011 comes from the sophomore class. After a sensational freshman campaign, Deanna Briody will again be holding down the setting position for the Golden Tornadoes. In her first year on campus, Briody led the PAC with 10.60 assists per game while claiming PAC All-Coaching Honors. "Deanna was in the middle of everything we did last year," says Smith. "We give her a lot of responsibility as our leader on the court and she had a great first year. She has set a very high standard and precedent that we will look for her to reach in 2011."
As Geneva embarks on its first season as an active member of the Presidents' Athletic Conference, the question arises which Geneva athletic program will be the first to break the ice as a conference champion. If the 2010 season is any indication, the women's volleyball team will have just as good a chance as any of raising that championship banner at season's end.

GROVE CITY WOLVERINES (7-21 Overall, 4-12 PAC in 2010)
Six returning starters, 10 total returning letterwinners and one of the nation's all-time winningest head coaches.

That's a pretty good starting point for the Grove City College volleyball team as the Wolverines enter the 2011 season.

While Grove City will still be one of the youngest teams in the Presidents' Athletic Conference this fall, the Wolverines will still look to return to the conference's upper echelon.

Under the guidance of 27th-year head coach Susan Roberts, Grove City will feature four upperclassmen on the 2011 roster in seniors Heather Good and Mary Masincup, along with juniors Elizabeth Mewha and Elisabeth Willits. Those veterans will team with seven sophomore letterwinners in forming the core of the 2011 Wolverine squad.

Good moved into the regular rotation midway through the 2010 season and helped solidify the Wolverine defense. She will likely challenge for a starting spot in the back row this year.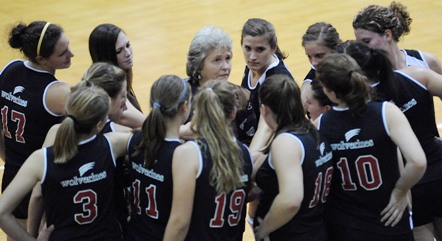 Masincup returns after missing the 2010 season. She lettered at outside hitter in both 2008 and 2009 and will compete for a starting spot.

Mewha also emerged last year, seeing regular duty for the first time in her collegiate career. Like Good, Mewha is in the mix to start in the back row this fall for the Wolverines.

Willits is a two-year starter for Grove City and is the program's active leader in kills and matches played. The 5-foot-9 Willits led the Wolverines in kills last year and earned Honorable Mention All-PAC.

She will likely be one of the key cogs up front again this season.

Armed with a year's worth of experience in the rugged PAC, Grove City's second-year performers will look to make even greater contributions in 2011 after playing extensively as rookies.

Setter Casey Schmidt earned the starting job in preseason camp and emerged as one of the conference's most productive players at that position. She will have an inside track to start again this fall.

Four other second-year players all saw time in the starting lineup as freshmen in 2010. Middle hitter Ashley Branch finished second on the team in kills and led the Wolverines in blocks as a first-year player. She will look to again hold down a starting spot up front.

Sophomores Taylor Gerent and Shelby Mander also return after playing in all 28 matches as rookies. Gerent ranked among the team leaders in several statistical categories while Mander finished second on the team in blocks.

Both players will look to secure full-time starting spots this season.

Defensive specialist Tara Skinner earned a part-time starting spot as a freshman and will also challenge for the full-time nod this year. She appeared in 25 matches as a freshman and ranked second on the team in digs.

Sophomore Jennifer Toth lettered as a reserve in 2010 and will also look to capture a starting spot this year. A number of newcomers could also work their way into the lineup this season.

The 2011 schedule features early-season tournaments at Ohio Wesleyan and Allegheny, which will help prepare the Wolverines for the rugged conference slate.

Grove City opens league play September 10 with a tri-match at Geneva with Waynesburg. The Wolverines begin the home schedule September 14 against conference foe Bethany.

The Wolverines conclude the regular season October 29 at Saint Vincent.

The conference tournament will begin the following week with the winner earning a berth in the NCAA Championship Tournament.



SAINT VINCENT BEARCATS (24-12 Overall, 10-6 PAC in 2010)
In the midst of its most successful run in program history, hopes are high for the Saint Vincent volleyball team as it enters the 2011 season.
Last season, the Bearcats finished 24-12, including 10-6 in PAC play, advancing to the semifinals of the PAC Championship Tournament as well as the championship match of the ECAC South Tournament. It marked the sixth straight 20-plus win season for the Bearcats, as the team is 153-49 dating back to the 2005 campaign.
Last season marked the first in which the Bearcats were official NCAA Division-III members, and fully eligible for the postseason, and head coach Sue Hozak was pleased of her team's showing.
"It was exciting to finally be fully eligible, and able to compete for the PAC and NCAA tournaments," said the only coach in the team's 26th year history, who brings a 510-347 career record into the 2011 campaign. "Being able to do so can only continue to strengthen the volleyball tradition at Saint Vincent."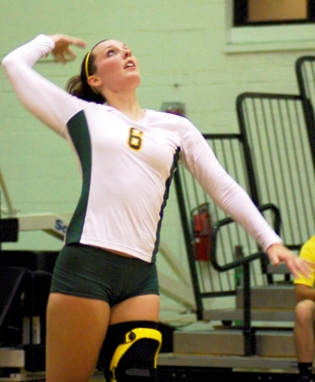 Despite losing a pair of three-year starters – right side/outside hitter Diana Petrovich and middle hitter Dawn Timko – the Bearcats return a wealth of experience across the board, another fact that has Hozak optimistic as the team embarks on a new season.
"We're really looking forward to working with this team," she said. "There is a lot of experience coming back, and hopefully that should help us stay as successful as we've been the last few years."
The team looks to be led by the senior duo of outside hitters Natalie Hozak (right) and Taylor Guido, team co-captains and three-year starters.
Natalie Hozak, in her fifth year at Saint Vincent after missing the entire '08 campaign with an injury, has evolved into one of the top two-way players in the PAC. The 5-10 daughter of the Bearcats' coach, Natalie was a First Team All-PAC selection a season ago, placing first in the league in aces (50), fourth in digs per set (5.6), and 13th in kills per set (2.6). Her total of 667 digs was a program record, as she recorded 10 or more in 32 different matches, including 13 matches with over 20 digs. She also tallied 11 double-digit kill performances.
Guido has started every match in each of the past three seasons, and, like Hozak, has been solid on both sides of the ball. A 2009 PAC Coaches Honors selection, the 5-8 Guido averaged 2.2 kills and 2.6 digs per set in 2010, while totaling 48 blocks. She totaled at least 10 kills in 15 different matches, posting over 15 twice, while she also turned in seven double-digit dig performances.
After arriving at Saint Vincent as a middle hitter, junior Devin McGrath has turned into one of the top setters in the PAC, continuing the Bearcats' strong tradition at the position. The 5-9 McGrath, who doubles as a starting forward on the Bearcats' nationally-ranked women's basketball team, was an honorable mention All-PAC selection in 2010. She started all 36 matches and tied for second in the PAC with an average of 10.18 assists per set, as she turned in over 40 helpers in nine different matches.
Another well-rounded player, McGrath's rocket serve accounted for 48 aces last season, second in the conference behind only Hozak, while she also averaged 3.4 digs, including 18 matches with 10 digs or more. She also displayed a knack for catching defenders off balance, as she totaled 145 kills, and added 44 blocks.
A trio of players is battling to replace the departed Petrovich, in senior Ashlee Cowles and sophomores Ariel Rocco and Kayla Stadleman. The 6-1 Cowles has seen limited playing time throughout her first three seasons, but when called upon, she was shown to be up to the task, including a six-block performance in the 2009 ECAC playoffs against DeSales, and a six-kill showing in the same postseason against Penn State-Behrend.
Stadleman saw limited playing time as a freshman, but has impressed during the early days of camp, and looks to see her role expand. Rocco, a teammate of McGrath's on the Bearcat basketball team, enters her first year on the volleyball team, but put together an impressive high school career at Northern Cambria, earning three All-District selections and winning the 2009 PIAA state championship.
At the middle hitter spot, sophomores Brittany Hauser and Emily Rosati return after both seeing significant time as freshmen. Hauser tallied 49 kills and 53 blocks in 18 matches, while Rosati had 29 kills and 31 blocks in 30 sets.
"They both saw a lot of time as freshman," Hozak said, "and made tremendous strides as the year went on. I'm confident that both will be able to step into a bigger role and really be significant parts of the team, both offensively and defensively."
Two other sophomores who were thrust into starting roles during their inaugural season in the green and gold return at defensive specialist, in Emily Lucas and Kaley Burkardt. Lucas started all 36 matches in 2010, and hardly looked like a freshman, as she posted 10 or more digs in 30 matches, averaging 3.7 per set, good for 11th in the conference.
The athletic Burkardt came to Saint Vincent as an outside hitter, but barely missed a stride during her first season on defense, as she appeared in all but four sets on the season and averaged 2.2 digs. Also a lacrosse star at Saint Vincent, Burkardt possesses arguably one of the hardest serves in the PAC, as she totaled 36 aces as a freshman.
Two other sophomores, Adrianna Zoscak and Savannah Arbuckle, also return to the defensive specialist spot and look for increased roles in their second season on the team. Zoscak appeared in all 36 matches a year ago, and was used primarily on the serve, posting 18 aces. Arbuckle, who won a state championship in high school at West Shamokin, appeared in six matches, and has continued to improve throughout the preseason. Another sophomore, Rachel Svovanec, has also looked good in the early going, and should push for time at one of the Bearcats' deepest positions.
In addition to the solid batch of returnees, Hozak's team also welcomes a trio of freshmen, in middle hitter Katie Kohler and setters Anna Christy and Kate McCauley. While the class may be small in number, Hozak feels it could be one of her team's most talented in recent seasons.
"We're excited about what each and every one of the freshmen brings to the table," said the coach. "The freshmen coming in are not green. They all have a tremendous volleyball sense, and it's been hard to tell early on that they've only been with us for a few days, and not a season or two."
The 6-1 Kohler is expected to compete right away with Hauser and Roasti for time in the middle, while Christy and McCauley will provide depth at setter behind McGrath, after "being very good high school setters at a very high level," Hozak said.
As the Bearcats prepare for the new season, Hozak's goals for her squad are simple.
"The team's expectation is to follow in the footsteps of the teams before them and continue this run we've had over the past few years," she said. "As always, we want to qualify for the PAC playoffs, with the aspirations of going even further."

The Bearcats begin the season on Sept. 2nd, hosting crosstown rival Pitt-Greensburg at 1pm in the opening match of the annual two-day, seven-team Saint Vincent Bearcat Challenge tournament.

THIEL TOMCATS (22-12 Overall, 13-3 PAC in 2010)
The 2011 version of the Tomcat women's volleyball team could see a first under the direction of sixth-year head coach Steve Brewer. For the first time under Brewer the team could take the floor without a single freshman in the starting line-up. With five starters returning to the floor, Thiel will look to great depth and experience to help them take the Presidents' Athletic Conference (PAC) crown.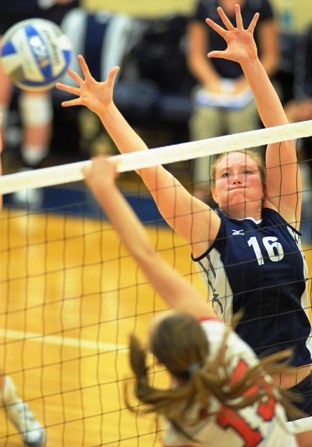 "We will be a better balanced team this coming season than we have been in years past," said Brewer, who has led the women's volleyball program to back-to-back 20-plus win seasons and two consecutive appearances in conference title games. "We have four athletes that have started multiple years in a row."

The four players that he is referring to are Megan Kay, who is entering into her fourth-straight year as a starter, as well as Kelly Barzak (left), Alyssa Chine, and Megg Andrews, who are all going into their junior campaigns.

With all of the experience returning to the floor, Brewer is confident that the leadership is as strong as it has ever been in his six years as head coach.

"(Megan) Kay has always been a strong leader for us. Although she isn't vocal, she goes out and plays her game to the best of her ability and leads by example both on and off the court. As for the other starters returning, we are confident that any one of them can step up and be a leader for us on any given night, and that is a great asset to have when you are pursuing a conference championship."

The one hole that the Tomcats have is the one left by the graduation of Madison Chylik who was a four-year starter at the setter position. However, Brewer feels that junior Chelsea Meister will be able to capably fill that spot.

"(Chelsea) Meister is ready to be a leader for this team, and during spring ball she proved that she could step up and fill the hole left by Madison (Chylik) without us missing a beat. I think with her in the setter position we have the opportunity to be just as strong, if not stronger, than we were in the past two seasons."

Along with the strength of the returning starters, the Tomcats added nine freshmen to the roster.

"We have a strong class coming in for the 2011 season," said Brewer. "I think that some of these freshmen are going to push the upperclassmen to get better each day and some of them could even step into some key roles as the season progresses."

The Tomcats were able to get their first taste of game action early on in the summer of 2011 as they traveled on a 10-day trip to Spain.

"The trip to Spain was a great experience for our team. They not only got to experience a different culture, but they were also able to play some great competition before the start of the season, and I believe we are a better team for it."

Brewer's team will kick off the regular season with tournaments at Ohio Northern University and Case Western Reserve University before starting PAC play in a tri-match with Saint Vincent and Bethany.

"Like last season, we have some tough competition this season but we are confident that with the experience level that we have, we are going to be a very competitive team this year."

After losing in the conference championship in the past two seasons, Brewer and the Tomcats are confident that they can get over the hump this season and bring the PAC championship to Thiel.

"All of our returning players are hungry to win the conference title, after having been so close in 2009 and then again in 2010. With hard work we think that we have a legitimate shot at the PAC crown, and our players have been working hard all off season, and we are ready for the hard work to pay off."

THOMAS MORE SAINTS (28-8 Overall, 16-0 PAC in 2010)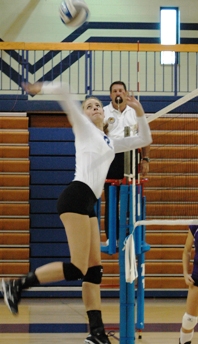 Thomas More College fourth-year head volleyball coach John Spinney looks to guide the Saints to their third straight Presidents' Athletic Conference (PAC) regular season and tournament title to the program's 10th NCAA Division III Tournament appearance. He will have eight returners (two seniors, two juniors and four sophomores) to help him bring along 10 newcomers to the team.
Two of the Saints are All-PAC selections as senior setter Michelle Clifford was named first team in 2008 and second team in 2010 and senior middle blocker Katie Sullivan (right) was named second team in 2008 and first team in 2009 and 2010. Last season, Clifford appeared in 33 matches and had 710 set assists, 38 service aces, 201 digs, while she had a .262 hitting percentage. Sullivan had a .332 hitting percentage with 284 kills, 31 service aces and 60 total blocks.
Also returning for the Saints are junior setter Tori Verville, junior outside hitter Hanna Lietz, sophomore setter Annie Robben, sophomore outside hitter Karlie Smith, sophomore setter Emily Benkovich and sophomore defensive specialist Brittany Rohrkasse. Verville played in 36 matches and had 657 assists, 23 service aces and 209 digs, while Lietz appeared in only four matches and had a hitting percentage of .222. Robben appeared in 10 matches and had 46 assists and 14 digs, Smith played in only 10 matches and had four kills, Benkovich was on the court in 12 matches and had 23 assists and 33 digs, while Rohrkasse had 266 digs and 15 service aces in 23 matches played.
The Saints open the 2011 season on September 2-3 when they host the Thomas More Invitational. The Saints will play Transylvania University and the defending national champion Calvin College on the opening day of the tournament.



WASHINGTON & JEFFERSON PRESIDENTS (8-18 Overall, 6-10 PAC in 2010)
A youth-filled W&J volleyball team is looking to quickly build a cohesive group as the Presidents enter the 2011 season. The Presidents will field one of the youngest teams in program history with a roster that includes two players with more than one season of college experience. However, this group is full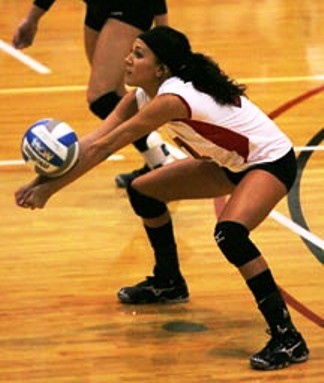 of talented players with six new freshmen joining the team this fall as well as a large sophomore contingent.
Tessa Slifka and Alyssa Vukson (left) are the lone seniors who ninth-year head coach Fred Wallace will look to for leadership. Slifka has played nearly every position during her first three seasons. The versatile senior tallied 174 digs (2.26/set), good for second on the team. Vukson is a defensive specialist and a top server after finishing sixth in the Presidents' Athletic Conference with 23 service aces.
Sophomore Tori Clark will lead the Presidents' offensive assault. She placed 15th in the PAC with 2.47 kills per game as a freshman. Joining Clark on the front line are fellow sophomores Samantha Chorney and Megan Lewandowski. Lewandowski, also a member of the W&J softball squad, averaged 0.60 blocks per game as the team's middle hitter, placing her 12th in the PAC. Chorney, an outside hitter, has received plenty of experience, as she notched 45 blocks while playing nearly every set a year ago. Sophomore Madison Rotto will also get a chance to make her mark as a right-side hitter.
Melody McNamara will likely get the nod as starting setter, after seeing time as a reserve a season ago. The sophomore finished second with 172 assists (7.48/set).
W&J, which finished with a sub-.500 record for the first time in six seasons, will lean heavily on some young players to get back to its winning ways. The team certainly has potential to surprise opponents with many of the underclassmen already having plenty of playing experience.
The Presidents will hit the road to open the season when they face Carlow University on September 1st at 7:00pm. W&J has won six PAC volleyball titles since 1994 and will be searching for its first since 2005 this fall.


WAYNESBURG YELLOW JACKETS (8-21 Overall, 2-14 PAC in 2010)
The 2010 season saw four new players see extended court time and starts as the Waynesburg University volleyball team produced an 8-21 overall record and a 2-14 mark in Presidents' Athletic Conference (PAC) record. While her team's total win count improved by two as compared to the 2009 season, seventh-year head coach Stephanie Benkowski believes the 2011 squad can make a bigger leap forward this fall.
"I hope to take make it to playoffs and start to show teams that we can contend for a championship," Benkowski said. "We have learned from mistakes and moved forward. We have grown as a group and matured a lot since last year. The players have a lot of heart and a lot of fight in them. They will not go down without a fight."
With the vast majority of last year's starters back, this year's Waynesburg team is long on experience and is looking forward to returning to the PAC postseason.
MIDDLE HITTER
Though the Yellow Jackets lost two-year defensive standout Shannon Langworthy in the offseason, the team returns their top two middle hitters in terms of sets played in second-year players Mabel Culp and Lauren Wagner.
As a smaller middle (5-7), Wagner used her athleticism to lead all three previously mentioned players in kills (122) while appearing in 82 sets. Culp was the team's most efficient hitter (.184) during her 85 sets played. Both Culp and Wagner bring strong defensive presences with them to the court after finishing the season one-two in total blocks with 39 and 33, respectively.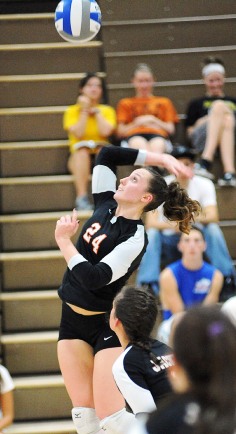 OUTSIDE HITTER
Senior Jordan Barton (right) returns to the Jackets after leading her team in multiple offensive categories. She was far-and-away Waynesburg's leader in kills (229) and kills per set (2.44). She also paced the team in aces (25). However, Barton was far from just an attacker. She finished the season second on the team in digs (206) and her produced four double-double efforts in terms of kills and digs.
Another senior outside hitter, Carly Schubert, will be looked upon to help out with the attack after accumulating 101 kills last season. She will be pushed for time on the court by incoming freshman Melissa Hess, who was a standout at Thomas Jefferson High School, which is located in the Pittsburgh area.
RIGHT SIDEHITTER
Sophomore Sam Styche saw time at the right side last year and should be in competition for the starting job this season. She could see competition from other veterans on the team and Benkowski is also high on incoming freshman Tori Kramer, who hails from South Riding, Va. Kramer not only saw success as a high school senior, but was also a productive club player.
SETTER
Along with outside hitter, setter looks to by the deepest and most talented position for the Yellow Jackets. Both junior Carly Smithyman and sophomore Natalie Ranallo are back after splitting time on the court in 2010.
The pair combined for 726 assists on the season, with Ranallo holding a slight edge in the individual totals (368 to 358). While neither player ranked in the PAC top 10 for the statistic, that total was the sixth highest in the conference.
LIBERO/DEFENSIVE SPECIALISTS
Junior Presley Cupp returns to this year's team and will be looked upon to handle the bulk of the defensive duties. Cupp led the Jackets with 238 digs in 2010 and leads all returners with a 2.90 digs per set average.
DIG PINK
As has become the team's tradition recent seasons, the Waynesburg volleyball team will again use one of its matches to raise money for breast cancer research and prevention. During their Oct. 11 home match against Saint Vincent, the Yellow Jackets will take part in the national Dig Pink campaign, which benefits the Side-Out Foundation, by selling t-shirts and bracelets, while also collecting donations for the cause.
The Jackets will also be fund raising around Waynesburg to further benefit the cause.
PAC
Just like last season when Saint Vincent joined the PAC schedule, Waynesburg will welcome another team to its conference schedule in 2011 as Geneva becomes a full member of the conference following the recent completion of its provisional period in Division III. Last year, the Golden Tornadoes put together a 26-5 overall record and will make an already competitive conference, even more so.
"The PAC is so much stronger than just six years ago," Benkowski said. "Six years ago, there was a top and a bottom and now every school has gotten stronger, bigger and faster. Every school is contending for that championship. You don't walk into a gym and think "This team is easy," because then you are going to lose."
Waynesburg opens the 2011 campaign on Sept. 1, when they travel to McKeesport to take on Penn State Greater Allegheny.
WESTMINSTER TITANS (18-14 Overall, 12-4 PAC in 2010)

The career progression of the four seniors on the Westminster College volleyball team may seem unconventional. As juniors they had to perform a year ahead of themselves because there were no seniors on the team, but the results seemed a year behind after the Titans placed third in the Presidents' Athletic Conference (PAC) for a consecutive season.

Now, as seniors, they want the same results from when they were freshmen, as Westminster seeks its first PAC title since winning the league twice in 2007 and 2008.

"The seniors came in on top and they want to go out on top," said 19th-year head coach Tammy Swearingen. "They are a lot more committed. They are not happy with the two third-place finishes."



Despite not having any seniors on the roster, the Titans posted an 18-14 record in 2010 and a 12-4 mark for third place in the PAC.

Because of the team's experience, with six of seven starters returning, the standards are higher in 2011.

"Our expectations have risen. This could be one of the top teams we've had in the last five years," Swearingen said, while also acknowledging that the 2008 team's success could be difficult to surpass.

Three of the team's seniors earned first-team all-PAC honors last year, including senior setter Jessie Szakacs (left), a two-time first-teamer. Szakacs ranked fourth in the PAC with 9.54 assists per set. She enters the season ranked fourth in team history with 2,393 career assists. Szakacs handed out 763 assists in 26 matches last year, but she battled a back injury.

Senior middle blocker Lindsay Speidel, who has had her share of knee injuries during her career, also returns after earning first-team all-PAC honors last year.

Speidel led the Titans and ranked second in the PAC with 3.58 kills per set (304 in 85 sets and 25 matches). She also ranked third in the PAC with a .379 hitting percentage and fourth in blocks with 0.95 per set (81). Speidel posted 10 or more kills in 16 of her 25 matches including a career-high 24 kills.

"Lindsay has a commanding presence at the net," Swearingen said. "We are a different team when she's not in there."

Senior outside hitter Tara Ott is also back after she earned second-team all-PAC laurels while ranking second on the team with 2.67 kills per set (302 in 113 sets and 32 matches) and second with 3.14 digs (355).

The fourth senior solidifies the defense in senior Tamber Schaef after she logged 2.91 digs per set last year.

Joining Schaef on the back row will be junior libero Tara Incerpi a two-year starter who led the team with 4.41 digs and 31 aces last year, and junior Brittany Gamble who was a first-year starter in 2010. Incerpi earned an honorable mention for the all-PAC team in 2010.


###