<![if !vml]>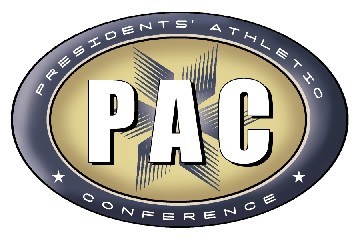 <![endif]>

2011-12 PAC Women's Basketball Preview

BETHANY BISON (13-13 Overall, 8-8 PAC in 2010-11)

With four starters and five others back who played in 21 or more games last season, the Bethany College women's basketball team has reason to believe the 2011-12 season will be one of the most successful in recent history.

Last year, the Bison finished with a 13-13 overall record and an 8-8 mark in the league to place fourth in the regular season standings. Although the campaign ended with a loss in the opening round of the PAC Tournament to Grove City, the hopes are high this year due to BC returning six of their top seven scorers and an offseason filled with hard work preparing for the new season.

"Our returners came back very solid and all of them are better than last year," said Bethany head coach Rebecca Upton, who has led the program to 77 wins in seven seasons. "We also have a couple back who missed time because of injury last year. The bar is set higher than last year as far as what they expect from themselves and their teammates."

Running the point guard position will be a pair of sophomores, one who was with the team last year and another who is in her first season in Green and White. The BC veteran is Skylar Williams, who played in all 26 games and averaged 3.0 points and 1.6 assists while growing into the position. The new addition is Ty Harris, who started five of the seven games she played at Muskingum last year before transferring to Bethany.

"Skylar is a phenomenal defender and is truly instinctive," said Upton. "She was a late slide into that position last year and is developing every day as a point guard offensively. She is starting to own the spot and we are expecting more and more from her. We recruited Ty out of high school and are really excited to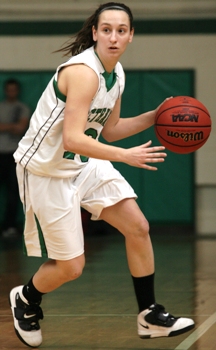 have her with the program. She is different than Skylar in a good way in that she is a true point guard in the offensive sense. She controls the ball very well and stays poised regardless of the situation."

The shooting guard position will offer Upton a plethora of options, led by senior Anne Wilson (right). After spending three years at the point guard position, she slides to her natural position. As a junior, Wilson led the team in scoring (10.1), assists (3.2) and was second with 35 steals.

Also at the spot is senior Audra Droginske, who turned in 6.7 points and 2.3 assists last year, senior Kelly Zogran, who fired in 4.8 points and was second on the team with 26 three-pointers, sophomore Rebecca Braithwaite, who played in 13 games as a freshman and freshman R.E.L Neal.

"We finally get to play Anne at her natural position as a senior," said Upton. "She's always had a scorer's mentality. Anne can get to the hoop, has a nasty pull-up jumper and can shoot it from deep. She is vocal and intense on the floor and a natural leader. Audra is one of the best on-the-ball defenders in the PAC. She is a very unselfish offensive player, but we are looking for her to be more involved and be consistently aggressive on the offensive end.

"Kelly also has a scorer's mentality who can really shoot the three," said Upton. "We pushed her to work on her midrange jumper, as well as expectations to be a better defender and she has done both. She is vocal, feisty and raised the bar on her own defensive game. Rebecca's basketball knowledge is second to no one on the team, which is very valuable for us. She came back faster and always knows where she needs to be. R.E.L. is very athletic and can shoot. She has potential but just has to keep working to learn our system and adjust to the college game."

The Bison expect to have a solid 1-2 punch on the wing in junior Kayla Taormina and sophomore Taylor Verrico. An Honorable Mention All-PAC selection last year, Taormina was the second-leading scorer with 9.8 points per game and also hauled down an impressive 6.0 rebounds per game. Verrico was limited due to injury last year, but is healthy this season and is anticipated to make major contributions. Sophomore transfer Shelby Persinger is trying to get healthy and attempt to find minutes as well.

"Kayla is one of the most effective all-around players," said Upton. "She is a great rebounder on both ends of the floor with a great nose for the ball on the offensive end. She is fast, crafty around the basket and a fierce competitor, so Kayla is an asset to us on every level. She works hard every day in every drill and is a natural bar raiser.

"Taylor is the most instinctive player on the team," said Upton. "She is coming off a serious injury, but is healthy now and came back stronger and faster. She's an unbelievable passer, deceptively quick and a good defender. Shelby is currently injured and we'll see what she can do when she's healthy and learns the system."

At the four spot, BC will have a versatile group of players to rotate on the floor. Senior Renee Shepherd completed her first full injury-free season with 7.0 points and 4.7 rebounds per game. Junior Carly Garneau averaged 2.9 points last season and is hoping a strong offseason will propel her into a big year. Freshmen Ashley Kimble and Monica Westerheide have shown potential in their quest for minutes.

"Renee, who could play the three as well, can score from anywhere on the floor," said Upton. "She has proven to be a great rebounder and has a great nose for the ball. Her intensity is her biggest asset and the type of example she sets is what this team needs. Carly spent the summer working on her footwork, which is extremely evident. She is more of a perimeter offensive player and post defender, which makes her an interesting match-up for other teams. We are hoping this is her breakout year.

"Ashley has a ton of potential," said Upton. "She is a very skilled offensive player. She has the height and skills to play the four, but just needs to get stronger so she can make the transition to the more physical college game. Monica is a bottomless pit of potential. She's a six-footer who is extremely agile, has the potential to be a lockdown post defender and has the ability to add to her game offensively with continued work."

Bethany will have the luxury of two six-footers at the center position, starting with senior Katelynn Hackathorn. She shot 49 percent from the floor and averaged 8.9 points and 6.2 boards to earn Honorable Mention All-PAC honors. Sophomore Emilee Madison is a 6-2 post who sat out all of last year after suffering an injury in a preseason scrimmage, but is healthy again and could be a big force underneath.

"Katelynn is still one of the most skilled post players I have been around," said Upton. "She can shoot threes, is surprisingly agile defensively and is a vocal leader in the post. She's also become a vocal leader off the court. The sky is the limit for Katelynn Hackathorn this year. Emilee is coming back from a major injury and this year is all about getting stronger. She's like a freshman all over again, but she alters things defensively due to her size and is a huge target on the offensive end. We're excited to see what Emilee can do this year."

Keys for the Bison to reach their goals of surpassing last year's win total and earning one of the top slots in the league include stepping up and being consistent in all levels of the game. Upton said the senior class, which has been through a lot during their tenures, will use that experience to try to lift this year's team.

"We are fighting for one of the top spots in the conference," said Upton. "We were fourth last year, so that has to be one of the goals. Things aren't as black and white in the conference and they are a little more open this year. In general, our goal is also to raise our own bar. That includes stepping up our defensive ability, scoring and going deeper into our roster.

"We also want to play with more consistently this year," said Upton. "We've already talked about it a lot as a team so far. It's not just playing consistent game-to-game but half-to-half and minute-to-minute. Like all teams, we want to maintain more highs and limit the dips during the season.

"We'd like to have a big year for the seniors," said Upton. "They have played through a lot of situations. They've been a part of senior-oriented teams, seven-player teams and very young teams. They've seen a little bit of everything and using the leadership and experience they provide will be critical for us this season."


CHATHAM COUGARS (10-16 Overall, 5-11 PAC in 2010-11)

The 2011-2012 Chatham University women's basketball team prepares to begin their winter season under the direction of new head coach Sandra
Rectenwald. Coach Rectenwald plans to improve the Cougars record of 10-15 overall and 5-11 in the PAC.
Graduating key starters, the Cougars will turn to senior and tri-sport athlete Lizz King (left) who contributed strongly from the bench last year. As a guard, King averaged 6.2 points per a game and led the team in three point field goals with 44 recorded and 34% shooting percentage.
King will be joined by returners, red-shirted junior Marguerite Sargent. Sargent, a returning starter and guard, averaged 3.1 points a game and led the team in steals with 45.
Junior and dual-sport athlete Julianne Speeney will serve as a returning guard after a year off. Sophomore Elizabeth Lewis comes back to the squad as point guard. Sophomore and forward Carly Zelanak is expected to contribute to the offense this year after finishing last season with a 39% field goal shooting percentage.
Chatham welcomes five newcomers to the team this year – point guard Kayla Saylor, guard Becky Rowe, forward Andie Gaetano, guard/forward Erin Smith and forward Ashleigh Fox.
Last year the Cougars ended their season in the first round of play offs against St. Vincent College. The Cougars also housed Kayla Hilko, the first athlete to surpass 1000 career points in the program's history. Hilko was also named Honorable Mention for All-Conference Team.
The season opener for Chatham is on Tuesday, November 15th at Penn State Altoona with a 6:00 p.m. tip off. The Cougars will also host the 5th annual Purple Reign Tip-off Tournament on Friday, November 18th. Chatham is scheduled to take on Franciscan University at 6:00 p.m. followed by Carlow University vs. Penn State Beaver at 8:00 p.m. The consolation game will be played on Saturday, November 19th at 3:00 p.m. followed by the championship game with a 5:00 p.m. tip-off.


GENEVA GOLDEN TORNADOES (9-16 Overall in 2010-11)
There is very much new when it comes to the Geneva College women's basketball program. The Golden Tornadoes will be competing in the Presidents' Athletic Conference for the first time as an official member in 2011-12 after having to wait four years through their NCAA Division III provisional period. Leading Geneva into its newest challenge will be a new face on the bench but not a new face to the Geneva program. Lori Wynn takes over the reins of a Geneva program that has suffered three consecutive losing seasons for the first time since 1991. Wynn arrives on College Hill having spent the last eight years coaching at Malone University.
The task that lies ahead for Wynn will not be an easy one as Geneva has lost several key members of its line-up from a year ago. Only Beth DeLuca returns to the fold as one of Geneva's top five scorers from a year ago. Samantha Fisher, who will join the team in December, and Kristland McCracken, who returns following her volleyball season, each played key roles last year and will most likely see even more significant minutes upon their return. Senior Rachel Rouan and junior Chelsea D'Urso will also be among those players that Coach Wynn will be looking to increase production from years past. Outside of the five returning players, the Golden Tornadoes will look to a handful of newcomers to make immediate contributions. "We have faced some adversity within our program," says Wynn. "We are not about making excuses for who is here and who isn't. Our goal is to improve individually and as a team everyday and let the chips fall where they may."
The Golden Tornadoes closed out the 2010-11 season by dropping ten of its final 12 games. In fact, Geneva won just three times after the New Year. Certainly one of the goals for Geneva and its new head coach is to maintain some momentum throughout the entire season. "The college basketball season is a grind," says Wynn. "We have to find a way to maintain our hard work and commitment for four months if we hope to succeed in this conference. This will not be an easy challenge but I have faith in the ladies within this program that they will work hard on and off the court."
Geneva finished the season with a 9-16 overall record a year ago, but it won just four times against PAC competition. With all of those conference games counting this season, it will most definitely put more emphasis on some of the rivalries that Geneva College has built throughout the years. "It is exciting for me to come back to Geneva after playing here to start my career," says Wynn. "Geneva has built some great rivalries in all of our programs with several of these PAC schools. My hope is that our ladies will get a better understanding of what it means to play a difficult conference schedule against teams that want to get after it every night. We have to be able to match that intensity."
DeLuca will be Geneva's only returning starter from last year. She poses a serious long range threat as one of the best shooter's in the conference. Last year, she knocked down 39 three-point field goals to lead the Golden Tornadoes while posting 10.4 points per game. Fisher should provide some stability in the post along with Rouan. The two combined for seven points and seven rebounds per game last year but each will have to make a bigger offensive contribution. "We are expecting several of our players to lift their games to another level," says Wynn. "Our post position will be a key to our success this year. We have very little college experience down there and someone will have to step up in a big way."
On the perimeter, Geneva will look to D'Urso to compliment DeLuca's offensive production. Freshman Chelsea Kauffman will also be a fresh face that may bring the Golden Tornadoes a spark in her first year of action. "We will be looking for some of our newcomers to give us immediate production," says Wynn. "It's always a little scary to rely on young players but at some point we have to find out exactly what we have and who will be able to produce on both ends of the floor."
Losing senior leadership with the likes of Christine Carugati and Valerie Hamilton to graduation, Geneva will seek leadership from other sources. This year's senior tandem of DeLuca and Rouan will hopefully be able to provide some of what was lost. "Leadership and team unity is a key component to any successful program," says Wynn. "I certainly don't take those intangibles lightly and will be looking for all of our players to provide those pieces of the puzzle throughout the season. It doesn't really matter to me from what source we get leadership, just as long as we get it."
Wynn was an impact freshman herself when she arrived on Geneva's campus in 1988. The Golden Tornadoes did not enjoy much success the one year she spent on College Hill but that experience certainly taught Geneva's new boss a thing or two about perseverance. "There are many variables that make a team successful," says Wynn. "Winning basketball games is an important ingredient but I measure success in many different ways and I feel as though we can begin to build this program in the right direction. We want to win games as much as any team in the conference and we will work extremely hard to reach those goals and to reach them by doing things the right way on and off the court."
Geneva College's women's basketball program has suffered through three straight losing seasons. As a new chapter is about to be written, the Golden Tornadoes and their new head coach are ready to begin putting the building blocks together to get the train back on the tracks with the 2011-12 season serving as the first brick.


GROVE CITY WOLVERINES (14-13 Overall, 8-8 PAC in 2010-11)
Youth will be the watchword for the 2011-12 Grove City College women's basketball team as the Wolverines feature several new faces this year.
Grove City returns six letterwinners from last year's 14-13 effort under then-rookie head coach Michelle Bruns. This year, the Wolverines will look to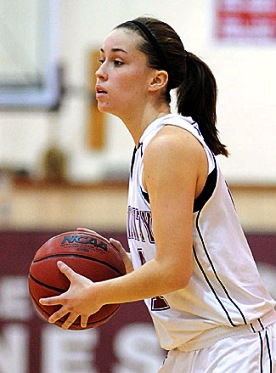 combine that nucleus with a cavalcade of newcomers in the team's pursuit of the Presidents' Athletic Conference title.
Grove City has just two seniors on its roster this year in 5-foot-5 guard Megan Gebrosky (left) and 5-9 forward Jayme Caldwell.
Gebrosky finished third on the team in scoring last year, averaging 8.3 points per game. Her 93 assists and 32 steals led Grove City. She is a two-year starter and three-year letterwinner.
Caldwell returns after missing the 2010-11 season. She played in 51 games over her first two season and brings rebounding and defense to the Wolverines' youthful frontcourt.
Juniors Leah Gibson and Alicia Maust both return after each playing in all 27 games as sophomores. Gibson started 26 games and finished second on the team in scoring, averaging 12.3 points per game. She led the team with 34 three-pointers and is averaging 10.5 points for her career.
The 5-7 Maust emerged as one of Grove City's top reserves in 2010-11 and will battle for a starting spot this year.
Three sophomores will look to earn starting spots this year after playing extensively as rookies: 5-9 forward Sarah Cessar, 5-11 forward Hannah Jo Coneby and 5-10 guard/forward Annie Wells.
Cessar played in 22 games last year while Coneby tied for second on the team with 20 blocks in her 27 appearances. Wells saw time in 20 games as a reserve.
A number of newcomers are also in the mix this year, both up front and in the backcourt.
SAINT VINCENT LADY BEARCATS (24-5 Overall, 14-2 in 2010-11)
Following a nationally ranked season, the Saint Vincent women's basketball team is ready for the start of the 2011-2012 season. Returning all but one starter and ranked 24th in the D3hoops.com Preseason Top 25 Poll, the Bearcats are poised to build upon their recent successes.
Leading the way this season will be first-year head coach Jimmy Petruska, marking only the second time in program history the Bearcats open the season under a new coach. Petruska took over the position in the interim mid-way through last season after the unexpected and tragic passing of former head coach Kristen Zawacki.
Petruska expects to have another strong campaign this season. Senior Brittany Sedlock, the reigning PAC Player of the Year and a D3hoops.com Second-Team Preseason All-American selection, leads an accomplished group of returning players. Saint Vincent came up one win short of the PAC Tournament Championship last season and qualified for the NCAA National Tournament. The Bearcats were downed by Greensboro (N.C.), 83-66, in the opening round of the tournament, finishing with a record of 24-5.
Joining Sedlock as returning starters are classmate Emily Fenton and juniors Melissa Mansur and Devin McGrath, a Second-Team All-PAC performer last season. Juniors Jordan Clinton and Savannah Hardy are accompanied by sophomore Ariel Rocco as veterans who contributed valuable minutes to last year's successful season. Kendra Burchfield also returns to the team this season after a one-year hiatus. Petruska knows the experiences of this group of veterans will play a role in the success of this year's team.
"Most of these girls have been playing with each other for two or three years now," Petruska said. "They've been through a lot together and they know what it takes to be a good team."
The leadership of the veterans will be very helpful for the eight incoming freshmen. Hollidaysburg freshman Elle Collins will be looked upon to contribute early at the point guard position for the Bearcats. "She is very talented, very strong and very smart," Petruska said. "When you incorporate that with Sedlock, McGrath, Fenton and Mansur, a scoring option at the point guard position is lethal."
Freshman forward Allyson VanGundy is coming off of a knee injury during her senior year of high school but Petruska believes she will be a contributor sooner rather than later. "She's not holding anything back," he said. "She is really strong and she can shoot the ball very well. We are expecting to see some good things from her."
Jessica Hentrel, Alexa Lee, Emily Satkovich, Ally Schmidt , Kelley Sedlock and Jessica Welch round out a freshman class that is expected to provide depth to an already talented squad.
The Bearcats open the season at the Hampton Inn Tip-Off Classic hosted by Messiah College on Nov. 18 and 19 against Farmingdale State University. Petruska and the rest of the Bearcats are embracing the opportunity.
"Messiah College has a great fan base. It's going to be a great atmosphere," he said. "The playoff atmosphere and hostility of playing on the road will be very beneficial for the freshmen. That is what we, as a coaching staff, are trying to get out of this trip."
Overall, Petruska is excited about the potential for his team this season. "We have the product on the court. They are fun to watch and they are fun to coach."
The first home game is November, 22 at 5:30 P.M. against the University of Pitt-Bradford. Saint Vincent opens PAC play on Nov. 30, traveling to Westminster College.

THIEL TOMCATS (5-21 Overall, 3-13 PAC in 2010-11)
After a 2010-2011 campaign that saw Thiel's women's basketball team struggle to a 5-21 mark, the program looks to rebound in a big way in 2011-2012. There is a sense of optimism heading into the season, and much of that centers on the return of seniors Ashley Davis and Rianne Thornton.

Much is to be expected of the talented pair not only for their performances on the court, but also for their leadership and the enthusiasm they bring to the program each day. Thiel returns eight players from last year's squad and has welcomed an additional seven newcomers to the program.

So what does that all add up to? Third-year head coach Angie Zeuch believes it to be a terrific blend of talent, experience, and potential. With the return of Davis and Thornton, Zeuch hopes this combination will help the Tomcats battle in the always competitive Presidents' Athletic Conference (PAC).

Last season Davis appeared in 17 games, making starts in 16 of those. Ashley has played in 66 games throughout her career and has been a starter in 64 of them. Last season she finished third on the team in points scored (11.2ppg) and second in rebounds (8.0rpg). Thornton led the Tomcats in both assists (74) and steals (75) and was second on the team in three-point percentage (.400). She averaged 6.2ppg and 4.0rpg during the 2010-2011 season. Rianne has appeared in 68 games and has earned starts in 45.

"Ashley (Davis) and Rianne (Thornton) have a sense of urgency going into this season and have made that known since last spring. As seniors and starters for the past three years, their leadership on and off the court will again be crucial for a young team," said Zeuch.

Forward Kelly Barzak is also expected to return and to set a tone for the Tomcats. The 6-1 junior is coming off an excellent sophomore campaign in which she finished third among conference counterparts in field goal percentage (.490), fourth in rebounding (7.9rpg), and ninth in scoring (12.0ppg). Barzak concluded the season leading the PAC in blocked shots per game (2.86bpg).

Barzak also broke the school record for career blocks (128) last season, surpassing Thiel College Athletic Hall of Fame member Cindy Bynum's 120, set between 1984-1988. For her efforts she was named an honorable mention on last season's all-PAC squad.

Another returning veteran expected to lift the fortunes of the Tomcats is junior Kelly Muffley. Muffley led the team in scoring last season (11.6ppg), finished third in rebounding (4.4rpg), and was tops in three-point field goal makes (37) while ranking third in the PAC in three-point field goal percentage (.398). Muffley also recorded a double-double (28 points, 11 rebounds) against Saint Vincent College (1/22/11) and knocked down three game-winning shots over the course of the season.

"Kelly (Barzak) and Kelly (Muffley) are two players that a coach wants to have on the floor. We will need not only their offensive contribution but also their poise," said Zeuch.

News faces to the Tomcat squad are junior Julia Monteleone and freshmen Cimone Reid and Lexi Coleman. Monteleone transferred to Thiel from Loraine County Community College where she was selected as an All-Ohio Community College Athletic Conference honorable mention as a freshman. Reid, selected as a Division III Associated Press (AP) All-District Special Mention in Ohio's Northwest district, tallied 104 points as a senior (11.6ppg) and averaged 4.4 rebounds and 2.2 steals per game. Coleman was named to the Western Pennsylvania Interscholastic Athletic League (WPIAL) All-Section team as a senior, receiving the most votes in her section from coaches of the WPIAL and city league coaches. She averaged 14.9 points per game.

This season, the Tomcats look to up their tempo and push the ball up the floor.

"We will need to learn how to use our speed to our advantage while limiting turnovers. We have, and we will continue to, put a lot of emphasis on fitness and the depth of the team should help our pace stay consistent," said Zeuch.

As the team takes to the floor for their preseason program, Zeuch is looking forward to a fun and exciting season.

"I have the pleasure of coaching a class of juniors and seniors who were freshmen and sophomore starters when I first started here. I am looking forward to seeing how this core group of players leads their team and this program to a new level. The seven newcomers this year are definitely here for a reason and are ultimately going to be a key part of our success."
THOMAS MORE SAINTS (30-1 Overall, 16-0 PAC in 2010-11)

The Thomas More College women's basketball team begins a new era this season as Jeff Hans takes over as head coach. Hans moves comes from Northern Kentucky University, where he served as the top assistant for the past three seasons.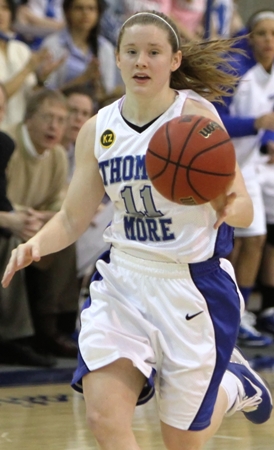 Hans begins his first season as a collegiate head coach by welcoming back 10 letterwinners, including two starters, to a program that finished 30-1overall and 16-0 in the Presidents' Athletic Conference (PAC) while earning the school's first-ever No. 1 national ranking and advancing to the "Sweet 16" of the NCAA Division III Tournament. Key returns are junior forward/center Katie Kees , junior guard Allison Long (right), junior guard Jill Brunsman, sophomore guard Katie Kitchen, sophomore forward Moriah Corey and sophomore guard Devin Beasley.
Kees returns for her second season as a starter and averaged 7.5 rebounds per game and 4.9 points per game last season, while blocking a team-high 64 shots and being named honorable mention All-PAC at the end of the season. Long was named second team All-PAC after averaging 8.9 ppg., dishing out 88 assists and stealing the ball 32 times. Brunsman gave the Saints quality minutes last season as she averaged 2.2 ppg., and had 36 assists and 22 steals. Kitchen shot 50.8 percent from the field last season and averaged 6.1 ppg., while dishing out 24 assists and recording 29 steals. Corey averaged 5.33 ppg., 5.2 rpg, last season and blocked 15 shots. Beasley came off the bench last season and averaged 3.1 ppg., and was third on the team in assists with 62.
Along with the 10 returning letterwinners, Hans and his staff have added three newcomers who will battle for playing time and build depth to compete for the team's sixth straight PAC Championship.
"We return a solid nucleus of young women from a year ago who we hope will blend well with a few incoming freshman to give us strength in our starting lineup and depth on the bench," said Hans.
"We know that the PAC is one of the toughest Division III conferences from top-to-bottom and its going to be a challenge to repeat," continued Hans. "To be consistent in the PAC, you have to have a solid starting group and depth on the bench. We are working toward those goals and looking forward to the challenge ahead in 2011-2012."
Thomas More opens its 2011-2012 campaign on Tuesday, November 22 when it travels to Danville, Kentucky to play Centre College at 7 p.m. The Saints home-opener will be on Saturday, November 26 when they host Capital University at 4 p.m. on the first day of the Julie Costello Memorial Classic.

WASHINGTON & JEFFERSON PRESIDENTS (9-17 Overall, 6-10 PAC in 2010-11)

The Washington & Jefferson College women's basketball team will rely on experienced veterans to help bring along a host of underclasswomen as it tries to rise to the top of the Presidents' Athletic Conference once again.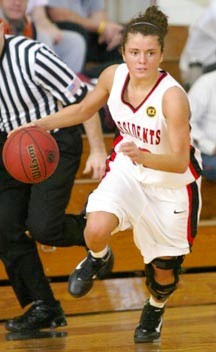 Four starters and nine letter winners return for the Presidents, who will be attempting to rebound after last season's sixth-place PAC finish (9-17 overall, 6-10 PAC) which ended the program's streak of eight consecutive 20-win seasons. A nucleus of five seniors provide eighth-year Head Coach Jina DeRubbo with a wealth of experience, a combined 342 games, as W&J tries for its first conference crown since 2006.
Solid play from the point guard position often goes a long way in determining a team's success, and that will likely be the case for W&J in 2011-12. Second Team All-PAC senior point guard Vanessa Rivera (left) provides the Presidents with a solid ball handler and is one of the top distributors in the league. Rivera led the PAC with 5.3 assists per game and finished second with a 1.60 assist to turnover ratio. She is also one of the top defensive players, as she led the Presidents with 60 steals.
Joining Rivera in the backcourt will be senior Kayla Strimel and junior Emily Abraham. Strimel, a three-year letter winner, played in all 26 games last season as a wing player. She posted 5.1 points and pulled down 3.8 rebounds per game. Abraham is the Presidents' third-leading returning scorer at 6.6 points per game and the top three-point threat. She connected on 35-98 (.357) shots beyond the arc and was named the MVP of the Marietta College Turkey Shoot last November.
W&J struggled at times to score at key stretches, shooting just 37 percent overall and averaging 57.2 points, both down about five points from the previous 23-5 season. However, DeRubbo believes that offseason hard work will pay dividends for the Presidents' scoring touch.
The Presidents' top returning scorer, senior Ashley Kirkpatrick, is back for her final season as a forward for the Red & Black. Kirkpatrick averaged 11.0 points last season, but was limited to just 18 games after missing the first eight while recovering from knee surgery. When healthy, Kirkpatrick has shown that she can be a force both offensively and defensively on the low block. The team's leading scorer in six of the final eight games, Kirkpatrick was also the top rebounder (5.2 rpg) and shot blocker (13).
Senior forward Courtney Walsh will be relied upon to increase her production in the post. Walsh appeared in all 26 games, averaging 5.7 points and 3.8 boards per game. She also snagged 19 steals and was one of the team's best free throw shooters at 70 percent (49-70).
Senior forward Blair Cotton and sophomore point guard Kara Seamon are versatile players who played significant roles last year. Cotton netted 5.3 points, while starting nine games last season. Seamon saw action in each of W&J's 26 games and shot nearly 40 percent (33-84), while contributing 27 assists.
Sophomores guards Alex Bernardi, Alexa Burzese and Taylor Gruss all have varsity experience from their rookie campaigns and will provide solid depth.
Sophomore Chelsea Apke is another intriguing option to add a scoring punch, but she is currently recovering from offseason surgery. A first-year transfer from NCAA Division I Presbyterian College, she appeared in 18 games for the Blue Hose and connected on 41 percent of her shot attempts. Apke joins a five-member freshman class which includes 6-foot-3 center Valerie Dunlap.
After a one-year hiatus, Washington & Jefferson hopes to earn a postseason bid for the seventh time in eight seasons under DeRubbo. W&J, striving to win the PAC for the 13th time in school history, begins its season on November 15th versus Case Western Reserve at the Henry Memorial Center at 7:00 pm.


WAYNESBURG YELLOW JACKETS (21-9 Overall, 10-6 PAC in 2010-11)

The Waynesburg University women's basketball team is coming off of one of its greatest seasons ever. After being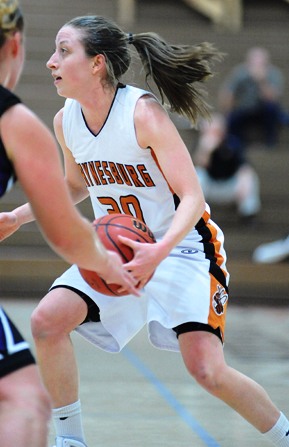 picked to finish seventh in the Presidents' Athletic Conference (PAC) preseason poll, the Yellow Jackets finished in third place at the conclusion of the regular season, won a PAC playoff game and put together a 21-9 overall record. The highlight of the season, however, came with the Jackets beating Catholic University to win the ECAC South title, the first such achievement in school history.

With four starters and several other key returners back, fourth-year head coach Sam Jones expects another successful season out of his team. This year's Jackets are led by senior point guard Hannah Hunter (right), who was named second-team All-PAC in 2011 after averaging 12.7 points, tops amongst returners, 5.0 rebounds and a team-high 4.4 assists per game.

After transferring to Waynesburg for the spring semester, current junior guard Jessi Drayer began her Yellow Jacket career as the first woman off the bench. However, Jones eventually moved her into the starting lineup and Drayer became one of the team's top players. Over 23 games, including 12 starts, the Waterford, Ohio native averaged 10.5 points, 4.3 rebounds, 2.4 assists and a team-high 2.6 steals per game.

As if Hunter and Drayer weren't enough, Waynesburg also returns junior guard Brittany Spencer to the backcourt after a breakout sophomore season that saw her earn honorable mention All-PAC laurels. The Baltimore native started all 30 games for the Jackets and averaged 10.9 points, 7.3 rebounds (tops amongst returners) and 1.7 assists per game. Spencer showed flashes of being a top-notch scorer last winter by recording the team's top single-game point output with 30 at Hiram.

While not as prolific a scorer as the other returning starters, junior Paige Pearce, who started all 29 games in which she appeared, averaged 4.9 rebounds per game and brought added toughness to the starting five. She also averaged 5.1 points per game and recorded 21 blocks and 23 steals.

Along with the majority of the starting five coming back, the Jackets also bring back experienced bench players in junior Emilee Wagner, who was also a starter at the beginning of the 2010-11 season, sophomore Elaine Hasek (29 games played) and sophomore Emily Miller.

Jones also recruited a group of five freshmen (three guards, two forwards) to help fill out his depth chart. Waynesburg opens the 2011-12 season on Nov. 16, with a road game at Franciscan.


WESTMINSTER TITANS (7-18 Overall, 2-14 PAC in 2010-11)
Now that the team is comfortable it's time that it gets over the hump. That's how you would describe the Westminster College women's basketball team as it enters the 2011-12 season. Last season it took a while for the Titans to get their offense to gel. Now, with five players returning who started at least 11 games including a sixth player who ended the season as a starter, Westminster anticipates improvements this year.

Westminster posted a 7-18 record in 2010-11 including a 2-14 mark for ninth place in the Presidents' Athletic Conference (PAC). The Titans' 1,362 points (54.4 per game) were the fewest in the league.

"It's great to have younger players enter the season after getting experience last year," said 10th-year head coach Rosanne Scott. "Hopefully they will start the season with more confidence."

Freshmen or sophomore guards made a combined 55 starts last year, all of which in their first season as starters, but the Titans still had three players, including two in the front court, who were multiple-year starters. This unbalance is what Scott attributes to some of the team's struggles last year.

"Having a year where upperclassmen were playing with freshmen they weren't sure of each other," Scott said. "We needed that extra year for them to become more confident with each other and that confidence will help put more points on the board."

The Titans' frontcourt will be led by senior forward Emily Dolsak and junior forward Andi Ridge. Dolsak is a three-year starter who ranked second on the team last year with 8.2 points and 6.1 rebounds. Ridge, a two-year starter, led the team with 6.5 rebounds per game while scoring 5.4 points per game.

Dolsak is one of four captains including Ridge, senior guard Emily Montone, and junior forward Katie Hughes.

Junior point guard Danielle Gilmore averaged 5.0 points, 3.2 rebounds and 1.6 assists per game in her first year as a starter during her sophomore year in 2010-11.

Sophomore guards Hannah Shaffer and Courtney Zitt combined to start 25 games last year as freshmen with Shaffer starting the first 14 games and Zitt starting the final 11 games.

Zitt averaged 6.6 points and 3.9 rebounds per game, but she really came on at the end of the season with a 13.5 scoring and 6.8 rebound average in the last six games.

Sophomore guard Gabby Holko started in place of injured senior Kaitlin McCarthy at the end of last year as Holko finished the year with five starts, 23 games and a 5.2 scoring average including four games with at least 10 points.

Westminster will also welcome back junior Jenn Cantella, who missed the entire 2010-11 season with an injury after averaging 6.1 points per game as a freshmen in 2009-10.

Westminster's seven wins last year were the fewest during Scott's nine years with the team, but Scott is capable of turning things around quickly. The last time the Titans lost at least 18 games in a season was in 2005-06, but the very next year Westminster went to the NCAA Division III tournament with a program-best 22-7 record.

Scott acknowledges that the challenge for this team is getting over the hump after some close losses last year.

"My biggest concern is getting them to be confident," Scott said. "After losing so many games last year it's going to be difficult to get them over the hump mentally and that's being able to realize that we could've won more games last year."


###