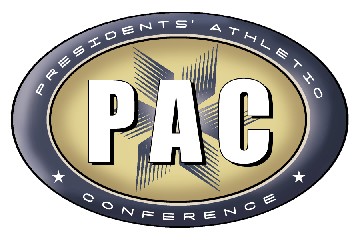 2008-09 PAC Men's Wrestling Preview


THIEL TOMCATS (10-7 Overall, 2-0 PAC)
Expectations are typically high for the 2008-09 edition of the Thiel College wrestling team, which will be looking to capture its tenth straight Presidents' Athletic Conference title this season. Head coach Craig Thurber enters his sixth season at the helm of the program.
"We are very excited about this year's team," said Thurber. "We have a solid group of upperclassmen and great group of freshmen – six of whom could possibly start. They have had very successful high school careers and we expect them to contribute immediately."
Leading the Tomcats' is three-time conference champion 184 lbs. Andrew Riddle, who will be looking to finish his college career a perfect four for four, in addition to qualifying for nationals for the first time ever.
"Andrew has had a good career so far and we are looking for him to have a great season," said Thurber. "He won 22 matches last year and placed fifth at the Midwest Regional. I know he has his sights set on qualifying for the national tournament, he has worked extremely hard and we are looking to him as our leader."
At 125 lbs. Thiel return its only national qualifier from a year ago in Rob Miller. Miller turned in a tremendous freshmen campaign, willing 29 matches with 13 falls. Freshman Jeff Marianetti will be a solid backup to Miller.
"Rob is very talented and has the potential to pin anyone," said Thurber. "He had a disappointing finish at the NCAA's and I know he is looking to be on the award stand in March."
The Tomcats are also anticipating the return of junior 141 lbs. Damian Rose. Rose was a former PIAA state champion and, as a freshman, he placed third at the Midwest Regional. Thurber and is staff are "expecting big things out of him" this season as well.
Sophomore Alex Brown was a PAC champion as a freshman last year at 157 lbs., placed sixth at the Midwest Regional, and expected to be a key contributor again this season.
Coach Thurber will also welcome 20 newcomers to the program, many of whom will be counted on to contribute right away. Freshman Corey Brown, at 133 lbs., was fourth at the PIAA tournament a year ago, and is poised to make an immediate impact. Alec Miller, the older brother of Rob Miller, should also have a great rookie season at 149 lbs.
Other freshmen who will be relied upon to perform out of the gate will be, 165 lber, Chris Stout and, at 174, Patrick Morris and Jeff Rockenstein.
Two transfers will also take to the mat for the Tomcats this season. Mason Stewart, who will compete at 141 lbs, was seventh in the PIAA out of Reynolds High School several years ago, and Nate Meyer at 285 lbs, from Jefferson, Ohio will fill the void at heavyweight.
"We wrestle a very challenging schedule," said Thurber, "and our guys are going see quality competition every weekend."
"This is in preparation for the end of the season tournaments where we have some success recently, but this group has the potential to be one of the best teams in school history. I know that there have been a lot of great teams, but we have talented guys in each weight class with some big point scorers in Miller, Rose and Riddle."
WASHINGTON & JEFFERSON PRESIDENTS (4-8 Overall, 1-1 PAC)
The Washington and Jefferson College wrestling team, led by third-year Head Coach Jay Robison, will open the 2008-2009 season on Friday, November 7th, hosting West Virginia Tech. The Presidents will also host the W&J Open the next day.
With a roster comprised of 18 freshman and sophomores, the Presidents will rely on youth to lead the 2008-09 campaign. Junior heavyweight Kyle Prudence is the lone junior on the roster.
Sophomore 197-pounder Alex Cressley is the leading returner after posting a 14-14 record last season and is expected to assume the leadership role on this year's squad. Cressley won an individual championship last year at the Washington and Lee (Va.) Invitational.
The Presidents also return sophomore 141-pounder Nick Centra, who ended last season with a 12-13 mark, including four falls. Sophomore John Sabatelli will wrestle at the 157- or 165-pound weight class. Sabatelli, who finished with a record of 5-10, split time with Centra in the 141-pound weight class last season.
Sophomores 133-pounder Brandon Samson and 165-pounder Colin Woods also return to the starting lineup for W&J this season. Samson posted a 13-15 record last season, while Woods looks to nail down a spot in the starting lineup during his second collegiate season.


WAYNESBURG YELLOW JACKETS (0-18 Overall, 0-2 PAC)
The Waynesburg University wrestling program begins its first year under the guidance of head coach Ron Headlee and his primary assistant John Yates this winter. Since coming to Waynesburg in February, the two have helped bring about one of the most dramatic facelifts in the recent history of Waynesburg athletics.
Last year, the Yellow Jackets went 0-18 on the season and were blown out in both of their Presidents' Athletic Conference matches. The team hosted just one match, the PAC Championships, at the Rudy Marisa Fieldhouse, and routinely forfeited a handful of weight classes due to lack of numbers.
Over roughly nine months, Headlee and Yates have completely remade the program's schedule, roster and expectations by tapping into the rich wrestling talent pool of southwestern Pennsylvania, where Headlee and Yates gained notoriety as standout high school coaches at Jefferson-Morgan and Waynesburg Central High Schools.
125 Pounds
There should be plenty of competition for starting mat time at 125 where four freshmen and a sophomore will be duking it out in one of the deeper weights. First-year grapplers Stefan Chaussard, Dan Boring, Rico Borz and Josh Klimko bring varying levels of success from the high school game to Waynesburg.
Sophomore Josh Boyle may have an inside track on the starting job as he went 8-13 for Waynesburg last year at 133.
133 Pounds
The job at 133 looks to belong to sophomore Nick Garber. Last year, despite battling injuries almost all season, Garber put together a team-best record of 10-2 at 141 pounds, was named Most Outstanding Wrestler at the PAC Championships by rolling to a pair of pin-fall wins and dominated the Messiah Invitational en route to a tournament title.
The Waynesburg native also came in third at the NCAA Division III Midwest Regional Tournament, just missing a trip to the national tournament.
Juniors Tyler Altmeyer and Josh Mollica will look to push Garber at 133.
141 Pounds
Like 125, 141 pounds is another deep weight class for Headlee.
Junior Abdul Yusuff, who is also a starting cornerback on the football team, is back after going 2-9 for Waynesburg last season.
Joining Yusuff in the weight class are two newcomers vying for the starting job. Freshman Jon Sanko should provide good competition at the class.
Also joining the fray at 141 is sophomore Pat McCabe, who is a transfer from Division II Belmont Abbey.
149 Pounds
The depth chart at 149 pounds boasts one of the more decorated Jacket wrestlers in freshman transfer Jesse Byerly amongst its long depth chart.
The Pittsburgh native is a transfer from the University of Pittsburgh and boasts an impressive high school resume from his days at Keystone Oaks High School. While with the Golden Eagles, Byerly was a three-time section champion, a WPIAL champion, a two-time state qualifier, a 2007 PIAA state champion and the MVP of the Dapper Dan Wrestling Classic.
Joining Byerly in this year's recruiting class at 149 are freshmen Andrew Buda, Ben Abbott, Dean Baker, Garrett Johnston and Chris Pihou. This large group of talented freshmen gives Headlee a lot of depth at the weight.
157 Pounds
Like in most of the other classes, 157 will feature several newcomers brought in by the new coaching regime. Freshmen Alex Evanoff and Sam Domenico, along with Jared Roberts, a first-year transfer from Division II power Pitt-Johnstown, comprise another deep weight class.
Roberts has perhaps the most impressive high school credentials with 96 wins, a section championship and being a place-winner at the nationally-recognized Powerade Tournament while at Trinity (Pa.).
165 Pounds
Sophomore Matt Zimmerman returns to the team and bumps down from 174 where he wrestled at last year for the Jackets.
Freshman Todd Martinek, another Trinity graduate, should provide solid competition for Zimmerman after creating a laundry list of accomplishments with the Hillers.
174 Pounds
Senior Jake Benczo is back in a Waynesburg singlet and bumps up from 165, where he went 4-11 for the Jackets last year.
First-year grapplers Matt Roberts and Charles Thomas complete the depth chart at 174.
184 Pounds
Heading into the season, freshman Aaron Leeking is the only grappler listed at 184, but that could change as the year goes on.
197 Pounds
Freshman Corbin Semple, who attended Penn State University from 2005 to 2007, but did not compete on the wrestling team, was a decorated competitor from nearby Waynesburg Central before heading to Happy Valley.
As a senior on a Raider staff led by Yates and Headlee, Semple took home the PIAA state title at 171 pounds, capping a successful high school career. He has since bulked up and will begin the season as the team's top option at 197.
285 Pounds
While Headlee and his staff expect to have three options at heavyweight this winter, only one, junior Rich Janicki, has been able to practice with the team to this point. The other two big men, junior Melvin Warrick and freshman Nebojsa Nedic, are both members of the Waynesburg football team.
Janicki brings a 4-8 record with him from last year and Warrick is the top returning heavyweight, record-wise, after posting an 8-6 mark last year.
"It will take us a little time to get up to speed," Headlee said of his heavyweights. "Janicki is doing a good job there right now. When we can get the other guys up there, it will help, competition-wise, for the team."
Along with Yates, another member of Headlee's staff, Matt Blair, brings a wealth of coaching and competition background with him. Rounding out the staff is Ron's son Drew Headlee. The younger Headlee was an All-American at Pitt and is currently training to compete for a spot on the 2012 U.S. Olympic Team.
Following the Orange/Black Intrasquad Duals on Nov. 1, the new-look Waynesburg mat men will get their first action on the mats on Nov. 8 when they take part in the Messiah College Invitational.


###