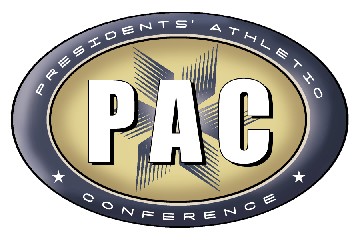 2011-12 PAC Men's Wrestling Preview

THIEL TOMCATS (8-8 Overall, 1-1 PAC)
Thiel enters the 2011-2012 wrestling season with an unbridled sense of optimism and enthusiasm as the Tomcats return most of the significant contributors from last season. Ninth-year head coach Craig Thurber brings back 19 upperclassmen, including a seasoned group of eight seniors to help lead the way.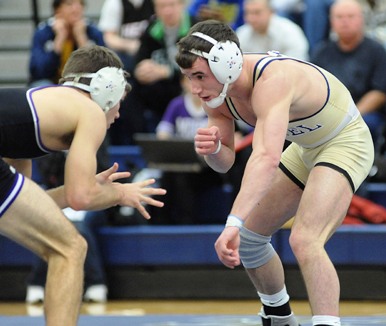 Highlighting the group of returners is Corey Brown (right) a three-time NCAA Division III all-American at 133 pounds. Brown concluded the 2010-2011 season with a 26-5 overall record. Brown is the first Tomcat wrester to earn all-American status on three occasions.
"(Corey) is having an amazing career. Being the only three-time all-American in school history is very impressive considering the some of the names of the greats that have wrestled here prior to him. Corey has always been an extremely hard worker; he sets his mind to something and goes after it. I know last season had a disappointing finish, even though he placed for the third time," said Thurber.
Brown enters this season ranked sixth at 133 in d3wrestle.com's preliminary rankings. Coming in to the season with a three-year record of 67-20, Thurber's expectations for Brown couldn't be higher.

There is only one goal left to achieve for him, and this season he wants to become our first national champion. He has also performed very well in the classroom, earning a pair of scholar all-American honors. He has a great opportunity in front of him. I am excited for him this year. We think it's going to be a lot of fun," said Thurber.<![if !supportLineBreakNewLine]>
<![endif]>
Matt Lowry finished last season 15-4 and earned a sixth-place finish at 165 at the Midwest Regional Championships after entering the event as the number two seed. Lowry comes into this season as the tenth-ranked wrestler at 165 in d3wrestle.com's preliminary rankings.
"(Matt) is also one of the hardest working kids I ever coached. He had a great season last year with a disappointing finish. This being his senior year, the time is now for him. He knows he has the talent to be one of the top wrestlers in the nation, now he just has to go out and prove it. Matt has the talent and work ethic to place very high this year at the national championships, and if everything goes well he could even win it. He also performs very well in the classroom, being tabbed a scholar all-American last year. We are expecting big things from Matt this year. He leads by example, and what a great one for our younger kids to follow both academically and athletically," said Thurber.
Alec Miller returns after turning in a solid 22-12 season and a fifth-place finish at the Midwest Regional Championships at 157 pounds a year ago. Thurber expects his transition back to 149 to be a very successful one for both Miller and the Tomcats.
"(Alec) has had a very solid career, despite falling short at the national qualifier a year ago with a near miss as a freshman. The past two seasons he has been up a weight class or two and this year he is going back down to his preferred weight class, where he placed third at the qualifier. Alec has been a leader on this team for a long time; he works hard and definitely deserves to be at the NCAA's this year. We are expecting Alec to have a great senior season," said Thurber.
Will Ringer made the most of his opportunity last season, finishing 12-13. Ringer fell to second-seed and eventual Midwest Regional champion Brandon Fedorka of Waynesburg University by a 3-2 decision, and the coaching staff believes he has what it takes to again compete for the heavyweight slot coming out of the national qualifying event.
"(Will) has a new focus on what it takes to be a great collegiate wrestler after losing to the eventual regional champion in overtime a season ago. He was a very solid performer for us last year and we expect even bigger things from him moving forward. He has a great work ethic and is a very competitive young man. I know last year's finish was frustrating, so the expectations are high for Will," said Thurber.
A weight-by-weight breakdown heading into the 2011-2012 season:
125 – A wide open class with four talented freshmen (Tyler Roberts, Shayduan Velez-Lara, Nick Hart, Zack Stouffer) pushing for the starting spot.
133 – Three-time all-American Corey Brown has had a grip on this slot since early in his freshman season and has no thoughts of giving it up heading into his senior campaign.
141 – Shawn King enters the preseason as the favorite to emerge, but will certainly clash with freshmen Sean Byham and Jerry Cramer, who are looking to make their mark early on.
149 – Alec Miller moves back to his preferred weight class with Cole Harkins expecting to get some work as well.
157 – Matt Butler, a solid two-year starter for the Tomcats, will be pushed by Jerrold Roosa for the starter position. Kenny McGinnis also looks to get in on the action.
165 – Matt Lowry enters the season as the tenth-ranked wrestler at 165 and Thurber will depend on his experience and leadership as the Tomcats move through the season.
174 – Thurber sees this class as his deepest with a bevy of talented candidates for the starter slot. Matt Morian will look to improve on his freshman campaign and will be pushed by classmate Ken Alsop as well as Jacob Lowry, Shekem Taylor, Ryan Kenski, and Jake Trillow.
184 – Another deep class for Thurber being led by Billy Roosa and Jeff Rockenstein. Ryan Murphy and Elijah Flasher will also see significant action.
197 – Patrick Morris will move up a weight class to provide the Tomcats with a seasoned presence and some toughness towards the back end of the lineup.
285 – Will Ringer has made some positive strides since last season's Midwest Regional, but cagey veteran Kraig Smith is back at his preferred heavyweight spot and should battle Ringer for time throughout the season.
"This is definitely the most solid team we've had in my nine years (at Thiel). We have senior leadership and dependable backups in each of the weight classes. Along with being hard workers in the practice room, they are very serious and dedicated in the classroom. We have very high expectations for a lot of individuals as well as our team both academically and athletically," said Thurber.
Thiel's annual Blue-Gold Match is scheduled for Wednesday, Nov. 2 at 7 p.m. at Beeghly Gymnasium. The Tomcats' regular season will kick off at the Ithaca College Invitational on Friday and Saturday, Nov. 4-5.


WASHINGTON & JEFFERSON PRESIDENTS (6-3-1 Overall, 0-2 PAC)
The Washington & Jefferson wrestling team looks to return to the top of the Presidents' Athletic Conference standings as it enters the 2011-12 season with a new leader at the helm of the program.
Tommy Prairie has taken over as head coach, looking to improve on the team's 6-3-1 dual meet record and third-place showing at the PAC Championships last season. Prairie spent the previous four seasons as the head coach at Plymouth State (N.H.) and inherits a team that returns five regional place winners.
Sophomore Josh Etzel looks to improve on a rookie season in which he finished second at the NCAA Division III Midwest Regional and was named to the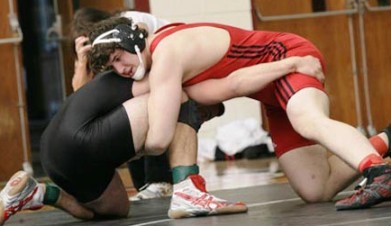 D3Wrestle.com All-Freshman Team. Etzel, who wrestles in the 141-pound weight class, made his debut for the team midway through the season and won seven of his eight matches.
Junior Robbie Mies (left) will attempt to successfully defend his 197-pound PAC title for the third consecutive year. Mies is the 22nd wrestler in program history to own a pair of PAC titles and is just one fall shy of tying Ed Morasczyk '75 for sixth place in W&J history at 25. Mies led the team with 15 falls a season ago and was second with 22 individual victories.
Seniors Zach Cecchetti and Taylor Potts will provide the Presidents with veteran leadership. Cecchetti has won 65 matches in his first three seasons, good for 12th all-time, while Potts has earned 47 victories, including 12 pins. Cecchetti is hoping to bounce back from an injury plagued junior year.
Also returning are sophomore David Dibenedetto, who won a team-best 24 matches last year, and junior Chris Leva, who earned 14 victories in the 141-pound weight class despite battling injuries. Junior Eric Kohr is also the returning starter at 174 pounds.
Coach Prairie has also added a seven-man freshman class that will provide the team with solid depth.
The Presidents will open their season on November 5th at the King's Monarch Invitational in Wilkes Barre, Pa. W&J will host the sixth annual Washington & Jefferson Open a week later at the Henry Memorial Center.



WAYNESBURG YELLOW JACKETS (12-2-1 Overall, 2-0 PAC)
After winning its second-straight Presidents' Athletic Conference (PAC) championship, the Waynesburg University wrestling team will work for the three-peat in 2011-12. With two-time reigning PAC Coach of the Year Ron Headlee at the helm and seven starters back to lead this year's squad, the Yellow Jackets look to not only maintain their top spot in the conference, but make a splash on the national level.
This year, 19 veteran returners will mix it up with 16 freshmen and transfers that will complete the largest team put to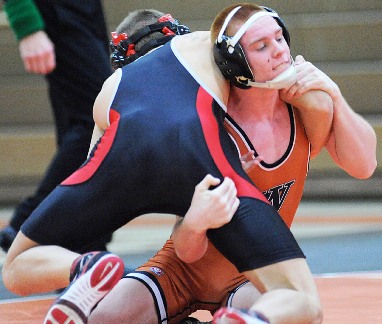 gether by Headlee and his primary assistant coach, John Yates. Luckily, the Jackets moved into a new, larger practice room this offseason to facilitate their bigger numbers.
125 Pounds
Waynesburg will lead off dual matches with its top wrestler, junior returning All-American Alex Crown (right). Last year, Crown won his second-straight PAC title, his first NCAA Division III Midwest Regional championship and placed fourth during his first trip to the NCAA Division III National Championships. The Carlisle native also led the team with a 35-4 overall record and went 12-1 in bonus point matches.
Crown will be pushed by freshman Matthew Dates in the room and he will also provide depth at the lightest weight.
133 Pounds
Though the majority of weight classes in Waynesburg's lineup will feature returning starters, 133 isn't one of them. However, the 133-pound spot will feature as many as five athletes duking it out for the starting slot.
Sophomore Colton Blumer appears to have the inside track job going into the year after making multiple dual match starts last year. Once sophomore Levi Hosselrode returns to active duty from an offseason injury, he is also expected to throw his hat in the ring. Freshman Jake Vitolo is also expected to push for the starting role.
141 Pounds
Perhaps the biggest hole to fill on this year's Jacket wrestling team is at 141 where three-time national qualifier and All-American Nick Garber has graduated. However, the talent level of the wrestlers competing to be Garber's replacement is amongst the highest of any weight on the team.
One of last year's freshman breakouts, Luke Lohr, is expected to start the year at 149 pounds, but could eventually make his way down to 141. Last year, Lohr was the 149-pound PAC champion and came one win short of qualifying for the national tournament. He also finished second on the team in total wins with 34.
Freshman Aaron Mills has impressed his new coaches during the preseason and is also a candidate for the job.
149
Sophomore Luke Lohr is back after exploding on to the scene as a freshman at 149. During his first year with the Jackets, Lorh won 34 matches, took home a PAC title and came one win shy of going to the Division III National Championships. Freshmen Stuart Spencer, a two-time state place-winner from Oklahoma, and a Pennsylvania native Chris Milligan will provide Lohr with outstanding workout partners and earn Waynesburg points in tournaments.
First-year grapplers Anthony Piscitello and Ryan McGregor help to fill out the weight.
157
Senior defending PAC champion and Midwest Region runner-up Garrett Johnston is back for his senior season. While he may start the year at 165, Johnston is expected to reprise his role as a starter at 157 pounds.
Sophomore Sam Lombardo is also back and will be looking to build off a 2011-12 campaign that saw him eventually move into the starting spot at 165. He is more comfortable at 157 and will provide a first-class workout partner/competitor for Johnston.
Piscitello, McGregor and others make up another deep class.
165
Like the previous three weight classes, 165 is exceptionally deep and should feature a fierce competition for the starting job. Sophomore Anthony Bonaventura, redshirt freshman transfer Ryan Walters and sophomore transfer Cameron Fine, who started at Division II Seton Hill, are all worthy candidates for the starting job.
One of the team's top incoming freshmen, Sam Guidi, a two-time Pa. state place-winner, could also be a part of the starting competition.
174
Whoever replaces last year's 174-pound PAC champion and Outstanding Wrestler Jared Roberts will likely come from the crop of grapplers competing for the 165-pound starting job.
Further adding to the questions surrounding the 165-pound job is the expected return of senior Alex Evanoff, who is a former PAC champion and has spent time as a starter in each of his previous three years. Evanoff got off to a 16-6 start last year before missing the rest of the year with an injury.
Senior Jon Sanko, who has made noticeable improvements over each of his three seasons at Waynesburg, is coming off a 15-10 record last year and will also be a strong candidate for the job. Walters
184
Two-year starter Cody Catalina is back and is the odds-on favorite for this year's spot. Last year, Catalina notched his first PAC title and spent his first full year with the team.
Freshman Patrick Jennings and senior David Wills will likely fill the role of workout partners for Catalina, as will Bonaventura.
197
The lead in weight to the heavyweight spot is still very much in the air. Senior David Wills, Jennings and freshman Dan Mahon will duke it out for the starting job.
285
Once football season wraps up, the Yellow Jackets will get one of their top wrestlers back on the mat in the form of sophomore Brandon Fedorka. Also a standout defensive end for the Waynesburg football team, Fedorka won a regional title and qualified for nationals during his first year with the squad.
While Fedorka is wrapping up his time on the field, Waynesburg has another very capable heavyweight in junior Marty Kisla. Along with being the PAC runner-up, Kisla also served as the Jackets' starter before Fedorka joined the team.
The Yellow Jackets open up the season on Saturday, Oct. 29, with their annual wrestle-offs. Live competition for Waynesburg begins on Nov. 5 with a trip to the Messiah Invitational.