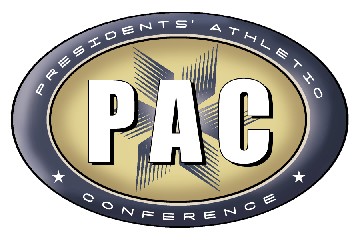 2010 PAC Women's Soccer Preview

BETHANY BISON (9-8-2 Overall, 3-4 PAC in 2009)

The Bethany College women's soccer team enjoyed a solid 2009 season, as they posted their first winning record in 10 years, equaled the school record for single-season shutouts and boasted the leading scorer in the PAC.

Despite all those accomplishments, one thing was missing for the Bison and that was a berth in the PAC Tournament. Bethany posted a 9-8-2 overall record, their most wins since their last PAC championships in 2000, but a 3-4 mark in the PAC left the Green and White in fifth place in the league, one spot out of the conference playoffs.

Coming into the 2010 season with nine starters returning, fourth-year head coach Barry Christmas says this year's team has bigger things in mind than just a winning record.

"It was nice to have a winning record but we want to play in the playoffs," said Christmas, who led BC to the nine wins last year to triple their victory total since his first season in 2007. "Our level of expectation has been enhanced to the point where it's not OK to just show up now. We want to be individually more resilient and competitive. There were a couple games last year where we would go a goal down and we showed resiliency in coming back. We need to adopt that mind set from the start of the season and have belief in ourselves."

The Bison defense continues to be a big reason for the turnaround over the last couple years, as they recorded six clean sheets last year to tie the single-season BC record set the season before. Bethany will have the two goalkeepers who engineered those record-setting numbers on the roster this year, as sophomore Brittany Sadler, who had five shutouts and a 1.28 goals-against average last year, and junior Julie Brady, who blanked four foes and recorded a 1.54 GAA as a freshman in '08, both return, as does assistant coach Maggie Kuhn, a former Bison netminder who now coaches the keepers.

"We will have the same faces competing at keeper again in Julie and Brittany, with Maggie coming back as well to continue her outstanding work with them," said Christmas. "Julie and Brittany have had seasons where they took the leading role and they both have experience, so we will use the preseason and early games to see who stakes a claim to the position by playing with more consistency."

The defensive wall in front of the keepers played a huge role in the Bison giving up just 24 goals last year, the third-fewest in school history, as well as allowing the fewest number of shots in the conference. Junior Brea Thrower headlines this group, as she was a Second Team All-PAC choice last season. Other returning starters include sophomore Brittany Bizila, who started all 19 matches as a freshman, and junior Breanne Minardi, who was a captain last year and started all 18 matches she played.

Other veterans back are sophomore Colleen McNurlen, who started 10 of the 19 games last year, junior Mackenzie McCune, who was still slowed by an injury suffered her freshman season, and sophomore Brittany Marsh, who notched one goal in nine games. Four freshmen will also be competing for playing time, including Kelsey Burnsworth, Sara Hogan, Donovan Reed and Casey Smith.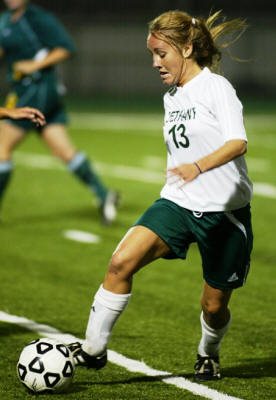 "We return our usual suspects from last year on defense," said Christmas. "We've improved our play in the back in the last couple of years and been able to turn in some clean sheets, but we haven't shut out any of the top four teams in the PAC, so we need to get to a point where our level of concentration is consistent."

Bethany is loaded with returning players in the midfield, led by senior Lisa Wabrick (left), a First Team All-PAC selection last year after notching three goals and three assists. Junior Loren McAnany also started all 19 matches last year and totaled one goal and one assist, while fellow juniors Kristen Cottrill made 15 starts and Hilary Clark had 12. The list of returners is rounded out by junior Missy Baldwin, who sat out last season because of injury, and sophomore Ashley Wright, who played in 13 matches last year.

Freshmen Brittany Leek, Kristina Massie, Jaymee McDougle and Kayla Sullivan will add to the depth of the midfield, where Christmas says he would like to see a little more offensive punch come from this year.

"Lisa returns after earning First Team All-PAC and her work rate and competitive spirit that she shows every day spread through the team," said Christmas. "The midfield in general has helped with the clean sheets but this year, I would like to see them get forward more and weigh in with assists and the scoring."

If the midfield does start to chip in with more scoring, the Bison will be able to couple that with two very productive forwards. Junior Cassie Spalding led the PAC last year with 14 goals and 34 points on her way to Second Team All-PAC status. Sophomore Julie Lindenfelser made her presence felt as a freshman by notching five goals and three assists. Those two will be joined by a bevy of freshmen in Hayley Acree, Heather Hamm, Alaina Heck, Paige Prato and Lindsay Sparr to give BC quite a few options up front.

"Everyone in the conference knows about Cassie, so we'll see if she has the appetite and enthusiasm to cope with the individual attention," said Christmas. "She is much stronger mentally and more equipped to handle the attention and if the players in the midfield can contribute more, it will ease her load. Despite having some injuries last year, Julie had a breakout freshman season, so we hope she is able to stay healthy and fit this year."

Although the Bison have just one senior on the roster, they aren't an inexperienced team, as they have grown together over the last two seasons. Using that experience is what Christmas hopes will build the belief that this team can clear the next hurdle to qualify for the PAC Tournament and have a chance to play for the league crown.

"Our biggest key this year is having the belief we can win the big games," said Christmas. "So much is related in our confidence and believing we can win. The time of saying we're a young team is running out. We've spoken about having potential, but now it's about realizing our potential. We have arrived at the hump and we need to take a big step over this year."


CHATHAM COUGARS (6-10 Overall, 1-6 PAC in 2009)
Under the direction of seventh year head coach Jaime Retersdorf, Chatham University will enter its fourth season of Presidents' Athletic Conference competition in 2010. The Cougars finished their 2009 campaign with a 6-10 overall record and a mark of 1-6 in the PAC.
Chatham will look to returners Ashley Kostial and Emily Peduto to pace the offense in 2010. Kostial, PAC 2nd Team All-Conference, tallied 10 goals and four assists which totaled 24 points in her first year with the Cougars. Peduto started in the midfield and because of her versatility was able to play center back for the remainder of the season, where she used her skills to be a prominent force through the middle.
The Cougars return with a core of senior defenders including Ashley Bates, Jen Mullen, and goalkeeper, Lauren Strang. The team will look to Bates and Mullen for leadership from the back. While Strang had limited play last season due to injury, she helped the team with three wins while working hard to get back on the field for the end of the season.
Coach Retersdorf, along with assistant coaches Diane Metzger and Sara (Williams) Knabb, are looking forward to building upon the strength from last year as more talent and speed will be integrated throughout the field. "The hard work, talent and chemistry this team possesses will be a positive and turning point for the Chatham Soccer program."
Chatham opens the season against Carlow University on Wednesday, September 1st. The Cougars do not open PAC play until Oct. 2, when they play host to Thiel College.


GENEVA GOLDEN TORNADOES (9-9 Overall in 2009)

Getting back on the field for another season is always an exciting time for any college program. For the Geneva College women's soccer team, it is never been more important to start fresh after suffering one of the most heartbreaking losses in school history to end the 2009 season. Dropping the NCCAA east regional championship to Roberts Wesleyan after 12 penalty kicks was a tough pill to swallow but it also showed the promise for the future of women's soccer on College Hill.
The 2010 edition of the Geneva women's soccer team will feature the return of senior goalkeeper Lauren Londino. With 15 shut-outs to her credit in the last two years, she is in line to finish as one of the best in school history. Londino posted a 1.29 goals against average a year ago and made 78 saves along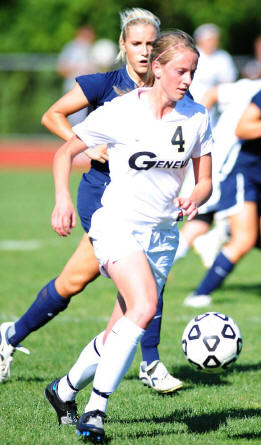 the way. One of only three seniors on a very young team, Londino will need to provide leadership on and off the field. "One of the things that makes L.L. so successful and important to our program is her leadership," says head coach Linda Sumner. "She is a tremendous talent on the field and has worked extremely hard to improve herself throughout her career."
Londino will get much support on the defensive end of the field with the return of several key components to the fold. Starters Annissa Halulko, Rebecca Shaw, Nancy Paul and Risa Tillman will help to support the backline as well as the midfield while the offensive exploits of Geneva's top two scorers will hopefully help to find the net. Elise Mann (left) and Maura Allen combined for 16 goals and 40 points a year ago and will once again provide the framework for the Geneva offense. "We are fortunate to have some experienced goal scorers returning this year," says Sumner. "They are each a year smarter and a year stronger so we expect them to have solid years." Geneva may also get a boost offensively with the return of Amanda Munsch, who is back after sitting out the 2009 season.
The Golden Tornadoes will welcome a handful of new faces to the mix in 2010 with a few of those youngsters looking for immediate playing time and looking to make immediate contributions. "We need some of our freshmen to step up quickly," says Sumner. "We don't expect them to come in and be all-conference players, but we do need them to supply depth and hard work every day."
Sumner knows that with success comes expectations and after posting nine victories in 2009, the expectations are even higher this year. "We accept the high expectations," says Sumner. "That is the sign of a solid program and we feel this program is headed in the right direction and this will be a very important season for our team as we prepare to get into PAC play in 2011."
Geneva will look to improve upon its work with the PAC this year. One of the main areas of concern a year ago was the play against PAC competition. The Golden Tornadoes posted a 3-6 record against the Presidents' Athletic Conference and heading into 2010 the focus will be to turn those numbers around. "Everything we work for is focused around doing well within conference play," explains Sumner. "We have to do a better job against those schools in our conference if we have dreams of winning conference titles in the future. We have taken the first steps of becoming a consistent program with a winning record, now it is time to get things done against the PAC."
Despite a difficult loss in the season finale, Sumner is upbeat about the prospects of 2010 because of the hard work that was displayed in 2009 and will likely continue into the new campaign.

GROVE CITY WOLVERINES (11-7-3 Overall, 7-0 PAC in 2009)
With seven returning starters and seven other talented veterans back in the fold, the Grove City College women's soccer team has plenty of reasons to be excited about the 2010 season.

The Wolverines feature talent, depth, experience and versatility throughout the roster. All of those will be important factors as Grove City pursues the Presidents' Athletic Conference title and a third postseason trip in four seasons.

For several years, strong defense has been the backbone of Grove City women's soccer. That will again be the case in 2010 as Grove City returns four defenders with extensive starting experience.

Seniors Hannah Hertweck, Laura Novosel and Hannah Yang all return after each making 21 starts in 2009.

Hertweck returns at outside back while Novosel returns at center back. The versatile Yang played primarily at defender last year but has also played extensively in the midfield and up front throughout her career.

The Wolverines will also be bolstered by the return of senior center back Courtney Sicher. Sicher is a two year-starter who missed 2009 due to injury.

Two other veterans also return on the backline: junior Christen Vallimont and junior Bekah Van Eerden. Vallimont played in 20 matches, including one start, last year. Van Eerden is also a returning letterwinner.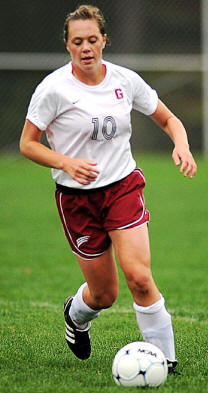 The Wolverines are also well-stocked at midfielder as several standouts return. Senior Emily Ostlund (right) is a three-time All-PAC honoree and is Grove City's active career scoring leader.

Meanwhile, juniors Cara Colley and Emily Hurley are also back after lettering in each of the past two seasons. Both Colley and Hurley started all 21 matches in 2009.

Junior Morgan Osterhouse, a part-time starter in 2008 and 2009, returns and will challenge for a full-time starting post this fall.

Several letterwinners are in the mix at the forward positions this year. Sophomore Grace Rieman scored seven goals in 2009 and earned First Team All-PAC.

She could start at forward or midfielder this year.

Junior Arielle Goyzueta will also compete for a forward position after playing as one of Grove City's top reserves during her first two seasons.

Sophomores Julie Apple and Sarah Peachey will also look to break into the starting lineup after lettering as rookies in 2009.

Grove City will have to find a replacement for graduated goalkeeper Bethany Preston, who helped the Wolverines post nine shutouts in 2009.

Several newcomers are also expected to compete for playing time this season.

The Wolverines will be tested by another challenging schedule in 2010 as Grove City will face regional powers Baldwin-Wallace, Carnegie Mellon, Case Western Reserve, John Carroll and Penn State Behrend in non-conference play.

Those matches will help Grove City prepare for the rugged Presidents' Athletic Conference schedule.

Grove City opens the 2010 season by hosting the Labor Day Shootout September 3-4. The Wolverines will open the schedule against NCAA Division II foe Pitt-Johnstown.

Conference play begins October 2 at Washington & Jefferson.

The Wolverines enter the season on an eight-match regular-season winning streak, including five straight shutouts.


SAINT VINCENT LADY BEARCATS (4-14-1 Overall in 2009)
Improvement is the theme for the 2010 Saint Vincent women's soccer team.
Coming off of a disappointing 4-14-1 campaign in 2009, and with a 29-player roster composed of 15 freshmen, third-year head coach Becky Stewart is unsure what to expect from her team for the upcoming year, but is optimistic of her squad's prospects.
"In terms of improvement," Stewart said, "I have high expectations. We're not worried about going undefeated this year, but we have to improve the win-loss record. That is our number one goal, and that is something we need to accomplish."
The Lady Bearcats lost a trio of fulltime starters to graduation, including defender Ashley Bartko and PAC Coaches Honors recipients Logan Gamelier (defense) and Alex Shasko (midfield). However, a number of key returnees will be back with another year of experience under their belts, while the deep roster has fostered an atmosphere of competition throughout the team's preseason camp.
"I told the players from day one to compete at their highest level every day," Stewart said. "Such a large roster is something we haven't had the luxury of the past two years, but now it's allowing more competition every day. It's been a totally different training environment compared to the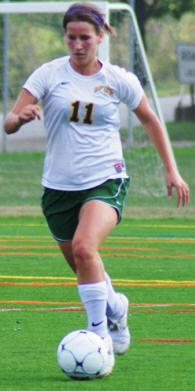 past two years. Our girls are training to compete."
Leading the returnees is senior forward Leanna Seminsky (left). A 2008 and 2009 PAC Coaches Honors recipient, Seminsky has scored 17 goals over the past two seasons, including a team-high nine tallies last year. Stewart knows that her team needs a big year from Seminsky, who is the lone proven scorer on the roster.
"We're looking for lots of goals from her this year," said Stewart. "She has a ton of ability, and so far in the preseason, she's been working harder and has been very focused. She's quiet by nature, but we need her to be a leader, whether vocally or leading by example. We really need Leanna to step up."
While Seminsky looks to lead the front line, the Lady Bearcats also have a seasoned veteran returning in the back in junior goalie Kirstie Mills. Mills has started all 38 games over the past two seasons, making 141 saves last year while turning in three shutouts. Now that she is entering her third season, Stewart has noticed a change in the formerly reserved Mills.
"With two years under her belt," said Stewart, "you can see that Mills is a lot more comfortable, especially in communicating with the backs. This will definitely be a help with such a young group of defenders."
Two defenders with significant playing time, junior Haley Krol and sophomore Emily Taylor, look to continue to see a large role. Krol has started 33 games over the past two years, while Taylor earned the team's Most Improved Player award a season ago, after starting 18 of 19 contests. Another sophomore, Brittany Bowen, also returns to the back line after making 16 appearances and two starts in 2009.
The team will also welcome back senior Jessica Legg on defense, after sitting out a season ago. Legg started 18 games as a sophomore in 2008, and Stewart hopes she is able to bounce back from a year-long absence.
"She hasn't played really in two years," Stewart said, "so we're hoping she's able to pick it back up quickly. So far in preseason, though, I've definitely seen and heard her leadership on the field."
At midfield, Stewart has high praise for sophomore Morgan Castle, and expects her to see considerable time in 2010 after making 16 starts last season.
"Morgan has played extremely well in camp so far," said Stewart. "She works hard, and she's going to see a lot of minutes. We're going to get everything we can out of her."
Junior Carly Duffy was affectionately called a 'utility player' by Stewart, as the coach plans on using her all over the field, after appearing primarily at forward in 2009, scoring two goals with one assist.
"Duffy mainly played up top for us last year," Stewart said, "but we've moved her all over so far this camp. She can play in the back, as she's learned to see the other side of the ball. I'm also comfortable with putting her in the middle."
While Stewart is happy with her returnees, she has also been pleased with the performance of her large freshman class, and expects a number of the first-year players to step in and contribute right away.
At forward, freshmen Tenesha Corrales and Elyse Togliatti look to have a grip on a starting spot.
"Tenesha is already our fastest player," said Stewart. "She has all that speed, and she's very aggressive. She's always wanting to move forward. Elyse loves taking people on one-on-one, and she's been a very fast learner."
Midfielder Monika Derboghossian and defender Frances Kovach were also pegged by Stewart as impact freshmen.
"Monika likes to go forward, loves to take shots, and she's shown she can control the middle," Stewart said. "She has the skills offensively, while she can also be a very good defensive midfielder.
"Frances is athletic and aggressive. She's adapted very quickly to the college game."
Mills may have the inside track at the starting goalie spot, but Stewart has also been impressed with freshmen keepers Cassie Overly and Valeri Wilbert.
"We have two really quality freshmen in goal," said Stewart. "Along with Mills, they've all been pushing each other. It's a good situation, having three quality goalies."
Stewart has been happy with the performance of her team in camp, but understandably is unsure of what to expect when her team opens up the season on September 3rd at Malone College.
"I have no idea where we stack up right now," she said. "With so many new coaches in the PAC, and with such parity in the conference, I really don't know what to expect. As long as everyone plays at their highest level, day in and day out, and everyone is better today than they were yesterday, we should be much improved."

THIEL TOMCATS (2-15-2 Overall, 0-7 PAC in 2009)
The Tomcats enter the 2010 season with a new but familiar face at the helm. Andy Hoggarth, who has been the men's soccer head coach for the past three years, will coach the women's team as well this coming season.

"We will be taking a more disciplined approach this season," said Hoggarth. "We are going to develop the team in all aspects: from conditioning and game day preparation, to tactical and organizational aspects of their game as well."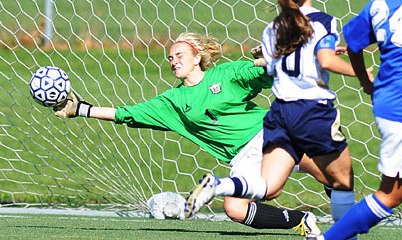 Goalkeeper and three-time All-Presidents' Athletic Conference (PAC) selection, Jill Harry (right), will once again be the anchor for the tomcat defense.

"In women's soccer, the goalie can change the game single-handedly, " remarked Hoggarth, "and we are very lucky to have Jill on our side because not only is she the backbone of our defense, but I don't believe we will see a better goal-keeper than her all season."

Along with Harry, Thiel will once again look to veteran leadership as they return 12 players from last year's roster. On the defensive side of the ball, the upperclassmen are headlined by junior defender Rebecca Quinet.

When asked about his junior defender, Hoggarth said, "Rebecca never gives up. She gives 110% not only in every game, but in every practice as well; and that will be a great example for the incoming freshman as well as for the other upperclassmen."

On the offensive side of the ball, sophomore forward Karen Galina Wolfe is looking to have a breakout season. "She was really good as a freshman," said coach Hoggarth, "we expect her to only get better, and with the talent level of our team continuing to grow she will have a lot of help; but she also makes everyone around her better with her attitude and her great play."

Coach Hoggarth is also excited about the incoming recruiting class. "With 15 incoming freshman, you can be sure that they will push the upperclassmen to get better and will be a great base to build around in the years to come."

With five of their first six games at home, the tomcats will look to get their season off to a fast start behind their new head coach, veteran players, and a plethora of young talent.

"We are very excited for the season to start," said Hoggarth, "we believe that this season is going to be the start of a new direction for the women's soccer program.

THOMAS MORE SAINTS (15-3-1 Overall, 6-1 PAC in 2009)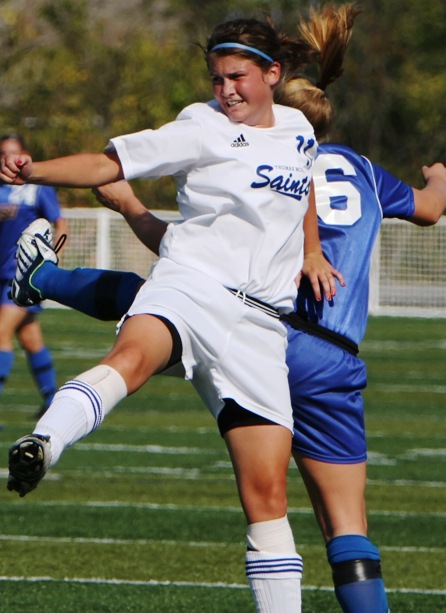 The Thomas More College women's soccer team, which advanced to the Presidents' Athletic Conference (PAC) Championship Tournament in 2009 looks to win the PAC and advance to its first National Collegiate Athletic Conference (NCAA) berth since 2003.

The Saints will be led by five senior field players: 2009 second team All-PAC defender Angie Kersting (left), midfielder Megan Hobbs, forward Megan Keck, defender Andrea Carr and midfielder Alex Crouch. Kersting helped anchor the Saints' defense last season that only gave up 13 goals in 1,753:50 of play. She also scored one goal on 16 shots. Hobbs only played in six matches last season because of an injury and had three points on one shot and one assist. Keck played in 19 matches, including 10 starts and had one goal, Carr started all 19 matches for the Saints and held the defense hold its opponents to 13 goals and Crouch played in 16 matches.

Fourth-year head coach Jeff Cumming also has five juniors and five sophomores returning from last season's squad, including four of the top six scorers from last season with junior forward Lauren Wietmarschen, sophomore midfielder Abby Gindling, junior midfielder Christy Green and junior midfielder Sara Harrison all returning. Wietmarschen was second on the team last season in scoring with 15 points on six goals and three assists, while midfielder Abby Gindling was third on the team in scoring with seven points on three goals and an assist. Green had three goals last season to finish fourth on the team in scoring with six points and Harrison was sixth on the team in scoring with five points on two goals and one assist.

The Saints open the 2010 season on September 1 when they travel to Richmond, Indiana for a 4 p.m. non-conference match with Earlham College.

WASHINGTON & JEFFERSON PRESIDENTS (12-7-2 Overall, 5-2 PAC in 2009)

Momentum. The Washington & Jefferson College women's soccer team has it and wants to keep it going.

Following three straight Presidents' Athletic Conference Championship game appearances and back-to-back PAC titles, the Presidents and fourth-year head coach Pete Curtis are aiming to pull off a conference championship three-peat.

"Our goal every year is to get to the conference playoffs, we can't underestimate how difficult that is," Curtis said. "Then, once we're beyond that, it's winning the conference title and making good progress in the NCAA Tournament."

The 2010 Presidents lost five senior starters at critical positions on the field. The team will rely on a talented freshman class to replace, amongst others, 2009 NSCAA Division III All-Great Lakes Region honoree Spencer Ahrenholtz and last season's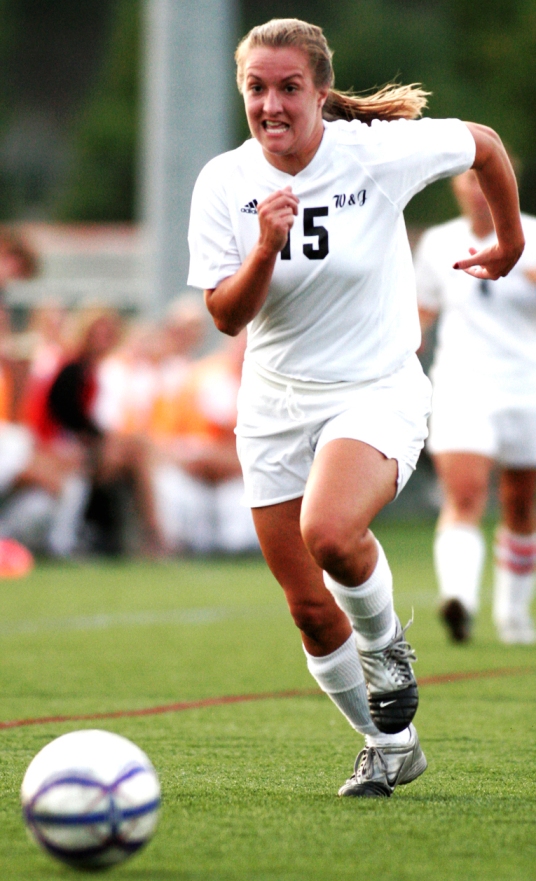 team MVP Karly Hresko.

Ahrenholtz, along with fellow graduates Tiffany Sherred and Jessica Swartz, leave behind a winning legacy. Their 46 victories broke the team record for wins during a four-year career.

"To replace them individually would be impossible", Curtis said, but "he's confident this year's recruiting class will produce. Collectively, we have offensive firepower in the recruiting class, proven goal scorers, who can step in and, in their own way, replace what we've lost."

In pursuit of another PAC title, the 11-member incoming freshman class will supplement the Presidents' youthful, yet experienced core and, in particular, a sturdy defensive unit. Junior midfielder Liz Bendick (right) returns after leading all players last season with eight goals, and tying for the team lead in points (18).

Sophomore Chrissy Marcius (7g, 2a) also returns at midfield following a standout rookie season that included the game-winning goal in the 2009 PAC Championship game. Sophomore midfielder Dawn Murphy also returns after being selected to the All-Presidents' Athletic Conference honorable-mention squad.

The Presidents' defense will continue to be where team success is determined with returning starters Hannah Shaner and Lauren Reynolds looking to build upon stellar freshmen campaigns. That duo, as well as senior Cency Middleton and junior goalkeeper Stephanie Saussol, played vital roles in last season's defensive dominance which set a W&J single-season record by allowing only 21 goals all season.

The Presidents enter the season with high expectations, but a recent track record of meeting those lofty goals. With what Curtis called "the best W&J recruiting class he's ever had" joining a group of upperclassmen with big-game experience, the 2010 Presidents warrant those expectations.



WAYNESBURG YELLOW JACKETS (6-12 Overall, 2-5 PAC in 2009)

A new chapter in Waynesburg women's soccer history kicks off in 2010 as Sean McCarthy takes over the head coaching duties with the Yellow Jackets. He brings a wealth of collegiate and professional coaching experience with him. His most recent assistant position was at SUNY Old Westbury, where he helped lead the Panthers to a Skyline Conference title and a berth in the NCAA Division III National Championship Tournament.

He inherits a team that went 6-12 last year and 2-5 in President's Athletic Conference (PAC) play. He also inherits some exceptional talent, which includes a trio of two-time All-PAC honorees.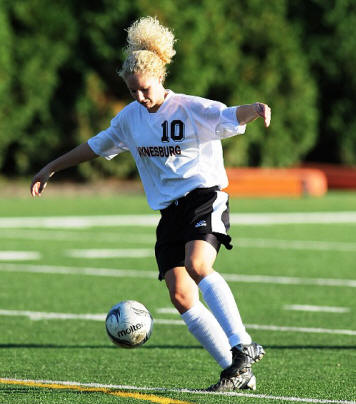 Juniors Courtney Ebersole (left) and Terrin Crist are back after earning all-conference accolades in each of the last two seasons. After missing most of the 2009 campaign with an injury, senior Danielle Danhires, who was a first-team All-PAC selection as a freshman and a second-team pick as a sophomore, is also expected back.
Ebersole returns after picking up her second-straight all-conference nod following a 2009 season that saw her lead the team in total points (18) and goals (nine). The forward also tied for eighth in the conference in points per game and ranked fifth in goals scored. She was also honored as a PAC Player of the Week.
Senior Brittney Brown also returns, as does junior Melody Cox. Both players found the back of the net in 2009. Sophomore Claire Vehar provides even more experience after starting five games in 2009.
Assuming she recovers from her injury problems in 2009, Danhires is expected to lead the team's midfield. Despite playing in just four games, the Peters Township native tallied a goal on five shots. Since coming to Waynesburg, Danhires has tallied 23 points on nine goals and five assists.
Senior Brittany Spitznogle, junior Rebecca Snyder and sophomore Heidi Weaver started a combined 40 games last season. Sophomores Karen Moyer and
(photo by Dave Miller, ADM Photography) Chelsey Root also return after appearing in a combined 34 games last year.
Crist heads into her third year as the leader of Waynesburg's defense following a 2009 season that earned her honorable mention All-PAC laurels. She has started all 18 of the Jackets' contests since she arrived on campus.
Senior Amy Macurdy, who started all 18 games in 2009 and scored a goal, could also see time at defense, as well as at midfield. Sophomore Carly Loughman-Taft is also back.
The Jackets should be stout in goal with the return of junior Katrina Kelly, who started 16 games last year and was named a PAC Goalkeeper/Defensive Player of the Week. She recorded two shutouts on the season.
Kelly's primary backup, Jaime Williamson, is also back. She appeared in seven games last year and made two starts.
Waynesburg gets the 2010 season underway on Sept. 1, when it hosts Wilmington for a 7 p.m. contest.

WESTMINSTER TITANS (13-7-1 Overall, 4-3 PAC in 2009)
The Westminster College women's soccer program is a model of consistency after going the entire decade of the 2000s with at least a dozen wins in each season. As the team enters a new decade there's no reason to believe that Westminster won't continue that success, especially since the Titans are returning 10 of 11 starters from last year's team that went 13-7-1. Still, ninth-year head coach Girish Thakar has some guarded optimism when describing what kind of team he has.

"It's difficult to tell," Thakar said. "We lacked depth last year. This year the question will be how we can utilize the freshmen and what other players can contribute."

Westminster ended the season with 18 players on its varsity roster last year on a team that placed fourth in the Presidents' Athletic Conference (PAC) after posting a 4-3 conference record. This year the team will consist of 32 players, 13 of which are returning letter-winners.

"In the past we've relied on four or five special players," Thakar said. "But more and more we are going to rely on 12, 13 or 14 players that can all contribute. That's the change for this year: we are expecting more to contribute."

Most of the contributors from last year are all back, including senior forward Sarah Nee, a three-year starter and two-year all-PAC selection who ranked second in the PAC in goals each of the last two seasons including 12 last year. Nee is also the reigning team MVP whose 66 career games, 60 career starts and 36 career goals are the best on the team.

Included in the 10 returning starters is a player that most likely won't return because of an injury. Junior midfielder Samantha Killmeyer suffered an ACL knee injury that needed surgery. Killemeyer is a two-year starter and two-time, first-team all-PAC selection who holds the school record for assists in a season with a 20 in 2008 that led all of NCAA Division III.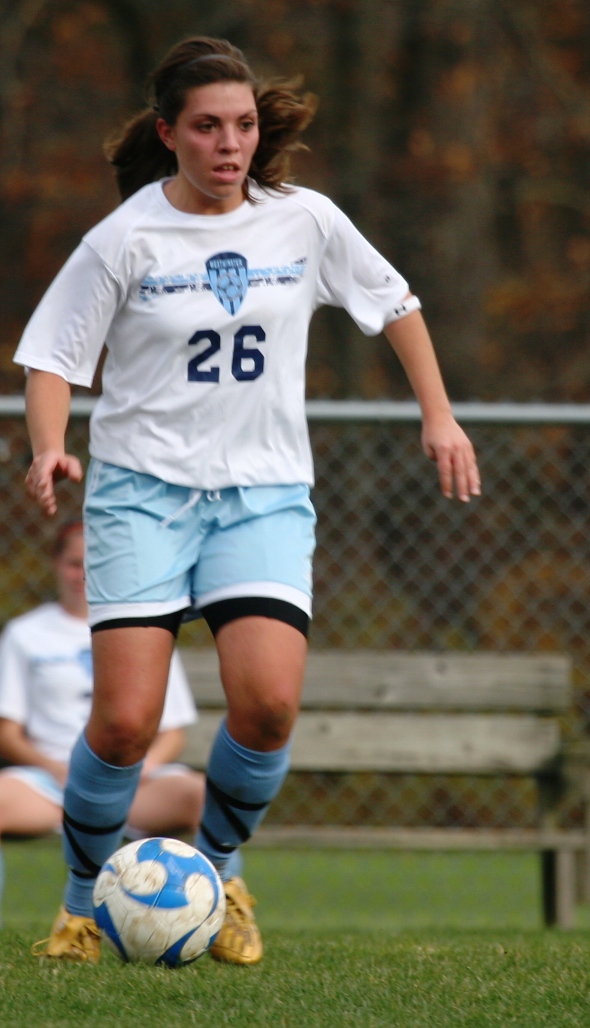 "(Killmeyer being out) makes a big difference," Thakar said. "She's a playmaker."

Killmeyer ranked second on the team with eight goals and 20 points last year.

The remainder of the returning starters include senior forward Danielle Struble, who ranked third on the team with five goals and 14 points while earning an honorable mention for the all-PAC team. Struble tied senior midfielder Kristin Kajari, also a returning starter, for a team-high four assists. The other returning midfielder is junior Shanay Phillian.

Defensively, the Titans return all four players on their back line, including a two-time, second-team all-PAC selection in junior Kelli Michanowicz (right). The other three are two-year starters in juniors Tyler Dever and Hayley Ebersbacher and a one-year starter in junior Kaz Zippert.

"We have a solid back four," Thakar said. "The expectations are high for them because they will have a lot more experience as juniors and seniors than as sophomores. That experience is big."

Sophomore goalkeeper Jenn Cantella is also returning after she made 19 starts last year and logged a save percentage (.846) and goals against average (1.09) that ranked third in the PAC. Cantella posted five shutouts and twice stopped career highs of 11 saves.

Westminster is hungry to return to postseason success. In five years from 2002-07, the Titans won four PAC titles and made four trips to the NCAA Division III tournament. Not since the 2007 team went 15-5-3 have the Titans achieved both feats. However, according to Thakar, the Titans are not far off from playing at that level.

"It's kind of unfortunate," Thakar said. "We are not that much worse. There's just not that much difference between the top four teams in the PAC."

There has to be some difference, however, between the Titan teams that won the PAC title and the ones that didn't.

"Judging from previous years, the depth hurt us," Thakar said. "That's what justified the spot where we finished."


###