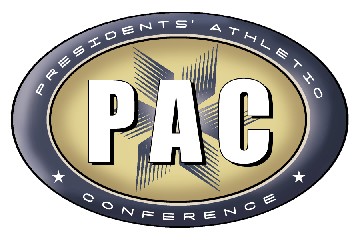 2011 PAC Women's Soccer Preview

BETHANY BISON (8-8-2 Overall, 3-4-1 PAC in 2010)
Even with 18 players back from last year, the 2011 season will represent a new start for the Bethany College women's soccer program, as first-year head coach Peter Parikakis takes the reins. The new coach will lead the Bison into their season opener Sept. 1 at Carlow.
Even with two All-Presidents' Athletic Conference (PAC) selections, Bethany finished 8-8-2, 3-4-1 PAC last season, which was nearly the same record the team had the previous season. Despite the change at the top, the Bison have made an easy transition to the new direction, which is due to the continuity of having last year's assistant coach return.
"One of the highlights to taking this position as head coach is seeing such positive attitude from the players. Beginning in the spring season, the women were proactive, taking initiative with the team to make it an easy transition for me," said Parikakis, who was an assistant with the men's program last year and helped the Bison reach the PAC Tournament title match and the ECAC Tournament semifinals.
"Having Maggie Kuhn return as assistant coach gives me confidence the girls will be more united as a team since most of the team has already established a relationship with her. She is a key factor in the resurgence of the women's program," said Parikakis. "This is a new season, new era, with a fresh mentality and a clean slate. The seniors this year have a feeling of this being the year to go all the way. This team is a lot better than what their previous record shows. Each portion of the field has their strengths with the ability to be successful as a team."
In the mix this year includes 18 returners with eight newcomers, only losing former captain and two-time All-PAC winner Lisa Wabrick. The BC defense features junior keeper Brittany Sadler, who recorded four clean sheets in 13 starts last season, but she will be challenged in camp. A pair of returners will anchor the defensive front in junior Brittany Bizila, who started 17 of 18 matches last year, and senior Breanne Minardi, who started all 17 matches she played last year.
"The defense is solid," said Parikakis. "Sadler is a returning goalie with leadership ability. The starting position is up in the air with the arrival of newcomer Jordan Bro. The two girls will need to show me who is superior for the starting position. We are looking for a lot from Bizila at the sweeper position. She is versatile with extreme ability to make plays. Another leader from the backfield is previous captain Breane. She is the defensive work horse. She commands the field with her leadership ability and attitude.
"I'm also looking for two freshmen Heather Holeva and Taylor Lewis to make significant impacts in the back four," said Parikakis. "With the combination of newcomers and the likes of returners Kristina Massie, Brittany Marsh, Ashley Wright, Colleen McNurlen and Sara Hogan, we should be the most solid at this area of the field."
A slew of returning players emphasize the midfield area. Seniors Kristen Cottrill, who has played in 51 career matches, and Hilary Clark, who has played 50 games, have the most established resumes. Senior Missy Baldwin returns for her final season and sophomores Paige Prato, Kelsey Burnsworth and Donovan Reed all played quite a bit as freshmen.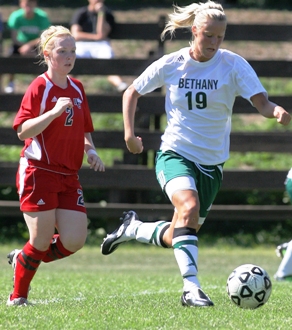 "The midfield is where the experienced players lie," said Parikakis. "Leading players include Kristen, who is the spark plug. I'm expecting a lot from Kristen and looking for her to really lead us this year from the center midfield position. With Paige, Hilary and Donovan providing solid outside mids for us, we should have a complete midfield. I also look forward to McKenna Junkin seeing some quality time from the start of the season as well. We also have returners in Mari Kolanko, Haylee and Lindsey Sparr, so we should have a pretty deep and solid midfield."
Up front, Bethany will be paced by three elite scorers. Senior Cassie Spalding (right) is a three-time All-PAC selection, as well as a two-time leader in the PAC in scoring. She reached 100 career points by posting a conference-best 42 points (19 goals, four assists) as a junior. Also back to balance out the scoring is junior Julie Lindenfelser, who totaled 22 points (nine goals, four assists), and sophomore Alaina Heck, who notched seven goals and four assists for 18 points. Freshman Brittany Batross is in the mix for time as well.
"Scoring up front will be better than it was last year," said Parikakis. "Taking over a new program and having an athlete with talent like Cassie is a dream come true. In addition to Cassie and Julie, with returner Alaina and newcomer Brittany, we should continue to have a scoring threat."
The Bison coaching staff brought in a talented group of newcomers to mesh with the veterans. Along with Batross, Bro, Holeva, Junkin, Lewis and Snyder, other new faces looking for quality playing time include freshmen Maci Caster and Merandia Shinaberry.
"Keys to success for the season include re-establishing the team as a family and continue to grow together as a team," said Parikakis. "Being successful comes with hard work and having fun. Having fun is a big part of the way I coach, but I have even more fun winning. I look forward to utilizing the players from the past as well as gaining support from the college and community to make it to postseason play this season."


CHATHAM COUGARS (4-14 Overall, 1-7 PAC in 2010)
"A new beginning" will be the mantra for the Chatham Women's Soccer team. With a small squad returning,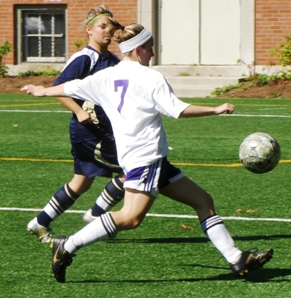 Jaime Retersdorf joined by Jennifer Simonetti, will be looking to create team cohesion and a competitive learning environment that will lay the foundation for the future successes of Chatham Soccer.
Chatham will look to junior defender, Alison Taverna and sophomores, midfielder Savannah Moon (left) and defender Ashley Lamb to provide leadership and discipline for a young but talented class of freshmen.
The incoming first year and transfer student-athletes will add a variety of athleticism and skill to a small but solid returning roster. The first year class is bringing the local high school talent of the greater Pittsburgh area to Chatham University. Chatham will rely on goalkeeper Liz Sawyer to command the penalty area and lead the team as a first year contender.
Coach Retersdorf welcomes assistant coach, Jennifer Simonetti to the program. Jen has extensive playing experience as a former Division I All American at the University of Dayton, and also brings a wealth of knowledge from her roles as a head coach for both high school and college teams and the director of coaching for a club.
Chatham opens the season against RMU's club program on Thursday, September 1st. The Cougars do not open PAC play until September 30th, when they travel to Waynesburg University.

GENEVA GOLDEN TORNADOES (10-8-3 Overall in 2010)

Much like any other year, graduation usually takes a pretty big bite out of any college athletic program. In the case of Geneva's women's soccer, graduation was responsible for taking the school's all-time leader in shut-outs and the person who was undoubtedly the team leader throughout her career. With Lauren Londino and her 26 career shut-outs gone, the Golden Tornadoes will have to turn the page into a new era of goalkeepers and a new era as an active member of NCAA Division III and the Presidents' Athletic Conference.
Geneva finished the 2010 campaign with an overall record of 10-8-3 including its third consecutive trip to the NCCAA East regional tournament. For the third straight season, the Golden Tornadoes saw their season end at Roberts Wesleyan in the regional finals. This year, Geneva will set its sight on its first opportunity to compete for a PAC title. "We have enjoyed some success," says fourth year head coach Linda Sumner. "We have to be prepared for a very challenging conference schedule as we finally have a chance to compete against the PAC in matches that truly matter to both teams."
Geneva opened the 2010 season with an 11-game unbeaten streak as it roared out of the gate with an 8-0-3 record. Unfortunately, the Golden Tornadoes had their troubles against PAC competition with a record of just 2-7 against conference foes. "We realize how good some of these teams in the conference will be and we must pick up our game if we want to compete with the best the conference has to offer."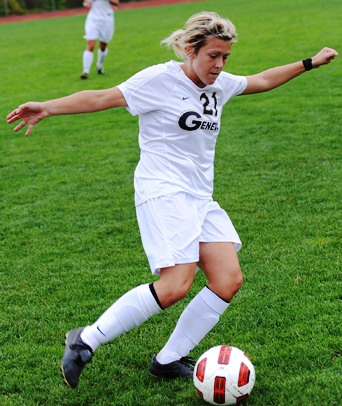 While Geneva will have a new face patrolling the nets in 2011, the offense will feature its leading scorer from a year ago in junior Maura Allen. Allen posted 11 goals and a team best 23 points in 2010. Additionally, Rebecca Shaw, who posted four goals and nine points, will also return to the midfield. Shaw is one of five seniors that will be the backbone of the 2011 Golden Tornadoes. Annissa Halulko, Julie Collins, Kathryn Wiater and Nancy Paul (right) will be called upon for their production on the field and their leadership off of it. "I am very excited about this senior class," says Sumner. "They have all worked extremely hard for this program during their respective careers and have set a great example for the rest of the team. Hopefully all that hard work and dedication will pay off for them and for our program during the season."
The majority of Geneva's experience returning for 2011 is on the back line, but the Golden Tornadoes will also be welcoming some fresh faces to the fold for the upcoming campaign. A total of seven freshmen will be putting on the Geneva jersey for the first time including goalkeeper Sara Mittner. Mittner may have some large shoes to fill in her first season as she replaces one of Geneva's all-time greats. "Putting a freshman directly into the fire is not exactly a perfect scenario," says Sumner. "We obviously would love to have some experience back there but what better way to gain valuable experience than to get in there right away. We know there will be a learning curve and a transitional period, but we are confident in Sara making that transition."
The Golden Tornadoes will again look to jump out of the box quickly in 2011 but will hope to maintain that momentum into October for the start of conference play. "It's an exciting time for Geneva and for our soccer program," says Sumner. "We want to make an immediate impact in our first year as an eligible contender in the PAC. It will be fun watching our young players mature and follow in the footsteps of an amazing senior class."

GROVE CITY WOLVERINES (12-8-1 Overall, 5-3 PAC in 2010)
Armed with a full arsenal of offensive firepower, an array of versatile midfielders, several experienced defenders and a returning starter in goal, the Grove City College women's soccer team sits in prime position to once again challenge for Presidents' Athletic Conference supremacy along with a return to postseason play.

The 2011 season will be the 20th season of intercollegiate play for Grove City women's soccer and the Wolverines will field one of the more experienced s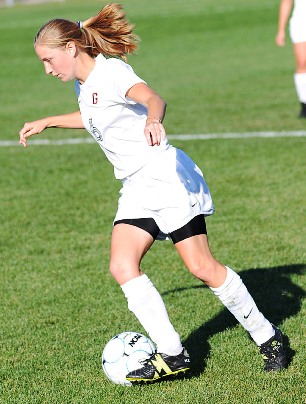 quads in program history.

Grove City returns 18 letterwinners and seven full-time starters from a 2010 squad that earned the program's third postseason berth in four years.

The Wolverines' 2011 returnees accounted for over two-thirds of Grove City's program-record 75 goals scored last year.

Senior Emily Hurley (left) racked up 11 goals in 2010 and will likely be a key contributor up front once again this fall. She is a two-year starter and three-year letterwinner for the Wolverines.

Hurley is joined by several other veterans who are looking to secure full-time starting spots. Senior Morgan Osterhouse tied for third on the team with six goals last year and classmate Arielle Goyzueta added four goals in 20 appearances. Both have been part-time starters at Grove City.

Junior Sarah Peachey also returns at forward for Grove City. She appeared in seven matches as a reserve last year.

Sophomores Shannon Bishop, Chelsea Tarolli and Sam Weber will also challenge for starting assignments this year. In 2010, Bishop led the team's rookies in scoring six goals while Weber made two starts. Tarolli saw action in 11 matches.

Like the forward position, Grove City will have plenty of options at midfielder this fall. Three full-time starters return in senior Cara Colley, junior Grace Rieman and sophomore Michelle Stevens.

Colley started 20 matches in 2010 and is a past All-PAC honoree. Rieman led the conference with a dozen assists and earned Second Team All-PAC recognition while Stevens started 19 matches as a freshman and finished with eight assists.

Junior midfielder Bethany Kolodziej returns after earning her first letter in 2010. Also back are sophomore letterwinners Sarah Cessar and Ashley Sealander.

Cessar scored three goals in 10 appearances last year while Sealander had two goals and two assists in 12 matches.

Grove City's backline also features several experienced veterans who will compete for time with rising underclassmen in 2011.

Senior Christen Vallimont will help lead a youthful, yet experienced group of defenders this fall. Vallimont made one start as a junior and will contend for a starting spot this year.

Sophomore Lydia Caissy earned a starting spot at defender in preseason camp and started all 21 matches as a rookie.

She is expected to be a key contributor defensively, as is classmate Leah Wilt.

Wilt started 16 matches in 2010 and appeared in all 21 matches at defender. Sophomore Jessica Heck will also contend for a starting spot after lettering in 2010.

In goal, sophomore Tiffany Yost returns after starting all 21 matches as a freshman. She led the conference with 12 wins and helped the Wolverines record nine shutouts.

Grove City will open the 2011 season September 2 at D'Youville. The home opener is September 7 against Heidelberg.

The Wolverines begin conference play October 1 at Bethany. The first home conference match is October 8 against Waynesburg.


SAINT VINCENT LADY BEARCATS (6-10-3 Overall, 3-5 PAC in 2010)
For the second straight season, Saint Vincent head soccer coach Becky Stewart offered the same answer when asked how her team looks entering the 2011 campaign.
"We're young."
Fifteen of the Bearcats' 22 players are either freshmen or sophomores, while just two seniors dot the roster. However, the returnees include 13 players who saw time in at least seven games last year, in which the Bearcats went 6-10-3 overall, and 3-5 in Presidents' Athletic Conference play.
"It's a huge help getting back so many young players who saw a lot of time last year," said Stewart, who is entering her fourth year on the Bearcat bench. "They're all going to see significant playing time again this year, and they should all continue to grow.
"We have everyone on the same page," she said of her returnees. "All of the returnees have set positions, and that allows us to train them more specifically."
While the roster is again dominated by youth, one of the key returnees to the Bearcats is a senior, goalie Kirstie Mills. A full-time starter since her freshman year, Mills finished second in the PAC last season with 171 saves, while tallying an .834 save percentage and three shutouts. For her career, she's started 55 of a possible 57 games between the pipes, and has stopped at least 130 shots in all three years.
"We're really looking for Kirstie to be a leader for this team," said Stewart.
The Bearcats are also quite experienced at the forward position, as four of the seven players at the position appeared in at least 15 games a year ago. Sophomore Tenesha Corrales and junior Catherine Czapski are back after each scoring three goals in 2010, while sophomore Rebecca Sandor and senior Carly Duffy each appeared in 17 games on the front line a year ago.
Though the Bearcat offense accounted for just 18 goals last season, Stewart feels that her squad should have enough depth at the position to see a turnaround.
"With seven forwards," she said, "and four who have seen a lot of time during their careers, we definitely have enough. We just need someone to step up and lead the offense, if not for the whole season, maybe for two or three games. With seven forwards, if each of them can come up with one or two big games, we could do pretty well."
The midfield position sees a trio of returnees in juniors Morgan Castle and Sam Shumaker and sophomore Monika Derboghossian. Castle, who appeared in 18 games in 2010 with 11 starts, is more of a defensive midfielder, while Derboghossian and Shumaker bring offense to the spot.
Derboghossian started 14 games, posting two goals and an assist in 2010, while Shumaker made 17 appearances and 11 starts, with one goal and one assist. Each player put 17 shots on goal in 2010.
The Bearcats also return a trio of starters on defense, in sophomores Lindsey Daniels (right) and Rachel Reading, and junior Emily Taylor. Daniels was a second team All-PAC selection as a freshman after starting all 18 games, while Reading started 17 times in her first year at SVC. Taylor has appeared in 31 of 36 games during her two-year career, making 19 starts.
"I'm really expecting a lot out of our backs," said Stewart. "Lindsey had a great freshman year for us, and she is the leader of our defense."
Her team may have returnees at nearly every position, but Stewart says that most of the spots are still up for grabs, and expects her talented freshman class to contribute right away.
"There is no doubt our freshmen are going to see time," she said. "Right now, at least three are slated to start and could make an immediate impact. All seven are talented enough to get a lot of time from the get go."
While question marks remain at a number of spots, Stewart is pleased with what she's seen during the early stages of camp, and is optimistic for the upcoming year.
"It seems like the girls have a really good vibe," said the coach. "They all have had positive attitudes. They come to practice ready to work and ready to play soccer."
As Stewart enters her fourth year, her expectations remain the same as always.
"We just want to continue to see good, overall improvements," she said. "We want to finished higher in the conference than last year, and we obviously want to finish with a better record than last year. It looks like we're headed in the right direction."
The Bearcats begin the 2011 campaign with nine non-conference contests, beginning with a Sept. 1st meeting at Oberlin College. The squad's final nine games will all be against PAC foes, starting on Oct. 1st when the Bearcats travel to Westminster.

THIEL TOMCATS (2-17 Overall, 0-8 PAC in 2010)
The 2011 version of the Tomcat women's soccer program will look to some veteran leadership as well as a host of new faces to flip the script from last season and become a competitor in the Presidents' Athletic Conference.
Led by second-year head coach Andy Hoggarth, the women will look to continue to improve every day of the season, but Hoggarth has higher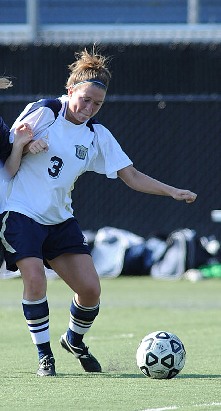 expectations. "We want to be competitive in every game that we play in this season. Every time that we step on the field, we want to have the confidence and the preparation that it takes to succeed."
On the field, a trio of seniors leads the women. The defense will be lead this season by Rebecca Quinet (left). "Rebecca brings a great attitude to the field," said Hoggarth. "She is the vocal leader on the team both in practice as well as games and we think that she is going to step up nicely in her senior campaign and not only become the leader that this defense needs, but one the team needs as well."
Along with Quinet, seniors Rebecca House and Katie Bretz, as well as junior Karen Wolfe, will look to provide the senior leadership that this young Tomcat squad needs. In 19 games played last season, Wolfe led the Tomcats in both goals scored and points.
"With how many freshmen and sophomores are on the team this year, it is more vital this year than any other that our upper-classmen lead this team. Their leadership could mold not only how this season turns out, but how the next few years could go as well."
The one hole that needs filled is at goalkeeper. With the departure of four-time all-PAC performer Jill Harry, Thiel will look to a new goalie for the first time in four seasons.
When asked about the loss of his all-PAC goalkeeper, Hoggarth replied, "The loss of a player like Jill (Harry) is hard on any team. When you have someone that filled a position for four straight seasons and played as well as she did, it's hard to see her go. However, we have a great group of freshmen keepers that we think are up to the challenge of filling her shoes, and we are confident in their abilities between the pipes."
Thiel has reloaded their roster with freshman once again this season and the Tomcats have an abundance of youth on their squad. Between the freshmen and sophomores, the underclassmen make up 21 (14 freshmen, 7 sophomores) of the 27 roster players. However, most of the returning sophomores played ample time during the 2010 campaign.
As freshmen, most of the returning sophomores played in at least 15 games in 2010. Defender Kelsey Adair started in all 19 games while finishing second on the team in points scored. Forward Taryn Benner also played and started all 19 games while scoring two goals for the Tomcats.
The Tomcats will open their schedule on the weekend of September 3rd as they travel to Defiance, Ohio to take on Saint Mary's College as well as Defiance College. They then play nine more games before opening PAC play in Crestview Hills, Kentucky against Thomas More.
When asked about his expectations for the season, coach Hoggarth said, "We may have a young team, but our coaching staff feels that the experience that the sophomores got as freshmen, as well as the upper-classmen experience and leadership will help our freshmen players mature faster and help us to be competitive in the conference."
THOMAS MORE SAINTS (14-0-4 Overall, 8-0 PAC in 2010)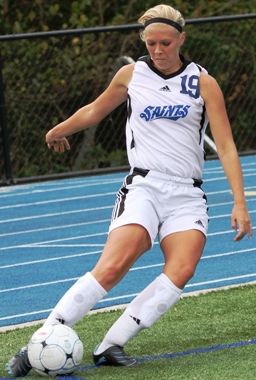 The Thomas More College women's soccer team, which advanced to the Presidents' Athletic Conference (PAC) Championship Tournament in 2010 looks to win the PAC and advance to its first National Collegiate Athletic Conference (NCAA) berth since 2003.
Fifth-year head coach Jeff Cummings returns eight of his 10 scores from last season's squad. Returning is junior midfielder Abby Gindling, sophomore forward Courtney Clark, senior defender Kelsie Rust (right), junior midfielder Chrissy Sonderman, sophomore defender Kirstie Reilman, senior midfielder Sara Harrison, junior midfielder Sarah Lankford and senior forward Lauren Wietmarschen. Gindling led the Saints last season in scoring with 21 points on a team-high eight goals and five assists and Clark was second with 14 points with seven goals, including a team-high four game-winning goals. Rust was third on the team in scoring with 13 points on five goals and three assists, Sonderman had four goals and two assists for 10 points and Reilman had nine points on four goals and one assists. Harrison was seventh on the team in scoring with six points on two goals and two assists, while Lankford had five points on two goals and one assist and Wietmarschen had five points on two goals and one assists in only five matches before a season-ending injury.
In goals, the Saints return both of their goalkeepers, who shared the majority of minutes. Senior Katie Burger led the nation last season in goals against average with an average of 0.09 as she gave up only one goal in 997.38 and recorded 30 saves and had two solo shutouts. Sophomore Chelsea Dietz played 598:15 in goal and allowed only three goals and recorded 24 saves had one solo shutout.
The Saints open the 2011 season on September 1 when they host Earlham College at 6 p.m. in a non-conference match at The Bank of Kentucky Field in Crestview Hills, Kentucky.
WASHINGTON & JEFFERSON PRESIDENTS (14-6-1 Overall, 7-1 PAC in 2010)
Optimism reigns supreme yet again as the W&J women's soccer team prepares for its fifth preseason camp at Alexandre Stadium under Head Coach Pete Curtis in 2011. The three-time defending Presidents' Athletic Conference Champions will attempt to reach the NCAA Division III Tournament for a school-record fourth consecutive season.
The Presidents are loaded with talent, as they return nine starters from a team that posted a 14-6-1 record last year, including three players who earned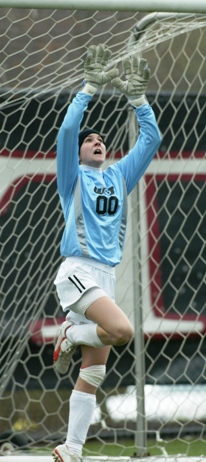 First Team All-PAC honors. That trio is led by sophomore sensation Holly Shipley, who led the team with 13 goals and 11 assists a season ago. Shipley was also selected as the ECAC Division III South Rookie of the year. In addition, fellow first teamers Chrissy Marcius, a junior midfielder, who had 10 goals and two assists, and junior All-Region defensive standout Lauren Reynolds are back.
Junior Dawn Murphy, who earned Second Team All-PAC honors for a second-straight season, also returns to add another weapon to the Presidents' offensive arsenal. Murphy had two goals and nine assists last year.
Curtis, a three-time PAC Coach of the Year, expects his team to compete for a PAC Championship once again this fall.
"Our goal every year is to make the conference tournament. If we get there, that tournament becomes a season unto itself. Historically, when the pressure is on, this team has found a way to get it done, and my expectations will be no different this season," said Curtis.
It's not just the offense that is heavy on talent and experience. Reynolds bolsters a defense that also returns juniors Hannah Shaner and Emma Donahey, along with sophomore Katie Kelly. This starting unit combined to allow a school-record low 16 goals, surpassing the previous record of 21 the 2009 defense allowed.
Behind the defense will be senior goalkeeper Stephanie Saussol (left), who had 10 wins while stopping 63 opponent shots. Saussol had a 0.93 goals-against average and garnered All-PAC Honorable Mention laurels. She was also selected to the NSCAA All-East Scholar Team.
For a program that has raised the bar each season under Curtis, expectations have never been higher headed into 2011. The Presidents possess a solid balance of experience and talent and would love nothing more than to add another piece of hardware to the program's trophy case in the Henry Memorial Center.

WAYNESBURG YELLOW JACKETS (10-6-3 Overall, 3-4-1 PAC in 2010)
By most people's accounts, the 2010 Waynesburg University women's soccer team took a huge step forward from its 2009 incarnation. The Yellow Jackets went 10-6-3 overall with a 3-4-1 mark in Presidents' Athletic Conference (PAC) play. Those numbers were a marked improvement from two seasons ago, when the team went 6-12 for the year and 2-5 in conference play.
However, second-year head man Sean McCarthy has already put last year in the rearview mirror. He believes the things that the 2011 Jackets are capable of will make the team's fans forget about the impressive improvements of last year's squad.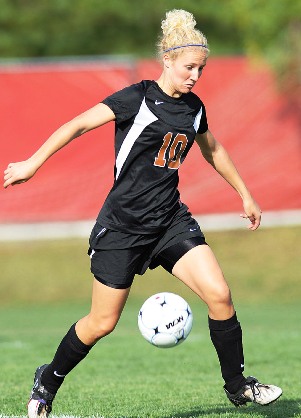 "We took a baby step forward last year," McCarthy said. "We are going to take much bigger steps this season."
The major reason for the second-year team leader's optimism is a highly experienced senior class that features a trio of All-PAC performers. Leading the way are forward Courtney Ebersole (right) and Katrina Kelly. Ebersole, a three-time all-conference honoree, earned first-team All-PAC laurels last fall after leading the team and ranking fifth in the conference in total points (27) and goals (12).
While Ebersole was the focal point of the team's offensive attack, Kelly was a rock in net for the Jackets. She was rewarded for her work by joining Ebersole on the PAC's first team after finishing the season ranked fifth in the conference in goals against average (0.97), third in save percentage (.871), fourth in total saves (115) and fourth in saves per game (6.76). Her five shutouts were the third most in the conference. Both players were honored as PAC Players of the Week at different points last year.
Though senior defender Terrin Crist was left off the 2010 All-PAC team, she earned the honor as a freshman and sophomore. The gritty veteran is described by her head coach as "the engine that drives us." Thanks in large part to Crist, Waynesburg gave up the third fewest goals (1.0 gaa) in the conference last year.
Along with their version of a "big three," this year's senior class also features some outstanding support personnel, including Rebecca Snyder, who missed significant time last year with an injury, high energy competitor Sarah Markwardt and backup keeper Jaime Williamson, who gives the team excellent depth in net.
Younger returners to watch include All-PAC defender Victoria Shepherd, junior Heather Davis, who started 18 games, and sophomores Taylor Augustine and Susie Godwin, who posted three goals in each of their debut seasons with the team.
McCarthy's first full season of recruiting also paid dividends for the team with a big group of freshmen and transfers.
"I think these incoming players are going to make an impact," McCarthy said. "We have some standouts that are going to push Waynesburg University soccer to a new level."
Helping to move the Jackets to that new level are this year's coaching staff which includes veteran goalkeeping coach Buffy Biernesser, who starts her first year with the Jackets, and returning assistants Sarah Arsenault and Becky Juliano. Michael Abbondondolo, a first-year member of the staff who will also work with the men's team, completes this year's group of assistant coaches.
The Waynesburg women open the 2011 campaign with a home game against Mt. Union on Sept. 1. Start time is currently set for 6:30 p.m.

WESTMINSTER TITANS (10-10-2 Overall, 5-3 PAC in 2010)
Circumstances have forced the Westminster College women's soccer team to rally together, but the Titans continue to rise to the occasion. With the team's starting goalkeeper and top distributor out for the season in 2010, a young team rallied around two senior goal scorers to make a run to the Presidents' Athletic Conference (PAC) championship game.

Entering the 2011 season the Titans are faced with another circumstance. They will need to fill a significant scoring void as only 19 percent (9 of 46) of the team's goals in 2010 were from players who are returning this year.

Westminster posted a 10-10-2 record in 2010 and a 5-3 mark in the PAC. Thanks to a late-season surge, the five-time PAC champions returned to the PAC finals after a rare two-year hiatus. The Titans upset top-seeded Thomas More in the conference semifinals before losing to Washington & Jefferson, 3-0, in the finals.

"We definitely ended on a positive note," said Girish Thakar, who enters his 10th year as head coach in 2011. "That was a sign of a young team. It took awhile for everyone to work together and get in the right position."

Westminster returns 12 letter-winners from last year including five starters. But that doesn't include senior midfielder Samantha Killmeyer and junior goalkeeper Jenn Cantella. Killmeyer, a two-time, first-team all-PAC selection and 2008 NCAA assists leader, did not play in 2010 because of an injury. Cantella led the Titans to a 4-2-1 record with five shutouts before she sustained a season-ending injury last year.

That meant a young Titan team had to rely heavily on two seniors last year. Sarah Nee scored 17 goals to finish second on team's career scoring list with 53 goals. Danielle Struble also netted 10 goals.

Thakar is not looking for one or two players to score all the goals this season.

"It's truly going to take a team effort for us to be successful," Thakar said. "Instead of having one player score 18 goals we will need four or five players score four or five goals apiece."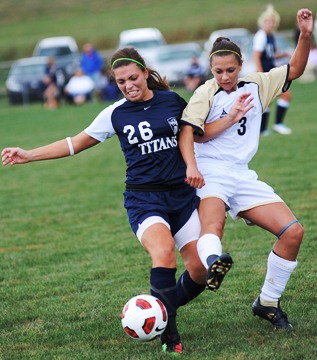 Senior midfielder Brittany Grabski is the top returning goal-scorer with three last year in her first season as a starter.

However, Killmeyer scored eight goals apiece in her first two seasons, including her freshman year when she set the school record with 20 assists.

"Having Sam back is going to be a big help," Thakar said. "She is dangerous and teams will be aware of her. There is potential for Sam scoring a lot more, but I don't know if we can rely on her to score (as many as Nee and Struble)."

According to Thakar, Killmeyer is more of a "creative player" and more of her goals in previous years came on free kicks and corners rather than open play.

Senior midfielder Shanay Phillian scored two goals last year in her second year as a starter.

The other three returning starters are found on the back line with senior defenders Kelli Michanowicz (left) and Tyler Dever returning after earning second-team all-PAC honors in 2010. Sophomore defender Katie Brown is also back after making 15 starts in her rookie season.

Michanowicz is the most experienced defender having earned second-team all-PAC honors for three straight years. Dever is a speedy outside back who attacks a lot more. She posted six assists and one goal last year.



###