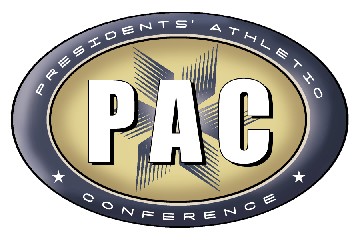 2010 PAC Women's Tennis Preview

BETHANY BISON (0-15 Overall, 0-6 PAC in 2009)

Meshing a solid group of new players with four returners from last fall has the Bethany College women's tennis team expecting better results this season, which starts Sept. 1 with a home match against Waynesburg.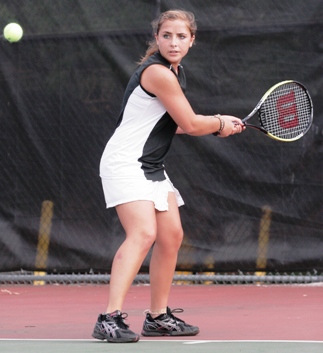 Head coach Jan Forsty, who is in her third season at the helm of the Bison tennis program, brings back four players from last year's squad. Headlining that group is junior Brittani Seeman (left), who was second on the team in singles victories last fall and first in doubles wins. Junior Sarah Wood is also back after playing most of the '09 campaign at #1.

Other returning players include juniors Vanessa Manning and Kirstie Pomilio, who both played a considerable amount last year in singles and doubles.

Joining the returning players will be seven newcomers, who are expected to bring a great deal of athleticism to the roster. Already earning spots in the top four are sophomore Maria Vallone, who was an All-PAC player on the softball diamond last spring, and German transfer student Sonja Wille.

Also in the mix for time at the last two singles slots, as well as doubles, are senior Bridgette Fauth, also an all-conference softball player, junior Tiffany Simpson, a two-year member of the women's basketball team, sophomore Liz Kletzli, another key member of last year's softball team that won a school-record 35 games, and freshmen Brittny Duell and Lea Faden.

"Combining out returning players and the experience they gained last year with the newcomers and their athleticism should make us much more competitive this season," said Forsty. "We are improving every day in practice and believe we should get better as the year goes on because of our athletic ability."


CHATHAM COUGARS (5-9 Overall, 3-3 PAC in 2009)
The Chatham Women's Tennis Team looks to accomplish some big things in the 2010 season. Led by 2009 Coach of the Year Aaron Wilf, the Cougars return 5 starters from last year's squad that finished 3rd place overall at the Conference Championships. Senior standout Barb Petty will look to finish her collegiate career strong and try to lead Chatham back to the level they achieved a year ago. Alongside Petty will be Alexa Coughenour, Alisa Boslett, Megan Padula, and Jenny Murphy, all of whom contributed last season to the Cougars late-season run. Joining the squad this season will be Linah Richer, Paige Dunlap, Kelsey LaHue, Leisha Durstine, and Stevie Greek.

Coach Wilf said, "Overall, we hope to build on the team's success the last few seasons and continue to elevate the program into one of the elite units in the PAC Conference."

The Cougars open their season on Wednesday, September 1st when they travel to Geneva to take on the Golden Tornadoes.


GENEVA GOLDEN TORNADOES (9-5 in 2009)
Having an experienced group of returning players is a comforting feeling for ninth year head coach Mandee Craft. With all top four singles players returning in 2010 and a total of six veterans returning to the fold will be a welcomed sight for the Golden Tornadoes in the upcoming campaign. "I feel confident that we could be a successful team with just our returning players," says Craft. "Even so, it will be exciting to see what this group of incoming freshmen will do for us."
Craft and her group of returning players enjoyed a 9-5 season in 2009, which was the most single season victories by a Geneva team since the 1993 team won 11 matches. "We enjoyed great success a year ago which should only help the confidence level of our ladies," says Craft. "It was exciting to watch the progression of our athletes last year and we can only hope for equal success from the newcomers joining us this year."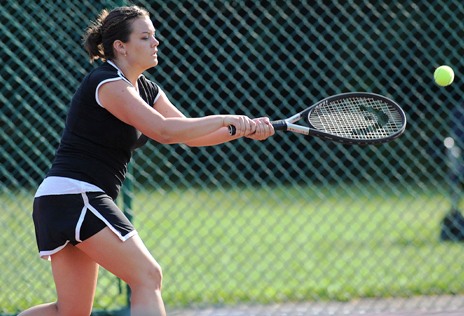 Craft will be given an opportunity to look for several options when it comes time to make out the line-up with a total of 13 student-athletes on the roster. "It is both a blessing and a challenge to work out the best line-up for each match. It is a nice problem to have. This is the first time in a while that our program will enjoy some depth and will afford us the opportunity for some internal competition."
One spot that won't be up for competition will be the number one doubles tandem. For the third consecutive year, Chelsea Cover and Kara Zimmerman (left) will team up as the number one doubles team while also handling the top two singles positions. "Chelsea and Kara know each other's games inside and out which helps them tremendously on the court. I would expect these two to continue their solid work in both singles and doubles."
Amy Weller and Maura McLaughlin will most likely be holding down two of the other single spots with the fifth singles position up for debate. Returning players Havilah Mohler and Cassie Califf will be given an opportunity to compete for either a singles or doubles spot when the season begins. "We have some great options for some of our starting spots, but one of the main priorities will be finding a consistent team to compete in number two and number three doubles.
The 2010 roster includes six new freshmen to the mix with each having the opportunity to step in quickly and contribute. "I am positive that our freshmen will each make a great contribution in some way, whether it's by stepping into the line-up or by encouraging their teammates."
Enjoying the most single season team victories in 16 years results in having high expectations for the upcoming season but building upon that success becomes the challenge. "We can't look back," says Craft. "We have the players to have an exciting season but getting it done on the court is what it is all about. If things play out the way they can, we could enjoy another solid season."
GROVE CITY WOLVERINES (12-4 Overall, 6-0 PAC in 2009)

Following a history-making 2009-10 season, the Grove City College women's tennis team will look for even greater accomplishments this year.

Grove City returns nine letterwinners from a squad that posted 15 victories and advanced to the second round of the 2010 NCAA Division III Championship Tournament.

Fourth-year head coach Joe Walters will rely on that experienced group as the Wolverines pursue their 24th straight Presidents' Athletic Conference title and a third consecutive NCAA Tournament invitation.

Grove City returns a trio of seniors in Elissa Beale, Kimberly Peterson and Natalie Walten. Beale is the lone fourth-year performer in that group and will challenge for a full-time spot in the lineup after seeing part-time duty during each of her first three seasons.

Peterson became a fixture in the Grove City lineup during the 2009-10 season and will again solidify the middle of the lineup.

Walten held down the top spot in the singles lineup and is the returning PAC Player of the Year. She will also likely be at or near the top of the Wolverine lineup this season.

Five juniors also return after making significant contributions as sophomores -- Reena Barnett, Christina Bedi, Megan Bennett, Emily Buurma and Stacy Moon.

Barnett, Bedi and Moon have been fixtures in the lineup in each of the last two seasons. All three are expected to challenge for starting posts again this fall.

Bennett moved into the upper portion of the lineup in 2009 while Buurma has played both singles and doubles on a part-time basis during first two seasons.

Sophomore Jaclyn Walten will also compete for a spot in the lineup after seeing spot duty as a rookie. Several newcomers are also expected to battle for time this year.

Grove City will open the 2010-11 season September 2 at NCAA Division II foe West Liberty State. Conference play begins September 13 against visiting Bethany.

The Wolverines will wrap up the fall portion of the schedule October 16 with a home tri-match against Thomas More and Thiel. The PAC Championships are scheduled for October 22-23 in Erie, Pa.

SAINT VINCENT LADY BEARCATS (7-9 Overall in 2009)
After four years of provisional NCAA status, the Lady Bearcat tennis team is ready for new challenges as a full member of the Presidents' Athletic Conference.

The team has been competitive against its conference rivals since joining the PAC four seasons ago, and Coach Jim Bendel hopes that his squad is prepared for its first year as a full conference member.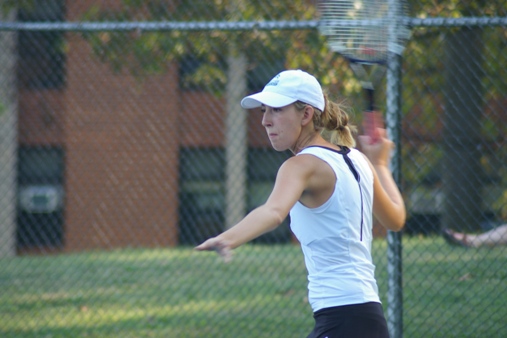 The team returns eight players from last season, including junior Nicole Peer, who was arguably the team's most consistent performer in 2009. Peer went 8-2 in singles play, while posting a 7-3 record when teamed with Jessa Paruch in doubles.

Junior Alexis Cup (right) will be the team's #1 singles player, as she was in 2009. Cup went 6-9 during her sophomore campaign in singles, and had a combined 5-8 record in doubles. Paruch, also a junior, has worked hard over the summer and will begin the season as the team's #2 singles player.

Junior Emily Morris, last year's #2 singles player, also returns. Morris had a 6-9 overall singles record last year. Megan Mahoney, who played anywhere from #4 to #6 singles in 2009, posted an overall singles record of 8-7, and returns for her senior season as well. Stephanie Rubin, a sophomore, also looks to break into the top 6 this fall.

Eight newcomers join the Lady Bearcats this season, led by sophomore transfer Kaitlin Wolz and freshman Amanda Gans. Gans is likely to start the season as the #3 singles player in the rotation.

According to Bendel, "The most significant thing for is this year is that the top 8 are really, really close in talent. I could put any of them in and they would be great representative of our school."

He adds, "Our goal is to be competitive with the top PAC teams. We are hoping to break through this year and achieve that goal. We have to respect the fact that Grove City has been dominant in this conference. Westminster had a very good team last year. We know what we have to do in order to compete."

THIEL TOMCATS
Tennis is to once again be played on the campus of Thiel College as the women's tennis program will take the court for the first time in four years under direction of first-year head coach Tim Dunford.

"Our number one goal this year is to be competitive in every match of the season," said Dunford. "We need to set up a good base for the upcoming seasons and that will start with the success we have this year."

With a nine-player roster this year, each student athlete will be important to the overall success of the program. "There isn't a whole lot of difference talent wise between the number one and number six seeds on the team," remarked coach Dunford. "That is a great thing because people can be moved around the rotation as needed to give us a better chance to compete every match throughout the season."

Dunford was very excited for the start of the regular season, saying "This is great opportunity for Thiel. We believe that we will have a very competitive season. The game is all about determination and hustle, and that is something that our girls do not lack."

THOMAS MORE SAINTS (3-11 Overall, 2-4 PAC in 2009)
Thomas More College women's tennis begins a new era in 2010 as Ryan Meyer takes over as the teams new head coach. He will have an experience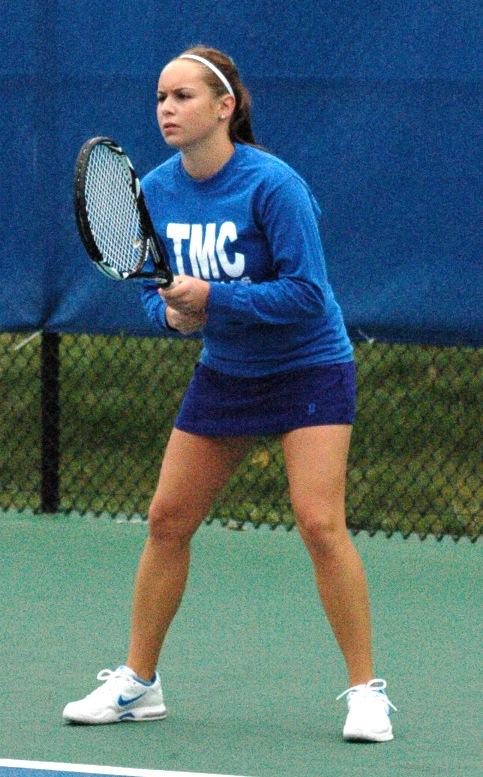 group as the Saints return six players from last year's squad that finished out of seven teams at the Presidents' Athletic Conference (PAC) Championships.
Returning are seniors Lindsey Burns (left) and Brittaney Knapp, junior Lauren Race and sophomores Sierra O'Bryan, Emily Wesselman and Ashley York.
Burns played the No. 2 singles flight last season and posted at a 5-13 record and finished third at the PAC Championships. She was also a combined 5-12 at No. 1 and No. 2 doubles as she was 2-7 at No. 1 doubles and 3-5 at No. 2 doubles. Knapp split time last season at No. 3, 4 and 5 singles and had a combined 4-13 record and was a combined 3-13 at No. 2 and 3 doubles.
Race played the No. 1 singles position last season and 8-11 and placed fourth at the conference championships. She also was 7-12 at No. 1 doubles last season and finished third at the PAC Championships where she was paired with Wesselman.
O'Bryan played No. 6 singles last season and owned a 1-7 record and was 1-10 at No. 3 doubles. Wesselman was 8-8 last season and was a combined 7-7 at No. 1 and No. 2 doubles and placed third at the conference championships where she was paired with Race. York was 2-11 in singles play last season as she split time between No. 4 and No. 5 flights and was 5-7 at No. 2 doubles.
Thomas More opens its season on September 4 when it hosts PAC rival Westminster College at 10 a.m. at the Notre Dame Academy Courts in Park Hills, Kentucky.

WASHINGTON & JEFFERSON PRESIDENTS (2-9 Overall, 1-5 PAC in 2009)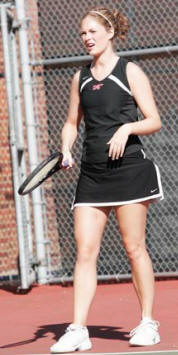 The Washington & Jefferson women's tennis team has returns five upper classmen, including three seniors, to a team looking to improve off of last season's 2-9 overall record and sixth place finish at the Presidents' Athletic Conference Championships.

Senior Alyssa Tousignant returns after posting a 2-3 mark last season, splitting time between first and second singles.

Also returning is senior Stephanie Brueck (right), who will add depth to this year's team after splitting time as second and third singles last season.

Senior Elizabeth Kress is back after missing her junior year. She posted a 6-7 overall mark playing as the No. 2 singles her sophomore year. Kress and Tousignant could rekindle their doubles pairing from that season after teaming at the No. 1 flight.

Juniors Valerie Mahoney and Carrie Campbell will add depth to the roster. Mahoney rotated from third singles to fifth, while Campbell from fourth to sixth. They were doubles partners last season, going 1-5 overall.

It is also a year of new beginnings for the squad, as Emily Hays begins her first season at the helm. Hays is a 2009 Washington & Jefferson College graduate. She owns the most victories by a women's basketball player in school history after the Presidents won 89 games during her four years on campus.

Hays will look to this team's experience to get W&J back on the winning track this season.


WAYNESBURG YELLOW JACKETS (5-5 Overall, 4-2 PAC in 2009)
Ron Christman begins his 13th season as the head of the women's tennis team at his alma-mater with a roster full of familiar faces, returning five of the eight women from last season's team.
The Yellow Jackets come off a 2009 campaign in which they finished the regular season in third place with a 5-5 overall record and a 4-2 conference mark. One particular highlight of the season was a dramatic, 5-4 home victory over conference rival Washington & Jefferson College. At the President's Athletic Conference (PAC) Women's Tennis Championships in Erie, the Jackets finished just seven points behind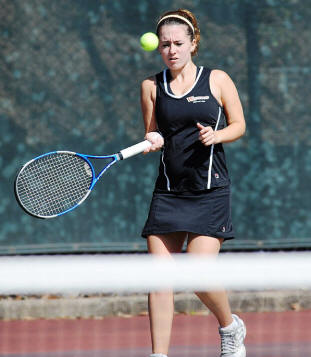 Chatham University for fourth place.
The Yellow Jackets return four juniors, Jessica Kody (left), Kelsey Diesel, Jenny McAndrews and Rebekah Reyes. Kody, a native of Pittsford, N.Y., will look to follow up her sophomore season in which she finished in third place in both singles and doubles at the PAC Championships. She also compiled a team-high eight singles wins on her way to an 8-5 overall record, including a team best 4-2 conference record.
Diesel, a Washington, Pa. native, came into the 2009 season having only competed in one previous collegiate singles match, but showed little signs of any inexperience. She finished in a tie for second on the team with four singles wins and a 4-7 overall record. Diesel faired particularly well when it mattered, as she went 3-3 against conference opponents. She will reunite with Kody, her 2009 doubles partner, in hopes of building on their 6-7 record at second singles last season.
Jenny McAndrews, who saw limited playing time in her sophomore season, will be called upon to contribute as a regular starter in her junior season. The Murrysville native finished the 2009 campaign with a 2-1 record, closing out the season with wins over Bethany and Geneva College.
Rebekah Reyes will look to regain her top singles spot. Reyes, as a first-year sophomore,
played at number one singles for the entirety of the '09 season, ending with a 2-9 record. The Landisburg native teamed up with sophomore Stephanie Ball at number one doubles and the pair posted a 3-8 record.
A talented trio of incoming freshmen will be counted on to compete for the 2010 Yellow Jackets. Markie Gustafson, a tournament player from Dubois, Pa., will compete with Reyes for the number one singles spot and team with her at first doubles. Gustafson led her high school team all four years. Logan McDonald and Jena Blissman have shown well in pre-season workouts and are expected to contribute this season in both singles and doubles.
The 2010 season will also mark the first on the team's brand new, six-court facility at the three sport athletic complex on the outskirts of Waynesburg. The venue replaces the three court campus facility that was home to the Jackets for over 100 years. The spacious new facility will include many of the amenities found at better NCAA Division III collegiate tennis complexes.
The Jackets will open the 2010 season on September 1, when they travel to take on Bethany College in a non-conference match. The inaugural home match will occur on September 14th when they host long time non-conference rival Frostburg State University. The Jackets will host seven more home events this fall and the men will host eight home matches in the spring.
WESTMINSTER TITANS (15-2 Overall, 5-1 PAC in 2009)

How do you follow up the most successful season in team history? That's a question the Westminster College women's tennis team will answer as it enters the 2010-11 season. The Titans return eight out of 10 letter-winners from last year's team that set a team record for wins in a season with a 15-2 mark. The Titans also placed second in the Presidents' Athletic Conference (PAC) for a fourth consecutive year.

"It's a new season; it should be exciting," said sixth-year head coach Scott Renninger. "I'm going to tell the players, 'Last year is gone. It has nothing to do with this year.'"

The Titans may have lost just two letter-winners to graduation, but the departure of April Scudere and Hilary Newman, the first and second ranked players in team history in both singles and doubles wins, leaves a gaping hole at the top of the team's lineup.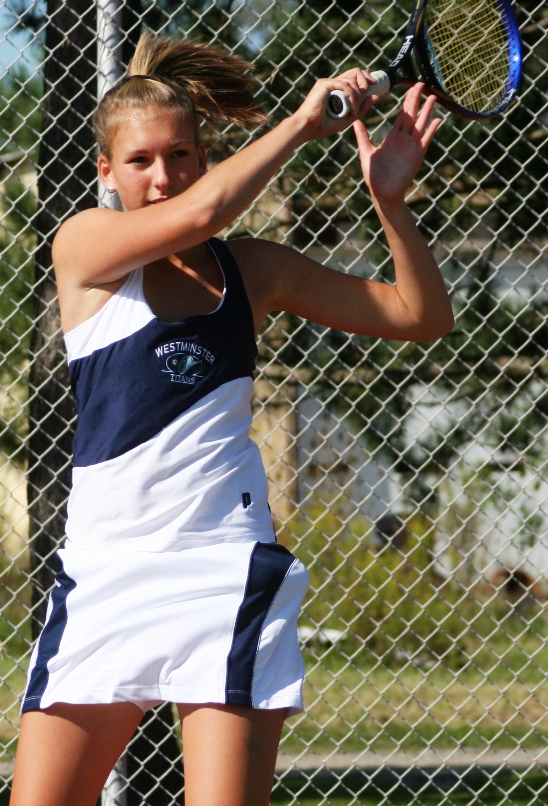 "Every year our team graduates players and when they are of that caliber it leaves a challenge," Renninger said. "Someone has to step up and fill the void. We have some players with a lot of court experience. This should help and we expect good competition."

The likely No. 1 singles player will be sophomore Alex Bailey (right), who posted a team-best 15-2 record at No. 3 singles last year, one win away from the team's single-season record for singles victories. Bailey was the top seed at No. 3 singles heading into the PAC Championships before placing second. She also paired with Scudere for the team's best doubles record with a 13-3 mark.

"Alex will be a strong contender for No. 1," Renninger said. "She had a wonderful initial season. She's a strong player and she's only going to get better."

Senior Rachel Jack is the most experienced player on the team with a 38-22 career singles record that ties her for third all-time at Westminster behind Scudere and Newman. Jack went 12-6 last year, including 10-5 at No. 4 singles where she finished second at the PAC Championships. She was also the No. 2 doubles runner-up.

There are three other returning starters in juniors Dana Griesmer and Lauren Latinovich and sophomore Jane Larson. Griesmer and Larson were the No. 5 and 6 singles runners-up at PACs, respectively, while Latinovich placed second in No. 3 doubles with Larson.

Westminster placed second in eight out of nine flights at the PAC championships last year and the lone exception was Newman winning the No. 3 singles title. Westminster and Grove City players were finalists in all nine brackets, but it was Grove City that won its 23rd straight league title and the Titans placing second for a fourth straight year.

"We are working hard to get better," Renninger added. "Grove City is on top and we are trying to catch them. The question is how we can align against them. We've had some battles with them last few years.

"We certainly aren't hoping for the status quo. Our goal is to be the best. Is that enough to drive the engine? We will see."



###