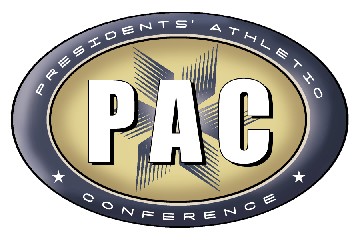 2011 PAC Women's Tennis Preview

BETHANY BISON (4-11 Overall, 1-7 PAC in 2010)
If the Bethany College women's tennis team is to build off its success from last year, the Bison will need a lift from new faces, as only two players are back from last fall when BC won four matches for the highest total since 2005.
Only two players return from last season and they will be relied on by the young Bethany team. Junior Maria Vallone, who is also a two-time All-PAC selection on the softball diamond, enjoyed a stellar first year on the courts, going 11-5 at #1 singles, the most singles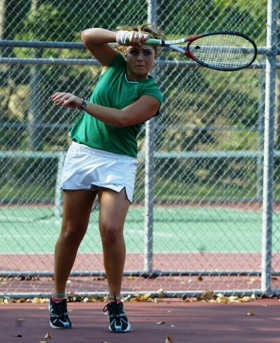 wins by a BC player since 2005.
"Maria had a great first year and she has worked really hard over the summer on improving her game," said Bethany head coach Jan Forsty, who is entering her fourth year at the helm of the program. "She will be stronger and more determined to make an impact."
The other returning player is senior Brittani Seeman (right). She is in her fourth season with the program and after not winning a singles match during her freshman campaign, improved to six victories last year.
"Brittani is our steady rock," said Forsty. "She will add a lot of experience and guide the newer members of the team. I believe Brittani is really ready to step it up and have her best season this year."
All the openings in the line-up could be filled by a pair of impressive freshmen, three international students and two seniors making their debuts with Bethany tennis this fall. Freshmen Maddie Coffey and Tinuke Adetunji have turned in impressive preseasons. Three German exchange students in Meike Buhler, Sonja Gurit and Katrin Stiefel will also have an impact with BC this fall.
In addition, seniors Margaret Harris and Tara Harris join the program for their first seasons in college after playing in high school. Harris has experience as a student-athlete at Bethany after finishing a four-year career on the basketball court.
"Tinuke is a very strong player and will use her strong, aggressive play to challenge for a top spot in our line-up," said Forsty. "Maddie hits strong ground strokes and brings playing experience from high school to one of our top spots.
"We have added our international touch again this year with three German exchange students joining us," said Forsty. "Meike is a very strong player and should figure into our top six players. She is joined by Sonya, who will also see some playing time, mostly at doubles, and Katrin, who is a developing player that is getting better every day.
"We also have two seniors joining us in Meg and Tara Harris," said Forsty. "They both played in high school, but have just come out to join our program."
The Bison roster is rounded out by senior Siobhan McDonagh, junior Rachel Samlall, freshman Jordan Jones and freshman Kaitlyn Tate.
Bethany will begin the 2011 season Sept. 3 at the Thiel Tournament and open the home portion of their schedule Sept. 10 with a tri-match against Washington & Jefferson and Mount Aloysius.


CHATHAM COUGARS (10-5 Overall, 5-3 PAC in 2010)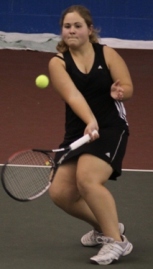 Finishing fourth last year in the President's Athletic Conference (PAC) and with new head coach Allan Quackenbush and new assistant coach Brett Slezak, bringing experience, intensity and new insights, the Chatham women's tennis team is gearing up for an explosive fall season. The Cougars, returning an experienced team of junior and senior players, is looking to build upon their past successes and take Cougar Tennis to a new level on the court with faster serves, harder strokes and smarter tennis. Additionally, Chatham has partnered with Longue Vue Club, one of the area's premier country clubs, to provide the Women's tennis team with a new home venue and training facilities. Having experience and hard work on their side, the Chatham Cougars are pushing forward into success.
Returning tennis staples for the Cougars this year are Alissa Boslett and Alexa Coughenour (left). Being part of last year's fourth place PAC team, both players bring invaluable experience and court sense to the tennis team. With their leadership skills, knowledge, and commitment to the team, they prove to be an asset to the both on and off the court. Watch out for these two players on the court this upcoming fall!

GENEVA GOLDEN TORNADOES ( 8-5 in 2010)
For the past three consecutive years, the Geneva College women's tennis team has finished with a winning record. For 11th year head coach Mandee Craft, the consistency and framework have been set for a program that is primed to begin play as an active member of the Presidents' Athletic Conference. "We certainly don't expect to have a shortage of players who deserve playing time," says Craft. "The true test will be finding the exact balance of singles and doubles skill to make the best line-up out of a tremendously deep roster."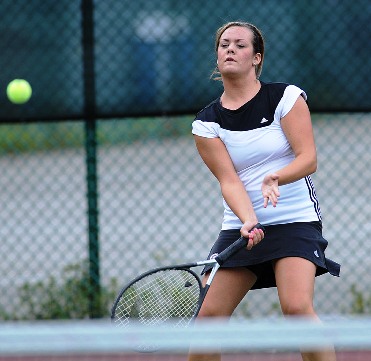 When you look at the graduating class of 2010, it is hard not focus on the loss of three-year number one Chelsea Cover. Cover handled top singles and doubles in each of the past three seasons. "Chelsea's loss will definitely be felt," says Craft. "However, we still maintain strong leadership with two four-year team members leading the way this fall." Kara Zimmerman (right) and Amy Weller will each be playing their fourth and final season for the Golden Tornadoes. Zimmerman paired with Cover to make up Geneva's top doubles team in each of the past two years while it would appear she will move up to take the top spot in singles for her senior campaign. Cassie Califf will also provide Geneva with some experience as she enters her third year of collegiate competition.
The roster is also sprinkled with returning players that will all vie for playing time in 2011. Included in that list are junior Sarah Cypher and sophomores Alison Beattie, Christine Bullock, Julie Kline, Alyssa Kuhn and Emilie Wilson. "We are excited about some of these younger players stepping up into a more sizable role for us in 2011," says Craft.
Heading into the first year of active membership in NCAA Division III and the Presidents' Athletic Conference puts some loftier goals on the table for the Geneva tennis team. Following what was simply a non-conference regular season; the Golden Tornadoes would pack their racquets up and wait for next year. In 2011, the PAC championships await these student-athletes at the end of the regular season. "Our main goal heading into the pre-season is to determine the balance as soon as possible," says Craft. "By the time the PAC championships roll around, we will be comfortable in our spots and ready to make a mark in our first conference tournament."
With three consecutive winning seasons in the rear view mirror, the future would seem bright for this group of Geneva tennis players. Unlike years past when they could only sit and wonder how it would play out of they were eligible. In 2011, there is no more sitting around as the outcome will be played out on the court against the best the Presidents' Athletic Conference has to offer.
GROVE CITY WOLVERINES (13-3 Overall, 8-0 PAC in 2010)

The Grove City College women's tennis team will rely upon a deep and talented senior class during the 2011-12 season as the Wolverines pursue their 25th straight Presidents' Athletic Conference title.

Grove City returns six letterwinners from a 2010-11 squad that advanced to the NCAA Championship Tournament for the third straight season. Five of those six letterwinners will be entering their fourth season at Grove City. All five have been key contributors throughout their career.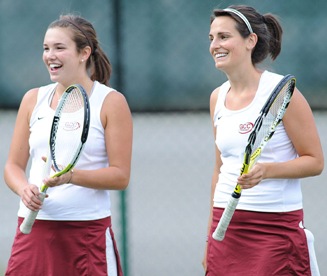 Senior Stacy Moon (near left) has been a fixture in the upper half of the Grove City lineup throughout her career and will likely fill one of the top singles spots again in 2011.

Senior Megan Bennett (far left) also returns to the top portion of the singles lineup this season. She and Moon held down the first doubles spot last season and will likely hold that position once again.

Christina Bedi owns three career conference titles in singles play and will look to move up in the Grove City lineup this season. A three-year letterwinner, Bedi has also played part-time in the doubles lineup.

Senior Reena Barnett has won the conference title at third doubles in each of her first three seasons and led Grove City in doubles wins last year. Like Bedi, she will look to move up in the lineup this year.

Senior Emily Buurma a part-time starter throughout her career, is also in position to secure a full-time starting slot this year. Buurma owns a 10-0 career record in doubles play and will likely be counted on in both singles and doubles action.

Also back for her first full season is sophomore Lauren Troxel. Troxel joined Grove City at the semester break last year and will contend for a starting spot this year.

Fifth-year head coach Joe Walters will also look to several newcomers to compete for spots in the lineup this season.

Grove City opens the 2011-12 schedule September 1 against Division II foe West Liberty State. Conference play begins September 9 against visiting Geneva. The Wolverines will once again compete in the Intercollegiate Tennis Association Regional Championships in Fredericksburg, Va., September 23-24.

Grove City concludes the fall portion of the schedule with the PAC Championships October 21-22 at the Pennbriar Club in Erie, Pa.

SAINT VINCENT LADY BEARCATS (13-4 Overall, 6-2 PAC in 2010)
With seven players slated to return, including five of the team's top six starters, the Saint Vincent women's tennis team looks primed to build upon a successful 2010 campaign.
Last year, the Bearcats, coached by Jim Bendel, finished 13-4 overall and 5-2 against their Presidents' Athletic Co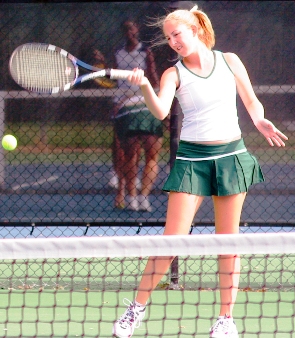 nference foes, while four singles players and a pair of doubles tandems advanced to at least the semifinals of the PAC Championship Tournament.
Leading the returnees is senior Alexis Cup (right), who has held down the number-one singles spot in each of the past two years. Last season, the Hempfield HS graduate went 9-5 in singles play, winning the PAC Championship at the #1 spot and being named 2010 PAC Most Valuable Player. She brings a 24-15 overall career mark into the new year, and should again be one of the top competitors in the PAC.
Senior Jessa Paruch, who went 11-3 in singles play last season and is 14-3 for her career, looks to again man the number-two spot, as she advanced to the third round of the PAC tournament in 2010. Sophomore Amanda Gans is back after putting together a strong freshman campaign, going 10-3 at the number-three position and taking third at the PAC tournament.
Senior Emily Morris, who was one of the top number-four players in the PAC a year ago, looks to again be a top contributor for SVC, as she leads all returnees with 25 career singles victories, including a 10-4 mark last year and a second place finish at the PAC tourney.
Rounding out the returning starters is junior Stephanie Rubin, who was 12-5 last season at the number-six position in her first year as a full-time starter.
Other players back who saw action last season include senior Janelle Giunta, who went 3-0 with victories at each of the fourth through sixth spots, junior Jessica McKetta (1-0 at number five), and junior Chantal Mitchell (1-1 at number-three).
While none of the top three doubles tandems return in tact from a year ago, options should be plentiful with such a veteran-laden roster.
In addition to welcoming four freshmen to the roster, the Bearcats will also have a newcomer to the coaching staff in longtime teaching professional Kim Kissell. Kissell, who worked with the Bearcats a season ago in a more limited role, has seen three of her daughters earn WPIAL championships and two win PIAA state championships at the high school level, and is eager to bring her experience and knowledge of the game to Saint Vincent.
As in years past, Bendel's squad will play a competitive schedule throughout, with the nine-match conference slate complemented by nine non-conference matches, including ones with Division-II foes Seton Hill, Clarion, and Shepherd. The squad will open up the year with a Sept. 1st exhibition contest with Waynesburg.


THIEL TOMCATS (0-13 Overall, 0-8 PAC in 2010)
The 2011 Tomcat women's tennis program will look to improve upon last season under the direction of second-year head coach Tim Dunford.
"We took some lumps last year," said Dunford, "However, that is expected from a first-year program and our girls showed great resiliency throughout the year as well as a love of the game."
The tennis team returns four upperclassmen from last year's team including seniors Heather Bean, Joy Mboya, and Amy Nacey, as well as junior Katey Williams. Williams was the Tomcats' primary #1 singles player last season and Nacey played most of her contests at the #4 singles position.
"Both Nacey and Williams as well as the other upper classmen have worked very hard this summer, and in just a few days of practicing have already taken leadership roles on the team," remarked Dunford.
"It is very important that the juniors and seniors have a winning attitude and a strong work ethic, because they are the leading examples for the freshmen coming in."
Along with the returning upper-classmen, coach Dunford had his first full year to recruit and brought in six freshman as well as a sophomore transfer student.
When asked about his recruiting class, Dunford replied, "I'm excited for the great group of female athletes that we have on this team now. Each one of the freshmen always strive to get better, and that is how we are going to build this program into a competitor in the conference."
The women's tennis program opens its season with the first ever Thiel College Invitational. Three teams, including Bethany College, Pitt-Bradford, and Mount Aloysuis round out the field in the round-robin tournament on September 3.
"It's very rewarding to our program that we are able to host a tournament and bring some teams in that will test our athletes and get them ready for the rest of the season."
The rest of the Tomcats schedule includes ten matches against teams that finished with winning records last season.
"Our athletes will not shy away from any competition," remarked Dunford, "Each one of them wants to go out on that court and give it their very best no matter whom they are playing. We scheduled good teams because that is how you make your team better. "
The Tomcats will look to this season as a starting off point for the years to come. With the first recruiting class in the new area of Tomcat tennis, as well as some veteran leadership, the team is looking to be solid competitors this season.
THOMAS MORE SAINTS (8-7 Overall, 4-4 PAC in 2010)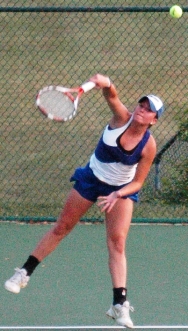 Thomas More College women's tennis teams will look to move up the Presidents' Athletic Conference Championship standings this season under second-year head coach Ryan Meyer. Meyer will have an experience group as the Saints return five players from last year's squad that finished fifth out of nine teams at the Presidents' Athletic Conference (PAC) Championships.
Returning are senior Lauren Race (right), juniors Emily Wesselman, Ashley York and Sierra O'Bryan and sophomore Maria Pascual.
Race played the No. 1 singles flight last season and posted a 7-9 record. She also played No. 1 doubles and posted an 8-8 record and finished fourth at the PAC Championship.
Wesselman split had a combined 11-4 record at No. 3 and No. 2 singles last season as she was 11-3 at No. 3 and 0-1 at No. 2 and placed fourth at No. 3 singles at the PAC Championship. She also teamed with Race and was 8-7 at No. 1 doubles and finished fourth at the PAC Championship. York was a combined 5-11 at No. 4 and No. 5 doubles last season as she was 2-5 at No. 4 and 3-6 at No. 5. She played No. 2 doubles last season and had a record for 6-10. O'Bryan combined for a 2-6 record at No. 5 and No. 6 singles. She played at No. 3 doubles last season and posted a record of 2-6.
Pascual was 8-4 overall last season at No. 3, No. 4 and No. 5 singles as she was 7-2 at No. 4, 1-0 at No. 5 and 0-2 at No. 3. She was 4-5 in doubles action as she held a 4-4 record at No. 3 and a 0-1 record at No. 1.
Thomas More opens its season on September 2 when it travels to Cincinnati to play across-the-river rival, the College of Mount St. Joseph in a 6 p.m. non-conference match.

WASHINGTON & JEFFERSON PRESIDENTS (5-9 Overall, 2-6 PAC in 2010)

The W&J women's tennis team will be led by a new coach as it enters the 2011 season. Chris Foster has taken over the helm of both the women's and men's tennis squads and will look to take W&J into the upper tier of the Presidents' Athletic Conference. Washington & Jefferson tied for seventh place at last year's league championship tournament.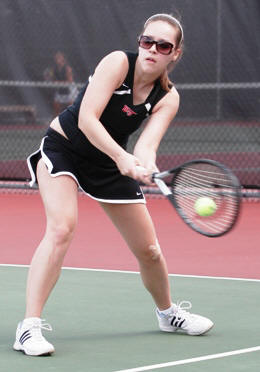 Foster brings a great deal of playing experience at the collegiate level, as he earned letters from three different NCAA institutions. He spent his final two seasons at Marist College where he participated in the national tournament. A local product, Foster graduated from Upper St. Clair High School where he won the PIAA Double Championship during his senior season.
Foster's number one option will be senior Carrie Campbell (left). She had a team-leading nine singles wins a season ago and has won 17 singles contests during her three seasons. Campbell also led the Presidents with seven victories in doubles matches.
Senior Lina Echeverri returns to the team after winning a pair of matches as the Presidents' number one singles player in 2009. Echeverri will likely be near the top of the rotation again this season.
Rachel Detts and Kathryn Mioduszewski will both be looking to improve upon their 2010 campaigns. Detts, a junior, won four singles matches, including two in PAC play. A sophomore, Mioduszewski was victorious in five doubles matches and three singles matches.
The three newcomers to the team include junior Danielle Ufolla and freshmen Alexis Ferrari and Alicia Toldero. Uffola has been a member of the softball team during her first two years at W&J and was an All-PAC performer last season. Each of the new arrivals will have a chance to see playing time in the Presidents' rotation.
Head coach Chris Foster debuts with his new team on September 7th when the Presidents host Pitt-Greensburg at the Janet L. Swanson tennis courts (4:00 pm).


WAYNESBURG YELLOW JACKETS (5-12 Overall, 3-5 PAC in 2010)
With the bulk of last year's Jacket wins back in the lineup and seven new players on the opening-match roster for the Jackets, coach Ron Christman will have one of his deepest teams ever. The veteran head coach believes that three or four of the rookies will make serious pushes for starting spots.
This past season, just nine athletes made up the 2010 Waynesburg University women's tennis team. Injuries left the Yellow Jackets competing with just six or seven players for much of the season and led to the squad posting a 5-12 overall record that included a 3-5 Presidents' Athletic Conference (PAC) mark and a sixth-place finish at the PAC Championships.
However, with a strong recruiting effort and time for injuries to heal, 14th-year head coach Ron Christman is optimistic that the 2011 conference season will see the Jackets back up in the upper tier of the PAC rankings where his team has become accustomed to finishing. The reasons for the optimism are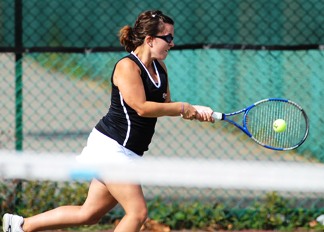 the experience gained by the returners that include the top four players on the 2010-2011 squad, the return of 2009's number-two singles player Stephanie Ball and a competitive freshman class that wants to contribute early and often.
Leading the returners is senior Jessica Kody (right), who tied for the team lead with eight singles wins, while also boasting the best winning percentage for a singles player at .470 (8-9) as the team's starter at third singles for the year. She also earned six doubles victories, which also tied for the top mark on the team, while playing the majority of her matches at the number-two doubles spot with fellow returning senior Kelsey Diesel. Christman expects Kody and Diesel to continue their leadership and but to also put up quality numbers in both singles and doubles in conference play this year.
Senior #1 Rebekah Reyes is looking to put up good numbers this season. "Rebekah played a lot of the top players in the conference tough last year but didn't have the confidence on the big points until late in the season," said Christman. "I think you will see an attitude this year that will lead to better results on the scoreboard." Along with the three seniors, a pair of 2010 freshman standouts will look to take a big step up in their respective sophomore seasons. Markie Gustafson (second singles, number-one doubles) and Logan McDonald (sixth singles, number-three doubles) both tallied six singles wins (6-12 each), while McDonald was one half of a third-doubles team that picked up six victories. Gustafson, meanwhile, notched four doubles wins with Reyes at #1. "Gustafson and McDonald aren't just tennis players, but good athletes and hard workers with winning attitudes so I suspect that their sophomore year will be a breakout year for both of them," said the coach.
While most of last year's impact players return to the court in the fall, Waynesburg will have to find a way to replace Jenny McAndrews, who enjoyed a solid campaign last fall with an 8-10 singles record and a Waynesburg-high seven doubles victories.
"Jenny was the ultimate team player who was probably as tough as anyone in the conference, mentally," Christman said. "She was never beaten until the last point was won. That kind of mental toughness will be hard to replace."
The 2010-2011 squad may have been short on numbers but was strong as teammates so Christman expects leadership from more than just the senior captains.
"We have a pretty solid group coming back and they all are the kind of student-athletes who work hard in the classroom and on the court," Christman said. "I think we will be much improved over last year at every position in the lineup because the returning players will help a solid group of freshmen step up to the collegiate level."
The freshman class is as large and deep as the Jackets have seen in several years. Alyssa Daniel, a Manheim, Pa. native brings good height along with solid athleticism and experience to the Jackets. Lauren Cowden, a McDonald, Pa. native and Selena Messina, a Peterborough, N.H. native will also be competing for starting positions early in the season. Sisters Abigail and Allyson Wernert played three years on the Ringgold High School boys team and will bring their experience against hard hitters to the team. Madison Dubrock, a Mars, Pa. native, and Ellen Limback, who hails from Evans City, Pa., were doubles partners at Mars High School and could reprise that role with the Jackets. With plenty of depth, Christman won't rule out the possibility that the team will feature players competing only in the doubles ranks, something that hasn't been seen for several years at Waynesburg.
"You never know how young players will do until they actually step on the court but there is no question that this whole recruiting class is made up of good student-athletes and good young women," smiled the coach. "When players like that join the kind of young women we have now, good things happen."
While this year's team definitely looks primed to climb several rungs up the conference ladder, the task of knocking off the 24-time defending champions from Grove City is still a monumental one. However, with bigger numbers, better competition for starting spots and a ton of returning experience, Waynesburg looks to be in the race for a team title right to the end.
"We certainly aren't used to finishing in sixth place and are looking to climb back up to a point where we are competitive with the best in the conference," Christman said. "It won't be easy because the PAC keeps getting stronger but with six returners, all with starting varsity experience, and three or four newcomers who may compete for starting positions, we should be ready to do battle with the best of them."
The Jackets will get the 2011 season started on Sept. 1 with a non-conference road trip to PAC rival Saint Vincent. Start time is scheduled for 4 p.m.
WESTMINSTER TITANS (12-3 Overall, 7-1 PAC in 2010)

The prospects for the Westminster College women's tennis teams have never looked finer as the team enters the 2011 season. The Titans are coming off the three best seasons in team history and their best two players, neither of whom are seniors this year, have combined career singles records of 46-8 and a third player who owns a 44-13 career singles record entering her final season.

Westminster posted a 14-4 record in 2010-11, one shy of the team record of 15-2 set the previous season. The Titans went 7-1 in Presidents' Athletic Conference (PAC) dual matches before finishing second at the PAC Championships for a fifth consecutive season.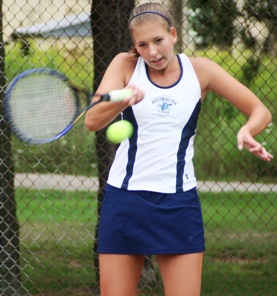 Seventh-year head coach Scott Renninger will be delighted to pencil in his team's lineup this year.

Last year's No. 1 singles and doubles player is back in junior Alex Bailey (left). Bailey is 29-5 for singles and 30-2 for doubles in her career which includes two runner-up finishes at No.1 doubles at the PAC Championships and runner-up finishes at No. 3 singles and No. 1 singles in 2009 and 2010, respectively.

Bailey went 14-3 at No. 1 singles in 2010 and if not for an injury she would've been in the running with two other teammates for the most single-season singles wins in team history.

That distinction went to sophomore Caitlin Hosler who, in her freshman year, broke the team's records for singles and doubles wins in a season with marks of 17-3 and 18-3, respectively. Voted the team's MVP, Hosler won the No. 2 singles title at the PAC Championships to become the fifth player in team history to win a PAC singles crown.

After going 15-2 last year in No. 1 doubles, Bailey and Hosler will compete this year for the team's No. 1 singles spot.

"They both have strong mental wills," Renninger said. "They understand that No. 1 player gets to compete for the conference's MVP. Caity is a fighter and Alex is a battler. They have very similar games. The only difference is Caity is left-handed and Alex is right-handed."

The team's seniors will be Dana Griesmer and Lauren Latinovich. Griesmer, a candidate for Nos. 5 or 6 singles, is 44-13 for fourth on the team's career singles list and her 16-3 singles record last year, mostly at No. 6, is tied for the second-winningest record in team history.

Latinovich paired with junior Jane Larson last year for a 17-4 doubles record, mostly at No. 3, to tie each other for the second-most doubles wins in team history for a season. The tandem finished second in the PAC Championships at No. 3 doubles.

Larson will likely fill the No. 3 or 4 singles spot after going 14-7 last year (10-4 at No. 4).

Overall, the Titans return nine players from last year's team, seven of whom earned letters. The team lost just two letter-winners.

Westminster will look to further distance itself from the other teams in the PAC while moving closer to Grove City, the league's 24-time champion. However, Renninger also considers Saint Vincent a contender.

"Those three teams will be at the top of the conference," Renninger said. "Saint Vincent will be a battle for us."

Beating Grove City will be a challenge, but according Renninger he's seen the gap shorten a little in recent years.

"Grove City is well aware that we are capable of playing with them," Renninger said. "They have great players. They know they need to play their 'A' game to beat us, but the problem is we have to play beyond our 'A' game and get some breaks."

###