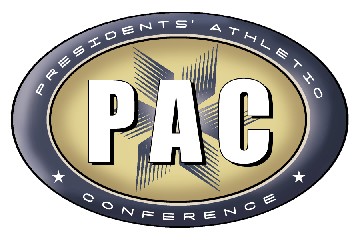 2010 PAC Cross Country Preview

BETHANY BISON
With a women's team coming off their best finish at last year's PAC Championships in three years and a new coach who recruited a strong class of men's runners, the Bethany College cross country teams are looking to make strides in 2010.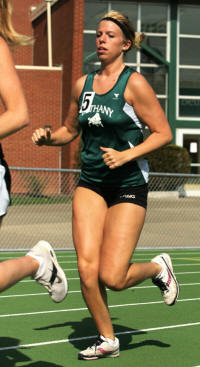 Leading the Bethany teams this fall will be first-year head coach Brandon Spalding, a three-time First Team All-ODAC competitor in cross country and a 2006 NCAA Championship qualifier during his career at Bridgewater. He joined the staff last January and worked with the distance runners during the indoor and outdoor track and field seasons, helping the BC women finish third at the 2010 PAC Outdoor Championships.

Spalding's first cross country season will feature a women's team which, behind a pair of All-PAC runners at last year's championship meet, finished fourth, their top showing since back-to-back fourth place finishes in 2005 and 2006. One of those runners is back this year in sophomore Erin Reske (left), who placed 14th to earn Second Team All-PAC in cross country and she also was third in the 10,000 during the spring track championships for Honorable Mention All-PAC.

The rest of the Bison women's team will feature two returning runners from last year's team, a pair of track runners joining the cross country team for the first time and two newcomers. The returners from last year including seniors Emily Roth and Desiree Finley, who just missed All-PAC accolades in 2007 when she finished 15th at the conference meet.

Joining the cross country program for the first time are juniors Joanna Mongelluzzo and Kaitlyn Black, who were both on the soccer team last fall but enjoyed solid track seasons. Black was a sprinter in the spring who was Second Team All-PAC in the 4x100 and 4x400 relays and Honorable Mention in the 400, while Mongelluzzo placed fifth in the 800.

The two newcomers are sophomore Melissa Davis, who transferred to Bethany from West Virginia and will also compete on the swimming team in the winter, and freshman Chelsei White. Spalding feels it's a roster with a chance to grow that will use this year to build momentum for the future.

"The women had a fourth place finish last year at PAC's and we would like to improve on that," said Spalding. "Our top runner will be Erin, who was All-PAC in cross country and continued to improve to earn All-PAC in the 10,000 last spring. There is a lot of potential in the rest of the roster, so we want to continually improve, shoot for a top three finish at PACs and build on that for the future."

The men's team will take a big step just by having six runners on the roster, which would give them enough to field a full team for the first time since 2007 and just the second time in the last five years. Sophomore Josh Wentz is the lone returning member from last year's squad, while junior Joe Douglas joins the cross country team for the first time after two years on the football and track teams.

"Josh is our only returning runner from last year and Joe is coming out for the first time," said Spalding. "They both made huge improvements in the spring, Josh in the 5K and Joe in middle distance, and we expect the same this fall."

The rest of the men's team will be four freshmen that make up Spalding's first recruiting class. That group is highlighted by Cory Yarrington, who was on the West Virginia AA Outdoor Track & Field State Championship 4x800 relay team and also picked up All-State accolades in the 1,600 and 3,200 last spring. The other freshmen coming to Bethany for their first collegiate cross country season are Hunter Ankrom, Jacob Arbaugh and Brandon Miller.

"We have a good class of freshmen coming in this year," said Spalding. "Cory had a very good high school career that was capped with one state title and two more all-state honors in track last spring. We also like the potential Hunter, Jacob and Brandon have and see them developing into solid collegiate runners.

"Much like the women's team, this year will be about building a foundation for the future," said Spalding. "As they get adjusted to a new coach with new ideas, we want to work hard every day in practice, make strides this year and take that momentum to build the program heading into the future."


CHATHAM COUGARS

Having started the program from scratch in the Fall of 2008, third-year Chatham University Cross Country coach Hadara Katarski is looking for continued improvement from the team this season.

The top five runners from last season all return for the Cougars, led by senior Maggie Leathers. Local recruits Tessa Hochberg and Rachel Leftwich add depth to a class of six newcomers expected to make an immediate impact.

Coach Katarski is hoping the 2010 Cross Country squad will improve on their sixth place finish at last year's conference championship meet. "I'm very excited about this season. With everyone returning and a solid group of incoming athletes, I think our potential is limitless."


GENEVA GOLDEN TORNADOES

High expectations for any program are a goal that many coaches strive for at the beginning of each new season. Many times those same coaches will shy away from placing any type of pressure on his or her team based on what may be expected of them for the upcoming campaign. In the case of the 2010 Geneva College cross country team, head coach Brian Yowler is not backing away from any bold predictions. In fact, the second year head coach has placed some very lofty goals in front of a young group. "Led by mostly freshman and sophomores, both teams without question already have the talent and the ability to be among the best teams in Geneva College history," explains Yowler.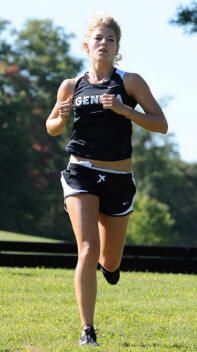 High expectations to be sure but several questions remain for a group of athletes that lack very much big race experience. Why is Yowler so confident among the upcoming season? The Golden Tornadoes return the entire top seven on both teams from a year ago. Both squads finished fourth in the Presidents' Athletic Conference meet a year ago while the women finished ninth and the men 11th at the NCCAA national meet.

"We are a very goal oriented group, both individually and as a team," says Yowler. "The team goals are simple with each group striving to finish in the top five at the NCCAA national meet along with the potential for some individual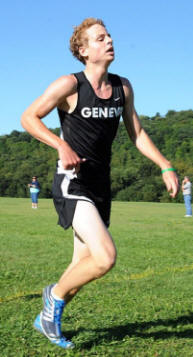 All-American honors along the way."

Many familiar names will toe the starting line for Geneva this fall with the top three women being Shannon Rech, Julie Urbanski (right) and Samantha Miller. On the men's side, Nick Edinger (left), Owen Struck and Ryan Thorn lead the returning pack.

Despite having many key pieces returning for the 2010 puzzle, Yowler knows his group will only be as successful as the newcomers entering the program make them. A record size roster for both men and women that includes a total of 33 athletes is made up of 12 freshman runners. Most notably on the women's side will be high school state qualifier Alayna Merkle. On the men's side, fifth place PA finisher Jon Shope and Maryland state qualifier Jacob Beschner head the list of incoming talent.

"We have enjoyed a very successful year on the recruiting trails," says Yowler. "On paper, we look like a very explosive group, but we don't run on paper so we shall see how it all plays out on the course."

When phrases like "best team in school history" get thrown around by the head coach going into the start of the season it certainly may raise an eyebrow or two along the way. For Brian Yowler, it may be a simple case of getting a young team to understand how good it can be and teach those youngsters how to win. With a bit more experience and some early season success, the 2010 Geneva College cross country season may be one that sets the stage for several years of success with the PAC and the NCAA. "We are all very excited to get the season started and to see exactly what we have put together," says Yowler. "We just want to continue improving with each passing day and by the end of our run, we may have put together something very special."


GROVE CITY WOLVERINES
Armed with a dozen letterwinners, including the team's top six runners from 2009, the Grove City College women's cross country team is in prime position to challenge for its 22nd straight conference title and Mideast Region supremacy this fall.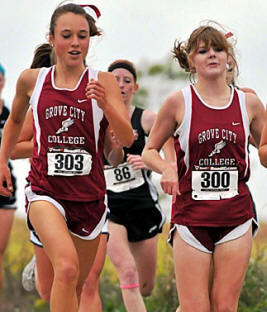 Grove City welcomes back three All-Mideast performers in senior Emily Pierce and sophomores Sara Fisher (far right) and Ella Smith (near right). Fisher is the returning conference champion after edging Smith in a photo finish in 2009.

Like Fisher and Smith, Pierce is also a returning First Team All-PAC honoree.

The Wolverines return three other All-PAC performers in senior Brigitte Fryan, senior Kate McRoberts and sophomore Mary Kate Breese. Breese and Fryan both earned First Team designation in 2009 while McRoberts achieved Second Team status.

Six other veterans will challenge for spots in the lineup, including junior letterwinners Allison Heslop and Mary Rachel Robbins. Also back are sophomores Anna Dunsworth, Emily Durant, Mary Seward and Hillary Wilson.

Several newcomers are also expected to compete for positions in the lineup this fall.

Grove City placed fourth at the 2009 Mideast Regional Championships after a fifth-place finish in 2008.

Grove City is ranked fourth in the region by the United States Track and Field/Cross Country Coaches Association in its preseason poll.
The Grove City College men's cross country team returns 13 veterans, including three seniors, for the 2010 season. The Wolverines will rely on that experienced group in their pursuit of the Presidents' Athletic Conference title.

Senior Garret Cichowitz headlines the fourth-year performers for Grove City after competing in the NCAA Division III Championships in each of the past two seasons.

A three-time All-Mideast Region honoree, Cichowitz took 70th at the 2009 NCAA Championships. He is the defending PAC Most Valuable Performer and a three-year letterwinner.

Seniors Gordon Grob and Cordell Oberholtzer also return after having been key contributors over the past three seasons. Grob is a past First Team All-PAC honoree while Oberholtzer owns three varsity letters. Both are expected to be significant contributors in 2010.

A pair of juniors also return for Grove City in letterwinners Tyler Gheres and Ben Lutz. Both will look to earn full-time spots in the Wolverines' top seven this season.

A large and talented sophomore class will also help buoy the Wolverines this year. Tim Coyle and Josiah Husk both earned All-PAC laurels as freshmen last season.

Classmates Wes Coopersmith and Francis Ridge also posted strong finishes at the 2009 PAC Championships and are looking to move into the lineup this autumn.

Also back are second-year veterans Ben Henderson, Caleb Henry, Daniel Landskroener and Josiah Tobin.

The Wolverines placed 10th at the NCAA Mideast Regional Championships in 2009 after winning their 19th all-time PAC title.

Grove City opens the 2010 season September 4 at the Westminster Invitational.


SAINT VINCENT BEARCATS
With a strong core of returnees set to return to the team, hopes are high for the 2010 Saint Vincent men's cross country team.
The Bearcats, who are in the midst of the most successful run in program history, lost just two runners to graduation from a season ago, with six of the team's top seven runners slated to be back in 2010.

Coach Andy Herr's Bearcats wrapped up the 2010 campaign in fine fashion, taking second place in both the Presidents' Athletic Conference Championships and the Eastern College Athletic Conference (ECAC) Championships. It was the highest ever finish for Saint Vincent at the ECACs, and the third straight second-place performance at the PAC's – each time falling behind only perennial power Grove City.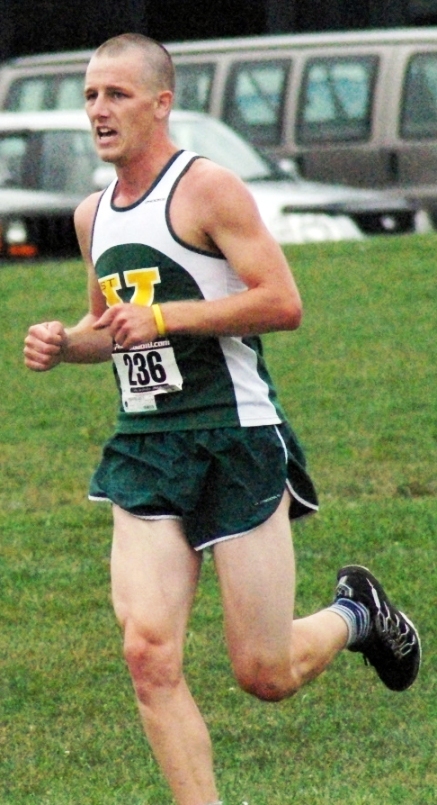 Leading the returnees is junior Kevin Wanichko (left). He burst onto the scene as a freshman in 2008, finishing among the team's top three finishers in all eight events, before showing even more flashes of brilliance during his sophomore campaign last season. Wanichko was the team's top finisher in each of the Bearcats' nine meets last season, highlighted by second place individual finishes at both the PAC and ECAC events. He also finished second individually at the Saint Vincent Invitational, and earned additional top-15 finishes at the Carnegie Mellon Invitational (fifth) and the NCAA Inter-regional Rumble at Oberlin (14th). At the Inter-regional Rumble, he finished with a time of 25:28, the third fastest five-mile mark ever recorded in team history.
Including Wanichko, a total of eight Saint Vincent runners finished among the top 13 at the PAC Championship, earning PAC Coaches Honors (equivalent of All-PAC recognition for athletes from provisional D-III members), and all but one are set to return to the Bearcats in 2010, including sophomore Cameron Stumme (9th at PACs), senior Adam Tucek (11th), senior Jeff Hite (11th), junior Tyler Blair (12th), and junior Ryan Barlow (13th). For both Wanichko and Barlow, it was the second straight season in which they earned the PAC honors.

The team also turned in a very balanced showing at the year-end ECAC meet, with all seven runners finishing in the top 70 of the 295-runner field. In addition to Wanichko's second place effort, Barlow took 18th, Tucek 23rd, Hite 30th, Josh Hooke 65th, and Stumme 75th.

Hooke, who was saddled with a late-season injury, is another upperclassmen with high expectations. He was strong throughout the first half of the season, highlighted by an 11th-place showing at the Saint Vincent Invitational, and a 102nd finish, out of 255 runners, at the NCAA Inter-regional Rumble.

The Bearcats will face a tough schedule as they look to earn the PAC Championship in their first full season of eligibility. They begin the season by facing Division-I talent in each of the first two meets, at the Duquesne Duals (Sept 4th) and the National Catholic Invitational, hosted by Notre Dame in South Bend, IN on Sept 17th. The Bearcats will host the Saint Vincent Invitational on Sept 25th, before traveling to Slippery Rock's Pre-Regional meet the next week, followed by the Inter-regional Rumble hosted by Oberlin on Oct 16th.
After finishing second at three of the past four PAC Championship meets as a provisional school, the Saint Vincent women's cross country team hopes that it will finally be able to crack the top spot as it competes as a full conference member in 2010.
The Lady Bearcats, coached by Tom Harbert, return five of their top seven runners from last season, which was yet another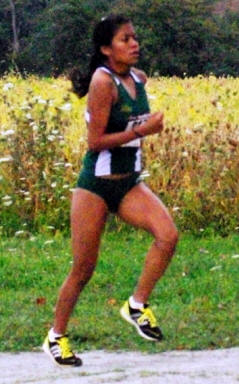 successful one in the career of the longtime coach. In addition to their second place showing at the PAC Championship, the Lady Bearcats took the top spot at the Juniata Invitational, and finished third at both the Saint Vincent Invitational and the Marietta Invitational.
Leading the Lady Bearcat returnees is junior Ivette Mejia (right). Mejia has turned in a dazzling career up to this point, as she was the top finisher for SVC in all eight of it events last season, earning seven medals. She captured back-to-back individual championships at the SVC and Juniata events, before wrapping up the season with a third-place finish at the PAC meet, and a fifth place showing at the ECAC Championships.For her two-year career, Mejia has clocked in under 21 minutes in nine of 15 5Ks in which she participated, while posting five sub-20 minute times, including a career-best 19:16 at last season's California (PA) Invitational.
Joining Mejia is senior Emma Goetz, who consistently was one of the Lady Bearcats' top three runners throughout the 2009 campaign. She finished among the top 13 in five of eight races last season, earning medals each time, including PAC Coaches Honors following her eighth-place finish at the championship. She turned in five sub-21 minute times last season, including a personal best 19:51 at the Cal U meet.
While the Lady Bearcats lost a pair of PAC Coaches Honors recipients in Katie Macioce (C.H. in 2008 and 2009) and Kelsey Sullivan (2007), a number of veteran runners should replace the two departed.
Seniors Claudia Arrunategui and Brenda Hartman, juniors Natalie Wolff and Crystal Sherlock, and sophomore Carrie Brust regularly cracked the team's top-seven throughout 2009, as all five averaged sub-22 minute times in 5K competition.
Juniors Gloria Bullock and Natalie Baker look to return after missing the duration of last season due to injury, while the team returns eight additional runners with varsity experience, including seniors Brittany Fidazzo, Amanda Hess, and Christine Bullock and sophomores Rebecca Leonard and Alycia Pytlak.
In addition to so many returnees, Harbert's team will also welcome a talented class of incoming freshmen, including Genie Fratto, Rachel Paszko, Beth Weiber, Bethany Kifer, and Teresa Pitassi.
As in years past, the Lady Bearcats' schedule looks to be a competitive one. The team will open up the year traveling to events hosted by California University (Sept 4th) and Waynesburg University (Sept 11th), before visiting the University of Notre Dame in South Bend, IN on Sept. 17th to take part in the prestigious National Catholic Invitational, against teams from all three NCAA divisions, as well as the NAIA.
The Lady Bearcats will host 10 other schools at the Saint Vincent Invitational on September 25th, and will wrap up the regular season by traveling to central Pennsylvania in consecutive weeks, taking part in events hosted by DeSales (Oct. 9th) and Gettysburg (Oct. 16th).

THIEL TOMCATS
As the 2010 season begins for the men's and women's cross country teams a familiar face will be at the helm. Head track and field co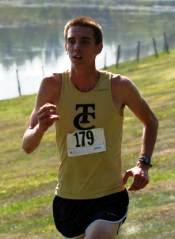 ach Steve Carr will take the reins of the program this year and try to take them to a Presidents' Athletics Conference (PAC) championship.

The men's cross country team is coming off a second place finish at last year's PAC championship. The team is led by sophomore Regis Wagner (left), who was a first team All-PAC selection in 2009. Junior second team All-PAC selections Richard Peterson and Brendan DuLaney return to join Wagner and look to have strong showings in the 2010.

"The upperclassmen are going to be vital this season since we have such a young team," remarked Carr. "They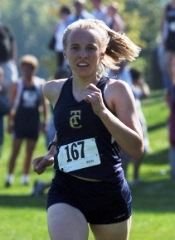 have all improved from last season, which is really exciting for the program. They are each looking to build off of the success that they had last season."

The women's team is looking to have a turnaround season under coach Carr after finishing seventh at the PAC championship last season. Veteran leadership mixed with an infusion of younger talent will look to lift the women's team into contention this season.

When asked about the expectations for the women's team, Carr replied, "the coaching staff expects a lot from the women's team this year and we believe that they will be able to rise to the occasion. We have a lot of dedicated individuals, which is one of the most important things to have in this sport."

The women's team will be led this season by senior Sarah McAfee (right). "We are very happy that we have such a strong athlete like Sarah back this season," said Carr, "Her leadership and her dedication are going to be very important to our team in 2010."

With a new group of coaches at the helm and some great veteran leadership the men's and women's cross country teams will look improve upon their respective finishes of last season.
THOMAS MORE SAINTS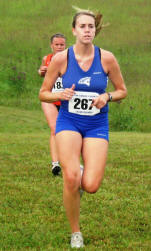 Thomas More College men's and women's cross country teams are looking to compete for a Presidents' Athletic Conference (PAC) championship this season as head coach Brian Alessandro returns eight runners on the women's side and four on the men's side.
On the women's side, the Saints return senior Rachel Krumpelbeck (left), junior Ashley Jordan and sophomores Julie Geiger, Celia Arlinghaus, Amy Adam, Sarah Miller, Michelle Lonnenmann and Alice Wallenhorst. Miller was the Saints' highest finisher at the PAC Championship as she placed 13th and earned All-Conference honors. Rounding out the returners' finishes at the conference championship were Arlinghaus in 15th, Wallenhorst in 17th, Krumpelbeck in 29th, Adams in 30th, Jordan in 32nd and Lonnenman in 35th place.
On the men's side Alessandro welcomes back senior Kyle Egan and sophomores Shane Campbell, Andrew Fuller and Andrew Linkugel. Last season Egan finished 29th at the PAC championship, while Campbell finished 31st, Linkugel finished 34th and Fuller finished 36th.
The Saints open the 2010 season on September 4 when they travel to Dayton, Ohio to run the Flyer 5K hosted by the University of Dayton.
WASHINGTON & JEFFERSON PRESIDENTS
For a second consecutive season, the Washington & Jefferson College men's cross country team will depend on youth for success this fall.

Under Eighth-year Head Coach Mark FitzPatrick, the Presidents return just two seniors. Seniors Andrew Howard, named team captain, and Richard Koch return after studying abroad during their junior years to hopefully lead the Presidents ahead of last year's fourth-place finish at the Presidents' Athletic Conference Championship. Howard put up his best 2008 mark of 27:44 in the 8000 meter run at the Oberlin College Inter-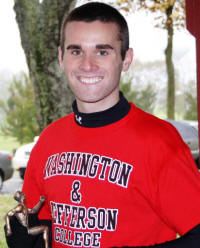 Regional Rumble.

Scott Ryan (right) also returns after earning numerous accolades during his freshman campaign. Ryan was the first W&J men's cross country runner to earn Presidents' Athletic Conference Men's Runner of the Week three times or more during a season since Bobby Regan '08. Ryan collected his best time of the season at the Penn State-Behrend Invitational on September 19th, finishing the 8K in a time of 26:53. He finished the PAC Championship in fourth place to earn all-conference honors. Ryan also competed in the U.S. Junior Track & Field Nationals in the 10,000 meters this summer. He won track & field conference championships in May in the 1,500 and 5,000 meter runs.

Also returning is sophomore Benjamin Kopchick, who looks to build upon a successful year in which he posted his best 8K time of 27:59 at the NCAA Mideast Regional Championship. Kopchick was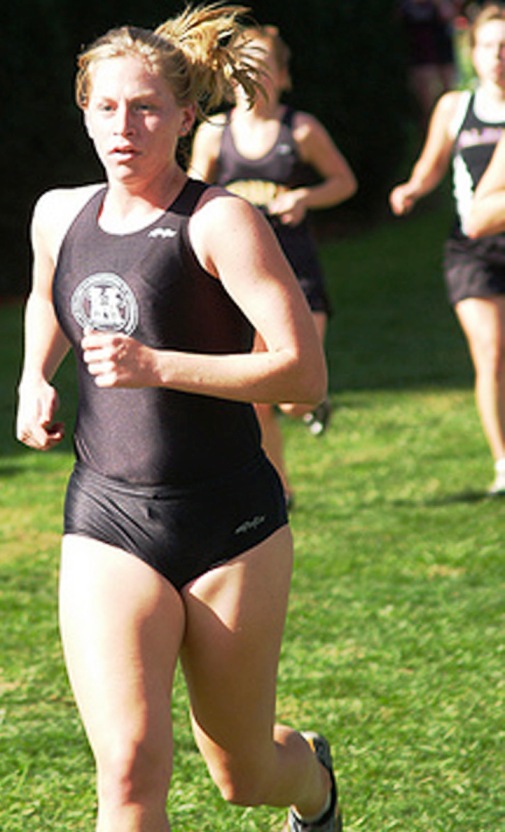 also a conference champion in track and field in the 10K, and took fourth in the conference in the 5K.

The Washington & Jefferson women also return a team full of youth for the 2010 season. Four freshmen step in this season looking to earn spots in W&J's top seven on a team where six of the nine runners are underclassmen.

The Presidents' team captain, Laura Procario (left), is the veteran of the squad. Procario notched a season-best 6,000-meter time of 25:41 at the NCAA Mideast Regional Championship and placed 21st at the Presidents' Athletic Conference Championships during her junior year.

Junior Kate Loy solidified her spot in the Presidents' top seven last year, posting a career-best time of 26:32 in the 6K at the NCAA Regional. Loy also recorded a 28th-place finish at the PAC Championships.

Junior Liann Correia and sophomore Brittany Mosi hope to improve upon their 2009 performances. Correia ran the 6,000 meters in 30.11, while Mosi posted a time of 32.00 for season-best marks at Waynesburg.

"We return solid performers on both teams and I believe we have improved as a team from last fall," said FitzPatrick. "However, we must continue that improvement each week. I am excited to get the season underway."

W&J opens the 2010 season on September 11th at the Waynesburg Invitational. The PAC Championships, also hosted by Waynesburg, will be held on October 30th.


WAYNESBURG YELLOW JACKETS
WAYNESBURG, Pa. (Aug. 23) – After spending the 2009 season as its assistant coach, Chris Hardie takes over as the headman of both the men's and women's cross country teams at Waynesburg University. He replaces former headman, Blair Zimmerman.

The Waynesburg women are coming off of a fifth-place finish at the 2009 Presidents' Athletic Conference (PAC) Cross Country Championships. The squad is expecting a much higher finish at the 2010 championships, which it will host at the Greene County Air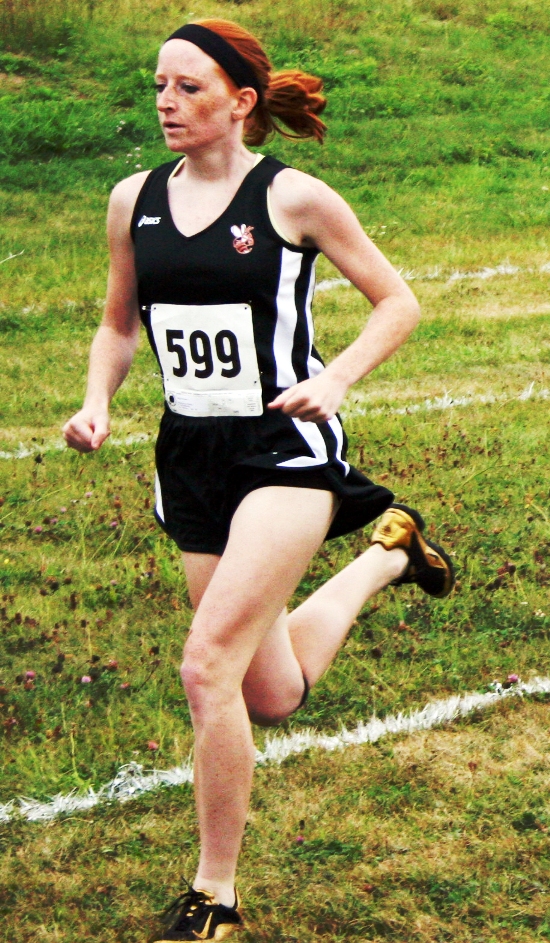 port on Oct. 30. This confidence is due in large part to the return of every major contributor to last year's team, with the exception of then-senior Janet Carson.

Leading the returners are sophomore Megan Donovan (right) and junior Michelle Naymick. Last year, Donovan was a two-time PAC Women's Cross Country Runner of the Week Award recipient and earned all-conference honors after placing 15th overall and 11th among qualifying runners. She was also Waynesburg's top runner at five of their six races.

Naymick, who put in the team's top time at last year's Sea Gull Opener, which was hosted by Salisbury University, placed 23rd at the 2009 conference championships. She was also Waynesburg's top finisher at the 2009 NCAA Mideast Regionals.

Along with its top two runners returning, Waynesburg also welcomes back seniors Heather Flower and Sarah Beth Rood, juniors Michelle Gottschalk and Jordan Miller and sophomores Elizabeth Johnson and Casey Morris.

Waynesburg's large group of returners will also be bolstered by a highly talented recruiting class, which Hardie said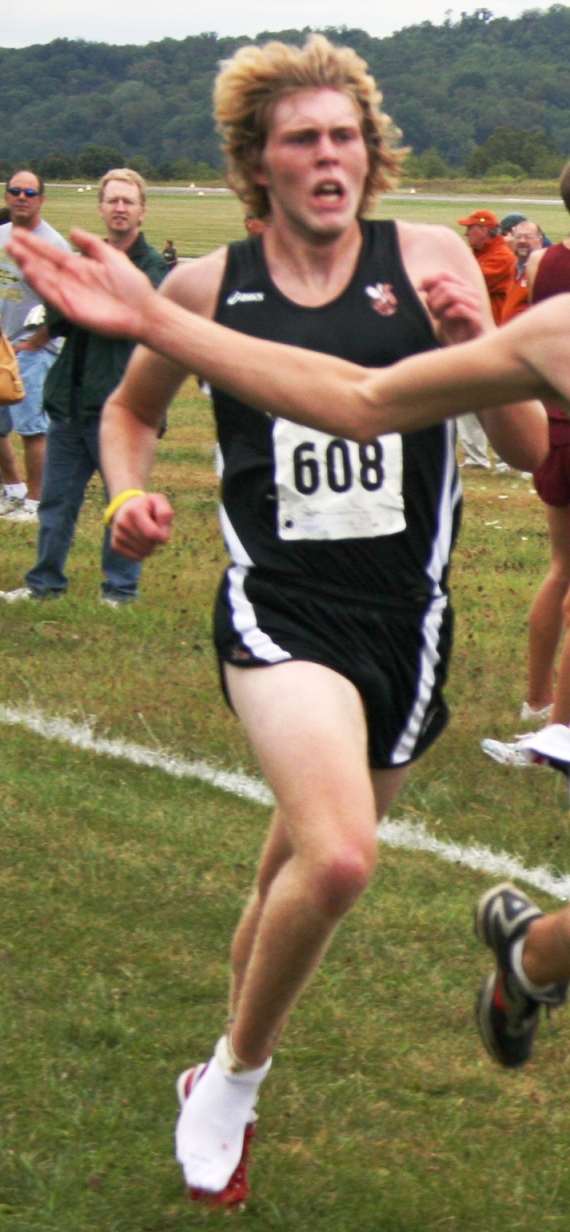 is likely to contribute right away.

The Waynesburg men are coming off of a fifth-place finish at the 2009 Presidents' Athletic Conference (PAC) Cross Country Championships. The squad is expecting a much higher finish at the 2010 championships, which it will host at the Greene County Airport on Oct. 30. This confidence is due in large part to the return of nearly every major contributor to last year's squad.

Leading the way for the Yellow Jackets are seniors Bill Moder and Adam Swingle (left), who combined for four top team finishes in 2009.

Expectations are also high for sophomore Kyle Edwards, who crossed the finish line first amongst his teammates in two meets. He was also the only Waynesburg runner to earn PAC Men's Cross Country Runner of the Week laurels last season.

Junior Kam Schaefer also returns for Waynesburg after leading them with the team's top finish at the 2009 NCAA Division III Mideast Regional. Senior Ben Fortna and sophomore Matt Crawford complete this year's group of returning runners. Senior Sean Dougherty, who has been a member of the Waynesburg track & field team for the past three years, will also join the men's long distance runners this fall.

The Waynesburg men's roster will also be bolstered by a small, but talented, group of freshmen looking to make a difference on the course.

Waynesburg opens the 2010 season on Wednesday, Sept. 1, when it competes in a tri-meet with Geneva and Thiel. The Yellow Jackets will also host their annual home invitational on Sept. 11.

WESTMINSTER TITANS
The Westminster College women's cross country team has reached new heights while a young Titan men's cross country is poised to become more of a contender as the teams enter the 2010 season.

Westminster's women's team placed second in the Presidents' Athletic Conference (PAC) Championships last year, while the men's team took third place. The runner-up finish for the Titan women was their highest finish at the PAC meet since Westminster joined the league in 2002. That brought on even more unprecedented success as the Titan women went on to place 17th out of 44 teams at the NCAA Division III Mideast Regional. No other Westminster women's team had placed higher than 30th prior to the 2009 season.

Fourth-year head coach Tim McNeil feels that his women's team will continue to run at a higher level despite the team losing four out of eight letter-winners.

"After our highest PAC finish in 2009, we are poised to remain one of the PAC frontrunners," McNeil said. "I am excited about this group of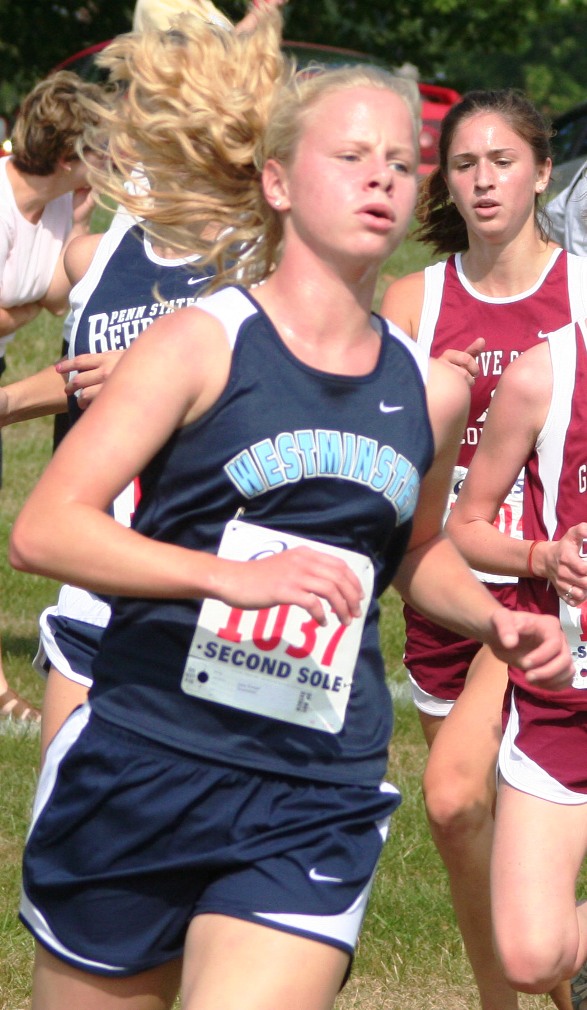 women's work ethic and potential. We will be a much younger team this year with only one senior. Although we lost three of our top seven from last year, I feel that we have the firepower to battle for the PAC title."

The top returning women's runner is junior Jennifer Krueger (right), who placed seventh at the PAC meet with a 6-kilometer time of 24:19 to obtain first team all-PAC honors. Krueger is the lone returning all-PAC performer for the Titans.

The other three returning letter-winners for the Titan women are sophomores Olivia Miller, Sydney Spain and Morgan Swartz.

Despite only four returning letter-winners, the Titans will not lack depth. The preseason roster consists of 16 runners,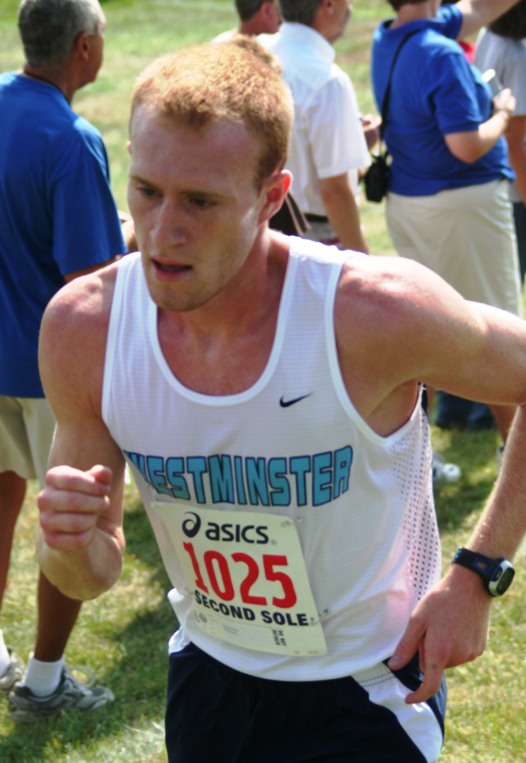 including seniors Jasmine Grady, who lettered as a freshman and sophomore, and Emily Paul. The underclassmen are made up of five juniors, six sophomores and three freshmen.

On the men's side, junior Morgan Hanes (left) is back to lead a group of three returning lettermen and a roster of 11 runners. Hanes led the team in five out of seven meets in 2009. Hanes took home second-team all-PAC honors by placing 11th with an 8-kilometer time of 28:51. Hanes is a two-time team MVP after he also earned second-team all-PAC honors as a freshman.

The other two returning lettermen for the Titan men's team are junior Justin Jones and sophomore Josh Caldwell.

"With no seniors on the 2010 team, we will still be a young team," McNeil said. "However, we have the guys that are physically and mentally ready to make the push to be one of the top teams in the PAC this year. We had a quality recruiting class which will blend in nicely with our returners."

The roster will be made up of two juniors, six sophomores and three freshmen.


###