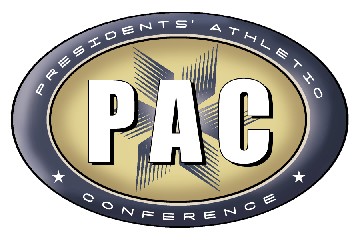 2011 PAC Cross Country Preview

BETHANY BISON
With a new coach and the top runner from the men's and women's teams returning, the Bethany College men's and women's cross country programs are hoping to pick up where they left off last fall. The opening meet of the year is scheduled for Sept. 3 at the Westminster Invitational.

The new head coach for the Bison is Michael Guinn, whose previous experience included stints at Division II programs West Virginia Wesleyan and Seton Hill. In his six years of college coaching, Guinn helped Seton Hill win one men's cross country conference title and West Virginia Wesleyan to a total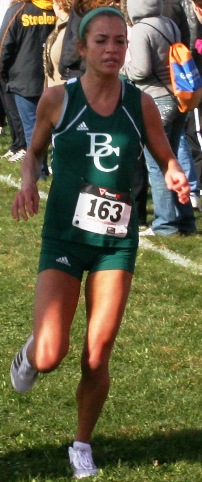 of seven cross country and track and field crowns. He says his teams are doing what they need to in order to be ready for the season.

"The teams are working hard and workouts are going well," said Guinn. "We are fortunate enough to have one All-PAC runner back for both teams and with the work they have put in so far, many of them are already hitting or surpassing their PRs from last year, so I am pretty happy with where we are right now."

The women's team will be led by senior Joanna Mongelluzzo (right). She claimed Second Team All-PAC a year ago by finishing eighth overall, the highest placement by a Bison runner since 2005. Also returning for BC are three others who competed at PAC Championships last fall, including senior Kaitlyn Black, junior Melissa Davis and sophomore Chelsei White.

The roster is filled out by sophomores Heather Hamm, Emily King and Katie Woeckener and freshmen Jessica Olson and Rhianna Petrone, giving Guinn a solid group to take into the year.

"The women's team has a nice set of numbers," said Guinn. "Joanna is coming off an All-PAC season and the way she is training right now, she definitely has a chance to finish in the top five or even top three. The whole team is responding well to training and everyone has hit their paces, so I'm looking forward to what the season brings."

The men's team doesn't have the same depth as the women, but does boast an all-conference runner. Sophomore Cory Yarrington became the first Bison runner in three years to earn All-PAC laurels after he crossed in 13th place overall, which also made him the first Bethany freshman since 2002 to run to all-league status.

Bethany's team suffered a blow when freshman Hunter Akrom suffered an injury early in the preseason and is expected to miss most of, if not the entire season. Although senior Joe Douglas is back after a solid first year with the program, and sophomore Jacob Arbaugh and freshman Robert Striker join the Bison, the Ankrom injury will leave Guinn a little short-handed heading into the campaign.

"We may take our lumps early on because we don't have a complete team right now due to Hunter's injury," said Guinn. "We are still trying to pick up one more runner and may be able to get someone later in the season. But we have team leaders, led by Cory, who was All-PAC last year and has already posted sub-17 time trials, and Joe, who works as hard as anyone. With the attitude everyone has, we are going to put some times down to impress people."


CHATHAM COUGARS

The Chatham's women's cross country team will be returning all athlete's from last year with the exception of three graduating seniors.
Sophomore Rachel Leftwich (left), who placed 2nd team All-Conference in 2010 will lead the Cougars, along with returning sophomore Tessa Hochberg and Senior Lizz King.
With the addition of new athletes, the Cougars hope to better their 2010 5th place finish and continue to build and improve as they enter their 4th year of competition.

GENEVA GOLDEN TORNADOES
While in many cases college cross country can be looked at as an individual sport, the Geneva College cross country team has developed into quite the team. Head coach Brian Yowler has assembled a group of men and women that have come together in recent years to develop into a solid group on and off the course. "We have grown very close," says Yowler. "Each of our student-athletes has made the commitment to each other to train hard and log thousands of miles. It will be exciting to see the improvements that no doubt will come as a result of their training."
Unlike many of the other athletic programs at Geneva, the cross country team had the chance to go face to face against PAC opponents in a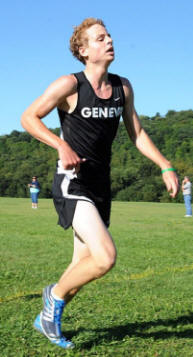 championship setting. Although their results didn't count in the final tally, the Golden Tornadoes have competed at the Presidents' Athletic Conference championships in each of the last four years. Last year, Geneva finished third a year ago on both the men's and women's side of the ledger. In 2011, the goal of finishing at least third in the conference remains. "Grove City and Saint Vincent are quite good," says Yowler. "They have programs that we aspire to be sooner than later. Our goal is to get to that level very soon. It has really been a battle for third place in each of the past four years behind those two schools and we will once again be right in the middle of that mix."
On the men's side, Ryan Thorn graduated and others will have to pick up that slack. The most obvious choice to lead the 2011 squad will be junior captain Nick Edinger (right). Expectations are understandably high for Edinger as he enters his third year at the collegiate level. "Nick may very well run the fastest 8K in school history this fall," says Yowler. "He is already one of the fastest guys in school history and could be our first NCAA DIII qualifier by season's end." Senior Chuck Walters and junior Owen Struck will also be significant contributors along with senior Nate Mansor, junior Chez Anderson and sophomores Jacob Beschner and Charles Parker. "We are also looking forward to the immediate impact from Aaron Ferguson," says Yowler. "Ferguson should show immediate dividends as a freshman runner."
"When you have dynamic seniors like Julia Urbanski and Sarah Davis graduate out of the program it leaves a void," says Yowler. "The good news is that they both left such a legacy for our other athletes to follow, their presence should still be felt moving forward." Geneva will feature a smaller team in numbers of athletes on the women's side, but an equally talented squad. With a solid group of underclassmen prepared to carry the torch, it will be an exciting time for women's cross country to see exactly which athletes will step up. "Similar to the men, we will be looking to hold our spot near the top of the PAC," says Yowler. "Shannon Rech and Alayna Merkle enjoyed great success a year ago and we will again look for their leadership in 2011." Additionally, senior Emily Hoobler and junior Samantha Miller will be important components this season along with the addition of freshmen Heidi Steiner and Anna Kluitenberg.
"We have some exciting newcomers to the program on both the men's and women's teams," explains Yowler. "We have to keep moving forward and pushing one another to make our teams the best they can be. We have taken great strides in the last few years and our goal is to keep moving forward and make an impact in our first years as members of the PAC and NCAA Division III."


GROVE CITY WOLVERINES
Sixteen veterans return for the Grove City College men's cross country team this fall, giving the Wolverines one of the region's most experienced squads.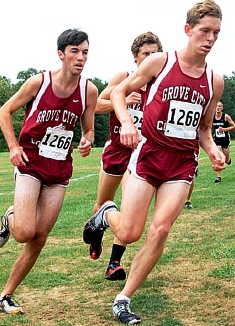 Seniors Tyler Gheres and Ben Lutz will help lead the 2011 Wolverines after having earned three letters each at Grove City.
Six juniors also return for the 2011 season: multi-year letterwinners Wesley Coopersmith, Tim Coyle, Ben Henderson, Daniel Landskroener, Francis Ridge and Josiah Tobin.
Several sophomores are also back after making an immediate impact as freshmen in 2010. Sophomores Arleigh McRae and Alec Schultz (far left) both earned Second Team All-Presidents' Athletic Conference last year and will likely be at or near the top of the Grove City lineup this season.
Grove City also welcomes back second-year performers Alex Brown, Paulson Domasky, Randy Holcombe, Mike Miller, Matt Mucha and Mark Talbott (near left).
The Wolverines may also receive contributions from several newcomers this season.
Grove City will open the 2011 season at the Westminster Invitational September 3. The Presidents' Athletic Conference Championships will be held October 29 at Westminster College in New Wilmington, Pa. Grove City has won the league title 19 times since 1990.
The NCAA Mideast Championships are scheduled for November 12 in Allentown, Pa.
The Grove City College women's cross country team enters the 2011 season looking to build upon an historic 2010 season in which the Wolverines won their 22nd straight Presidents' Athletic Conference title and advanced to the NCAA Division III Championships for the first time in school history.
Grove City returns four of its seven runners who competed in the NCAA Championships last fall. Among that quartet are two-time All-Mideast

Region honorees Sara Fisher and Ella Smith.
Smith placed second at the 2010 PAC Championships and then earned 13th at the Mideast Championships to earn her second All-Region honor. Fisher finished third in the conference and also achieved All-Region with a 20th-place finish. Both are among the top returners in the region.
Grove City also welcomes back senior Mary Rachel Robbins (right) and junior Hillary Wilson from its regional roster. Robbins owns three letters while Wilson is a returning All-PAC honoree.
Junior Mary Kate Breese earned All-PAC honors in 2010 and will look to remain a fixture in the lineup this fall. Also back are senior Allison Heslop and junior letterwinners Anna Dunsworth and Mary Seward.
Grove City will also be bolstered by sophomore letterwinners Cayla Clawson, Grace Postma, Austin Powell, Laurel Skorup and Emily Thompson.
Grove City will open the 2011 season at the Westminster Invitational September 3. The PAC Championships will be held October 29 at Westminster College in New Wilmington, Pa. The NCAA Mideast Championships are scheduled for November 12 in Allentown, Pa.

SAINT VINCENT BEARCATS
A familiar cast of characters returns to the cross country course for Saint Vincent in 2011, as the Bearcats look to defend their 2010 Presidents' Athletic Conference title.
Coached by 2010 PAC Coach of the Year Dr. Andy Herr, the Bearcat men's cross country team became the first team in school history to capture a PAC title, knocking off 23-time defending champion Grove City College to do so. All but four runners return in 2011, including six of the team's top seven.
As was the case throughout the PAC championship campaign, balance and depth should be the Bearcats' strong point.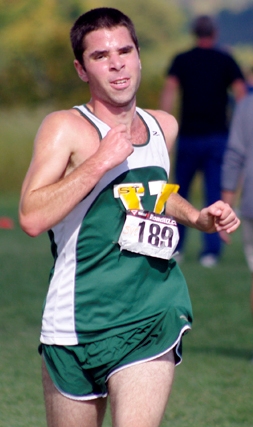 The team saw three different runners post team-best times over eight meets last season, culminating with the PAC Championships, where the Bearcats had five runners finish in the top 10, and all seven finish higher than 17th.
The Bearcat senior class looks to be led by the duo of Kevin Wanichko and Ryan Barlow (left). Wanichko's times improved in each week last season, en-route to earning First Team All-PAC honors by finishing fifth at the PAC Championships. Barlow, who led the Bearcats in a pair of races, including the Saint Vincent Invitational in which he won the individual championship, was a Second Team All-PAC honoree after taking eighth at the conference meet. The two also helped lead the Bearcats to a sixth-place finish at the NCAA Regional Championships, with Wanichko taking 39th and Barlow 51st.
The senior class is rounded out by Tommy McLaughlin, Josh Hooke, and Aaron Seckar, as all three have continually improved throughout their careers and looks primed to battle for a consistent top-seven spot in 2011.
Junior Cam Stumme returns after putting forth a consistent sophomore campaign, capped off with a 16th place overall finish at the PAC meet, and will be joined by another continually-improving runner in classmate Luke Briola.
Sophomore Chansler Poole put together arguably the top freshman season in team history in 2010, and peaked at the right time. He earned PAC First Team honors after leading the Bearcats with a fourth-place finish at the conference championships, and, two weeks later, again paced the team with a 30th-place time of 26:03 at the NCAA Regional meet to become the first athlete in school history to qualify for the NCAA Championships. The Harrison City, PA native hardly disappointed, as he shattered his own freshman mark with a time of 25:53 in the five-mile race, finishing 168th overall.
Poole's classmate, Andrew Razanauskas, also had a fine first year with the Bearcats. He finished in the team's top-seven in six different races, and was one of three PAC First Team honorees after taking sixth place at the conference meet, finishing seconds behind teammate Wanichko. A third sophomore, Justin Petrovich, will also battle to join the team's top seven, after showing consistent improvement throughout his inaugural year in Latrobe.
A trio of freshmen will join the healthy dose of returnees, in Chris Hameed, Eric Porter, and Brandon Holmes.

The Bearcat men open the 2011 season on Sept. 3rd, taking part in the Duquesne University Duals against a field heavy in NCAA Division-I foes. SVC will also take place in invitationals hosted by the University of Notre Dame (Sept 16th) and DeSales University (Oct. 8th), as well as the NCAA Inter-Regional Rumble in Oberlin, OH on Oct. 15th. The Bearcats will also look to defend their team title at the annual Saint Vincent Bearcat Invitational on Sept. 24th.

On the women's side they will be led by one of the most decorated runners in team history, the Saint Vincent women's cross country team looks to continue to solidify itself as a prime contender for the Presidents' Athletic Conference championship.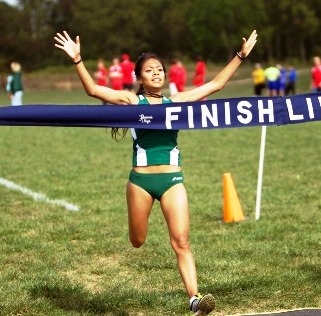 Coached by Tom Harbert, the Bearcat women showed its balance and depth to finish second at the 2010 PAC Championships, as the team's first seven runners all finished in the top 38.
The unquestioned leader, however, was Ivette Mejia (right). Now a senior, Mejia turned in unquestionably the finest single season in program history.
The New York City native earned 2010 PAC MVP honors after finishing first as the conference meet with a time of 19:33.89. It was just the tip of the iceberg for Mejia, as she took home PAC Runner of the Week honors six times. She finished in the top eight individually in each of the Bearcats' seven races, winning individual titles at California (PA) and the Saint Vincent Invitational in addition to the PAC championship. Mejia owns the top five times in program history, including a pair of sub-19 minute performances achieved last season.
Including Mejia, the Bearcats will welcome back five of its top seven finishers at the PAC meet, including the sophomore tandem of Rachel Paszko and Genie Fratto. The duo earned second team All-PAC honors after finishing 10th and 11th, respectively, at last year's conference meet, while each turned in a trio of sub-20 minute performances, holding down the team's second and third spots over the duration of the 2010 campaign.
Senior Natalie Wolff returns for her final season after showing solid, consistent improvement throughout the course of her career, and was the team's third or fourth runner in six of seven events last season, capped off with a 30th-place finish at the PAC Championships, while another senior, Crystal Sherlock, has been a consistent top-seven runner for SVC over the past two seasons and looks to continue to hold down a top spot.
Juniors Gloria Bullock and Rebecca Leonard were also top contributors in 2010, consistently posting sub-25 minute times each week, while sophomore Emily Helbling was one of the team's most improved runners over the course of the year, capped off with a 35th-place effort at the PAC Championships.
Rounding out the deep group of returnees are juniors Claire Badman, Natalie Baker, Allyson Lambert, and Alicia Pytlak, as well as sophomore Theresa Pitassi.
Harbert will also welcome five freshmen to the team in 2011, as the Bearcats hope to continue one of their most successful runs in program history. Since joining the PAC as a provisional member in 2006, Saint Vincent has taken second place at the PAC championship four times, including in each of the past three years.
The Bearcat women begin the 2011 campaign on Sept. 3rd, taking part in the Westminster College/Fisher Invitational. Harbert's team will also travel to invitationals hosted by Waynesburg, the University of Notre Dame (IN), DeSales, and Gettysburg, while the Bearcats play host to the annual Saint Vincent Invitational on Sept. 24th.

THIEL TOMCATS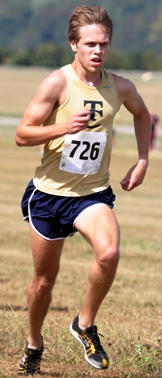 The 2011 version of the Tomcat cross country programs will look to a solid nucleus of experienced upperclassmen and an infusion of young, talented newcomers to improve upon last year's marks under the direction of second-year head coach Steve Carr.
On the men's side seniors Richard Peterson (left) and Brendan DuLaney, as well as junior Regis Wagner, lead a host of fresh faces into the 2011 campaign.
Peterson, twice named the Presidents' Athletic Conference (PAC) Runner of the Week in 2010, set the school record in the eight-kilometer event at the Oberlin College Inter-Regional Rumble, finishing with a time of 26:17.3. Peterson earned a third place finish at the 2010 PAC Championships with a time of 26:28.96, earning all-conference recognition. Wagner also earned all-conference honors with his seventh-place finish (26:52.92), helping the team to a third-place overall finish.
"Despite having just three returning upperclassmen the coaching staff is very confident that Richard, Regis, and Brendan can provide significant leadership this season."
The Tomcats have reloaded their roster with youth for the upcoming campaign, with six of the nine student-athletes on the roster being freshmen.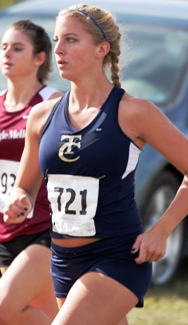 "We are very confident in the abilities of the young men that are on campus this season," said Carr. "We believe that they are a very capable group, and a group that we're expecting to work hard and help us attain a better conference finish than last season."
The women's program, with only one senior on its roster, will look to a pair of sophomores to build upon successful freshmen campaigns and lead the underclassmen into the 2011 season
Emily Petrak (right) and Valarie White were the top finishers for the Tomcats at the 2010 PAC Championships, as Petrak finished 18th (2:22:25.63) and White finished 21st (2:22:38.16).
"Even though we had a young roster last year and didn't finish where we wanted to at the conference championships, we still experienced a number of good things throughout the season," said Carr.
Like the men's team the women will also have the addition of six freshmen as they try to improve on the eighth-place finish at the 2010 conference championships.
"We believe that the experience that Valerie and Emily earned last season will allow them to be effective leaders for our incoming freshmen this season," said Carr.

THOMAS MORE SAINTS

Thomas More College men's and women's cross country teams are looking to compete for a Presidents' Athletic Conference (PAC) championship this season as first-year head coach Derrick Jackson returns eight runners on the women's side and four on the men's side.
On the women's side, the Saints return juniors Celia Arlinghaus (left), Michelle Lonneman, Julie Geiger, Amy Adams and Sarah Miller and sophomores Morgan Bensman, Kelsey Hinken and Brittany Berry. Arlinghaus was the Saints' highest finisher last season at the PAC Championship as she placed 18th. Rounding out the returner's finishes at the conference meet last season were Bensman in 52nd, Lonnemann in 59th, Hinken in 60th and Berry in 65th. Miller and Geiger and Adams didn't compete in the 2010 PAC Championship, but Miller earned All-Conference honors in 2009 with a 13th place finish and Adams finished 30th in 2009.
On the men's side, Jackson welcomes back juniors Andrew Linkugel and Andrew Fuller and sophomores Matt Wurtzler and Joel Daley. Wurtzler earned All-PAC honors last season with a 12th place finish at the PAC Championship meet. Linkugel finished 34th at the PAC meet, while Fuller finished 52nd and Daley finished 59th.
The Saints open the 2011 season on September 2 when they travel to Cincinnati, Ohio to run in the College of Mount St. Joseph Invitational.

WASHINGTON & JEFFERSON PRESIDENTS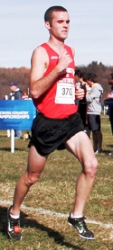 The W&J men's cross country team will once again have a roster full of young, talented runners this fall. The Presidents' success hinges on the legs of a group of underclassmen, as new head coach Shawn Marek inherits a team devoid of a single senior.
Junior Scott Ryan (right) is the most decorated athlete on the team. Ryan has been named Presidents' Athletic Conference Men's Runner of the Week six times during his career, including three times last fall. After posting his best time of the season at the PAC Championships (25:51.20), Ryan narrowly missed out on winning the individual title, as he was edged out by less than two seconds. As a freshman, Ryan took fourth at the conference championship meet. Ryan also excelled for the track & field team during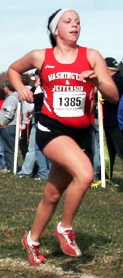 the spring as he was selected PAC Track MVP.
Also returning are sophomores Anthony Bocchine, Brad Hanne and Alexander May and junior Benjamin Kopchick. Kopchick will look to improve upon a sophomore year in which he posted a season-best time of 27:24.20 at the NCAA Mideast Regional Championship. Bocchine, Hanne and May all turned in solid performances as freshmen, helping W&J to a fourth-place finish at the PAC Championship.
On the women's side, seniors Liann Correia and Kaitlyn Loy will provide the team with veteran leadership. Loy will try to improve upon a season in which she posted a season-best 28:40.16 at the PAC Championships. Correia notched her top time at the same race, finishing in 29:40.42.
Sophomores Nicole Montecalvo and Kia Ruhkamp (left) will each be looking to give Presidents a boost after turning in standout freshman campaigns. Ruhkamp ran a team-best 25:36.28 at the PAC Championships, while Montecalvo put up a time of 25:14.70 at the season-opening Waynesburg Invitational. Montecalvo's time was the fastest recorded by a President in 2010 on a 6k course.
The W&J men's and women's teams will open the 2011 schedule at the Waynesburg Invitational on September 10 (11:00 am).


WAYNESBURG YELLOW JACKETS
With minimal losses due to graduation, in terms of top finishing times, and another solid recruiting class, the Waynesburg University women's cross country team looks geared up for another strong year in 2011.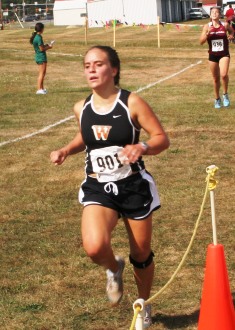 Second-year head coach Chris Hardie will feature two former All-Presidents' Athletic Conference (PAC) runners on this year's team. Junior Megan Donovan will look to return to her all-conference form she flashed as a freshman. Donovan is also an All-PAC performer and ECAC qualifier in the steeplechase. Sophomore Bre Paul (right) picked up second-team All-PAC laurels this past fall as a freshman and was the team's top finisher in six of last year's seven races.
The only runner to best Paul in a race was fellow sophomore Tiffany Onifer, who finished a team-best 50th at the Carnegie-Mellon Mideast Pre-Regional Race. The sensational sophomores will be joined by senior captain Michelle Naymick, who has been a consistent top-three team performer since arriving at Waynesburg. While the team does return its top four performers on the course, Hardie will miss graduated seniors Heather Flower and last year's co-captain, Sarah Beth Rood.
The Jackets could have their next standout freshman in this year's recruiting class. Hardie raved about three-time Ohio state-qualifier Joy Talbott, who he feels can push for a top spot beginning on day one.
"Joy comes from a winning environment and will look to crack into the top five from the very start," Hardie said. "Her potential is amazing and she could be one of the fastest runners this school has ever seen."
The six-woman group of newcomers includes another state qualifier in Jenn Ling, who qualified in Maryland. Ling also plans on pitching for the Waynesburg softball team in the spring.
Along with bringing more talented runners into the fold, Hardie's first full offseason with the team was fruitful in terms of the work he and second-year assistants Michelle Propst-Cross and Laurel Rush were able to accomplish with this year's returning talent.
"The first full season for us as a coaching staff was definitely rewarding and fulfilling," Hardie said. "What has changed over the course of the last 12 months is the belief in our girls that they can really do some special things. The women's team has some special things to accomplish in 2011, and it will take a strong summer workout plan to make those dreams a reality."
If winning a PAC title is among those dreams, the Yellow Jackets will need to find some way to topple the 24-time defending champions from Grove City. Saint Vincent, which placed second at the conference championships during its first year as a full member of the PAC, also looks strong and will feature senior Ivette Mejia, the overall individual PAC champion and six-time PAC Runner of the Week last year.
The Waynesburg University men's cross country team is gearing up for its second season under the tutelage of head coach Chris Hardie, who is enjoying his first full offseason with the team.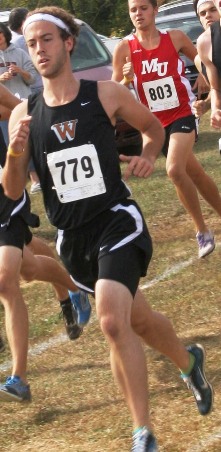 The Yellow Jackets, who finished sixth at last year's Presidents' Athletic Conference (PAC) championships, will need to replace four graduating seniors, including two of the squad's top runners in captain and school record-holder Adam Swingle and Bill Moder. Waynesburg will also be without another top-seven runner in Ben Fortna, along with Sean Dougherty.
However, the Jackets bring back strong senior Kam Schaeffer (left), along with the sophomore trio of Jonathan Blatt, Justin Angotti and Aaron Anderson to power this year's squad.
"All of them spent time in the top seven last season and are motivated for a strong 2011 campaign," Hardie said of the quartet. "[Blatt] and Justin will both have a shot, this season, to close in on the school 8k record. Aaron Anderson is returning from a very consistent freshman season and the team will be led by 2011 captain Kam Schaefer, who has the second-fastest performance in the history of the cross country program."
Hardie is also excited about the potential of a fourth sophomore, Matt Giardina, who, along with the other returners, made up a shortened roster that competed in the NCAA Mideast Regional. Junior Matt Crawford, who is coming off a remarkable track season, will also look to continue his improvement this fall.
The previously mentioned returners will be joined by a 10-man recruiting class that will add depth and competition for the top spots on the team. Perhaps the most impressive aspect of the latest group of newcomers is that they hail from five different states. New Jersey standout Brandon Dugan brings some versatility and talent to the team after seven state-qualifying performances in track and cross country over the last two years. Ohio sensation Luke Feldner will also look to make his mark immediately. As a high school track and cross country standout, he was a six-time regional qualifier and two-time conference champion.
The Keystone State is well-represented with Erie-McDowell graduate Elliott Haire, and Fort Cherry star, John Allison. Hardie is confident that Haire and Allison can compete for top-five spots immediately.
Along with his program's fruitful recruiting efforts, Hardie is also pleased with how the training efforts have progressed with his veteran athletes.
"We went through our first full spring of offseason conditioning and summer workouts. We have been busy all offseason creatively working with our schedule and our workout plan to make sure this team is ready for 2011," Hardie said. "The men seem motivated and ready to run at the next level. With the talent that we have breaking camp, we feel we can shock some people and climb into the top three spots in the PAC."
Waynesburg opens the 2011 season at Geneva's home meet, which will also feature Westminster and Thiel, on Sept. 1. The Jackets will host their annual home invitational Sept. 10 at the Greene County Airport. The women are scheduled to start running at 10 a.m. and the men are scheduled to start running at 11 a.m.
WESTMINSTER TITANS
There will be a journey home for the Westminster College men's and women's cross country teams in 2011. That's because Westminster will host the culminating event of the season, the 2011 Presidents' Athletic Conference (PAC) championships Oct. 29 on its campus.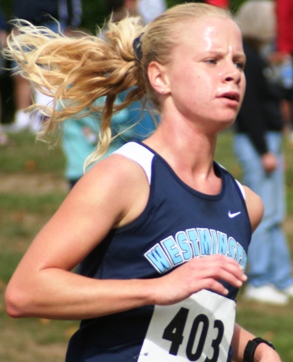 Both teams will make the journey stockpiled with experience with each team welcoming back six letter-winners from the 2010 season while losing just one letter-winner apiece.

The women team's top six finishers from the 2010 PAC Championships are returning including senior Jennifer Krueger (right) who earned first-team all-PAC honors for a second straight year by placing sixth in the 6-kilometer race with a time of 23:59.52. Krueger also led the Titans in all seven meets during the season before taking home team MVP honors.

"We return all of our top finishers from last year's team," said fifth-year head coach Tim McNeil. "Leading the way is Jenny Krueger. We will be a very athletic team and will fight till the end. The challenge will be our preseason training leading up to the PAC Championships. If we stay healthy, we will surprise a lot of people on Oct. 29."

The reason the Titans would have to surprise people is because they place just fourth out of nine teams at the 2010 PAC Championships, a competitive race that featured two schools sending runners to the NCAA Division III Championships.

The Westminster men's team placed sixth out of eight teams at the PAC race. Like the women's team, the Titan men return their top six finishers from last year including sophomore Aaron Sutton and senior Morgan Hanes. Sutton placed 21st with a time of 28:12.46 and Hanes 26th at 28:40.83 for the 8-kilometer course.

Sutton paced the men in four events during the season and Hanes in two. As a freshman and sophomore, Hanes earned second-team all-PAC honors and team MVP laurels. He, along with Justin Jones and Bryan Yost make up a large senior class that will provide leadership for the team.

"For the first time in five years we are going to have a senior-laden team," McNeil said. "We will have three quality seniors and a great supporting cast of juniors, sophomores, and freshmen. The challenge for our team is to climb back up into the upper tier of the PAC."

Jones was voted team MVP last year. He placed 28th at the PAC meet with a time of 28:57.81.

The other returning lettermen for the men's team are junior Josh Caldwell and sophomores Kyle Filicky and Taylor Walter.

On the women's side, the other returning letter-winners are juniors Morgan Swartz and Olivia Miller, and sophomores Olivia Bonavita, Nicole Fiorenzo and Erin Sullivan.


###